Mexican food that's colorful, calorie-friendly and very flavorful. Get inspired with these healthy Mexican recipes.
Mexican food is delicious, flavorful and everyone loves it. Although there are a ton of options when it comes to healthy Mexican recipes, it can be a tad difficult to keep things on the lighter side when dining at a Mexican restaurant.
The typical scenario: you're on your way to the restaurant and have all intentions of sticking with healthy options. Then you arrive, the server puts a sombrero on your head and your plan gets thrown out the window faster than you can say tamale!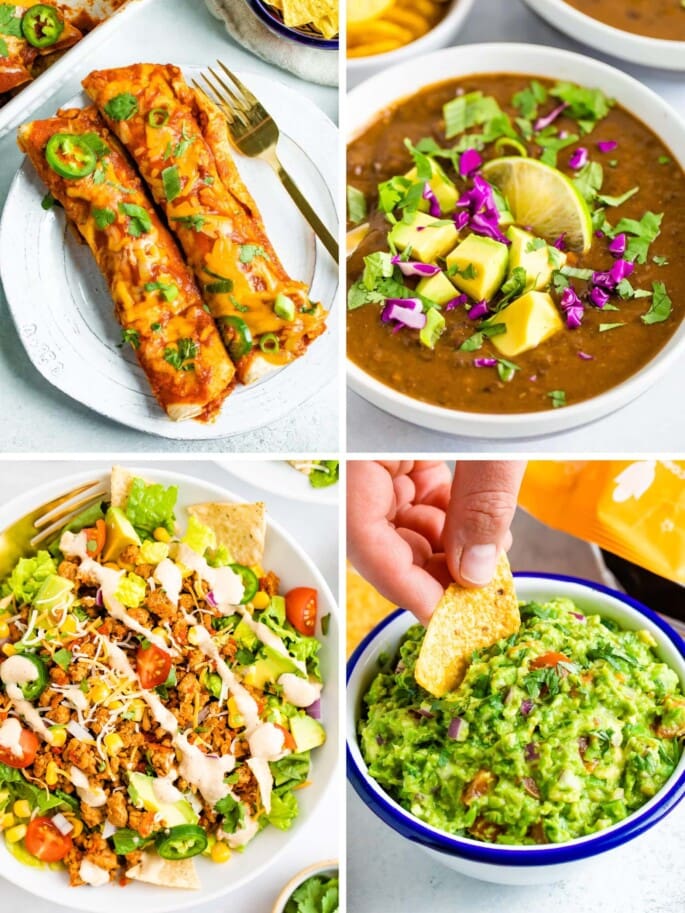 Hello unlimited chips and salsa — can't stop, won't stop! Sure, I'll have a margarita. And what the heck, why not get the Guadalajara Especial and then some fried ice cream to finish off the meal. You're all fiesta, fiesta at the restaurant and end up leaving feeling a little tipsy and ready for a siesta. 😉
Okay, that example is a little over the top, but I also know that it happens. Been there, done that!
But it doesn't have to be. there are plenty of lightened up to choose from. From tacos and drinks to dips and soups, these recipes are sure to satisfy your craving for Mexican in a healthy way. There's a little something for everyone and as you'll see many of the recipes are vegan and gluten-free.
Dips & Appetizers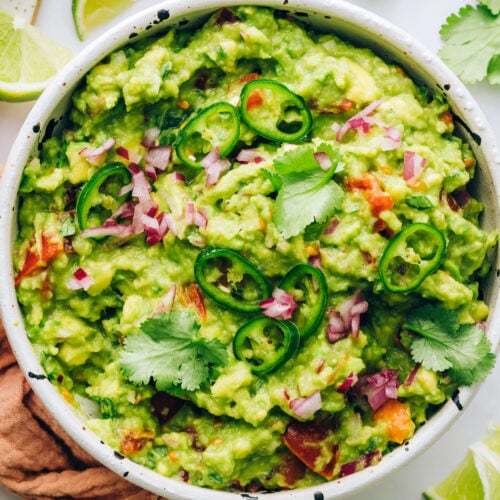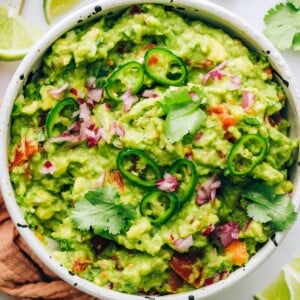 Guacamole
The best guacamole recipe made with avocado, grape tomatoes, garlic, red onion, jalapeño, fresh lime juice and cilantro. It comes together quickly and is the perfect appetizer with chips or topping for tacos, burritos and so much more.
View Recipe
Salads
Soups
Breakfast
Lunch & Dinner
Drinks
Desserts
How to Eat Healthy at a Mexican Restaurant:
Last but not least, here are some of my best tips for eating healthy when out at a Mexican restaurant:
Skip the chips — this one is so dang hard. But once you start munching on chips it's really difficult to stop and often times you've eaten so many you're too full to enjoy your meal.
Skip the margaritas and sangria — both are usually made with mixes and contain a shocking amount of calories and sugar. Lighter options include tequila with grapefruit juice and soda water or a light Mexican beer. You can also ask if they can make you a skinny margarita.
If you simply gotta have the chips or an adult beverage, here's a good rule of thumb = pick one and enjoy it, just don't do both.
Go with guacamole instead of queso — at least you'll be loading up on healthy fats rather than processed cheese. Just watch your portions with the guac because one serving is only about 2 tablespoons.
Share a dish — Mexican restaurants usually serve massive portions. Order something you really want and spilt it with a friend. Bonus, you'll save $ as well!
When looking at the menu, look for items that are baked, steamed, roasted or grilled and skip things that say fried (fritos), crispy, creamy or stuffed, covered or smothered. Chimichangas, taquitos, gorditas and tostadas are all fried. Enchiladas, burritos and tacos aren't usually fried.
Ask for black beans as a side instead of refried beans.
Look for something with a grilled protein and lots of veggies — fajitas and salads fit the bill.
Keep it simple and stick with tacos. Grilled fish, shrimp or chicken tacos are great options. Pile on the lettuce, tomato and salsa and skimp on the cheese and sour cream.
Watch out for taco salads. They're usually loaded with ground beef, cheese, sour cream and tortilla strips or served in a fried tortilla bowl. Ask for the salad without the tortilla strips and bowl, a grilled protein option, extra veggies, light cheese and pico de gallo or salsa for your dressing.
Even if you're not gluten-free, opt for authentic corn tortillas over flour tortillas. They're usually house-made and sans refined flour.
More Recipe Collections You Might Enjoy