Never skip breakfast again! Here are 30+ healthy on-the-go breakfast recipes for busy weekday mornings, plus a recipe for baked egg cups.
Although research has proven that it's okay to skip breakfast if you're not hungry I'm still a big proponent of starting my day with a healthy meal. Breakfast gives you the energy you need to be productive throughout the morning and it can help prevent overeating and cravings later in the day. Plus, breakfast foods are delicious (eggs, oatmeal, pancakes – yuuuum!!).
All this being said, I get that some mornings are crazy and it's easy to get caught in the habit of skipping breakfast. That's why I've put together this post with over 30 healthy on-the-go breakfast recipes. These easy breakfast ideas can be made ahead of time, travel well and taste delicious so you no longer have an excuse to skip breakfast. Just grab and go!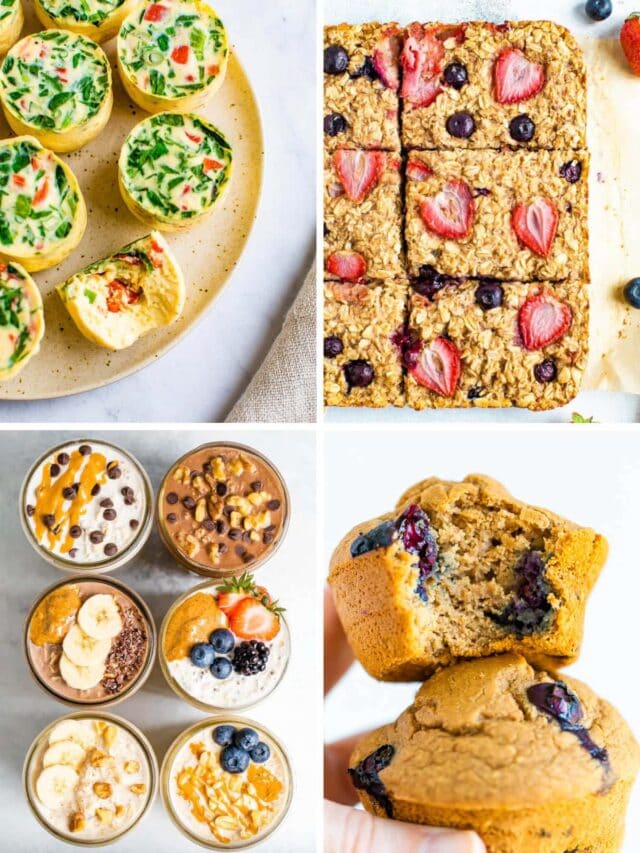 Tips for Breakfast Meal Prep
Plan ahead – knowing what you're going to make for the week is the best way to ensure that you'll actually meal prep it, you'll have all the ingredients on hand and you'll definitely have something to eat for breakfast for the week! Take out the guessing game and decision fatigue by planning accordingly.
Keep it simple – this is not the time to prepare elaborate and impressive breakfasts. The idea is to make things as easy as possible. Easy to make and protein-packed recipes are perfect for on-the-go breakfasts!
Pick balanced recipes – protein is important for staying full longer, but don't forget about healthy fats (avocados!) and carbohydrates (whole grains!). You need all 3 for a well-balanced meal. Bonus points if you can make sure you're getting vitamins and antioxidants like vitamin c, calcium, potassium and iron.
Make it portable – as much as I love the idea of sitting down to eat breakfast, it's usually not a reality. Making sure you can actually grab-and-go with your breakfast will make all the difference!
Healthy On-The-Go Breakfast Ideas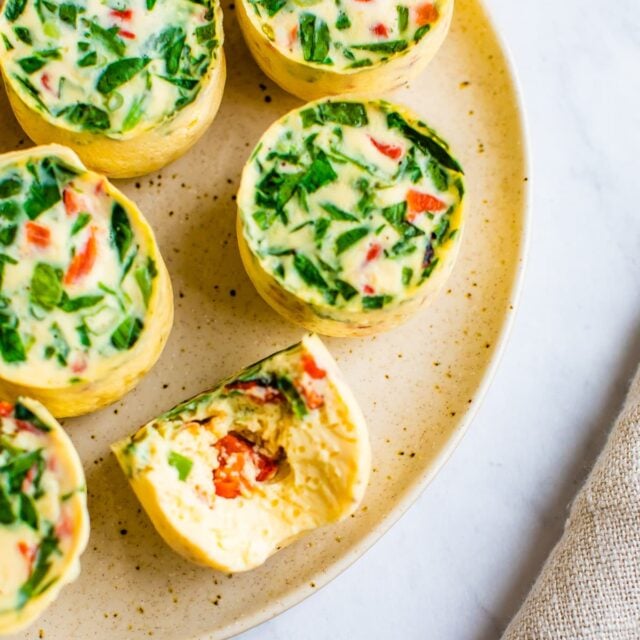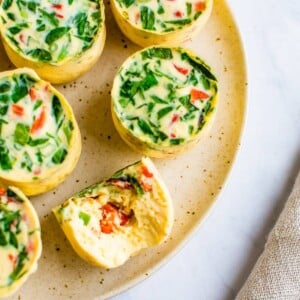 Egg White Bites
Make Starbucks red pepper egg white bites with this simple recipe! They're creamy and taste just like sous vide egg bites, but they're made in the Instant Pot!
View Recipe
More Recipe Collections You Might Enjoy