Wondering which vegetables have the most protein? Here's a list of the top 12 high protein vegetables and how to easily incorporate them into your diet.
When you think about protein what do you think about it? Growing up, I always thought protein meant meat. We'd have a vegetable, a starch and protein at dinner, which usually meant chicken or steak or some kind of meat.
I now know that meat isn't the only source of protein. Vegetables can be a wonderful source of protein as well! And contrary to popular belief, being vegetarian or vegan does not mean you're likely to be protein deficient.
Whether you are vegetarian or vegan trying to up your protein intake or simply looking for healthy ways to add more protein to your diet, this post is for you! I've compiled a list of the top 12 high protein vegetables and included easy ways to add them to your diet.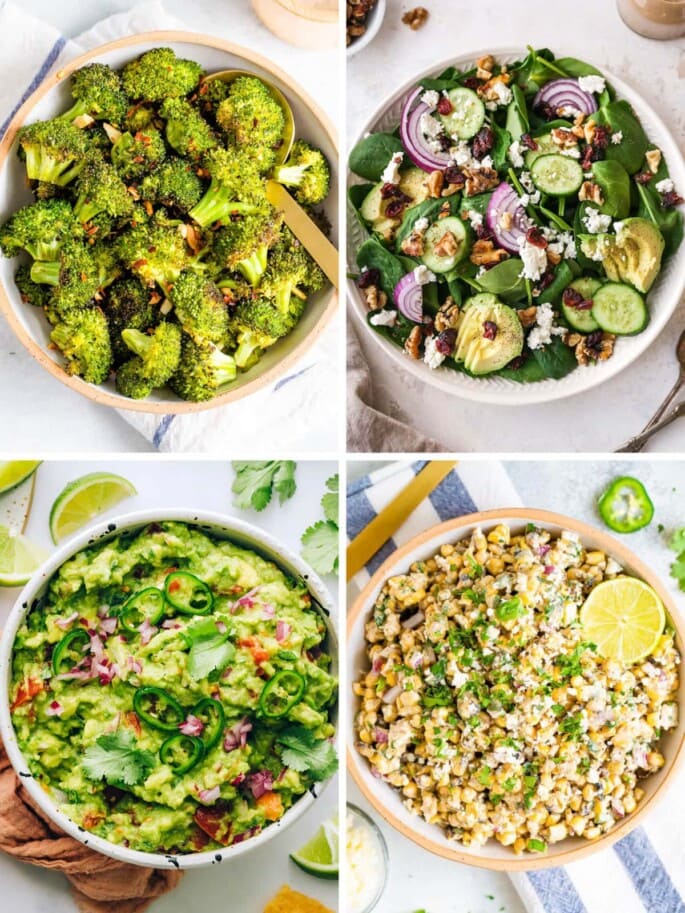 Protein 101
Before we get into details about which vegetables are highest in protein, let's cover the protein basics!
What is protein?
From a dietary stand point, protein is a macronutrient that is essential to building muscle mass, however proteins are also the building blocks of life and present in muscle, bone, skin, hair, and virtually every other body part or tissue. Protein is made up of 20 amino acids, 9 of which are essential because the body cannot make them on its own.
What are the 9 essential amino acids?
Essential amino acids are ones that your body needs, but cannot make on its own so you must get them from the food you eat. They include isoleucine, leucine, valine, methionine, phenylalanine, tryptophan, threonine, histidine and lysine.
How much protein do I need a day?
This will really depend on your activity level and goals, but the recommended dietary allowance to prevent deficiency for an average sedentary adult is 0.8 grams per kilogram of body weight. (source) Try this easy protein calculator to see how much protein is recommended. On average people need between 40-60 grams of protein a day, but many sources will recommend higher amounts if your goal is to build muscle. Many personal trainers recommend 1 gram of protein per pound (2.2 grams per kg) of body weight.
Why do we need protein?
You need protein for a multitude of reasons, but ultimately it's required to maintain our bodies. Protein is essential in the building of muscles, not just for bodybuilders, but for everyone. Protein also helps repair tissue, carry oxygen through the bloodstream, digest foods and regulate hormones. Getting adequate protein can also help you stay full longer.
How do I get my protein levels higher?
On way to increase your protein intake is to make it a priority at every meal and try to incorporate more high protein foods into your diet (such as high protein vegetables). You can also add a protein supplement like protein powder into your diet. I personally love using protein shakes or protein balls to keep my protein levels higher. See details about my favorite protein powders here.
What are high protein vegetables?
High protein vegetables are vegetables that provide a good amount of protein to your diet. This includes legumes (a class of vegetables) and more traditional vegetables like lima beans, green peas, spinach, sweet corn, artichokes, Brussels sprouts, sweet potato, asparagus, broccoli, kale, mushrooms and avocado.
Vegetable Sources of Protein
Of course when you think of plant-based protein you probably immediately think of beans (legumes) and soy products like tofu and tempeh. Those items are plant-based and have a good amount of protein but today I want to focus on the protein content in more traditional vegetables like broccoli, avocado and spinach. So let's chat about the top 12!
Lima Beans
12 grams of protein per 1 cup cooked lima beans
Lima beans are a starchy vegetable that you may know by one of their other names including butter bean or double bean. A 1 cup serving of lima beans packs 12 grams of protein and also contains 97% of the suggested daily value of manganese, an antioxidant helpful in metabolic processes. You can easily serve them as a side (they're delicious sautéd in butter), add them into soups or stews or make a creamy dip like my lima bean hummus!
Green Peas
8 grams of protein per 1 cup cooked peas
Pea protein has been on the rise in popularity as a source of protein as it is used in many plant-based protein powders, but green peas (fresh, frozen, canned or dried) are a great way to add protein to dishes like stir-fries, soups and salads. Try one of these recipes with peas!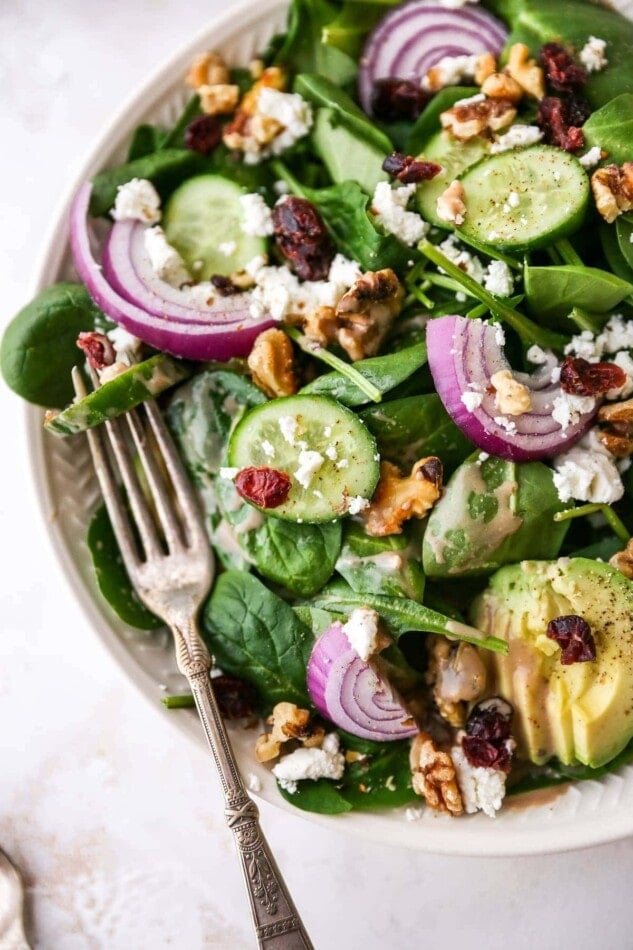 Spinach
6 grams of protein per 1 cup cooked spinach
Spinach is an easy way to protein to your diet and I use it in a ton. You can add it to smoothies, use it as a base for salads, stir it into soups and/or simply sauté it as a side dish. I often eat spinach raw, which contains just about 1 gram of protein per 1 cup serving, but because spinach shrinks down quite a bit when cooked, a 1 cup serving of cooked spinach has 6 grams of protein! Try some of these spinach recipes to up your intake!
Sweet Corn
5 grams of protein per 1 cup cooked corn
Corn may seem like an unlikely addition because it's often thought of as a starchy veggie, but it's worth mentioning. Despite mostly being composed of carbohydrates, corn packs in plenty of protein… 5 grams in a 1 cup serving. It's also a great source of potassium, minerals and several B vitamins. Add more corn to your diet with these delicious corn recipes! You can add it to salads, soups, serve alone as a side or even in desserts.
Artichokes
5 grams of protein per 1 cup cooked artichokes
Besides having 5 grams of protein for a 1 cup serving, artichokes boast impressive health benefits including lowering blood sugar levels, improving digestion and overall heart and liver health. It's important to note that you can eat both the leaves and the heart of artichokes! Personally, I love adding artichoke hearts to salads! Try any of these delicious artichoke recipes.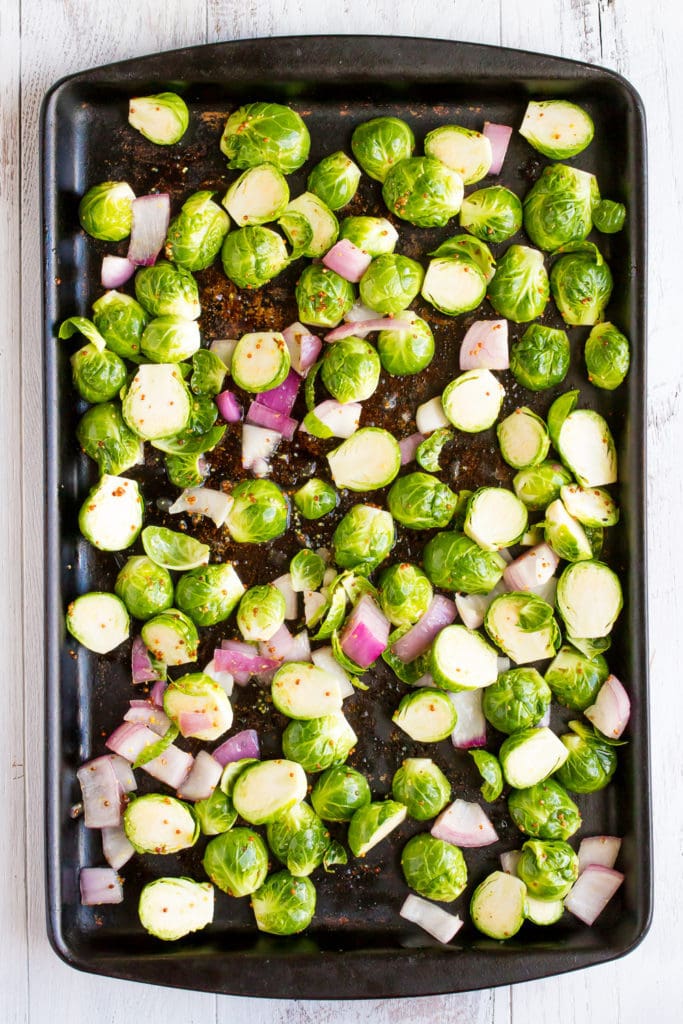 Brussels Sprouts
4 grams of protein per 1 cup cooked brussels sprouts
Brussels sprouts used to get a bad rap, but I love them! And like many of the vegetables on this list, brussels sprouts are a great source of minerals, vitamins and yes, protein! They're an incredible source of vitamin K which is essential for blood clotting and bone health and vitamin C which is essential for immune systems, tissue repair and iron absorption. You can enjoy them raw and shaved in salads or cook them a variety of methods like roasted, broiled, sautéed or air-fried! I have a variety of brussels sprouts recipes that you can make to add more to your diet.
Sweet Potatoes
4 grams of protein per 1 cup cooked sweet potatoes
If you've been a part of the EBF community for long enough, you know I love sweet potatoes – they're so versatile! I use them in dips, baked goods, oatmeal, soups, salads… you name it, I've probably added sweet potatoes to it! Besides having 4 grams of protein per serving, they boast 769% of the daily recommended intake of vitamin A which is critical for gut and immune health! Here are some sweet potato recipes to get you inspired.
Asparagus
4 grams of protein per 1 cup cooked asparagus
Asparagus is a low-calorie vegetable chock full of nutrients! A 1 cup serving offers 4 grams of protein and is a great source of vitamin K, folate and antioxidants. I love asparagus because it signals the start of spring (although it's usually available year-round in grocery stores.) I love to roast asparagus but you can also grill or steam it. Make one of my asparagus recipes for dinner to reap the benefits!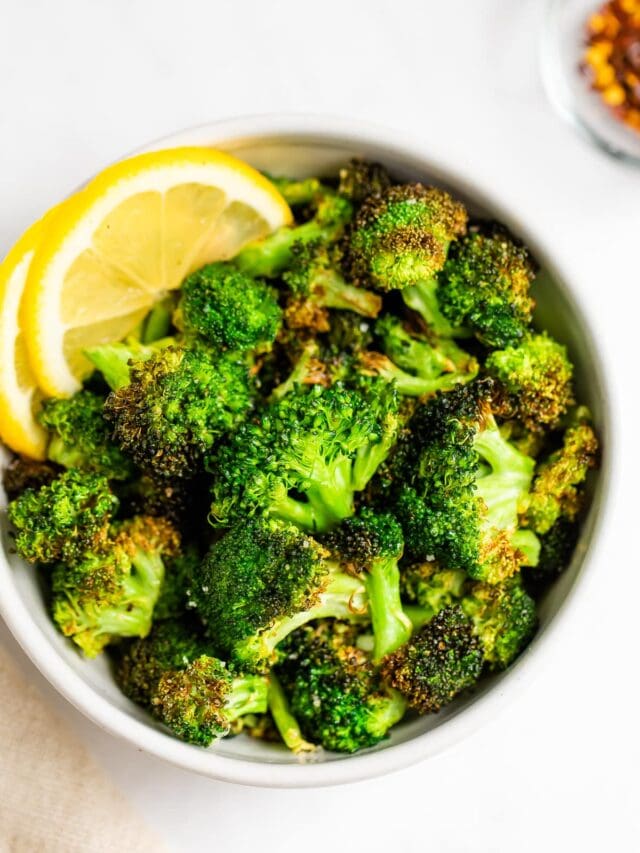 Broccoli
4 grams of protein per 1 cup cooked broccoli
Broccoli is a cruciferous vegetable known for being high in fiber, iron, potassium and vitamins C and K. Steaming broccoli ensures you get the most nutrition out of the veggie, but you can also eat it raw or cook it in a variety of ways! Try some of my favorite broccoli recipes here on EBF.
Kale
3.5 grams of protein per 1 cup cooked kale
You may have heard before that kale is one of the most nutrient-dense vegetables on Earth and it's true! Kale is chock full of vitamins A, B, C and K as well as manganese, calcium, copper, potassium, magnesium and more. It also contains omega-3 fatty acids which are essential to the structure of every cell wall in your body. Add kale to soups, use it as a base in salads, serve it as a side or as chips – there are so many ways to incorporate kale recipes into your diet!
Mushrooms
3 grams of protein per 1 cup cooked mushrooms
White mushrooms are the most popular mushroom available and are a great source of protein as well as other nutrients. They're also a popular non-animal source of vitamin D2 which is necessary for your body to absorb calcium. With their mild flavor you can easily add mushrooms to many of your favorite dishes! Try adding them to your diet with these mushroom recipes.
Avocado
4 grams of protein per 1 medium avocado
We all know avocados are a great source of healthy fats and fiber, but they also add a little protein to your meals! Avocados are easy to add to your diet, from guacamole and to avocado ice cream. Take a look at these avocado recipes to inspire you.
I used the USDA FoodData Central to calculate these protein amounts.