Sardine Breakfast Salad
17
Published May 18, 2016, Updated Sep 16, 2021
A quick and simple low-carb breakfast salad with sardines, artichokes and eggs. Everything is baked and served over fresh arugula.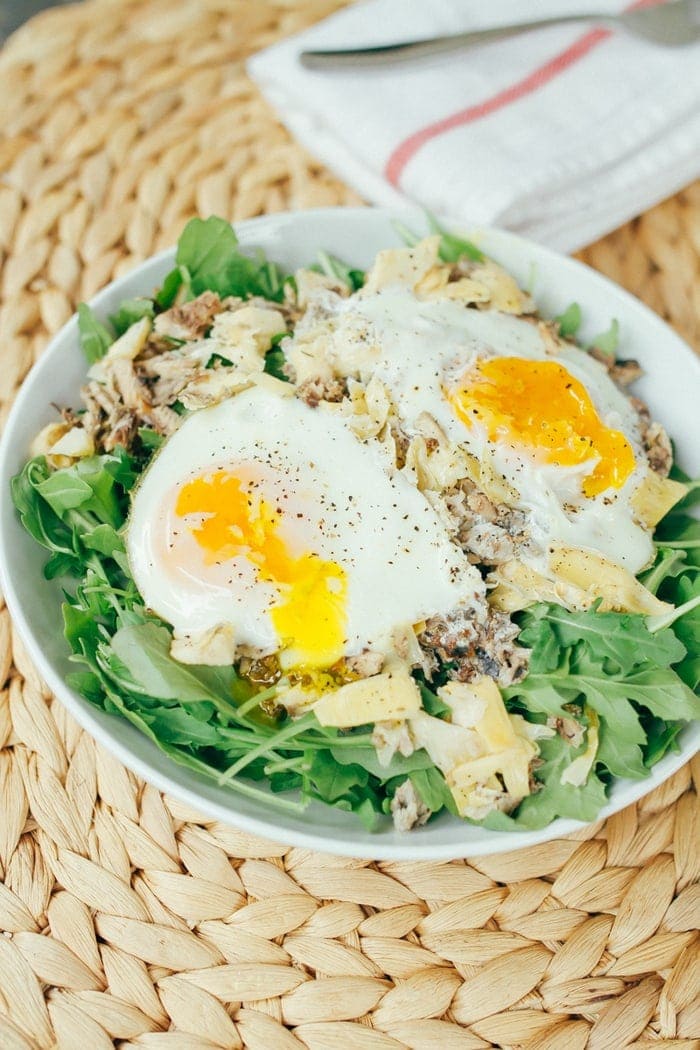 Do You Like Sardines?
Okay serious question for you on this Wednesday morning. Do you like sardines?!? Not the fun hide-and-seek in reverse game. I'm talking about the fish.
Have you tried them? I honestly can't totally remember, but I don't think I'd ever eaten them until this year. It's kind of crazy to me because I consider myself an adventurous eater and I LOVE fish and seafood. Even when I decided to give up meat for six years, I still ate seafood. I like sushi, I've tried octopus, squid and oysters (not a fan, btw), but for whatever reason I had never tried sardines.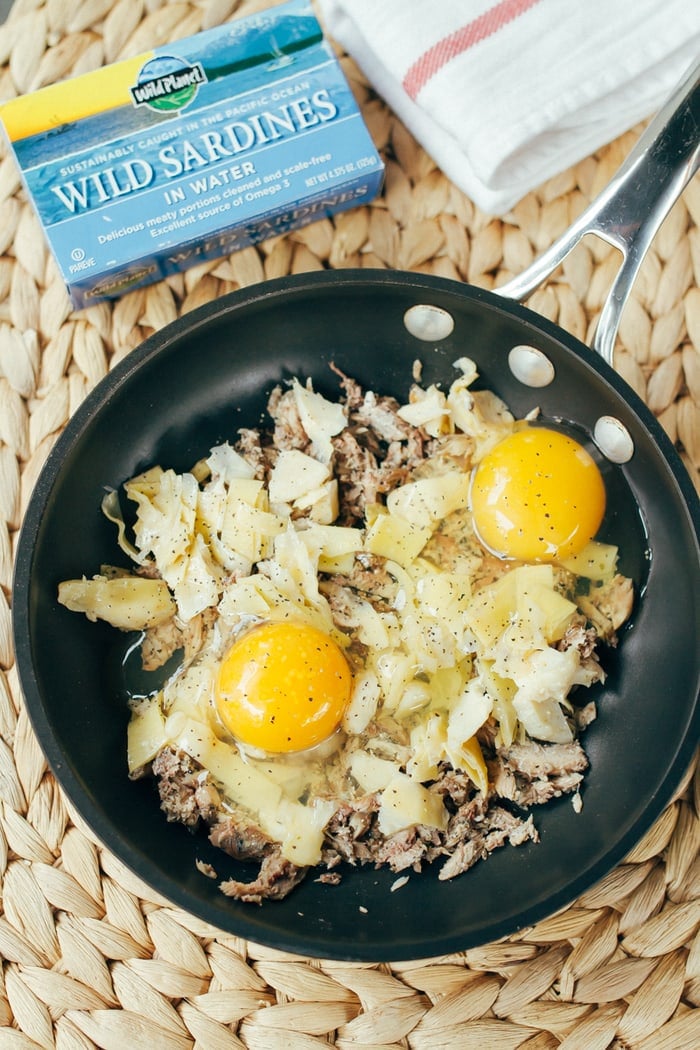 I'm sure you knew this was coming, but I recently tried them!
It was a few weeks ago. The makers of my favorite canned tuna, Wild Planet Foods, sent me a package and sardines were included. I decided it was now or never. I had to try them. That night while Isaac and I were doing our usual pre-dinner snacking I told him about the sardines and he mentioned that he'd eaten them before and that they were good on crackers so… it happened. We opened a can. I let Isaac try them first since he'd eaten them before. He quickly said that they were the best he's ever tasted. This was reassuring so I added a small piece of a sardine to a cracker and ate it.
One bite and I realized that they're pretty good. They actually taste very similar to canned tuna. The flavor is a bit stronger, but nothing too crazy. After this experience I kind of got excited about finding a new food that I liked so when I was in talks with Wild Planet Foods about sharing a recipe here I told them I wanted to share something with sardines. I have plenty of tuna recipes and I thought it would be fun to share something a little different.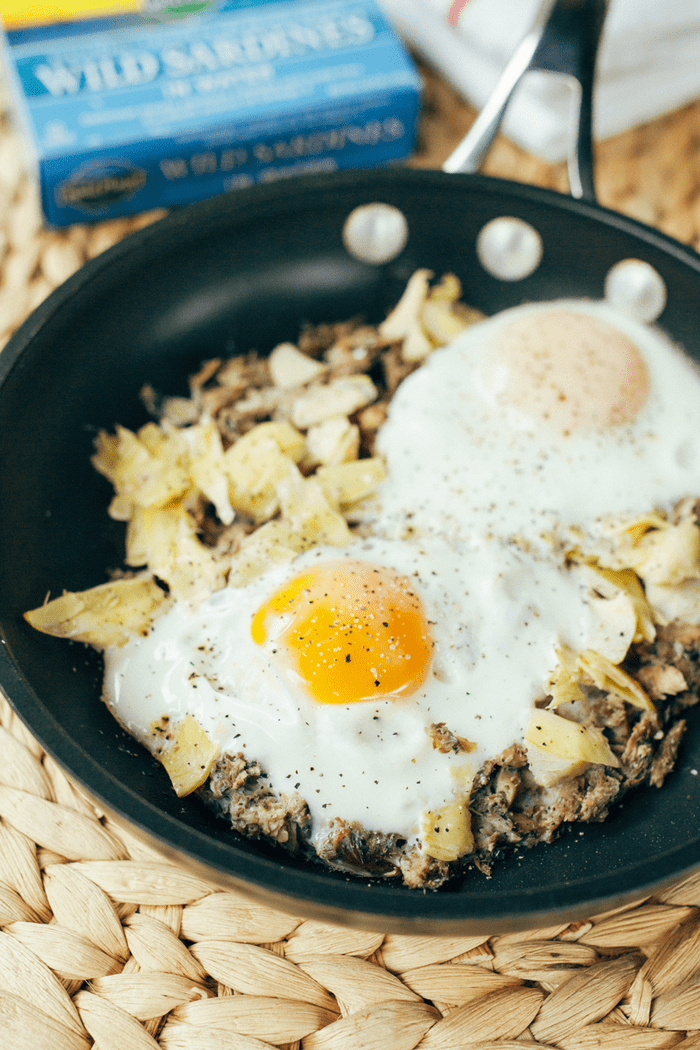 And who knows, maybe I'll get some of you to try sardines too.
You totally should, because as it turns out sardines are SUPER healthy! They're loaded with omega-3 fatty acids, protein, vitamins (like B12 and vitamin D) and minerals (like calcium and iron). They're a small fish so they're less likely to be contaminated with mercury or other pollutants. Pacific sardines (like those from Wild Planet) are on the Monterey Bay Aquarium's "Super Green List" and are classified as a Seafood Watch "Best Choice" meaning they're a fish that's environmentally friendly, low in toxins and high in Omega-3s. Go sardines!
I also have to mention that Wild Planet Foods canned tuna is the best I've ever tasted and I've been buying it for a couple years now. Not only does it taste good, but it's 100% sustainably-caught as well. Greenpeace, recently ranked the company #1 for sustainable sourcing policy among 14 brands (including the top 3 tuna processors).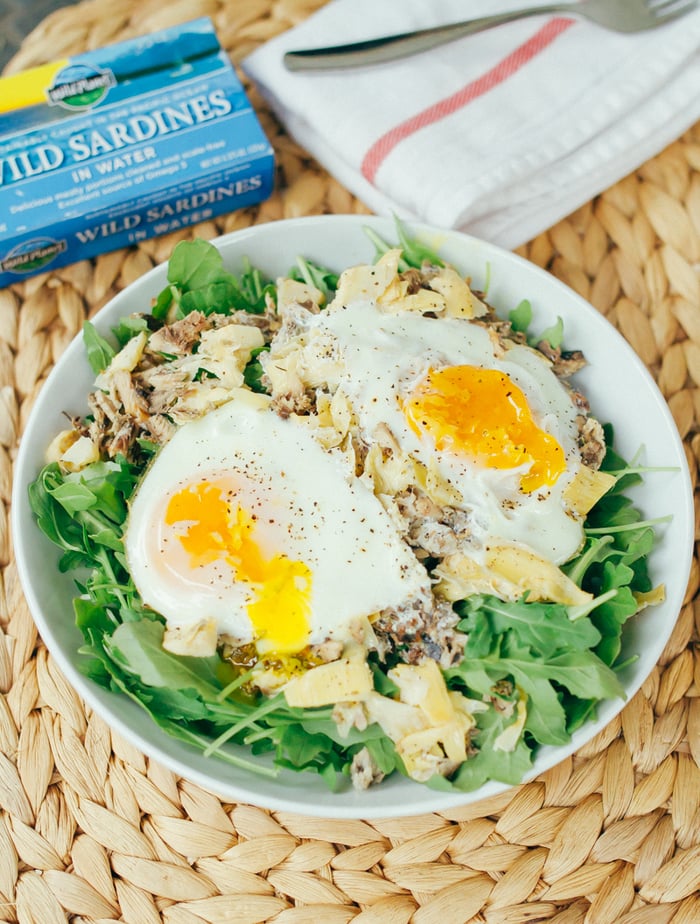 The recipe I'm sharing today is for a simple sardine breakfast bake with marinated artichokes and eggs served over arugula. I'm calling it a breakfast salad.
It's flavorful, filling and perfect for mornings when you need something loaded with nutrients that's also amazingly quick and easy. As a sardine newbie I wasn't so sure how I would feel about eating them for breakfast, but this salad is really tasty. The marinated artichokes give the whole dish a lot of flavor and the runny yolks from the eggs act like a dressing for the salad. I could totally see myself eating this for breakfast on the regular.
If you're not already a sardine fan, I hope you'll give them a chance and try this recipe.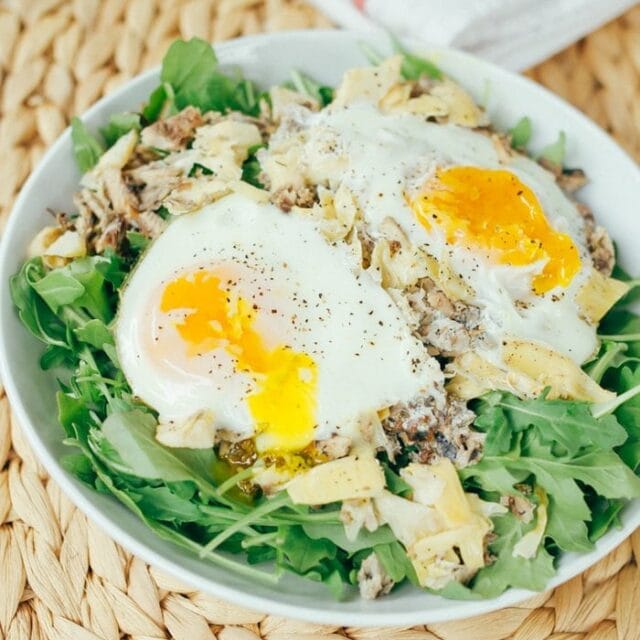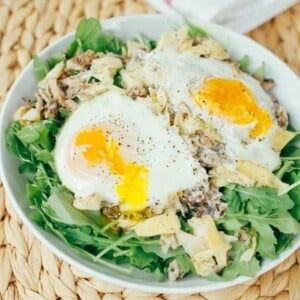 Sardine Breakfast Salad
A quick and easy protein-packed paleo breakfast with sardines, artichokes and eggs, baked and served over fresh arugula.
Ingredients
1 - 4.375

oz.

can of Wild Planet Wild Sardines

,

in Water or Extra Virgin Olive Oil

2

fresh eggs

1

cup

of organic arugula

5

Tablespoons

of marinated artichoke hearts

,

chopped

sea salt and black pepper

,

to taste
Instructions
Preheat oven to 375°F

Place sardines in a small bowl and use a fork to break apart the meat. Add artichoke hearts and toss to combine.

Place sardine and artichoke mixture into a small oven-safe dish. I used a small oven-safe skillet.

Break the eggs on top of the sardine mixture.

Sprinkle with salt and pepper to taste.

Bake for about 10-12 minutes, or until eggs cooked to preferred doneness.

Serve over arugula.
Nutrition
Serving:
2
|
Calories:
237
kcal
|
Carbohydrates:
4
g
|
Protein:
21
g
|
Fat:
16
g
|
Fiber:
2
g
Nutrition information is automatically calculated, so should only be used as an approximation.