Remember that quick and easy pizza sauce I posted over the weekend? Well, here's your chance to put it to good use! During my 28 Day Transformation program back in August I realized that so many participants were using their weekly treat meal to have pizza. I joked about it in a couple follow-up emails and ultimately decided that I needed to add a healthy pizza recipe to the plan so that participants could have pizza without taking up their treat for the week. So here's the recipe I came up with. It's on plan and perfect for lunch or dinner when paired with a serving of protein.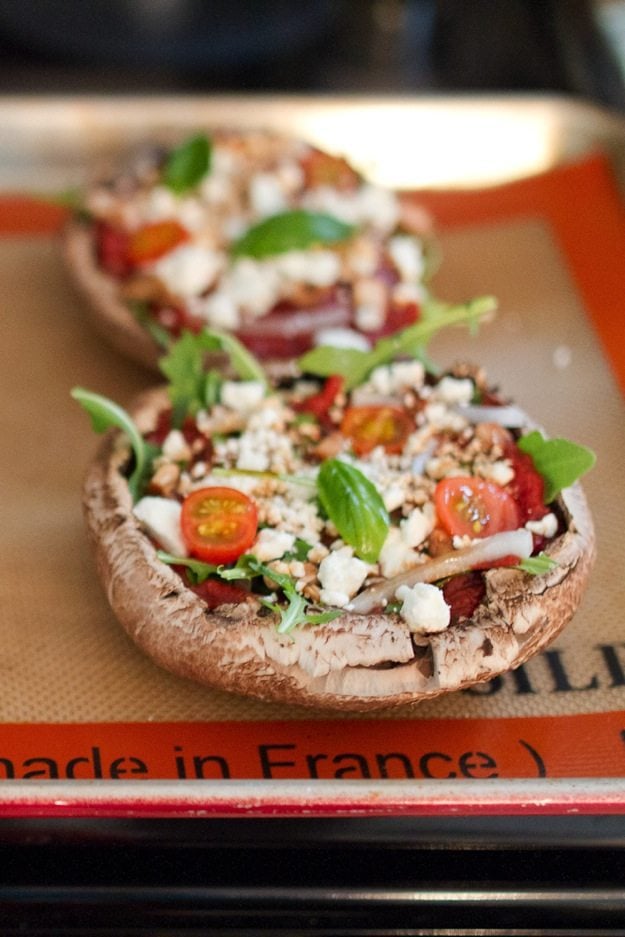 These babies are easy! Simply whip up a batch of pizza sauce (here's a super easy blender pizza sauce recipe but you can also use store-bought), prep your veggies, add your toppings and bake.
For this version I used the biggest portobello caps I could find at Whole Foods. I cut the stems out and scrapped out the gills to make more room for toppings. I did end up saving the stems that weren't too woody to use for the topping.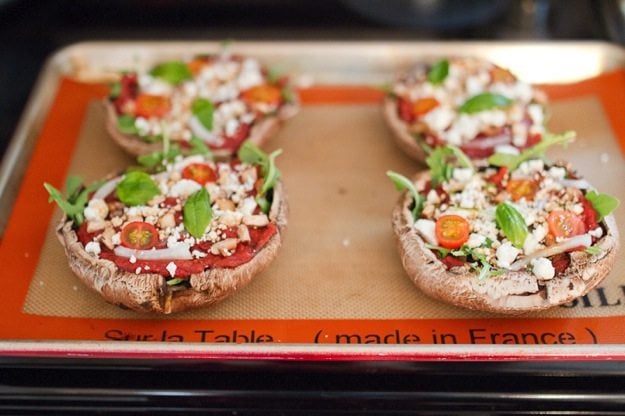 Toppings = arugula, onion, cherry tomatoes, mushroom pieces and goat cheese! If you're not a huge goat cheese person, you can use mozzarella or any other type of cheese you'd like.
At just under 120 calories each, these mini pizzas are a nutrient packed veggie dish that you can feel good about adding to any meal. To make a meal out of these, I would have two paired with a salad or have one with a serving of protein.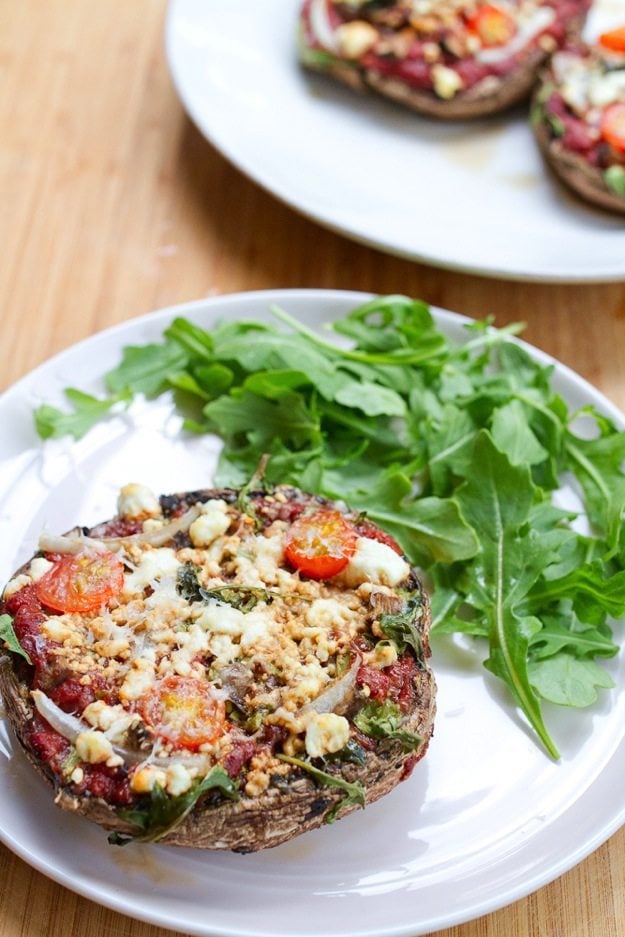 The raw pizzas look much prettier, but trust me the cooked version is delicious. I topped each with a sprinkle of freshly grated parmesan, a drizzle of balsamic and devoured them. Well, not all four… I shared some with friends. 🙂
Print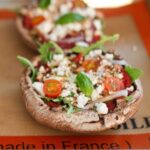 Arugula and Goat Cheese Portobello Pizzas
Author:

Prep Time:

10 mins

Cook Time:

20 mins

Total Time:

30 mins

Yield:

4
---
Ingredients
4 large whole portobello mushroom caps, wiped clean
1 cup no-cook pizza sauce (or healthy store-bought pizza sauce)
2 cups baby arugula leaves
¼ cup goat cheese crumbles (or mozzarella cheese)
¼ cup portobello stems, sliced
¼ cup onion, finely chopped
12 cherry tomatoes, sliced
fresh basil leaves
freshly grated parmesan, for topping
balsamic vinegar (optional)
---
Instructions
Preheat oven to 400°F.
Cut stem off each portobello mushroom cap and remove the gills using a spoon. Save the stems that aren't woody and discard the gills.
Lie the caps stem side up on a baking sheet.
Fill the center of each mushroom with a quarter of the arugula, ¼ cup of the pizza sauce and 1 tablespoon of goat cheese. Then place 1 tablespoon onion, 1 tablespoon of portobello stems, a quarter of the sliced cherry tomatoes and couple fresh basil leaves on top of each.
Bake for 15-20 minutes. Remove from the oven, sprinkle on a little freshly grated Parmesan cheese, top with fresh basil, drizzle with balsamic vinegar and serve.
---
Nutrition
Serving Size:

1 pizza

Calories:

119

Sugar:

5g

Fat:

4g

Carbohydrates:

13g

Fiber:

3g

Protein:

8g
Looking for other healthy pizza options? Check out these links:
Healthy pizza — you gotta love it!