Chocolate Covered Snickers Stuffed Dates
232
Published Oct 27, 2018, Updated Nov 07, 2023
These chocolate covered Snickers stuffed dates are made with real food ingredients and taste even better than an actual Snickers bar. Vegan + gluten-free.
Halloween is right around the corner and I know it can mark the start of crazy holiday eating habits. We often get hooked on sugar at Halloween, figure why not keep indulging for all the Thanksgiving recipes, and by the time the New Year rolls around we realize we've been living in stretchy pants and don't recognize the girl in the mirror.
Been there, done that – but for the past few years I've made it my mission to stick with simple healthy habits and cut back on my sugar intake because I know how easy it is for my sugar eating habits to spiral out of control.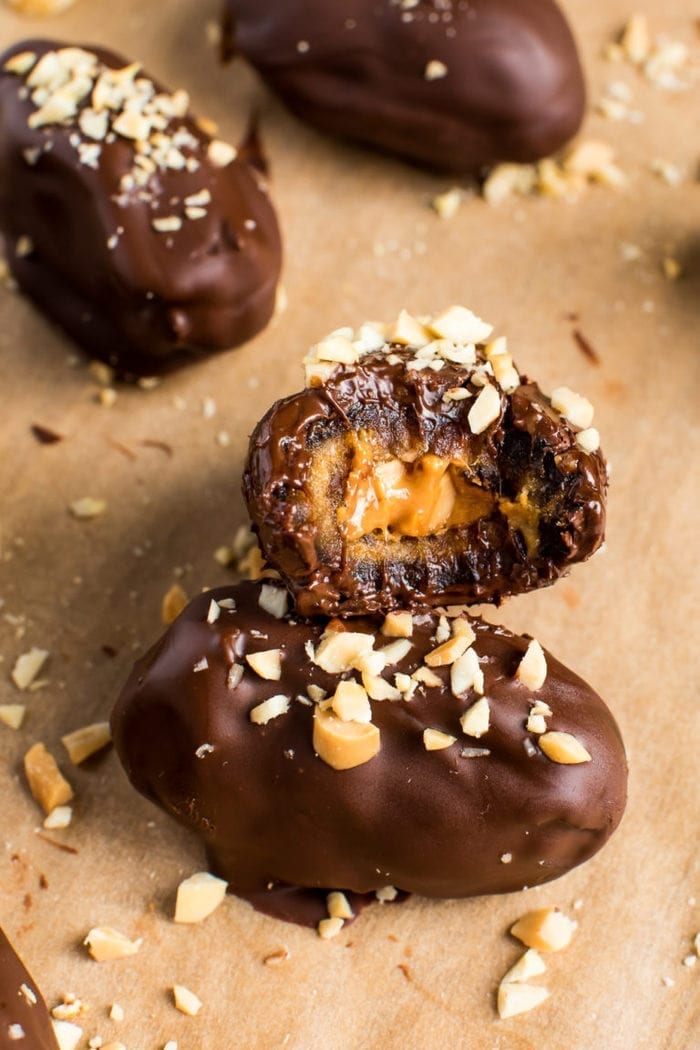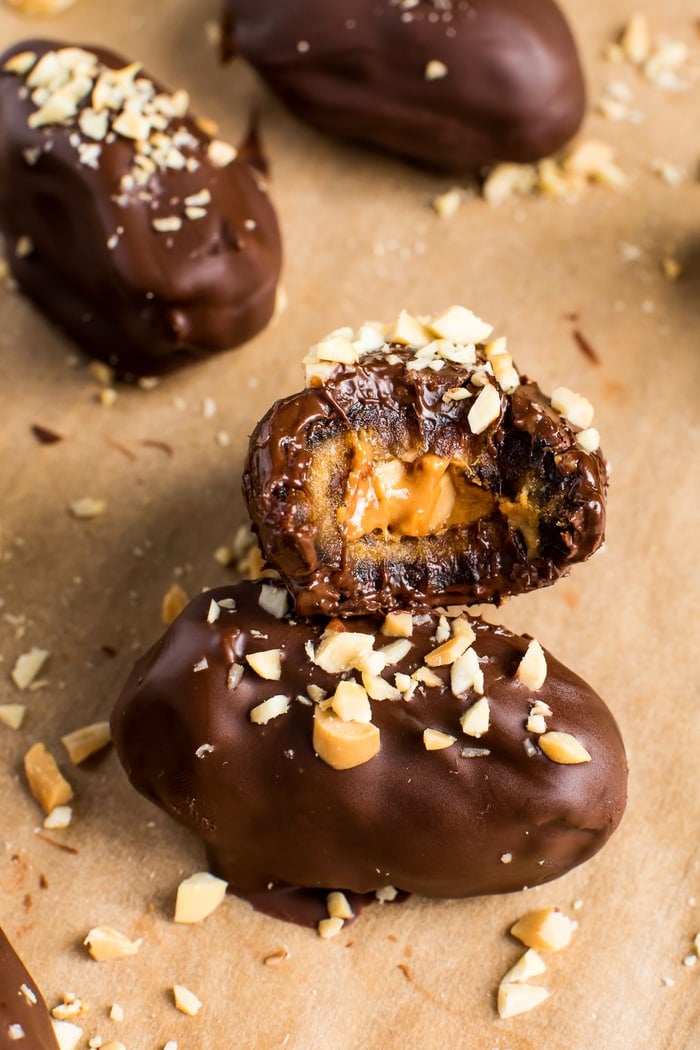 Swapping Processed Sugar For Natural Sugar
My number one tip for "cutting back on sugar" is actually switching to natural sugars like maple syrup, honey and Medjool dates. These Snickers stuffed dates are the perfect example of that.
As I said, Halloween is riiiiight around the corner and seeing those snack-size candies right when you walk in the grocery store is so tempting! Thankfully it's easy to make something that tastes just as good (if not better) with real food ingredients and none of that processed junk. I've shared these peanut butter cups, healthy Twix bars and healthier Butterfingers, but today I've got a healthier Snickers recipe for ya!
Are Dates Healthy?
Overwhelmingly yes! I have an entire post on everything you need to know about Medjool dates if you want to do a deeper dive. However, for a quick glance, dates…
contain natural sugar, but have a low/medium glycemic index score due to containing a good amount of fiber, which helps to slow the release of the carbohydrates and give you sustained energy rather than spiking your blood sugar crazy high.
are also naturally low in fat.
are packed with nutrients like potassium (50% more potassium by weight than a banana), copper, magnesium, vitamin B6, niacin, calcium, iron and vitamin K.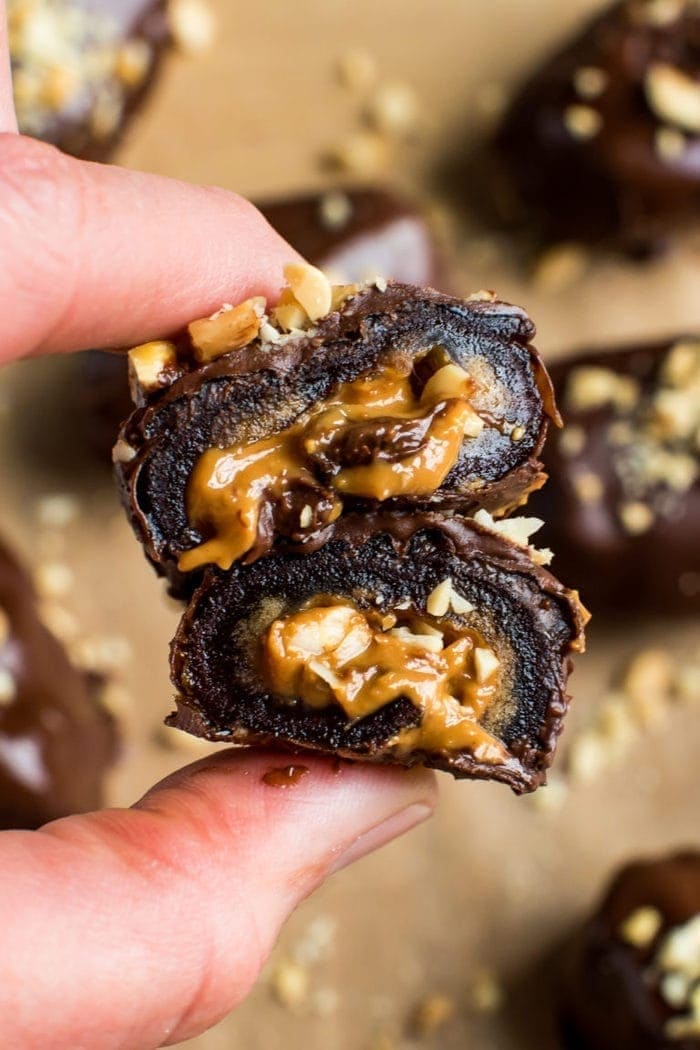 Here's What You Need
These incredible chocolate covered Snickers stuffed dates taste like a Snickers bar and are made with real, whole-food ingredients. And want to know the best part? You only need 5 simple ingredients that you likely already have in your kitchen. Here's what you need:
medjool dates – you can buy medjool dates that are already pitted or pit them yourself (it's super easy). Two brands that I like are Natural Delights and Joolies. You can find Natural Delights in the produce section of most grocery stores (near the bananas) and Joolies are offered on Amazon and Thrive Market.
peanut butter – I prefer drippy/runny natural peanut butter but you can use any nut or seed butter you like. Some of my go-to brands of peanut butter are Crazy Richard's, Whole Food's 365 and Wild Friends (use EBF10 for 10% off your order). If you have a peanut allergy, any kind of nut butter will do!
chopped/crushed peanuts – an extra boost of peanut flavor and some crunch for texture! Try using a different nut if you have a peanut allergy to add some crunch.
dark chocolate chunks or chocolate chips – I love Lily's chocolate chips for a low-sugar option and Enjoy Life chocolate chips for a dairy-free/soy-free option.
coconut oil – this is used to help melt the chocolate and helps it to become thinner, which makes it easier to dip the dates. You can skip it, but your melted chocolate will likely be pretty thick. I recommend using refined coconut oil if you don't want any coconut flavor!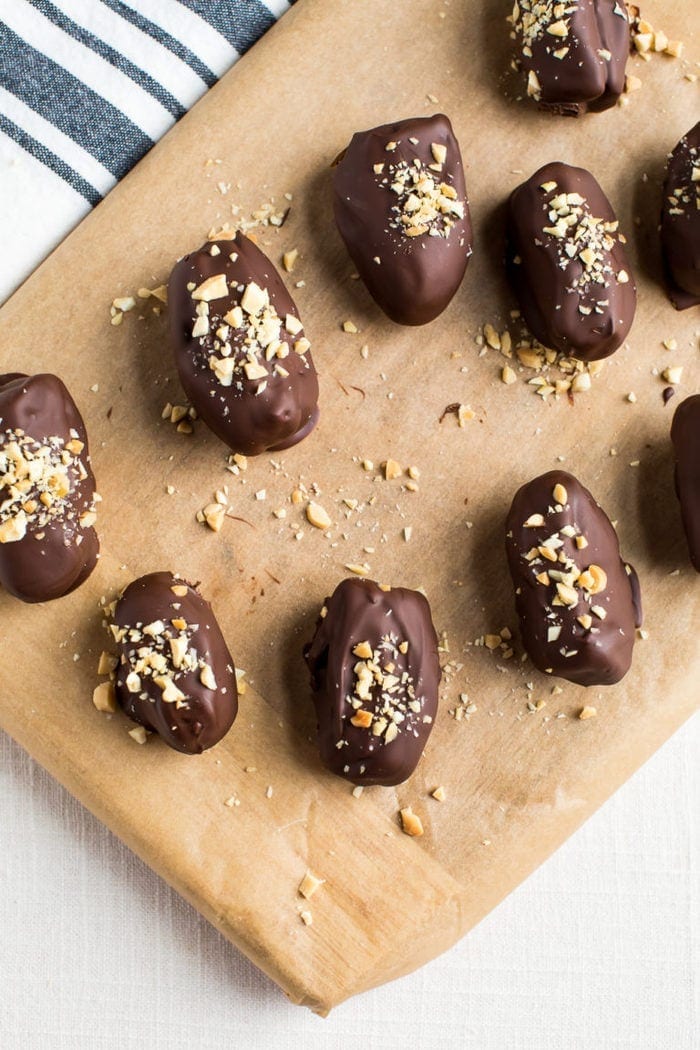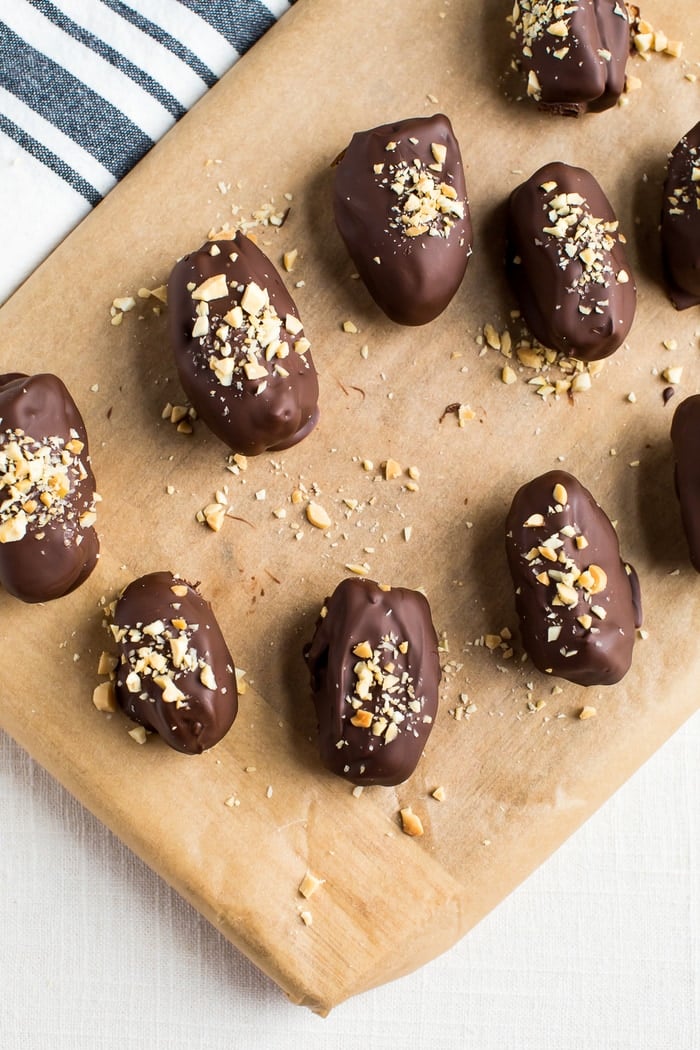 How to Make Snickers Stuffed Dates
If you're hosting a Halloween party or want to make a fun dessert with kiddos, give these Snickers stuffed dates a try! This recipe really doesn't get any easier. I'll walk you through step by step (including steps for mama and steps for kids!)
1. Cut a slit in the dates and remove the pit (mamas, you can cut the slit and have your kiddos use their little fingers to grab the pits out!).
2. Fill each date with a spoonful of peanut butter (mamas, this step is probably best for you unless you have older kids!). Kids, you're in charge of sprinkling each date with crushed peanuts after they're filled with peanut butter.
3. Kids, dump the chocolate chips into a bowl and moms, you add the coconut oil. Heat until mixture is melted and stir to combine.
4. This might have to be a team effort unless your kids are older. The final step is to take each peanut butter filled and peanut topped date and dunk it in the chocolate. I used a toothpick to hold the date together while dipping. Pop the covered dates on parchment and place them in the fridge until the chocolate sets, about 10 minutes.
5. Enjoy this healthy, delicious treat as a family!
tip!
Use an icing bag or a zip-lock bag and cut a corner to easily fill dates with peanut butter!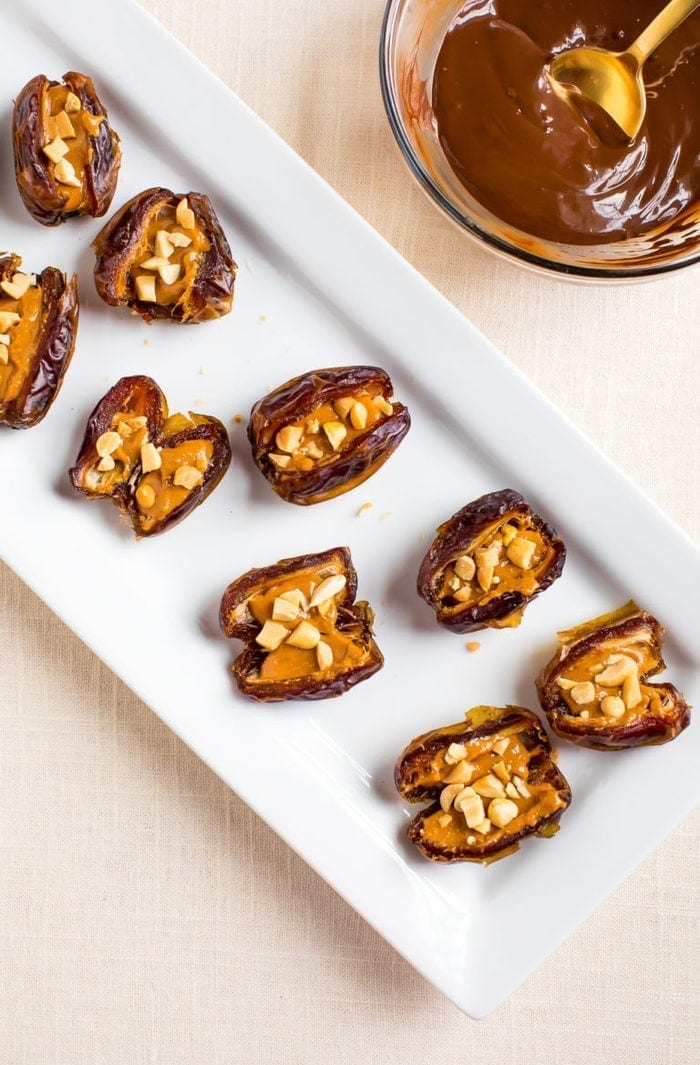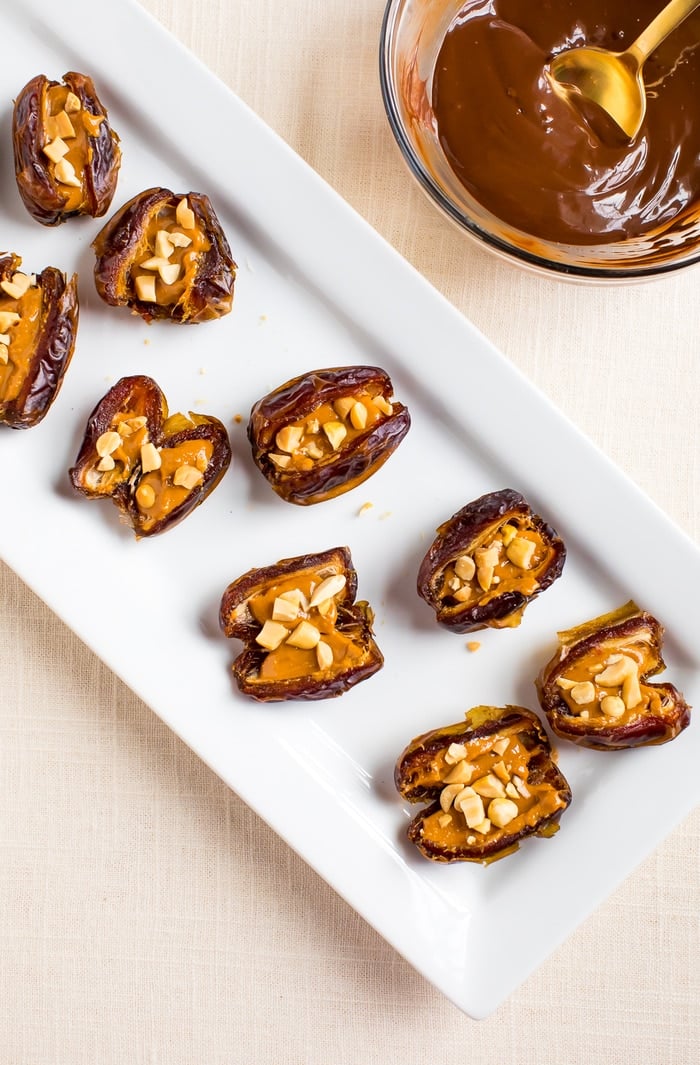 Make a Single Serving
Have a craving for Snickers and want to quickly satisfy it? Make a single Snickers stuffed date and indulge immediately! Just use 1 date, 1/2 teaspoon of peanut butter, 1 teaspoon crushed peanuts and about 1 Tablespoon of melted chocolate.
How to Store Snickers Stuffed Dates
I recommend storing these bites in an airtight container in the fridge. They should last up to one week… but I bet they'll be gone before then! You can also store these treats in the freezer for 1-2 months.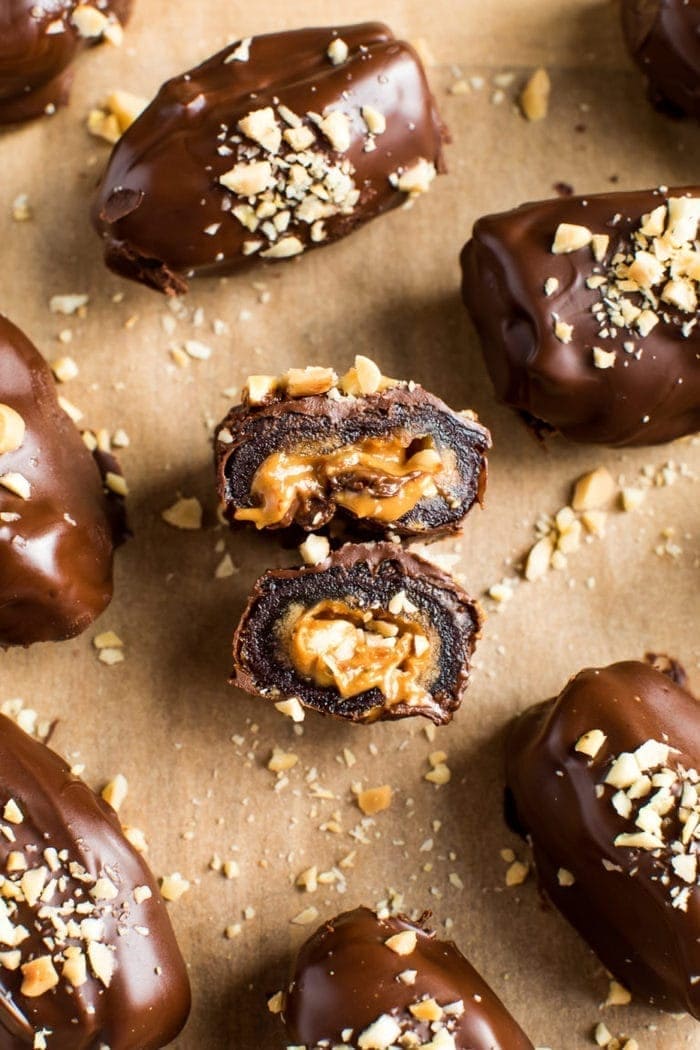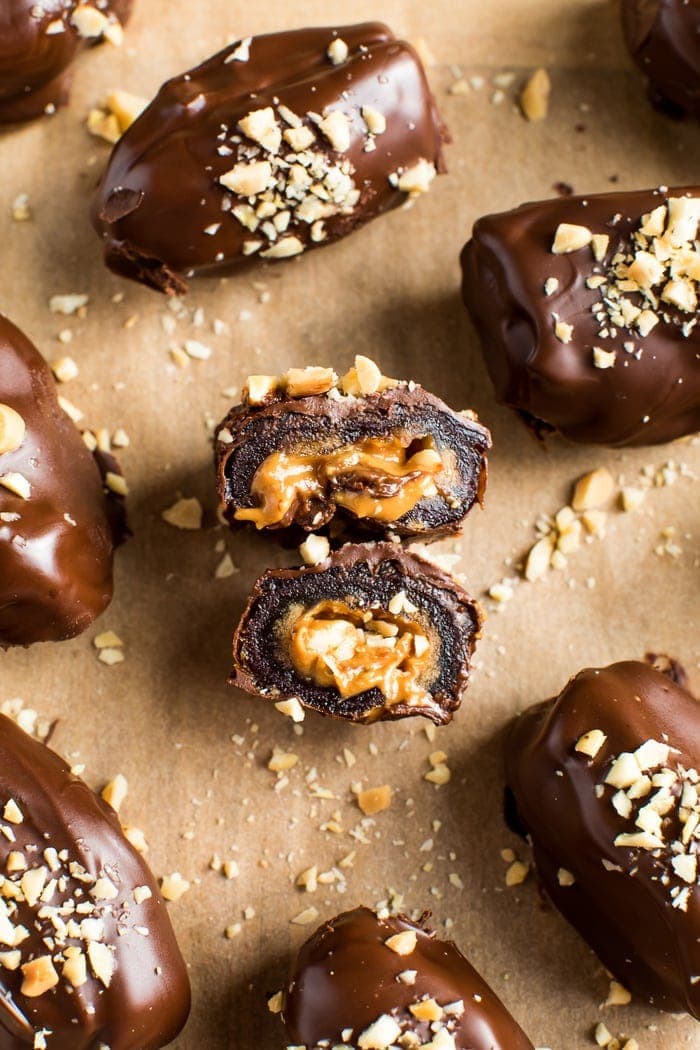 More Date Recipes to Try
More Healthy Treats for Halloween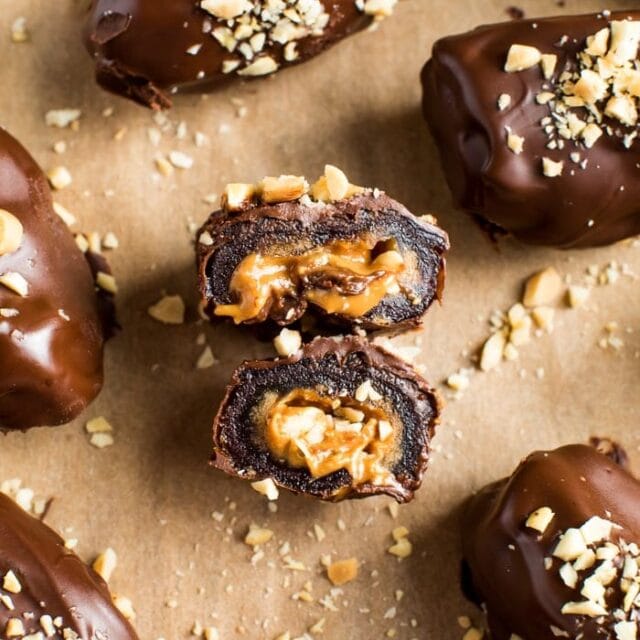 Chocolate Covered Snickers Stuffed Dates
These chocolate covered Snickers stuffed dates are made with real food ingredients and taste even better than an actual Snickers bar. Vegan + gluten-free.
Ingredients
2

Tablespoons

peanut butter

¼

cup

chopped or crushed peanuts

½

cup

dairy-free dark chocolate chunks or chocolate chips

1

teaspoon

coconut oil
Instructions
Cut a slit in each date and remove the pit.

Fill each date with peanut butter (about ½ teaspoon) and a sprinkle of crushed peanuts. Set aside.

Place the dark chocolate and the coconut oil in a microwave safe bowl and melt in the microwave in 15 second increments, stirring between each. It shouldn't take longer than 1-2 minutes total.

Using a toothpick, dip each date into melted chocolate and use a spoon to coat the date until completely covered. Place chocolate covered date on a platter lined with parchment. Sprinkle remaining crushed peanuts on top of each date.

Place the dates in the fridge to allow the chocolate to set.

Keep leftover chocolate covered dates in a sealed container in the fridge for up to a week.
Notes
If you have a peanut allergy, any nut butter and nut will work as a replacement!
Need a single-serving treat? Just use 1 date, 1/2 teaspoon of peanut butter, 1 teaspoon crushed peanuts and about 1 Tablespoon of melted chocolate.
Nutrition
Serving:
1
date
|
Calories:
147
kcal
|
Carbohydrates:
26
g
|
Protein:
1
g
|
Fat:
6
g
|
Cholesterol:
1
mg
|
Sodium:
19
mg
|
Fiber:
3
g
|
Sugar:
21
g
Nutrition information is automatically calculated, so should only be used as an approximation.