This miso broiled salmon with fresh ginger, scallions and a sweet, savory miso glaze is so easy to make and it tastes like something you'd order at a fancy restaurant!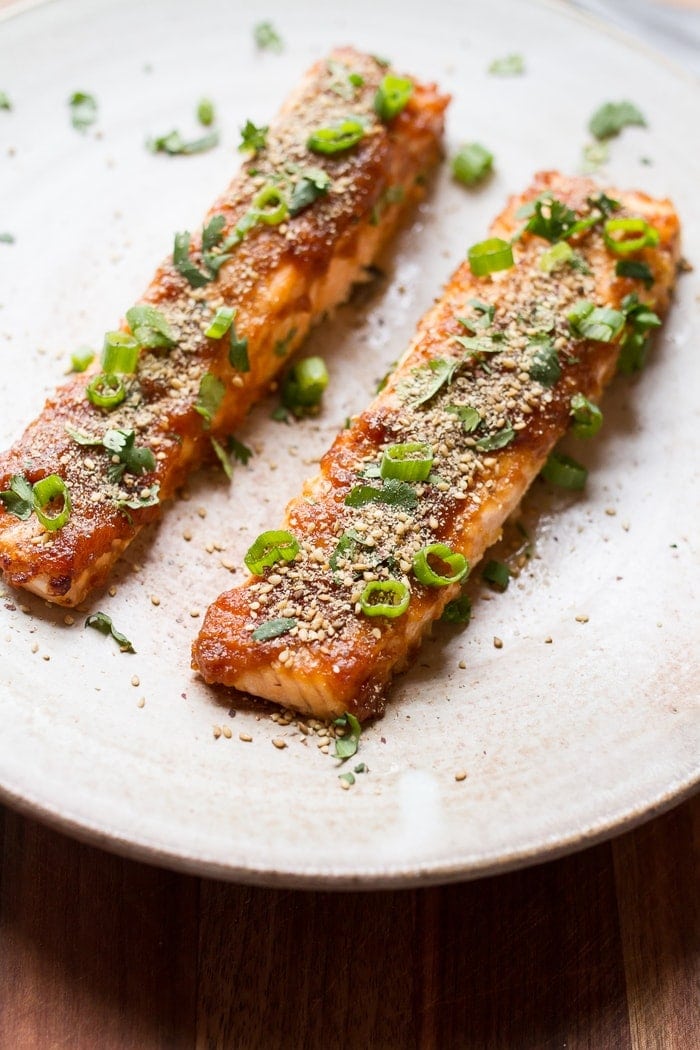 This recipe was originally posted in 2010, but I am reposting it because it's been updated and the photos are new. Enjoy!
A few weeks ago I spotted this recipe for Broiled Salmon with a Miso Glaze in an email from Fitness Magazine and decided it would a good way to use some of the miso I had on hand. I hit up Whole Food's for fresh salmon, ginger, scallions and of course came home with some other necessities goodies as well.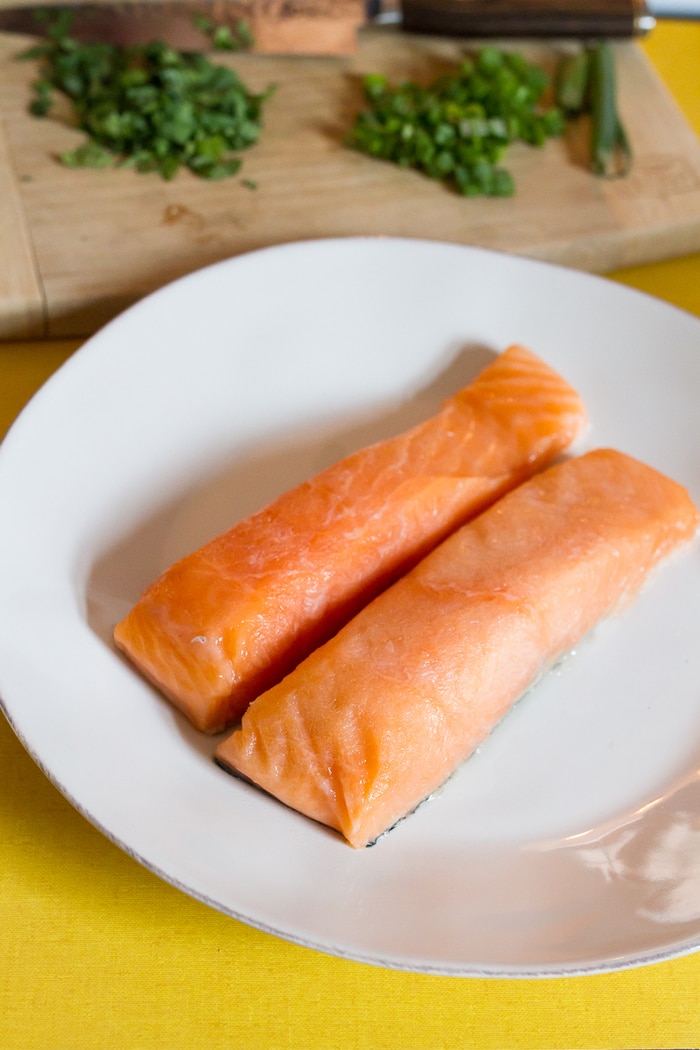 We got dinner together in all of 15 minutes. Seriously! The fish required a simple sauce and about eight minutes of cooking. While the salmon was broiling I heated up a little frozen edamame and organic brown rice. And voila — a delicious dinner was served.
The salmon was excellent! Isaac and I both couldn't stop marveling over how good it tasted. The flavor from the miso glaze really infused itself into the fish and although the top got a little crispy from the boiler — those bites were actually my favorite.
Just in case you're unfamiliar, miso is a fermented soybean (or chickpea) paste. It's used frequently in Japanese cooking, keeps for months in the fridge and adds a savory, salty flavor to soups, sauces, marinades and salad dressings.  Typically the lighter the miso, the milder and sweeter its flavor. This recipe works great with white miso, which is the mildest variety you'll find. Look for miso in the refrigerated section of your grocery store. You may need to go to a speciality store or Asian market to find it.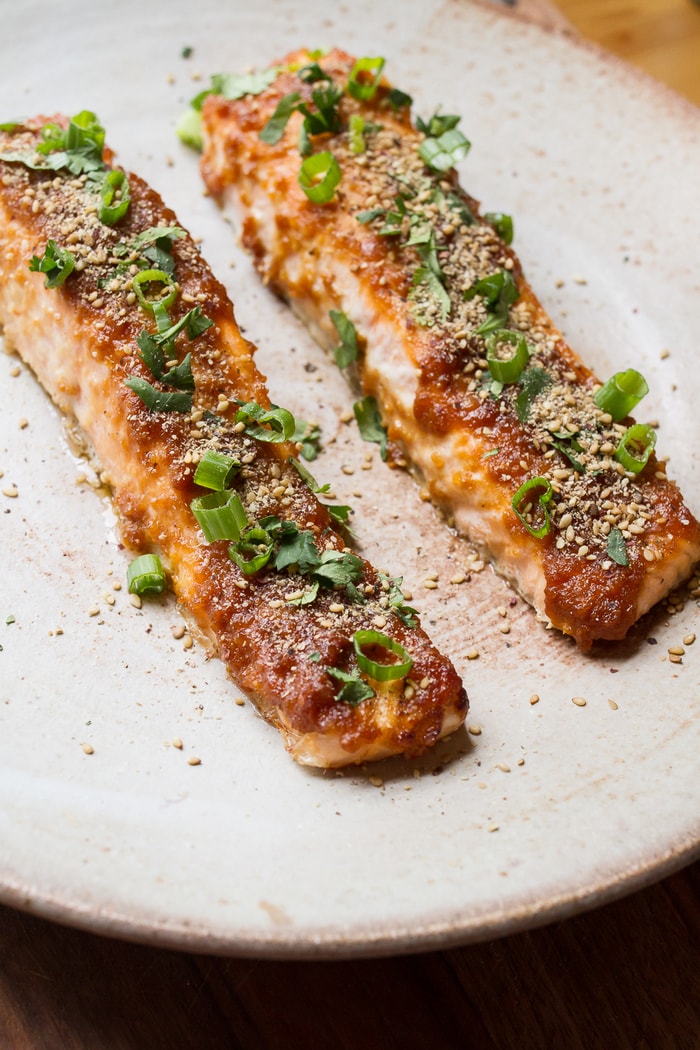 If you like salmon I would HIGHLY recommend trying this miso broiled salmon recipe — it tasted like something you would pay $25-30 a plate for at a nice restaurant. On top of that, it's healthy and easy to make at home!!
Print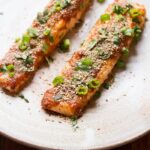 Miso Broiled Salmon
Author:

Prep Time:

5 mins

Cook Time:

8 mins

Total Time:

13 mins

Yield:

2
---
Description
Broiled salmon with a sweet, savory ginger miso glaze. Serve with scallions, cilantro and sesame seeds for a beautiful presentation.
---
Ingredients
1 tablespoon white miso
1 tablespoon mirin* (or rice wine vinegar)
1 1/2 teaspoons reduced sodium tamari
1 1/2 teaspoons minced fresh ginger
2 – 4 ounce salmon fillets
1 tablespoon scallions, thinly sliced
1 tablespoon chopped fresh cilantro
1 1/2 teaspoons gomasio (or toasted sesame seeds)
---
Instructions
Position rack in upper third of oven; preheat broiler. Line a baking pan with aluminum foil and generously coat the foil with cooking spray.
Whisk together miso, mirin, tamari and ginger in a small bowl until smooth.
Place salmon fillets, skin-side down on the prepared baking pan. Spoon miso mixture generously over each piece of salmon.
Broil the salmon until just cooked through, about 6 to 8 minutes depending on size. Garnish with scallions, cilantro and gomasio. Serve immediately.
---
Notes
*Mirin is a sweet, low-alcohol rice wine that can be found in the Asian section of your grocery store. If you can't find it rice wine vinegar will work as a substitute.
Recipe adapted from Fitness Magazine.
What's your favorite magazine to find recipes in? I've found that Fitness has the best recipes. Every one I've tried has become a "go-to" recipe, including the salmon above.