Banana Cacao Smoothie
18
Published May 31, 2022, Updated Jul 24, 2023
This creamy cacao smoothie tastes like a chocolate shake but is loaded with healthy ingredients including frozen banana, cacao powder and cacao nibs.
This cacao smoothie was one of the best smoothies I have had in a long time! It's creamy, chocolatey and I absolutely love the texture that the cacao nibs add.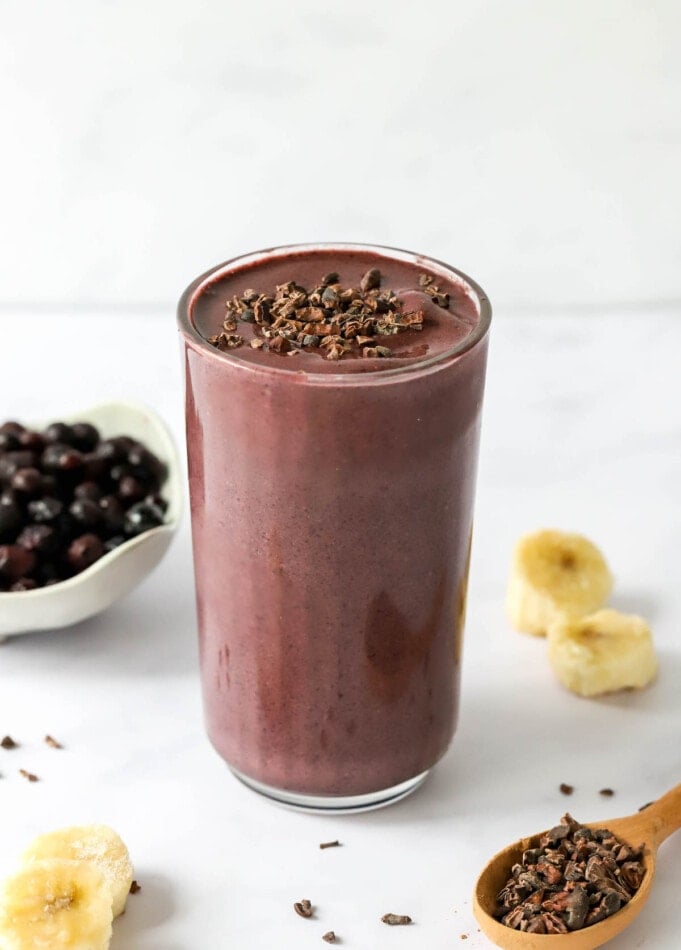 Cocoa vs Cacao
Although both cocoa and cacao come from the same Theobroma cacao tree, the big difference is the processing. Cacao is often used to describe the pods, beans or nibs made from the cacao bean. Once the beans are roasted the name changes to cocoa.
When it comes to cocoa powder and cacao powder, both are made the same way but cacao powder is made from raw cacao beans that are processed at a low temperature and milled into a powder where as cocoa powder is made from roasted cacao beans that are processed at a high temperature and milled into a powder. Cocoa powder is often alkalized during processing (also known as Dutch-processed) to reduce bitterness and acidity.
Long story short, cacao = raw and cocoa = roasted. And during the roasting process cacao beans lose some of their nutrition, which simply means that cacao products (including cacao powder and nibs) contain higher levels of minerals and antioxidants.
It's also important to note that cacao power also has a stronger flavor and will likely taste more bitter than cocoa powder.
Benefits of Cacao
Cacao not only has a rich chocolate flavor, but is also packed with powerful nutrients; including antioxidants, fiber, magnesium, and iron. Here are some impressive health benefits of cacao:
It's one of the richest sources of polyphenols, which are naturally occurring antioxidants

Abundant in flavanols, which have potent antioxidant and anti-inflammatory effects
One of the highest sources of magnesium
It may help reduce high blood pressure
It may help to improve brain function and blood flow
Contains many compounds that have antibacterial and immune-stimulating properties
Can help manage weight
May reduce the risk of heart attack and stroke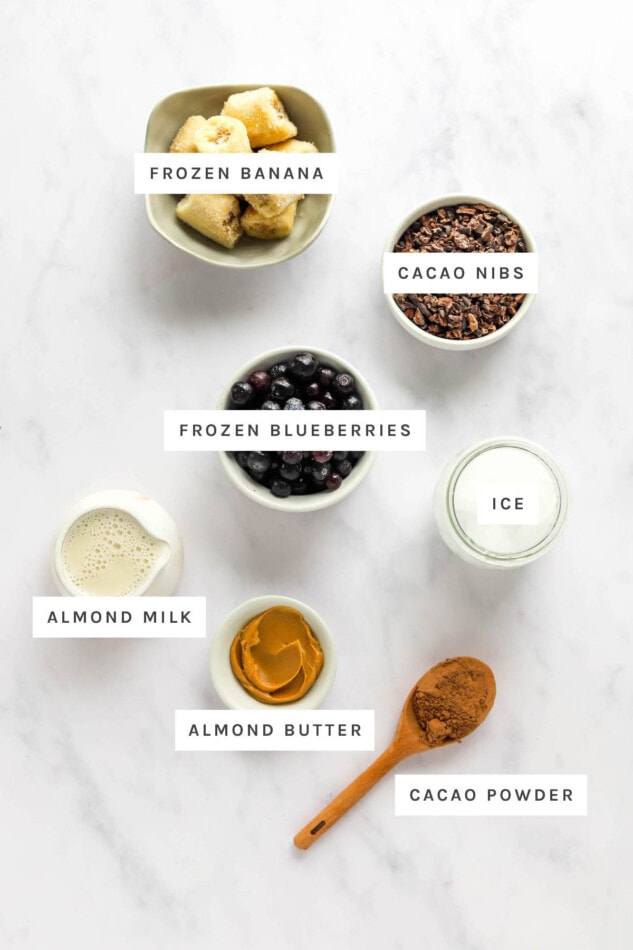 Ingredients Needed
raw cacao powder – this superfood that adds a rich chocolate flavor and is also packed with powerful nutrients. I really like Navitas organic cacao powder.
cacao nibs – cacao nibs are small pieces of crushed cacao beans that have a bitter, chocolatey flavor. They give this smoothie a crunchy texture and add more chocolate flavor. I like the Navitas unsweetened cacao nibs.
milk – I recommend using unsweetened almond milk but whatever milk you have on-hand will work.
banana – I highly recommend using a frozen banana for texture! If you're not a fan of bananas and want to use something else instead, I have some tips for you below.
blueberries – for antioxidants and added flavor. You can use frozen or fresh. Frozen blueberries will help make the smoothie thicker and creamier.
almond butter – look for natural almond butter that doesn't have any added ingredients. The ingredient list should just read almonds and salt! Feel free to sub this with another nut or seed butter like peanut butter, sunflower seed butter or tahini.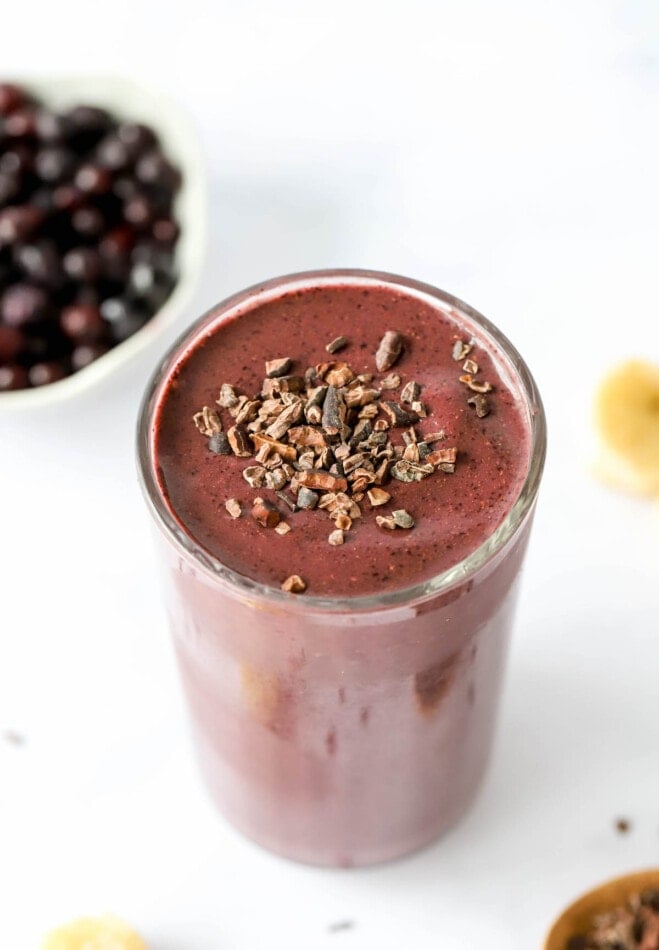 Variations
I love the recipe I have created and shared below, but if you want to switch it up here are some ideas:
Add some greens – to add more nutrients and some veggies you could totally add some greens to this smoothie. Baby spinach, which is loaded with calcium, would be my first choice, but feel free to add your favorite green.
Swap the blueberries – frozen strawberries, blackberries or mixed berries will work well here.
Add protein – want to add some protein to this smoothie? Add a scoop of your favorite protein powder or some Greek yogurt.
Almond butter – feel free to use your favorite nut or seed butter in place of the almond butter. If you don't have nut butter on hand you could also add whole seeds or nuts like almonds or chia seeds.
Add flavor enhancers – want more sweet flavor? Add a pinch of cinnamon or vanilla extract!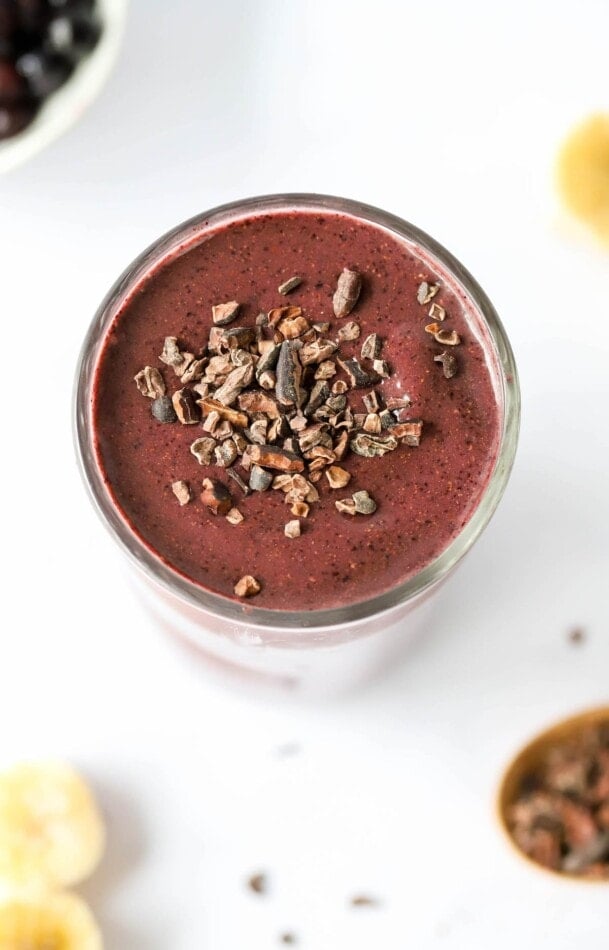 How to Make This Smoothie Without Banana
The frozen banana in this recipe gives the smoothie a thick and creamy texture and it also adds a bit of sweetness, without being too overpowering. If you're looking for a low-sugar option, are allergic to bananas or simply don't like them, here are some ideas for replacements:
ice – add more ice by replacing the frozen banana with ice (about 1 cup). It will give the smoothie volume and a nice, frozen slushy texture.
frozen milk ice cubes – this is the same concept, but instead of using regular ice cubes, make frozen cubes using your favorite non-dairy milk (like almond or coconut milk) and use about 1 cup of these cubes instead of the frozen banana.
frozen cauliflower rice – I use frozen cauliflower rice in my smoothies all the time and it works as a low-sugar replacement for frozen bananas. I do find that it adds a different texture to smoothies especially if you use a large amount. I'd start with 1/4 cup, give the smoothie a taste and then add more if needed.
avocado – fresh (or frozen) avocado works great as a sub for the creaminess banana adds to smoothies.
frozen zucchini – like frozen cauliflower, frozen zucchini works great as a low-sugar replacement for frozen bananas. It also doesn't add a ton of flavor! You can blanch or steam your zucchini before freezing if you want to make it easier to digest, but I don't find this necessary.
pro tip! The banana does add sweetness to this recipe, so if you're not replacing it with another frozen fruit you might want to add a touch of sweetness in the form of medjool dates, maple syrup, honey or stevia.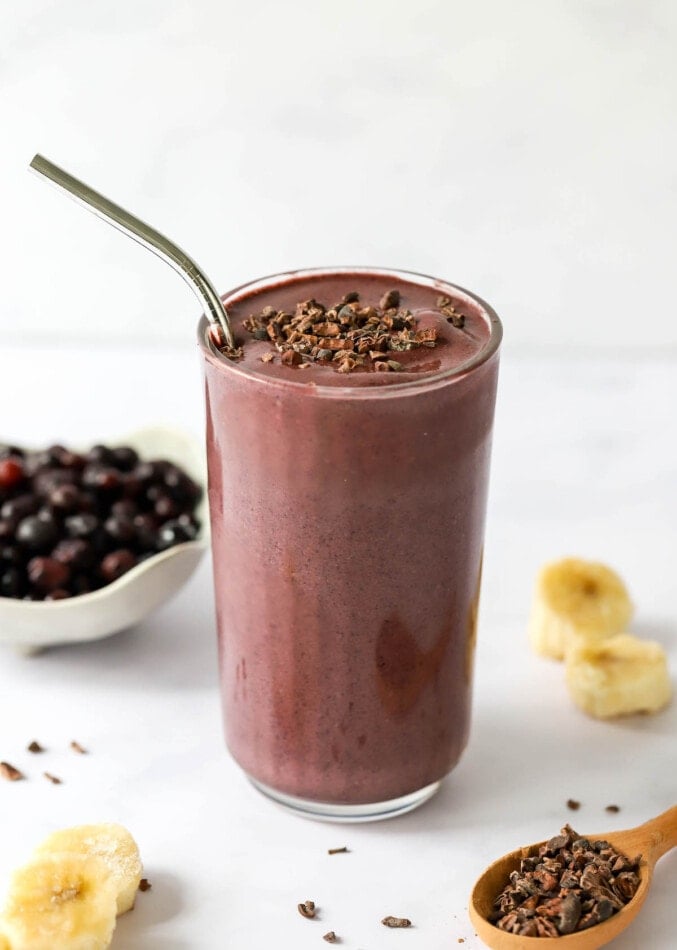 More Recipes with Cacao
More Healthy Smoothies
Be sure to check out all of the smoothie recipes on EBF!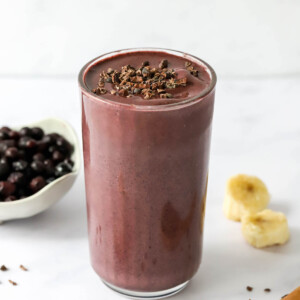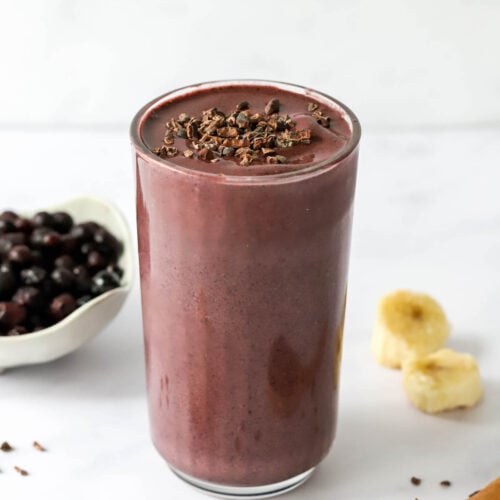 Cacao Smoothie
This creamy cacao smoothie tastes like a chocolate shake but is loaded with healthy ingredients including frozen banana, cacao powder and cacao nibs.
Instructions
Place all ingredients into a high-powdered blender and blend until smooth.

Taste and adjust ice or liquid amounts if needed. Pour into a glass and top with additional cacao nibs, if desired and enjoy!
Nutrition
Serving:
1
smoothie
|
Calories:
386
kcal
|
Carbohydrates:
58
g
|
Protein:
8
g
|
Fat:
16
g
|
Saturated Fat:
4
g
|
Polyunsaturated Fat:
1
g
|
Monounsaturated Fat:
1
g
|
Sodium:
134
mg
|
Potassium:
859
mg
|
Fiber:
9
g
|
Sugar:
32
g
Nutrition information is automatically calculated, so should only be used as an approximation.