Kiwi Smoothie
3
Published Jun 21, 2023, Updated Aug 28, 2023
This simple kiwi smoothie is loaded with frozen banana, mango, kiwi, spinach and coconut milk. It's easy to make and the perfect refreshing smoothie for summer! Dairy-free + vegan.
Another day, another smoothie! And for today's smoothie recipe I'm sharing this kiwi smoothie.
When it comes to kiwi a lot of people typically enjoy it as a snack, scooping the flesh from the skin with a spoon. That said, if you've never tried kiwi in a recipe this is your sign! I love my kiwi chia pudding and quinoa fruit salad with kiwi, but this smoothie might be my new favorite way to enjoy kiwi.
And when paired with coconut milk and frozen mango this smoothie has all the tropical vibes and makes me feel like I'm sitting on the beach when drinking it. Trust me, this smoothie is guaranteed to be your new favorite summer drink!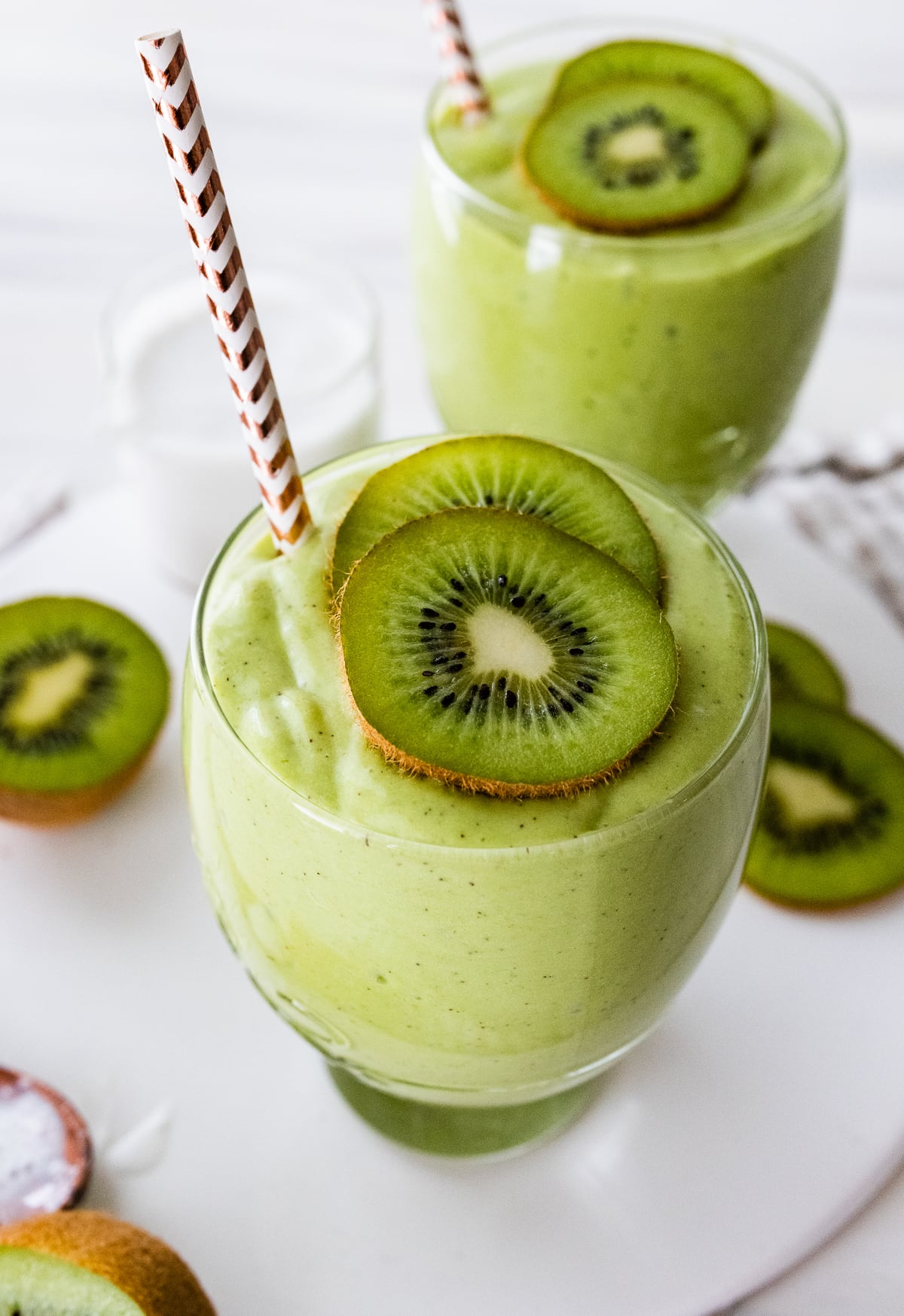 Why You'll Love This Smoothie
Packed with essential vitamins and minerals.
Creamy, refreshing and the perfect summer drink.
Only 5 simple ingredients needed!
Vegan, dairy-free + gluten-free.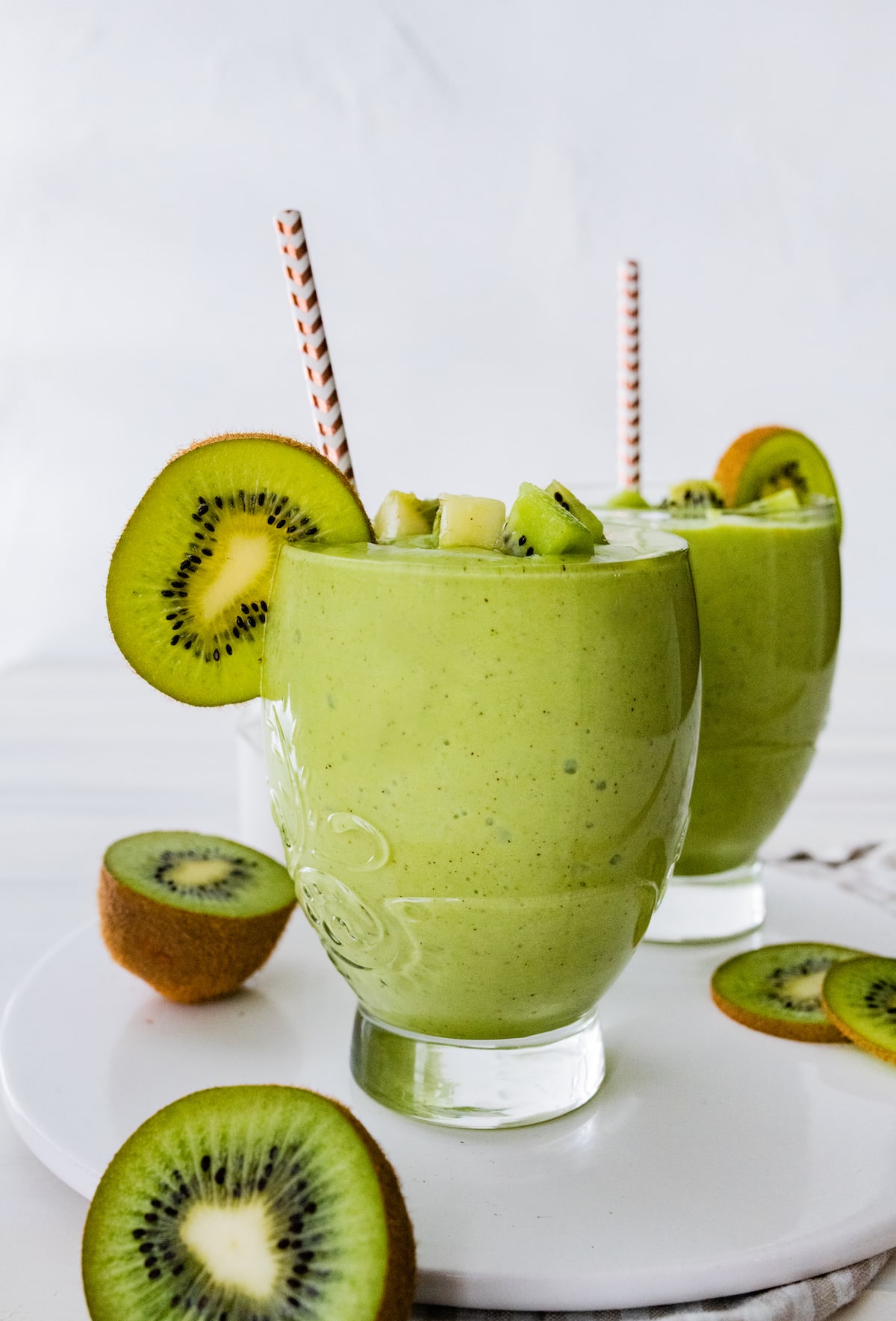 Kiwi Nutrition
Kiwi is a super-fruit — packed with nutrition that's ideal for a pre-workout energy boost or to refuel and recover post-workout. Eating two kiwi gives you more vitamin C than an orange, more potassium than a banana and more vitamins E & K than an avocado. Kiwi is also loaded with calcium, fiber and antioxidants and contains a natural enzyme called actinidin that helps in digestion, making it a great addition to any smoothie.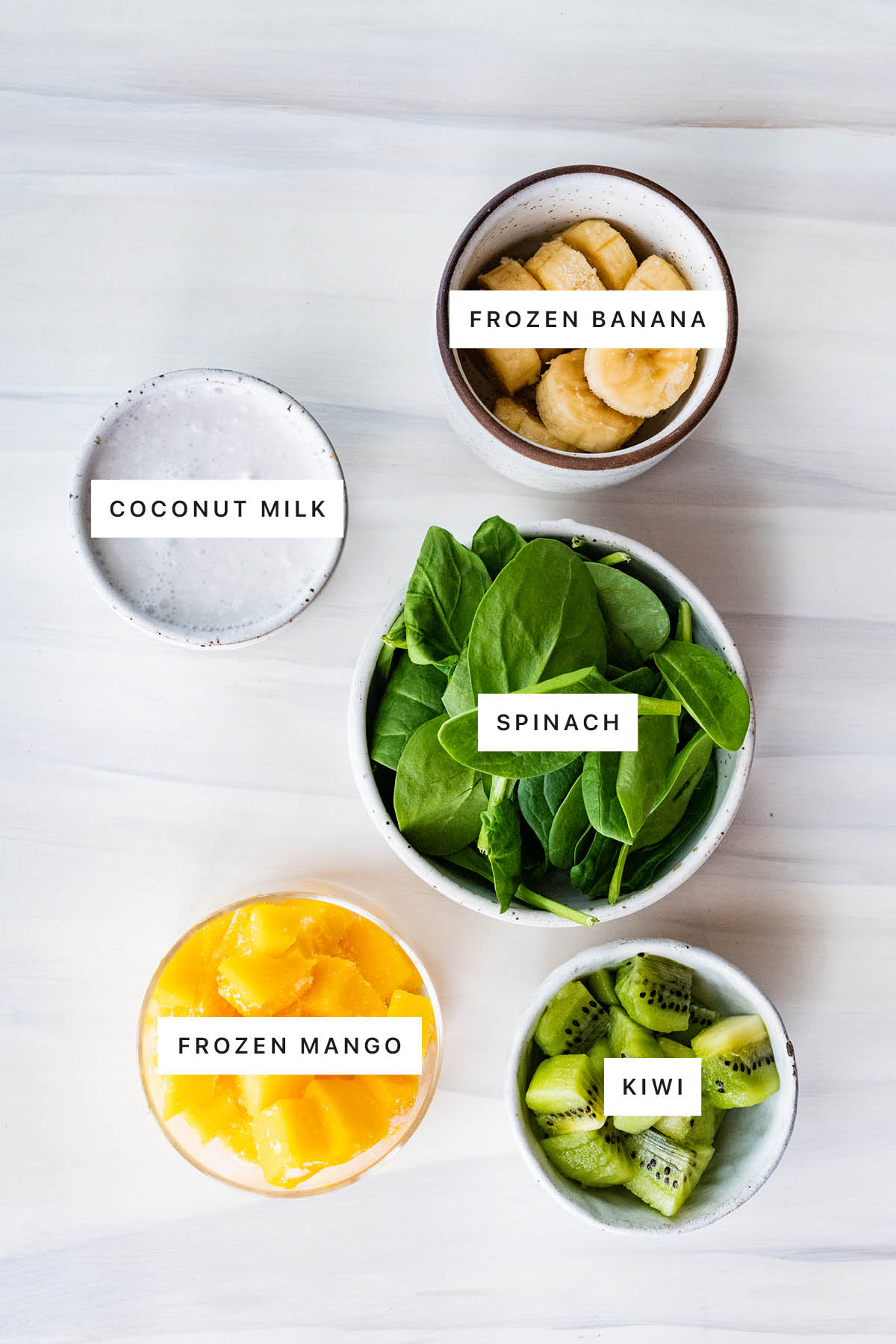 Ingredients & Substitutions
coconut milk – adds a creamy texture and a tropical flavor. Coconut milk makes the smoothie richer and creamier, but you can also use coconut water for a lighter consistency that still has a coconut flavor. If you don't have coconut milk or water on hand feel free to use your favorite dairy-free milk like almond milk or oat milk. You could also use plain filtered water or orange juice as the liquid base of this smoothie.
kiwi – the star of this smoothie, kiwi adds a refreshing, sweet and sour taste to this smoothie. It also aids in digestion and provides a ton of nutrients. To tell if a kiwi is ripe, gently press the kiwi skin. If it gives slightly, it's ripe and ready to go. Avoid super hard kiwis – they'll be hard and bitter!
frozen mango – adds additional sweetness and helps create a smooth, creamy texture. Frozen pineapple, papaya or peaches would be a good substitute if you don't have frozen mango on hand.
frozen banana – provides natural sweetness and creaminess to the smoothie, and it also pairs wonderfully with the tropical flavors. If you're not a banana fan, you can swap the frozen banana with more frozen mango or another fruit like papaya, pineapple or peaches.
spinach – this leafy green is packed with nutrients and is a great way to sneak some veggies into your diet.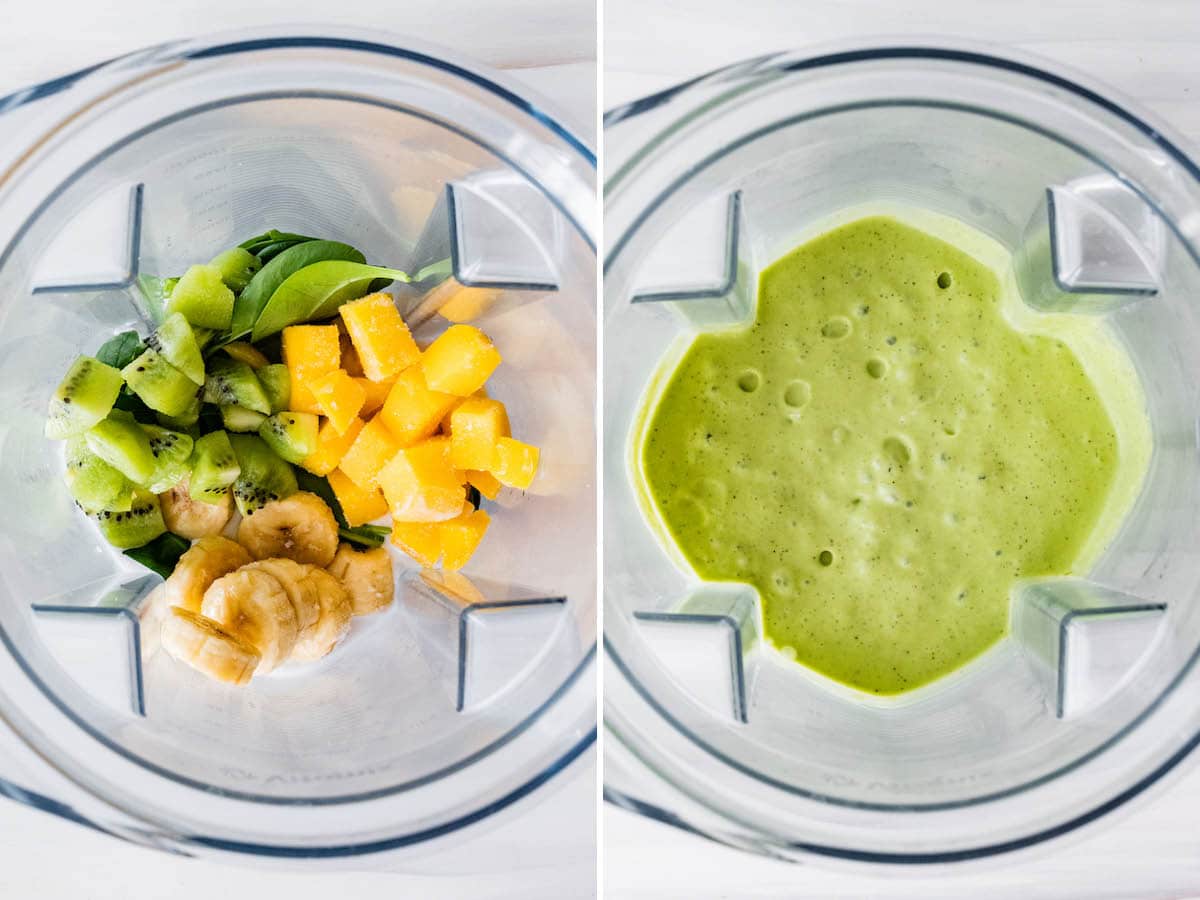 How to Make
Just like with all my smoothies, this kiwi smoothie recipe is super easy to whip up. Just place all your ingredients into a high-speed blender like a Vitamix and blend until smooth.
Pour your smoothie into a glass and top with fresh kiwi slices or toppings of choice. Enjoy!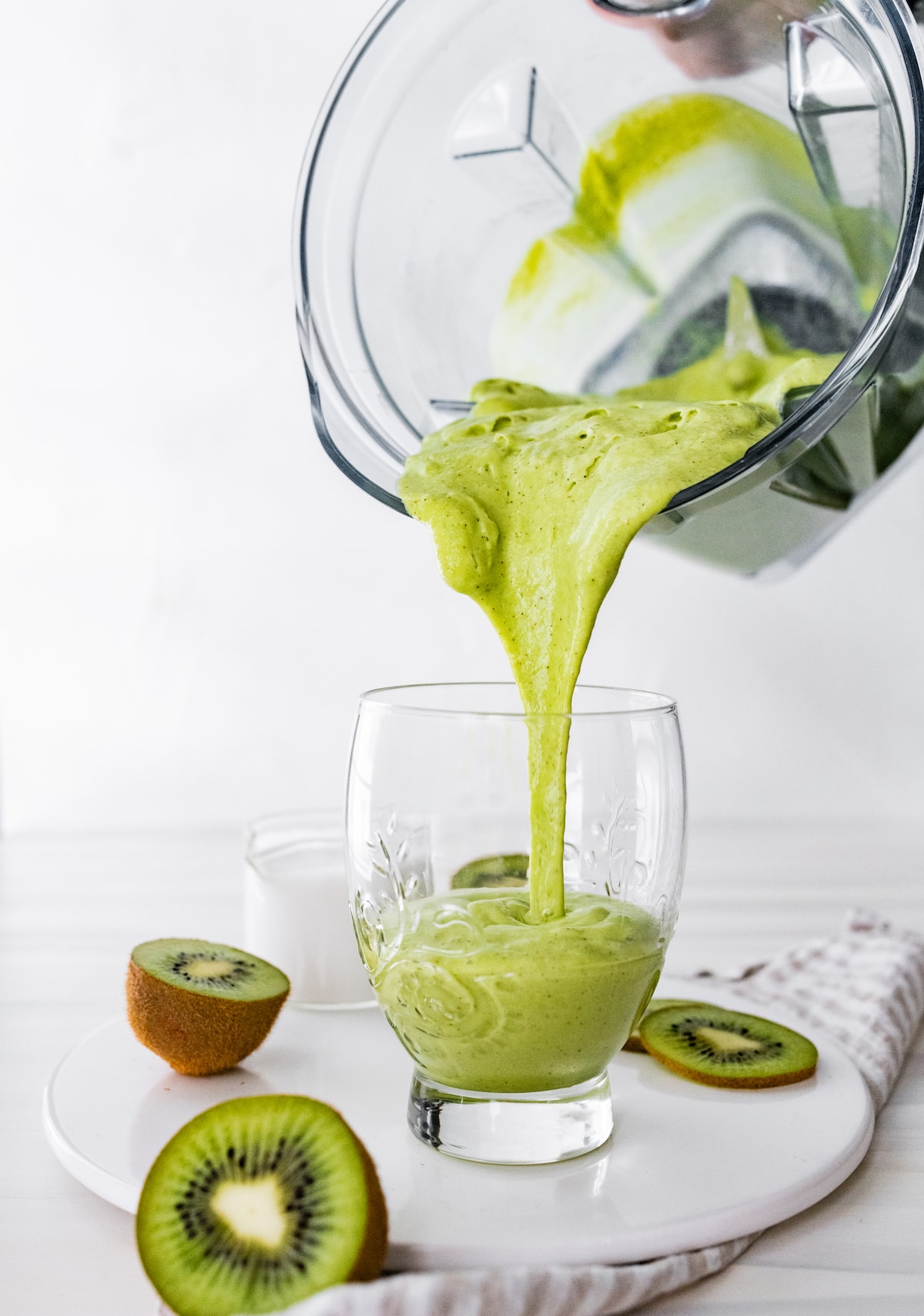 Flavor Variations
Strawberry kiwi smoothie: Swap the frozen mango for frozen strawberries for a strawberry kiwi smoothie.
Kiwi banana smoothie: Swap the frozen mango with more frozen banana to turn this into a kiwi banana smoothie!
Kiwi ginger smoothie: Add a small knob of freshly peeled ginger to the smoothie for an extra kick!
Berry kiwi smoothie: Same as the strawberry variation, swap the frozen mango or banana with frozen berries like raspberries, blueberries or blackberries.
Kiwi protein smoothie: If you want a protein boost add 1/2 cup of Greek yogurt for some tang or a scoop of your favorite protein powder. To keep this a vegan smoothie, make sure you're using plant-based protein powder or yogurt.
Amp up the nutrition: For a dose of omega-3 fatty acids, add a tablespoon of chia or ground flax seeds. They also provide additional thickness to the smoothie.
Add superfoods: Add a scoop of matcha powder, moringa or maca powder for a boost of nutrition.
Add sweetness: If you want a touch more sweetness to this smoothie, you can add your favorite sweetener like maple syrup, honey, agave, monkfruit or liquid stevia.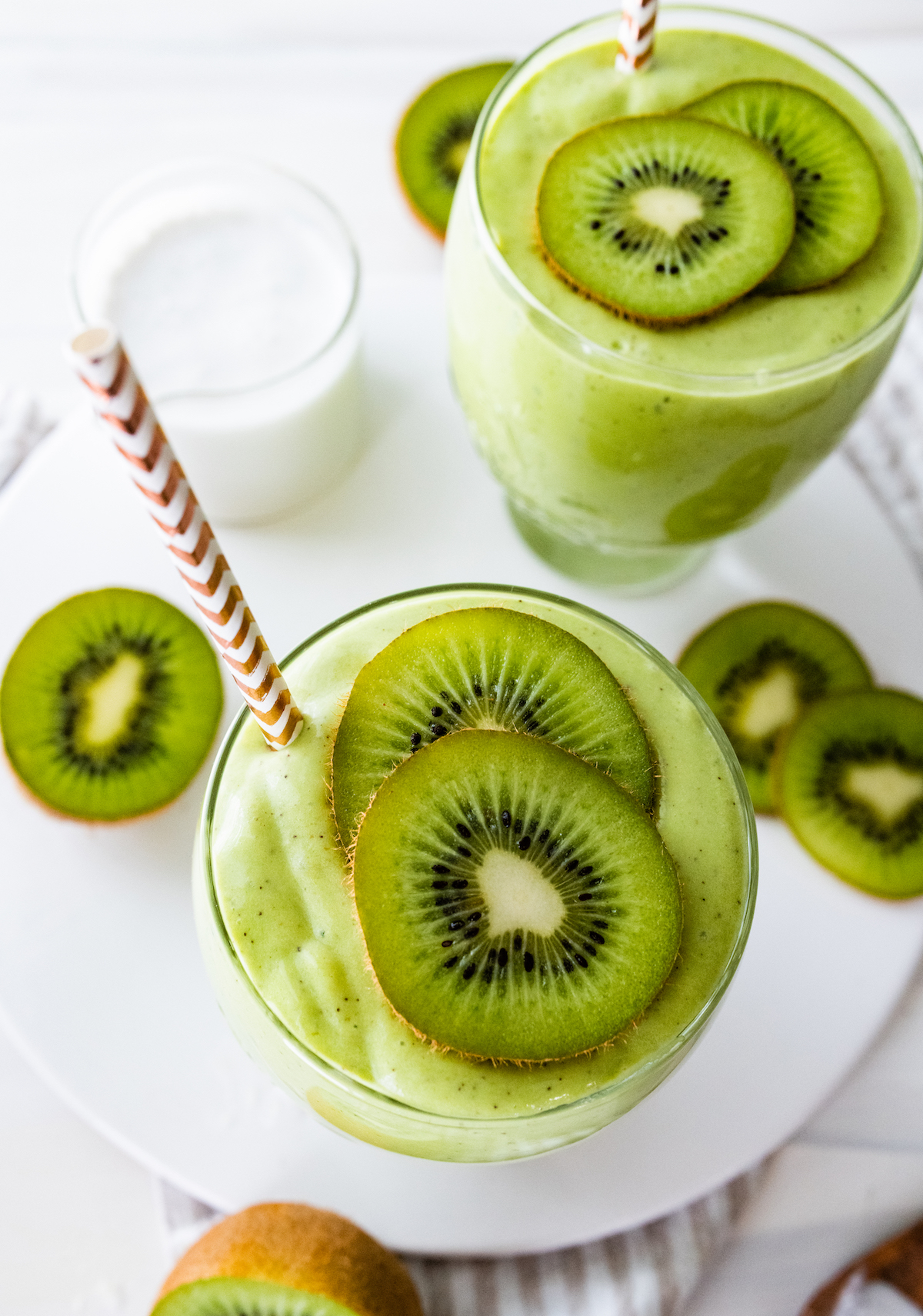 How to Peel Kiwi
There are a few different options when it comes to peeling your kiwi. First, using a pairing knife trim both ends of the kiwi then follow one of the options below:
Use a pairing knife: Stand your kiwi on one of the flat ends that you already cut, then using your pairing knife slice vertically down the kiwi following the shape of the fruit to prevent wasting the flesh. Continue until all the skin has been removed.
Use a veggie peeler: Use a vegetable peeler to remove the skin, just like you would any other veggie until the skin is gone.
Use a spoon: Insert a spoon on one of the cut ends where the skin meets the flesh. Pushing against the skin, rotate the spoon in a circle until the skin pulls away from the flesh. You should then easily be able to slide the entire flesh of the kiwi out from the skin.
Can You Freeze Kiwi for This Smoothie?
Yes, you certainly can! In fact, freezing kiwi beforehand can help create a thicker, colder smoothie. To freeze, peel the smoothie and slice it into chunks. Place the kiwi slices on a parchment-lined tray or plate in a single layer then place in the freezer. Once the kiwi has hardened you can transfer it to a freezer-safe bag for longer storage.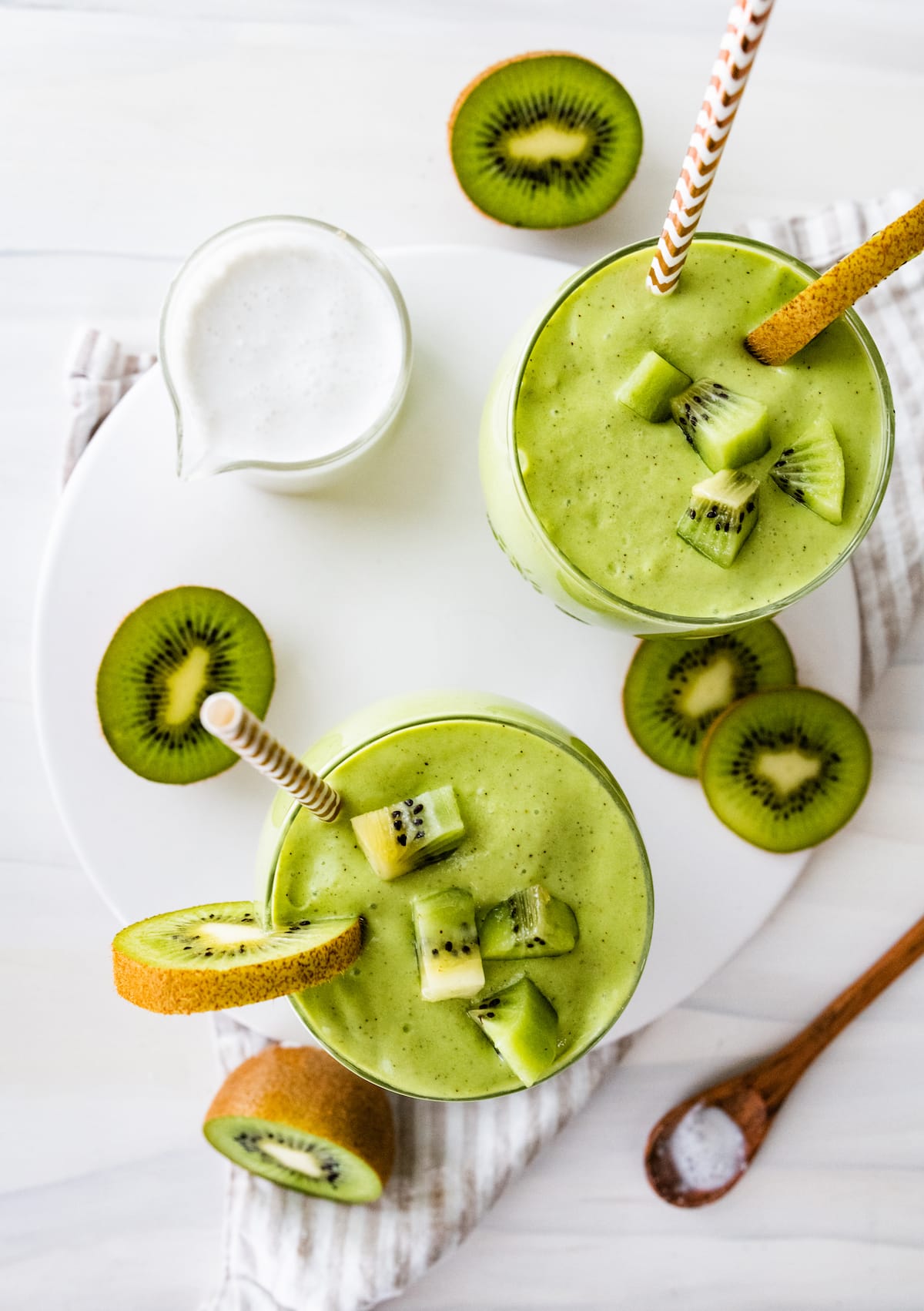 How to Meal Prep & Store
How to meal prep: For a quick smoothie in the morning, portion out your frozen fruit, kiwi and spinach into individual servings and store them in freezer-safe bags like Stasher bags. When you're ready to make your smoothie, just add your liquid and prepared ingredients and blend until smooth!
How to store: If you have any leftovers, you can store the smoothie covered in the fridge for up to 24 hours. I like to use wide mouth mason jars for storing smoothies.
More Healthy Smoothie Recipes
Be sure to check out all of the smoothie recipes as well as the full collection of drink recipes on EBF!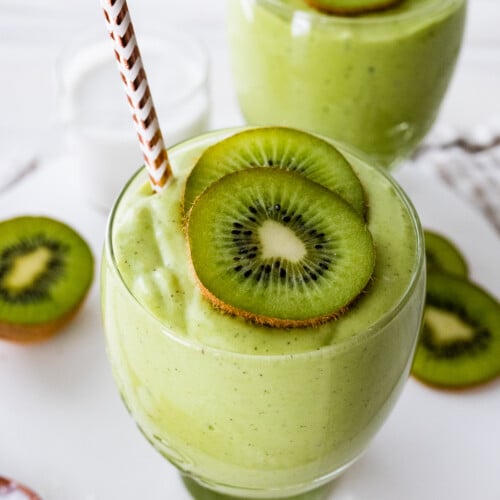 Kiwi Smoothie
This simple kiwi smoothie is loaded with frozen banana, mango, kiwi, spinach and coconut milk. It's easy to make and the perfect refreshing smoothie for summer! Dairy-free + vegan. 
Ingredients
½

cup

canned coconut milk or coconut water

1

fresh kiwi

,

peeled

½

cup

frozen mango

Handful of spinach

Toppings: fresh kiwi slices
Instructions
Place all ingredients into a high speed blender. Blend until smooth.

Pour smoothie into a glass and top with fresh kiwi slices. Enjoy!
Nutrition
Serving:
1
smoothie
|
Calories:
209
kcal
|
Carbohydrates:
46
g
|
Protein:
3
g
|
Fat:
3
g
|
Saturated Fat:
2
g
|
Sodium:
63
mg
|
Potassium:
825
mg
|
Fiber:
7
g
|
Sugar:
31
g
Nutrition information is automatically calculated, so should only be used as an approximation.