Baltimore weekend getaway travel guide with tips for where to stay, things to do, neighborhoods to visit and restaurants to dine at.
Instead of exchanging gifts for our 3 year anniversary, Isaac and I decided to plan a little weekend getaway, similar to our anniversary trip to Williamsburg last year. Isaac started his new job on Monday so spending some alone time together the weekend before sounded perfect. We wanted to go somewhere within driving distance. Asheville and Charleston were top contenders, but we ultimately settled on Baltimore, Maryland because it was a tiny bit closer and seemed more doable for a weekend getaway.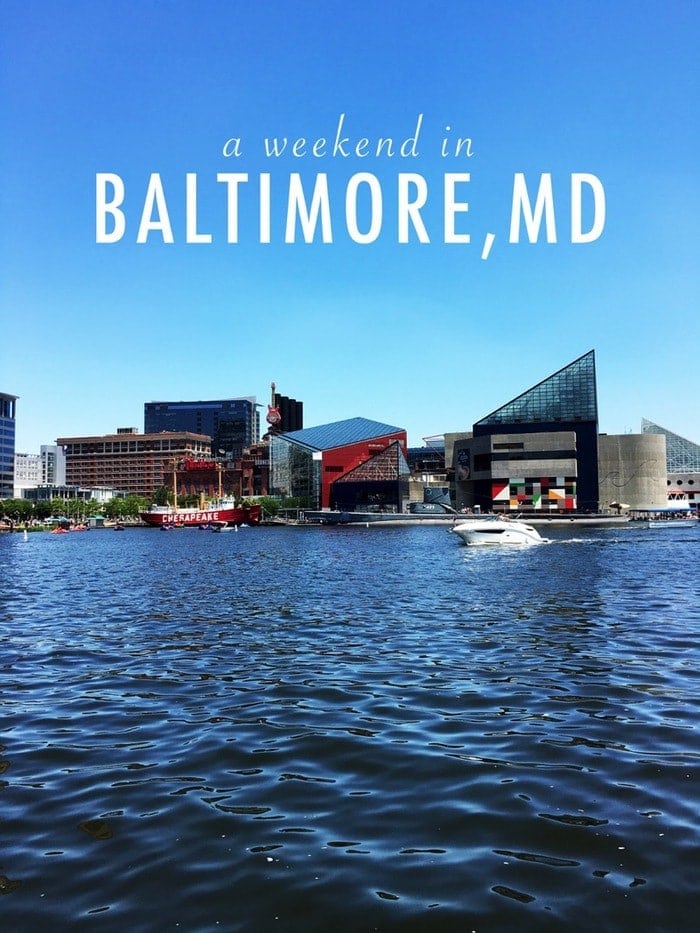 We had both previously spent time in Baltimore. Isaac for ultimate frisbee games and I had been for a conference, but neither of us had the opportunity to fully explore the city. Gearing up for the trip we took suggestions from friends and planned a bunch of fun activities, restaurants to visit and, of course, local coffee shops to check out.
The weather was ABSOLUTELY gorgeous the whole weekend so we spent a ton of time walking around at our leisure, taking rides on the water taxi, eating good food and enjoying the neighborhoods around the Inner Harbor. Overall, we were definitely charmed by the city and throughly enjoyed the time we spent there.
Instead of sharing a play-by-play recap of our weekend I want to give you a guide with our favorite things to do, places to eat and where to stay so you can take these recommendations and plan your own Baltimore weekend getaway.
Where to Stay
First thing first, you'll need a place to stay. We stayed at Hotel Monaco Baltimore. It's central to everything we wanted to do with in the city and only a short walk to the Inner Harbor.
It's a Kimpton hotel located in the old B&O Railway headquarters so it's historic and boutiquey with a ton of perks including gorgeous rooms, a daily complimentary wine hour, free coffee and tea each morning and free bike rentals.
The suite we stayed in was spacious and comfy.
With a jacuzzi tub!!
Oh and every room is equipped with a yoga mat. I loved being about to do a little yoga on Sunday morning to stretch out before our car ride home.
Upon our arrival on Friday afternoon, we were greeted with a little snack plate from the chef at B&O. Apparently they knew about the blog because they sent the cutest plate of healthy snacks (green juice, bird seed cookies, peanut butter marshmallows, roasted nuts) and a buttermilk biscuit treat.
The homemade peanut butter marshmallows were so unique and fun, but I was super impressed by the bird seed cookies. I need to email the restaurant and ask the chef for the recipe!
The hotel also knew that it was our anniversary! They treated us to a bottle of champagne and chocolates which was so thoughtful and made our stay there extra celebratory.