Vegan Protein Shake
4
Published Jul 08, 2021, Updated Sep 15, 2023
This vegan protein shake combines vegan protein powder with frozen mixed berries, baby spinach, nut butter and chia seeds. This shake provides over 27 grams of protein!
Whether you follow a vegan diet or not, you will love this berry protein shake. It is packed with flavor and nutrients to keep you energized and fueled all day long.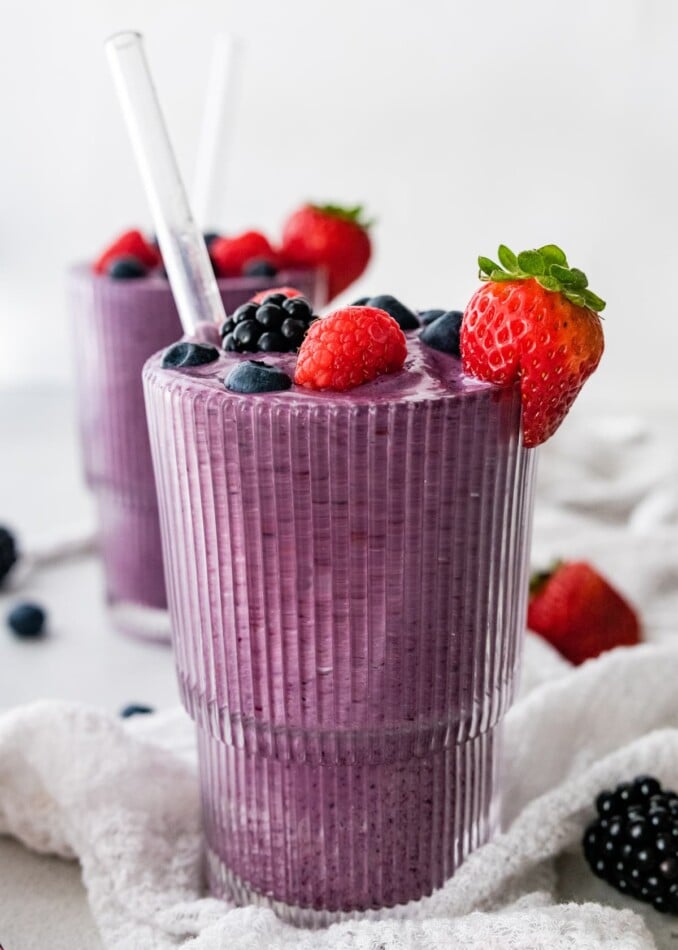 I use plant-based (vegan) protein powder and non-dairy milk for all of my protein shakes and smoothies so unless they have added yogurt, they're all vegan. And even the Greek yogurt can be subbed for vegan yogurt. With that said, there are a ton of vegan protein shake ideas here on EBF, but for this post I want to share my go-to vegan protein shake and some info for making vegan protein shakes without protein powder!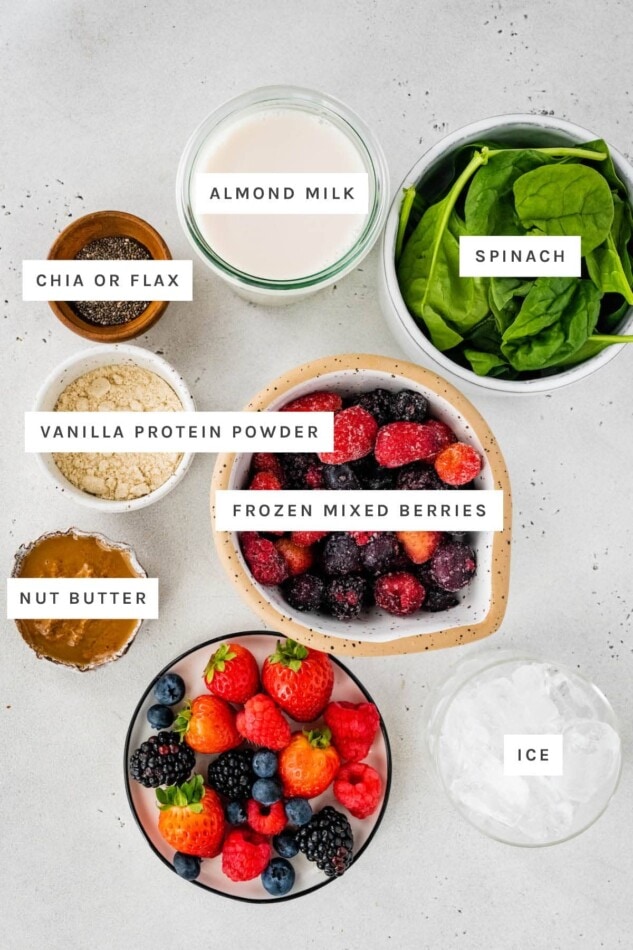 Here's What You Need
vegan protein powder – I like using vanilla protein powder for added vanilla flavor. That said, you can use any flavor of protein powder if that's what you have on hand! In terms of which protein powder to use, I love use Nuzest protein powder. It's plant-based, made from pea protein, and it has a short ingredient list plus great nutrition facts! Use my code eatingbirdfood for 15% off your order.
frozen mixed berries – use any combination of frozen berries you'd like to make the ultimate sweet and thick shake.
handful of spinach – you don't need to add a handful of spinach, but why not add in some greens to this shake?! You won't taste them, promise.
milk – I like using an unsweetened vanilla almond milk for this protein shake, but any milk will work. Unsweetened almond milk is just low in calories and has zero sugar!
cashew or almond butter – add one tablespoon of cashew or almond butter for extra protein, healthy fats and flavor!
chia seeds or flaxseed – adding chia seeds or flaxseed to your shake is totally optional, but does add a little extra protein, fiber and healthy fats.
ice – adding a handful of ice (about 4-5 cubes) will help thicken your protein shake and give it that frozen texture.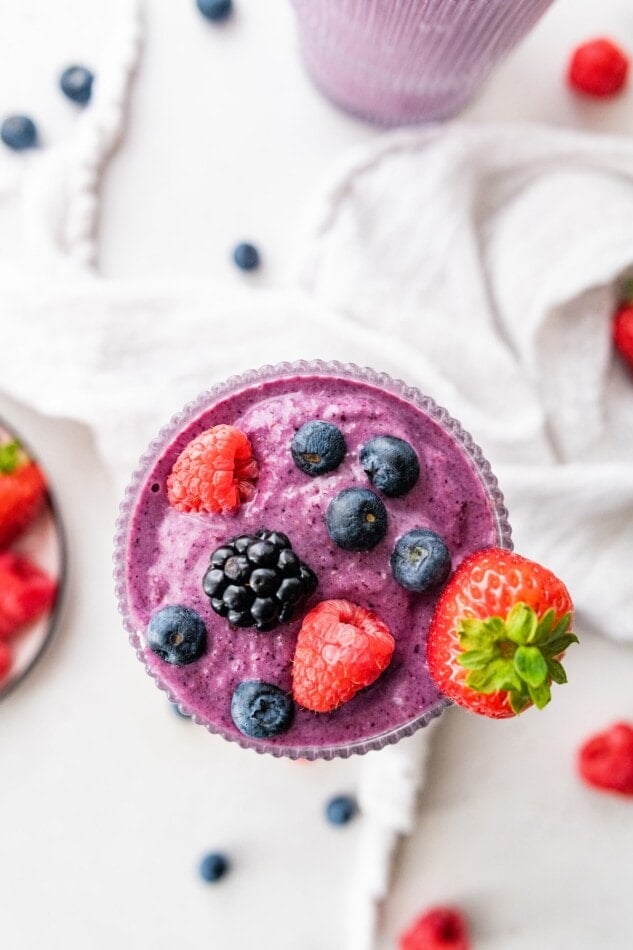 Vegan Protein Sources for Protein Shakes
We're using a vegan vanilla protein powder for this shake to boost the protein content up to a whopping 27 grams, but you can totally omit the protein powder and use another vegan protein source if desired, here are some options:
silken tofu – silken tofu is a great addition to protein shakes because it's soft and easily blends right into the shake. 1/2 cup will give you about 10 grams of plant-based protein!
chia seeds – yep, these powerhouse seeds are packed with protein, fiber and important vitamins and minerals. Add 2 tablespoons to your protein shake before blending. This will give you about 5 grams of protein.
hemp seeds – packed with protein and healthy fats. Add 2 tablespoons of hemp seeds to your protein shake before blending. This will give you about 6 grams of protein.
nuts and seeds – add a variety of nuts and seeds for more healthy fats and protein! I like to use raw nuts when possible to avoid unnecessary added oils. Almonds have the highest amount of protein with 7 grams for 1/4 cup.
spirulina – boost your immune system and up your protein by adding 2 tablespoons of this blue-green algae powder. 2 tablespoons will give you about 8 grams of protein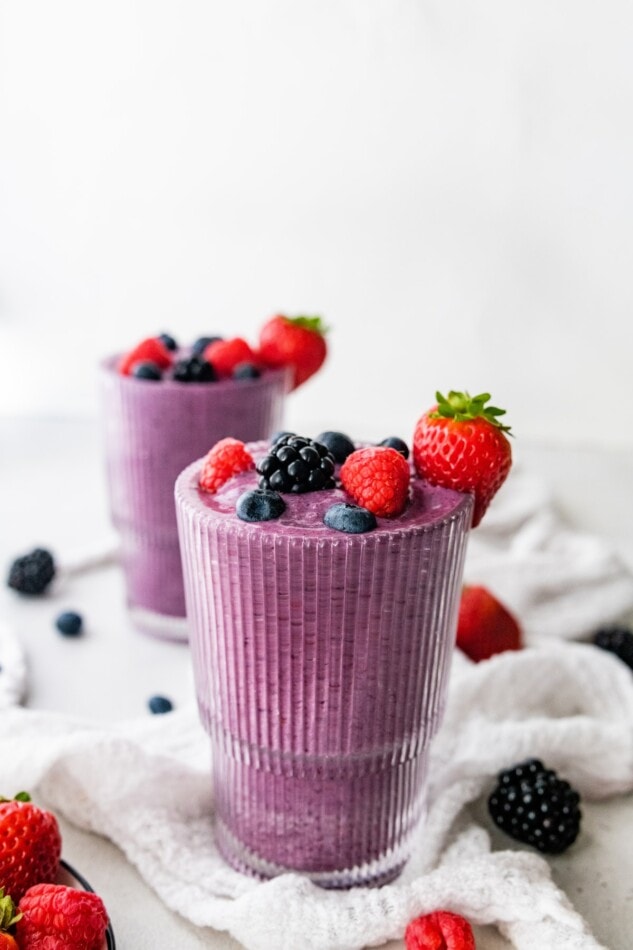 How Long Will it Last?
I like to make this protein shake fresh when I'm ready to eat it, but if I have any leftovers or you want to make a day in advance that is just fine. Store in an airtight container in the refrigerator for 1-2 days. Some separation may occur, simply shake or re-blend if necessary.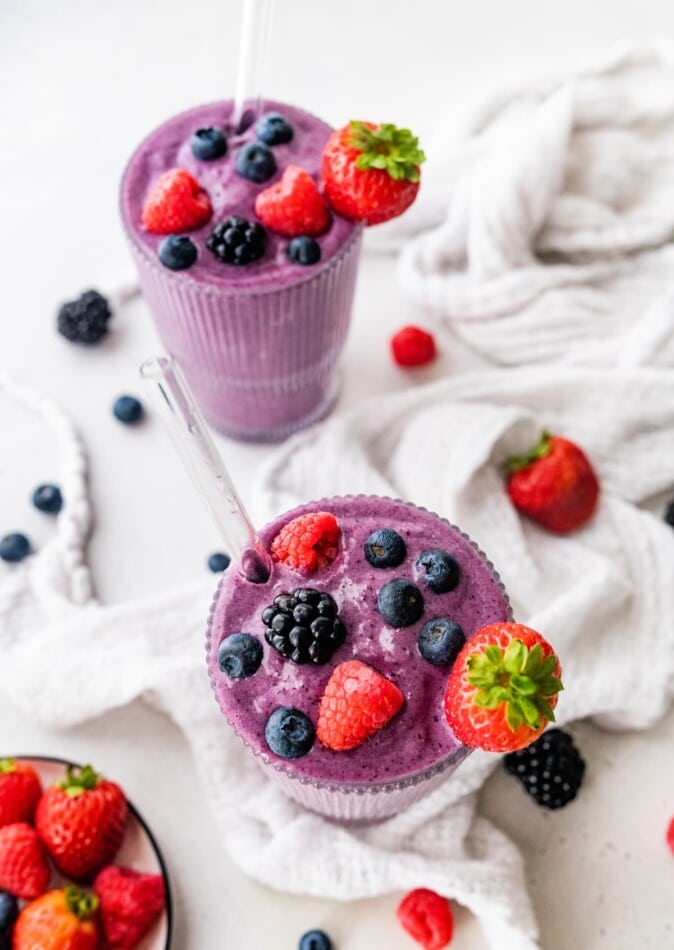 More Protein Shakes to Try
My Fave Protein Packed Recipes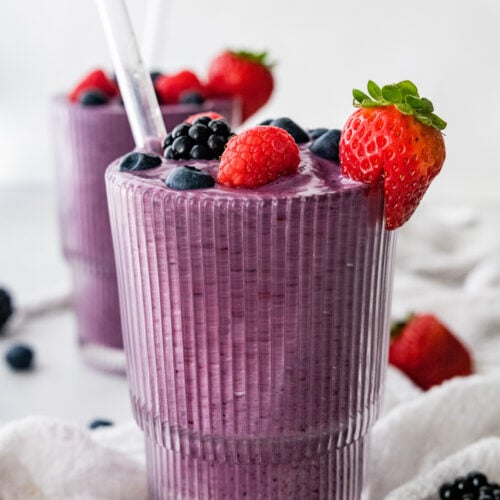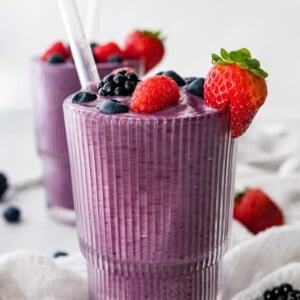 Vegan Berry Protein Shake
This vegan protein shake combines vegan protein powder with frozen mixed berries, baby spinach, nut butter and chia seeds. No banana needed!
Instructions
Add all ingredients into your blender.

Blend until smooth. Taste and add ice, if needed. Blend again and enjoy!
Nutrition
Serving:
1
|
Calories:
298
kcal
|
Carbohydrates:
25
g
|
Protein:
27
g
|
Fat:
13
g
|
Saturated Fat:
1
g
|
Polyunsaturated Fat:
3
g
|
Monounsaturated Fat:
5
g
|
Sodium:
569
mg
|
Potassium:
289
mg
|
Fiber:
7
g
|
Sugar:
12
g
Nutrition information is automatically calculated, so should only be used as an approximation.