This vegan pumpkin protein shake tastes like pumpkin pie in liquid form but is packed with over 30 grams of protein. It's thick, creamy and makes for a great breakfast or a post-workout treat.
I love a good protein shake so naturally I had to create a pumpkin protein shake recipe to celebrate pumpkin season and the start of fall! It's the perfect recipe for those early fall days when it's still warm outside, but you're craving all things pumpkin.
This recipe is similar to my pumpkin smoothie bowl, but it's thinner and sippable making it a great option for an on-the-go, protein-packed breakfast or quick post-workout snack. It legit tastes like pumpkin pie in liquid form, but is naturally sweetened only with banana.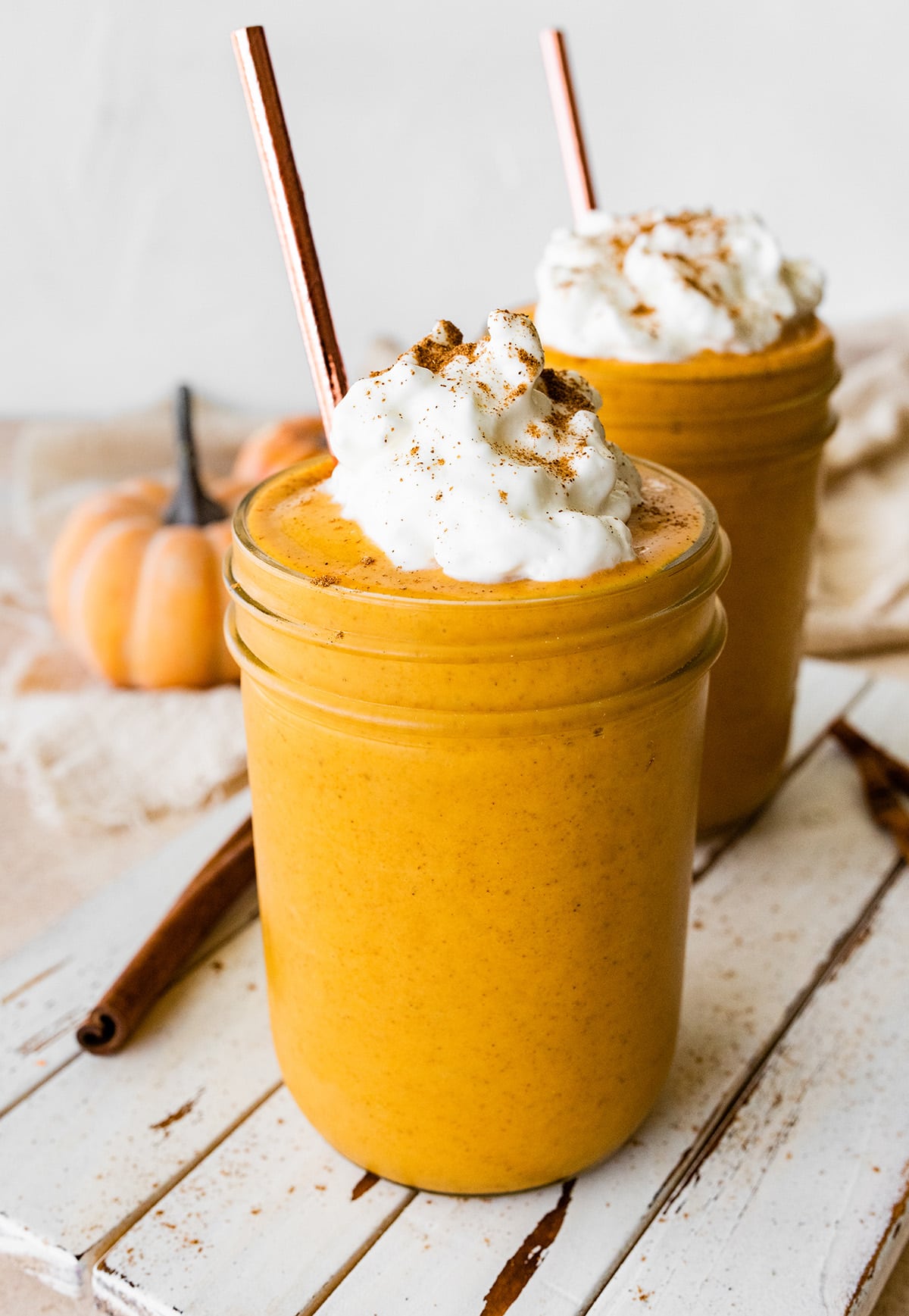 Why You'll Love This Recipe
It tastes like a slice of pumpkin pie in liquid form!
There's no added sweetener. This shake is naturally sweetened with frozen banana and vanilla protein powder.
It's packed with over 30 grams of protein and 400 calories making it a great meal-replacement for breakfast or post-workout snack.
It's quick and easy to whip up with minimal ingredients.
Vegan, dairy-free + gluten-free.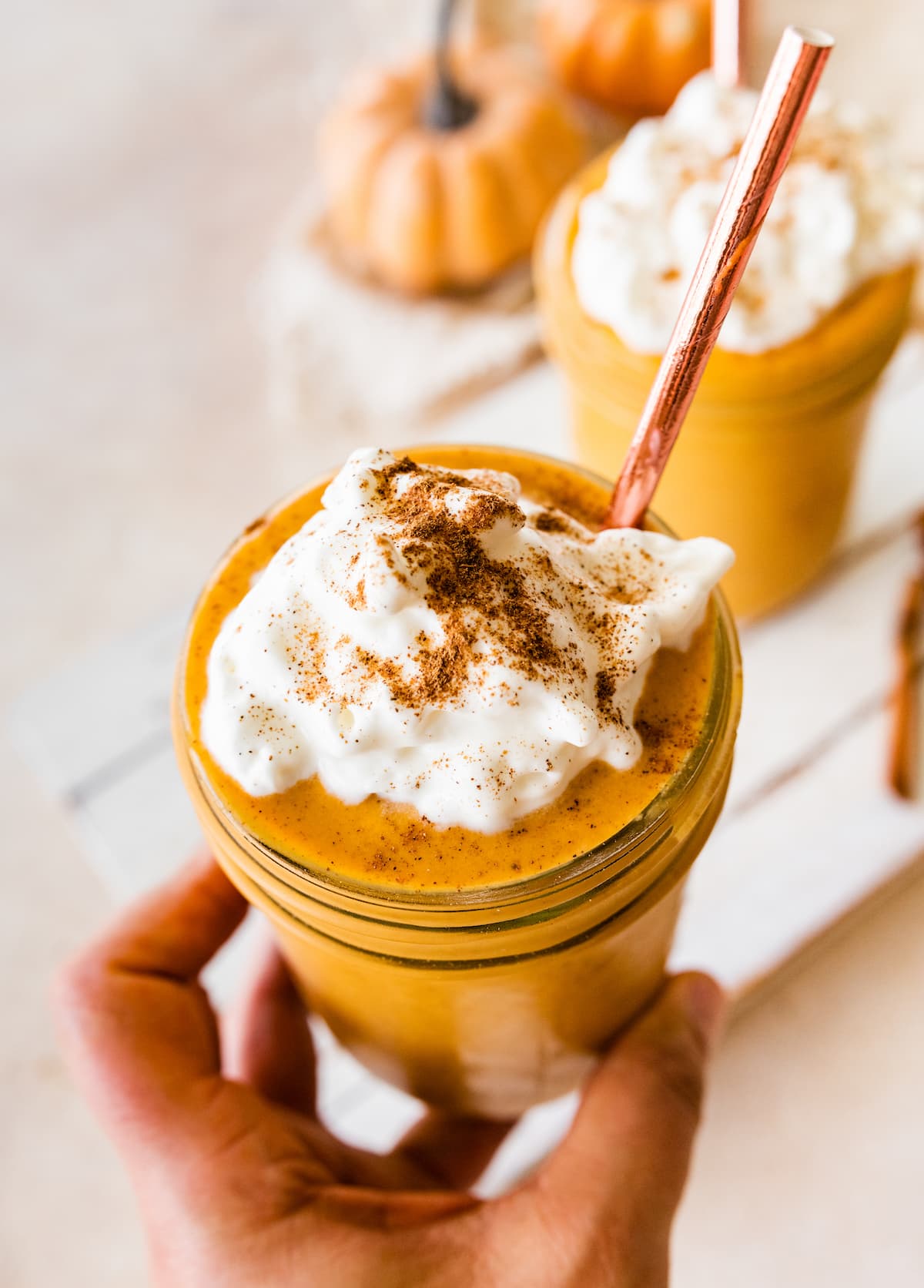 Pumpkin Health Benefits
Pumpkin is not just a hallmark of autumn or a pie filling; it's also packed with nutrients that offer several health benefits. It's rich in fiber, which aids in digestion and helps keep you full longer. Pumpkin is also an excellent source of beta-carotene, a powerful antioxidant that your body converts into vitamin A. This nutrient is essential for vision, immune function, and skin health.
Pumpkin also contains vitamins like vitamin C and E, and minerals such as potassium, making it a well-rounded ingredient to include in your health-conscious recipes. The moderate calorie content and high nutrient density of pumpkin make it a fantastic choice for anyone looking to make their meals or snacks healthier.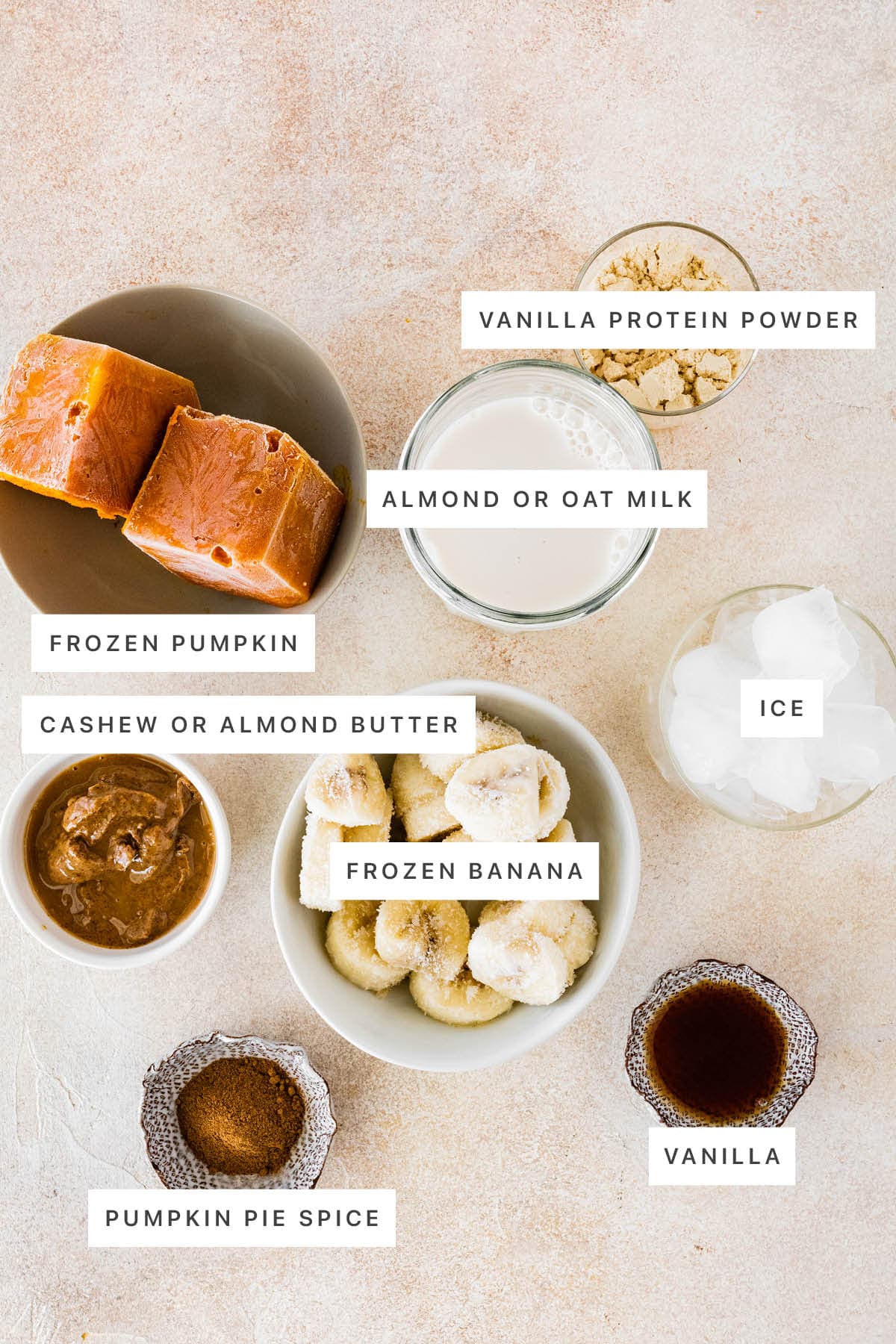 Ingredients & Substitutions
unsweetened almond milk – the base liquid for the shake, providing creaminess without the extra sugar. Oat milk, coconut milk or cashew milk would all be great options and add more creaminess, but feel free to use your favorite type of dairy-free or regular dairy milk.
frozen pumpkin puree – makes the shake thick and gives it a distinct pumpkin flavor. Plus, pumpkin is packed with fiber, vitamins, minerals and antioxidants! Using frozen pumpkin adds a nice chill and creaminess to your shake. You can use canned pumpkin or make your own pumpkin puree at home. If you're using store-bought, make sure you pick up 100% pumpkin puree and not pumpkin pie filling. Pumpkin pie mix has added sugar!
frozen banana – the frozen banana helps thicken the smoothie and adds natural sweetness. Check out my guide for how to freeze bananas, which has lots of tips and tricks! Looking for a pumpkin smoothie without bananas? Try this pumpkin pie smoothie instead!
vanilla protein powder – I like using vanilla protein powder, which gives it that dessert-like flavor, but feel free to use your favorite brand and flavor of protein powder. I bet chocolate would be delicious for a chocolate pumpkin protein shake! In terms of which protein powder to use, I love use Nuzest protein powder. It's plant-based, has simple ingredients and great nutrition facts! Use my code eatingbirdfood for 15% off your order on their website.
pumpkin pie spice – a mix of cinnamon, nutmeg, cloves and ginger and what gives this shake its iconic fall flavor. You can make your own pumpkin pie spice mixture or buy a pre-made pumpkin spice blend at the grocery store.
cashew butter or almond butter – adds a dose of healthy fats and a subtle nutty flavor. Feel free to use any nut or seed butter of choice. Sunflower seed butter would be a good option for a nut-free version..
vanilla extract – the perfect flavor enhancer.
ice – this is optional, depending on your consistency preference, but adding a handful of ice (about 3-4 cubes) will help thicken your protein shake and make it colder.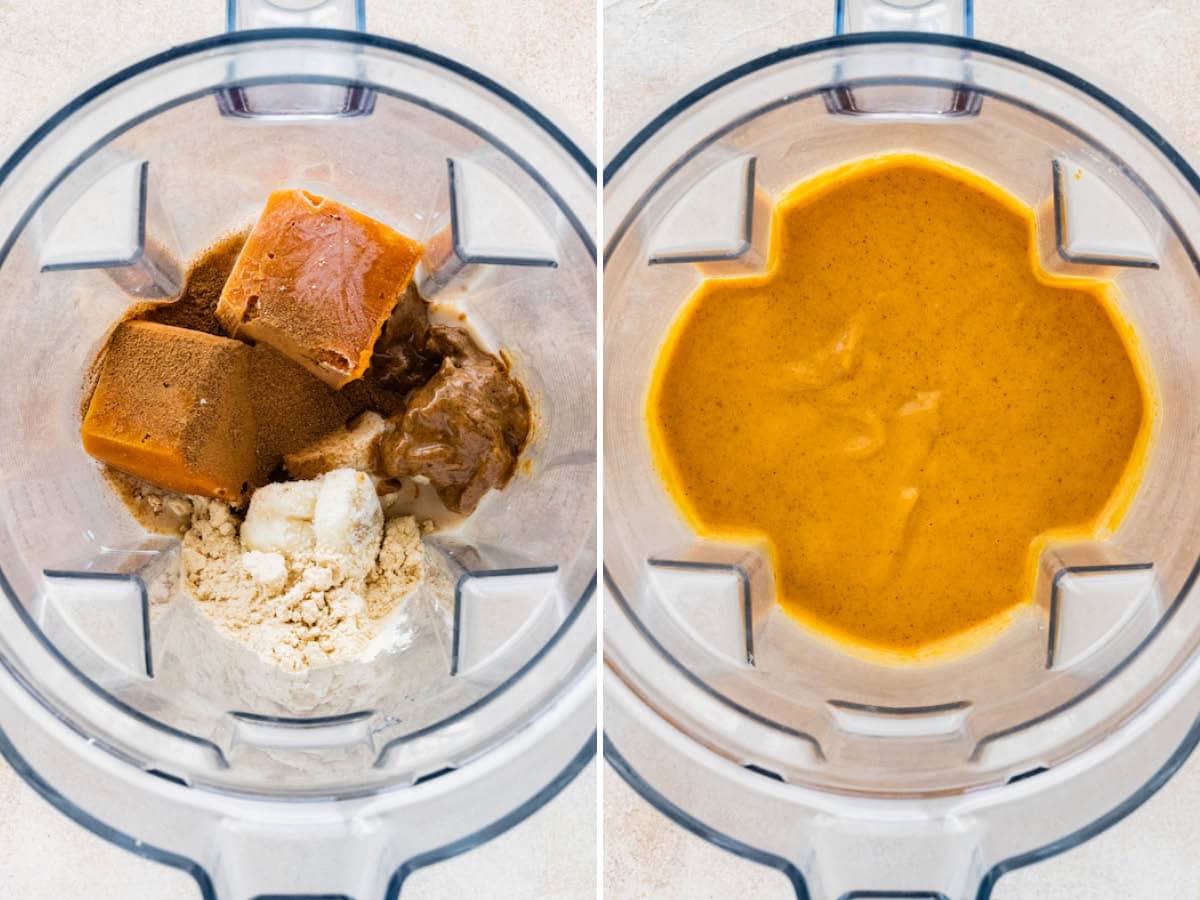 How to Make
This pumpkin pie protein shake couldn't get any easier to make. Just add all ingredients to a blender and blend until smooth and creamy. Taste and adjust ice or ingredients if needed. Add toppings (if using) and enjoy!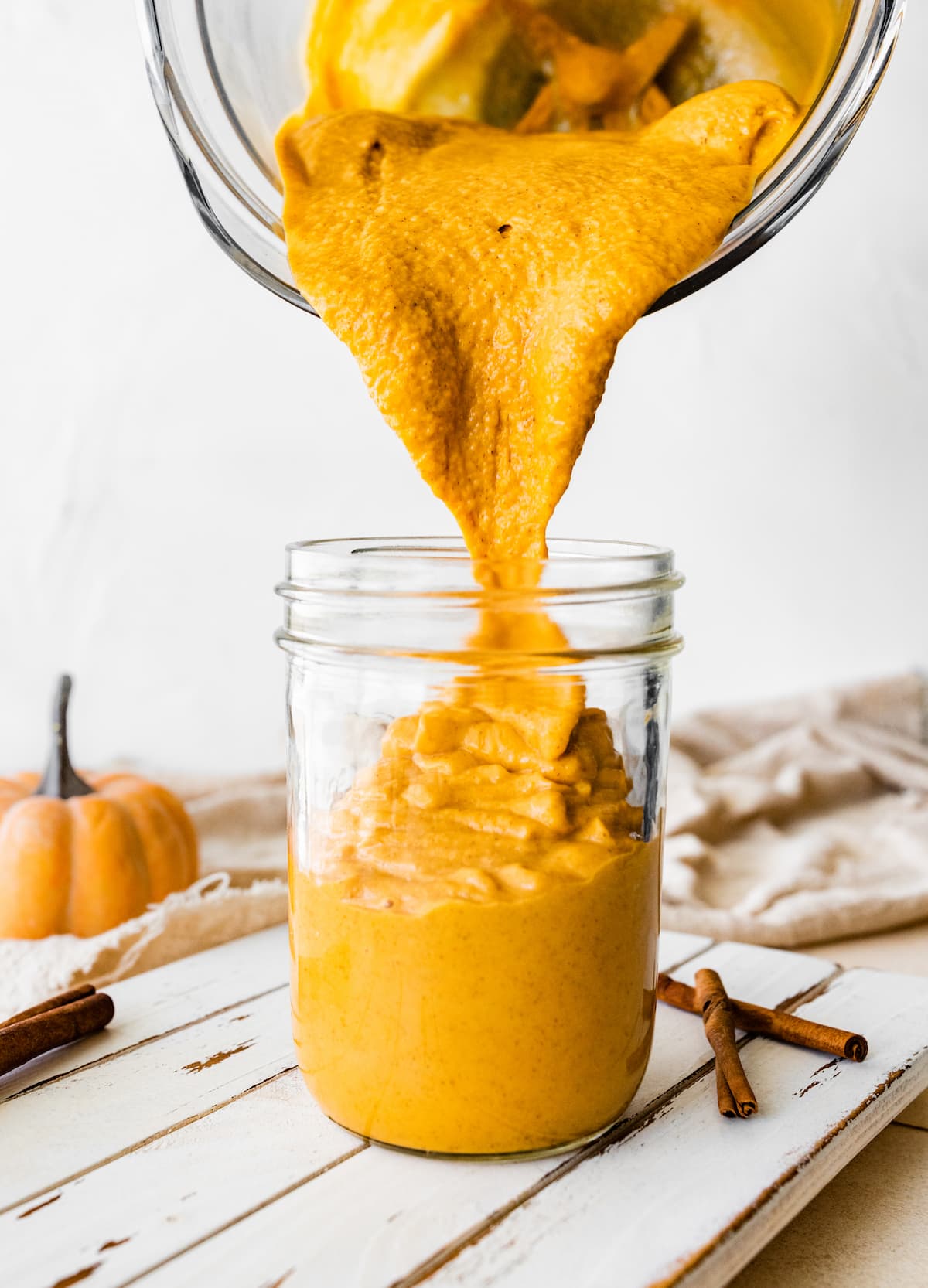 How to Freeze Pumpkin Puree
If you're making pumpkin puree at home you can follow my full guide on how to make pumpkin puree. Once you have your pumpkin puree I recommend freezing it in silicone ice cube trays. If your ice cube tray is 2 ounces each then you'd need 2 cubes to equal 1/2 cup. You can also portion out the puree into silicone baking cups and freeze them. If you don't have a silicone ice cube tray or silicone baking cup you can portion out the puree into 1/4 cup each and scoop it onto a parchment lined baking tray to freeze. Once frozen, transfer to a freezer-safe bag or container to use in smoothies!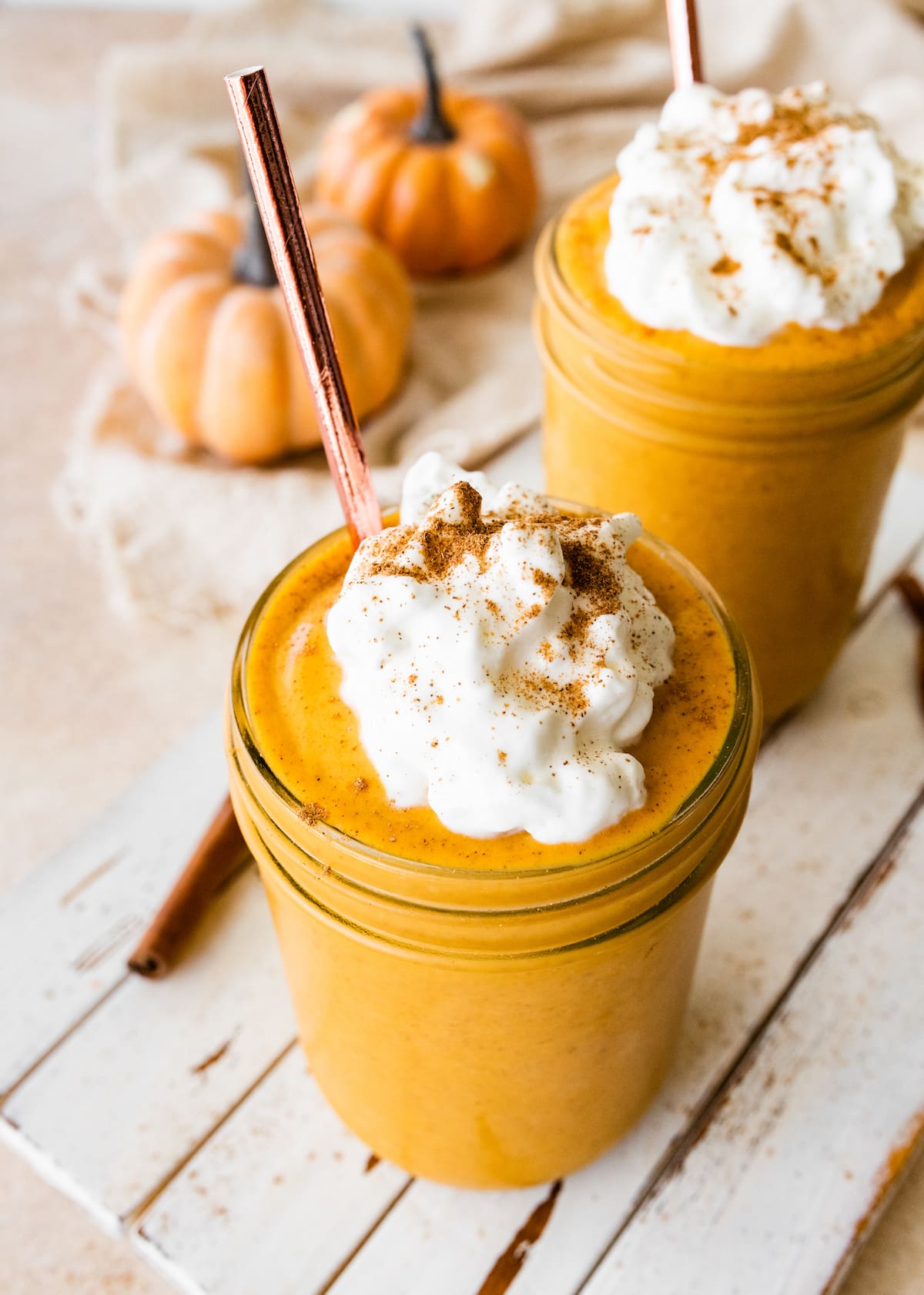 How to Store Protein Shakes
I like to make this protein shake fresh when I'm ready to eat it, but if you have any leftovers or want to make it a day in advance that is just fine. Store the protein shake in an airtight container in the fridge for 1-2 days. I like to store my smoothies and protein shakes in wide-mouth mason jars. Some separation may occur as it sits, simply shake or re-blend if necessary.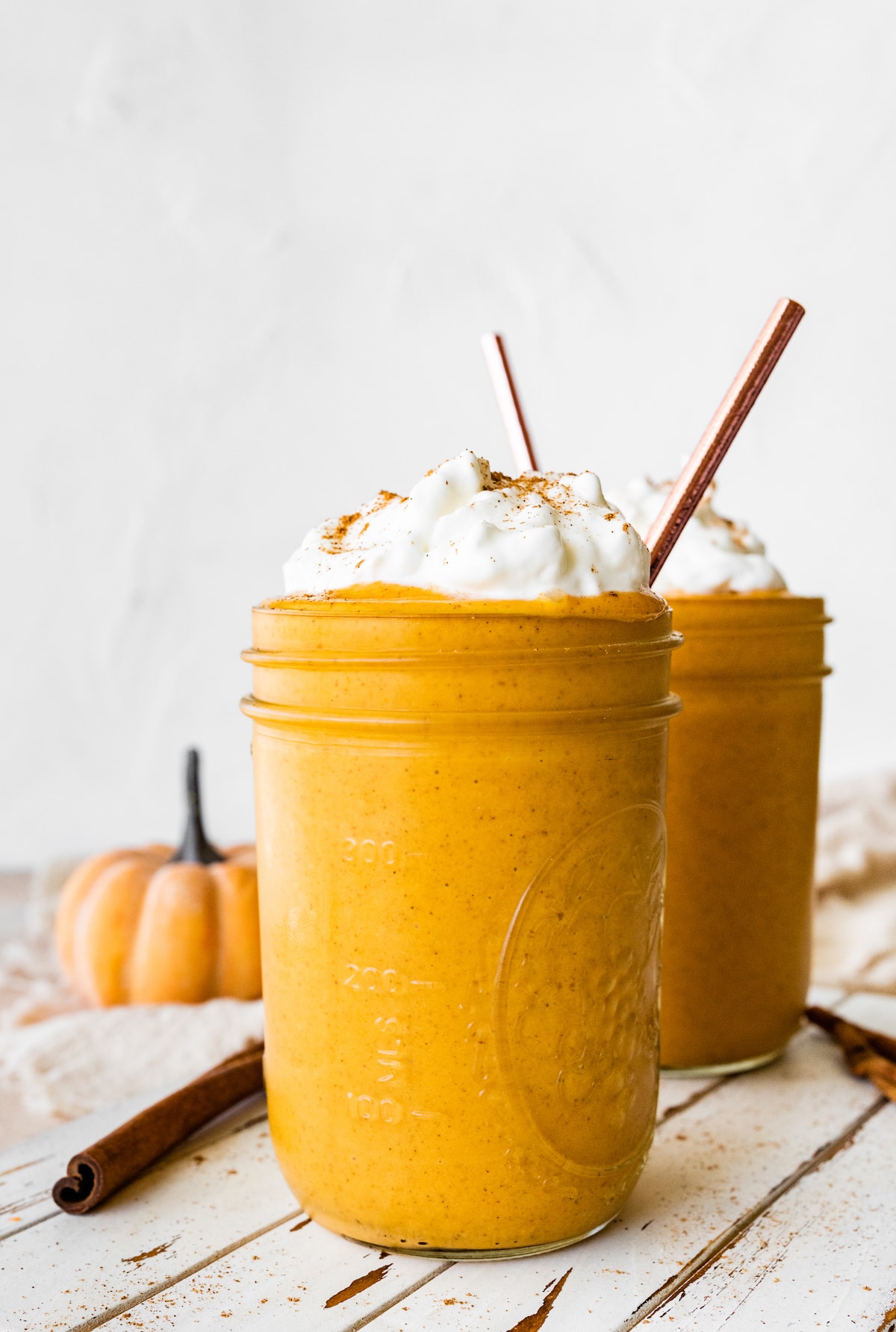 FAQ's
What is the best protein powder to use?
For this recipe I tested it with both Sun Warrior and Nuzest protein powder, which are both plant-based, but feel free to use your favorite type and brand of protein powder. I'm sure whey protein powder and hemp protein powder would work well in this shake, it might just change the flavor and texture of this drink. Whatever brand of protein powder you use I just recommend looking for a good-quality brand that's high in protein, low in sugar, is a complete protein with all nine essential amino acids and doesn't have artificial sweeteners like sucralose or aspartame. I have a more detailed guide on the best protein powders out there if you're interested in learning more. 
Can I use fresh pumpkin puree without freezing it?
Yes, you can. However, using frozen pumpkin puree gives the smoothie a thicker consistency and a cooler temperature. If using fresh pumpkin puree, you might want to add a handful of ice cubes to achieve a cold, thick smoothie.
Can I make this protein shake without banana?
Frozen banana give this shake that thick and creamy texture and also adds natural sweetness. That said, if you are allergic to bananas or simply don't like them you can swap the frozen banana for ice, frozen milk ice cubes or frozen cauliflower rice. If you do substitute the banana I recommend adding 1-2 teaspoons of maple syrup, 1-2 medjool dates or a few drops of stevia to this shake.
More Protein Shakes to Try
More Pumpkin Recipes
Be sure to check out all of the smoothie recipes as well as the full collection of pumpkin recipes here on EBF!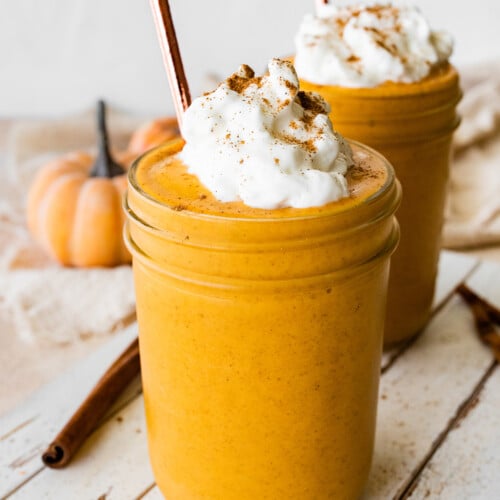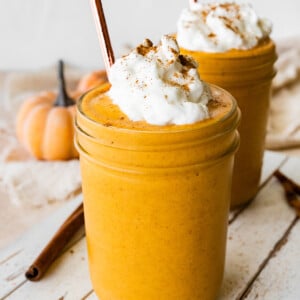 Pumpkin Protein Shake
This vegan pumpkin protein shake tastes like pumpkin pie in liquid form but is packed with over 30 grams of protein. It's thick, creamy and makes for a great breakfast or a post-workout treat.
Instructions
Add all ingredients to a blender, except for the ice.

Blend until smooth. Taste and add ice if needed to reach desired consistency. Add toppings (if using) and enjoy!
Nutrition
Serving:
1
shake
|
Calories:
408
kcal
|
Carbohydrates:
59
g
|
Protein:
31
g
|
Fat:
11
g
|
Saturated Fat:
2
g
|
Monounsaturated Fat:
1
g
|
Sodium:
505
mg
|
Potassium:
641
mg
|
Fiber:
13
g
|
Sugar:
32
g
Nutrition information is automatically calculated, so should only be used as an approximation.