Although I eat pretty healthy, I still have quite the sweet tooth and love my dessert. Sometimes it's a small bowl of cereal after dinner, fro yo from my favorite place, banana soft-serve, trail mix or a piece of dark chocolate. Occasionally it's something more elaborate, like last night for instance I whipped up a Chocolate-Coated Frozen Bananas from Tosca Reno's The Eat-Clean Diet Recharged!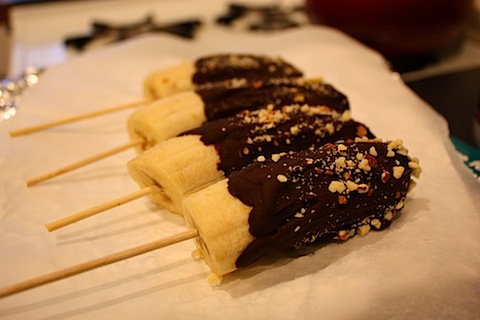 I was sent the book to review and so far I haven't had much time to create many dishes, but there are some great clean eating tips and some delcious looking recipes. This one in particular stood out to me and I've had it on my "to-make" list for a while now. The best part is that I was granted permission to share the recipe with you all so it's posted below. I made a couple changes (namely the almonds) but overall the recipe is pretty much the same as what you'd find in the book.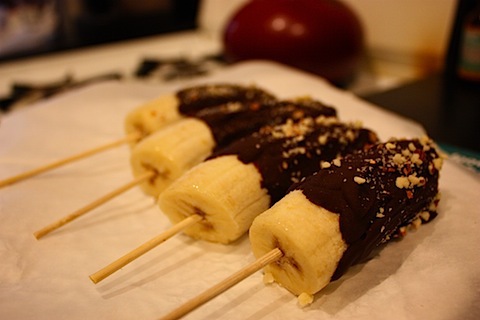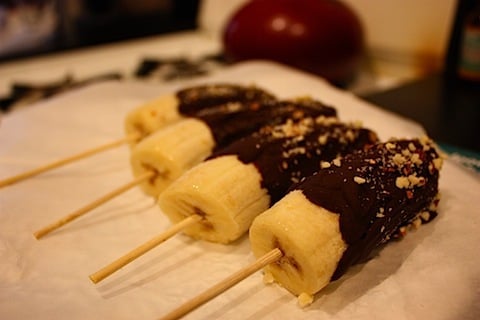 Chocolate-Coated Frozen Bananas
4 medium bananas
8 bamboo skewers
4 oz. Good-quality chocolate, 70% cocoa or darker (I used Sunspire dairy and gluten free semi sweet chocolate chips)
1 1/2 Tbsp coconut butter
2 Tbsp almonds, chopped
Directions
Prepare small baking sheet by lining with parchment paper.
Peel each banana. Discard peels and cut tips off each banana. Cut each banana in half.
Insert a bamboo skewer into each piece of banana.
Lay pieces on baking sheet. Lay a piece of parchment paper gently over the bananas and place in freezer. Freeze for a few hours until banana is well frozen.
Before serving, melt chocolate and coconut butter gently in a double boiler. Add almonds. Mix well.
Dip each frozen banana piece into the chocolate and return to baking sheet (or decorative platter lined with parchment paper) when done. Serve.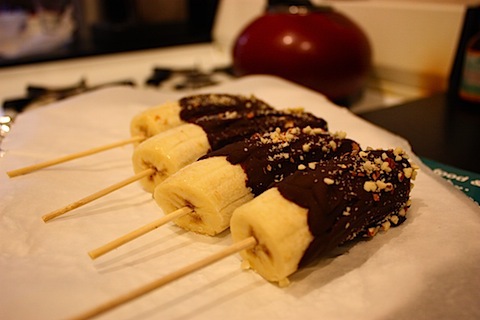 These turned out perfectly and tasted strangely similar the ice cream sundaes with the chocolate shell coating I used to eat as a kid! I'm pretty certain this recipe would be right up Chocolate-Covered Katie's alley. 🙂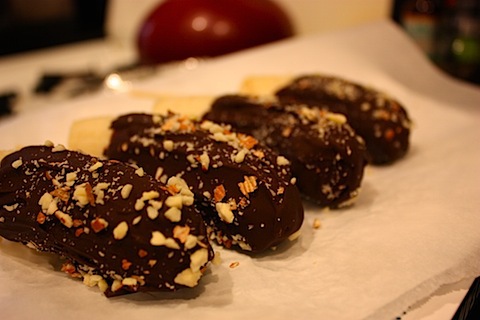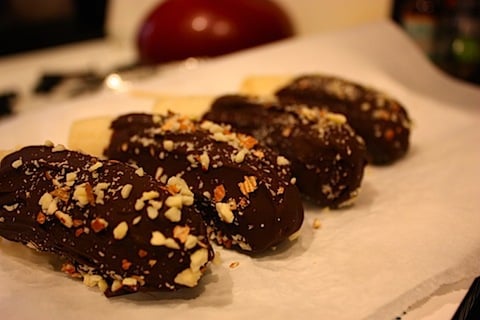 The recipe calls for coconut oil to help melt and liquify the chocolate and I used Nutiva Raw Coconut Oil. You can always use another oil if you don't have coconut oil on hand but I've come accustomed to having coconut oil in the pantry because it's quite useful – particularly when making raw treats like macaroons.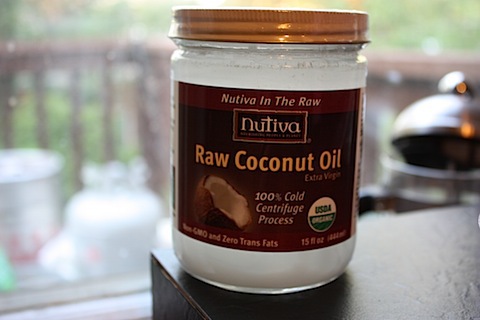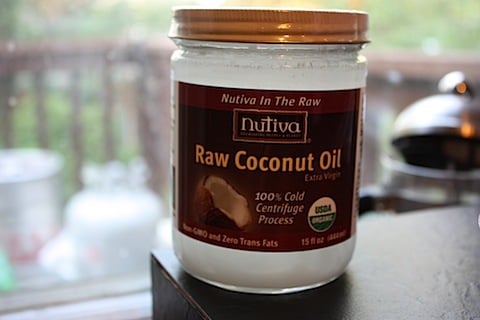 Just in case you haven't been introduced to coconut oil before, here are a few facts. It's ideal as a high-heat cooking oil, as a nutritious baking oil, as well as, a delicious butter substitute on crackers, vegetables, or popcorn. I like adding a bit of coconut oil to smoothies or oats for a bit of healthy fat to keep me feeling full or using it instead of olive oil to roast veggies.
Nutiva notes on their website that the raw, cold-centrifuged oil has a very light flavor and is less sweet than expeller-pressed Extra-Virgin Coconut Oil. If you prefer a sweeter, richer coconut flavor you might want to try their original expeller pressed coconut oil. However, if you are following a raw diet, this oil would be perfect for you!
Before coming home and eating CC Bananas, Isaac and I went to Groovin' in the Garden. The head liner was Josh Ritter, but we were more interested in hearing Mason Jennings, a Minnesotan musician that both Isaac and I have liked since college.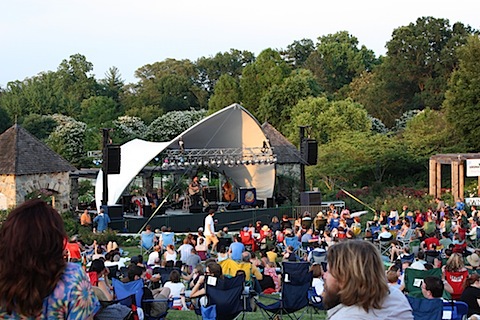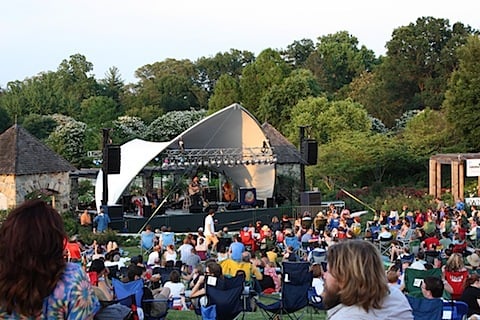 We went right after work so by the time we arrive we were both hungry for dinner. Luckily, they had some tasty and healthy options for sale.
Isaac and I spilt a veggie wrap and mixed fruit.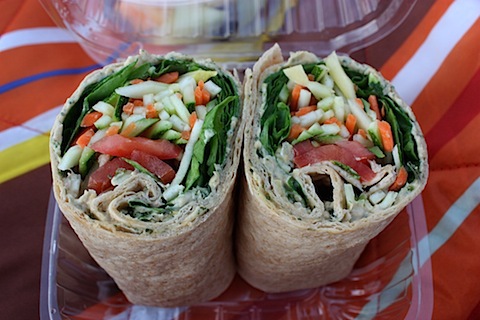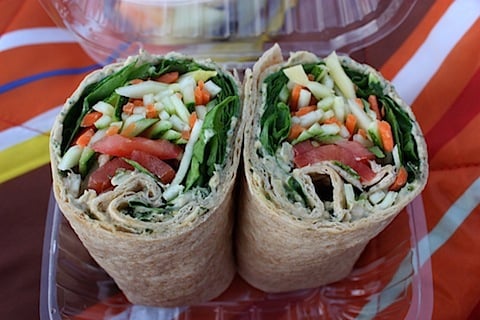 The wrap tasted like something I would have made at home, in a good way, with fresh julienned carrots, squash and zucchini; lettuce, tomato, and hummus stuffed into a whole wheat wrap.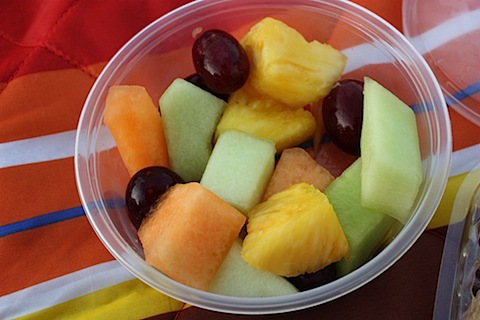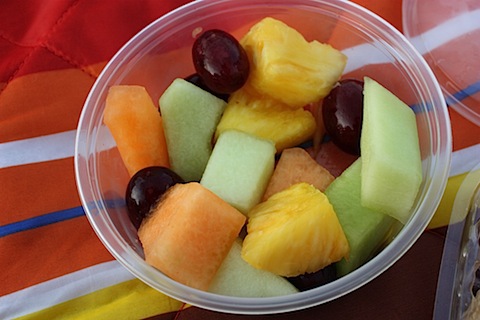 Perfect pairing for a warm summer evening.
The highlight of the evening was getting to meet and take a picture with Mason!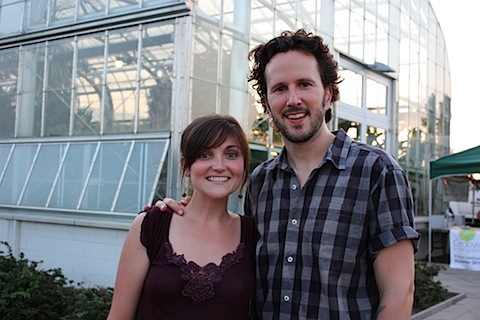 He was super laid back and friendly – it was like meeting with an old friend!
And right now, I'm off to my first-ever bachlorette party in Milwaukee. One of my best girlfriends from college (also named Brittany) is getting married in September so we are going to shower her on Friday evening and then partake in a day full of activities on Saturday. I'm super pumped and can't wait for all the shenanigans to begin. I'm just hoping no one brings the penis tchotchkes- haha- have you all seen this new trend with bachlorette parties?!? Yea, let's just say I'm not a fan of glowing penis necklaces.
I hope you have a fun filled weekend planned as well!
– Brittany
PS – Please remember to vote for me as Richmond's Healthiest Person. You can vote as many times as you want and it goes until next Wednesday, June 16th. Obviously, I would be honored to win the title of RVA's Healthiest Person, so I need your help! 🙂
PPS – I've you haven't heard of Mason Jennings you should check him out – here's one of my favs.