It's raining, it's pouring, the old man is snoring…
I don't know about you, but I'm sooo over the wet, dreary and humid weather we've been experiencing this week. Definitely ready for some sunshine and fun this weekend!
One thing that has kept me in a good mood this week is the big batch of pumpkin butter I made last weekend. Pumpkin makes everything better and it's now pumpkin season – well, maybe not officially but blog world seems to be overflowing with pumpkin recipes lately so it's pumpkin season in my mind. I'm lovin' it.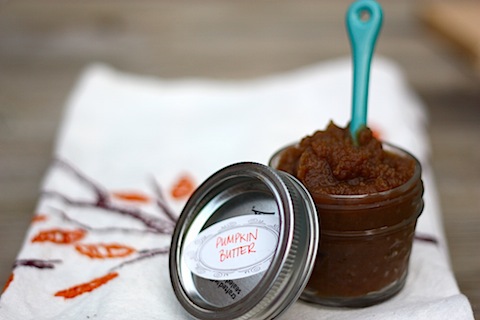 To anyone wondering what the heck pumpkin butter is, it's basically a sweet pumpkin spread, similar to apple butter. And, it's delicious. There's really not much else to say about it.
I used cooked cushaw for this recipe because I had some in the freezer that my boss gave me months ago but you can certainly use a regular pie pumpkin or even canned pumpkin puree. All will work, just don't get pumpkin pie filling as that has already been sweetened.
Pumpkin Butter
Makes 5 cups, enough to fill 10 4 oz. ball jars or 5 1/2 pint jars
Ingredients:
5 cups fresh pumpkin puree (or 1 29 ounce + 1 15 ounce can of pumpkin puree)
1 cup brown sugar (or sucanat)
2 teaspoons ground cinnamon
1/2 teaspoon ground ginger
1/2 teaspoon nutmeg
1/2 teaspoon vanilla
1/8 teaspoon ground cloves
1/4 teaspoon allspice
Pinch of sea salt
Preparation:
Combine all ingredients in a crock pot/slow cooker and stir to mix well.

Set on low heat and cover loosely, leaving a little space for the steam to escape so the mixture can reduce and thicken.

Cook for about 6 hours. The pumpkin butter should have cooked down and thickened. If it's not as thick as you would like it, just take the lid completely off and let it cook for another 30-45 minutes.

Let cool, remove from crock pot and put pumpkin butter into jars or airtight containers.

The pumpkin butter will last a week or so in the fridge, but you can also freezer preserve it by storing it freezer safe containers (or jars).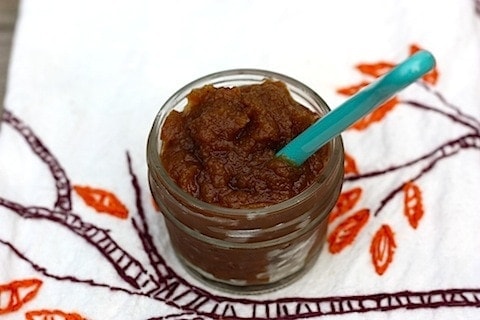 I had actually planned to "for-real can" the pumpkin butter by using the water bath technique, but I found several sources suggesting it's not safe to can pumpkin butter due to it's low acidity. I'd rather be safe than sorry and we have plenty of room in the freezer so that's the method I decided to go with.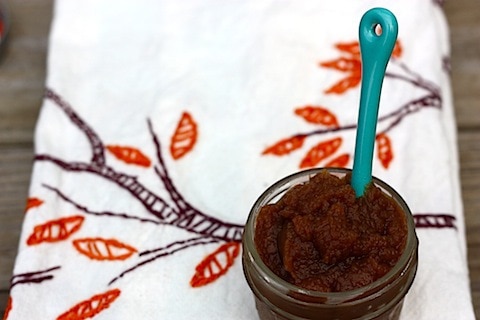 If you have a few extra minutes this weekend, why not make a batch of pumpkin butter? Your kitchen will smell like fall deliciousness and a few hours later you'll have a tasty spread. I will warn you though, you'll want to put this pumpkin butter on everything.
Trust me – I've been dipping crackers in the pumpkin butter, eating it by the spoonful, putting it on top of oatmeal and even stirring a tablespoon or two into my tea and coffee. 🙂
So besides making pumpkin butter, what are your plans for the weekend?
I'm excited because there are quite a few things going on here in Richmond –>
Saturday, September 10 at 9:00AM – Lululemon is hosting Salutation Nation this weekend. The event here in Richmond will be held at Deep Run Park. Find out more info about Salutation Nation 2011 Deep Run Park here.
Saturday, September 10 from 12:00PM-6:00PM – Whole Foods Market Short Pump is hosting Richmond's first Food Truck Festival. I'm super excited about this event because I love food trucks but I still haven't tried many of them here in Richmond. Here's the line up: Whole Foods Market Food Truck, The Lunchbox, Boka Truck, Habanero's Taco Cart, RVA Vegan – Bike Powered Food Cart, Espresso A Go Go, Mark's Wicked Delicious Kettle Corn, Farm To Family, Grill Majesty
Saturday, September 10 and Sunday, September 11 from 11:00AM – 5:00PM – Grayhaven Winery is have a South African Food & Wine Festival. Food + Wine = perfection.
Saturday, September 10 and Sunday, September 11 – RVA Music Fest
Looks like it's going to be a busy weekend. I'm excited!!