I'm usually willing to try anything in the kitchen, but for some odd reason the thought of making my own bean burger seemed really intimidating. That is until Jessy from
HappyVeganFace
, broke it down for me and said, "It's so easy, all you need a bean, a veggie, bread, and a binder." I thought wow, that really is easy! I looked around online (at her blog and others) for a good recipe to use. I didn't have ALL the ingredients for any recipe I found so I just used
this recipe
as a guide and decided to concoct my own version. I served mine on an
Ezekiel English muffin
with a large side of ketchup! Oh and butternut squash fries as well!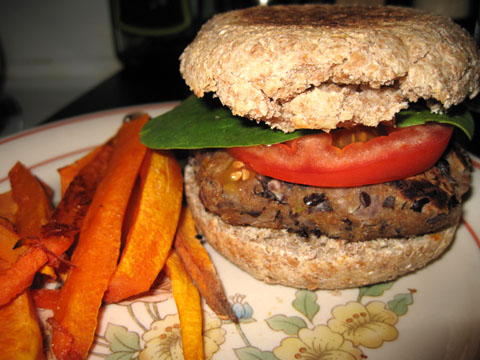 Britt's Black Bean Burgers
3 rings of pickled jalapenos (optional)
1/2 cup chopped red onion
2 cloves garlic
1/4 cup fresh parsley
15 ounce can of black beans, rinsed and drained
1/2 cup bread crumbs
1 large egg, slightly beaten
1/2 teaspoon chili powder
1/2 teaspoon cumin
sea salt
Heat a skillet with non-stick spray. Once warm add the peppers, red onion, and garlic in to the skillet and cook until they start to turn brown. Put the cooked mixture of veggies into a food processor or blender. Add the parsley and pulse several times. Add the beans and pulse five or six times. The beans should be broken up but there should still be some small chunks. Don't over process, as you want your bean burgers to be a little chunky.
Transfer the veggie and bean mixture into large bowl and stir in the bread crumbs and other remaining ingredients and form into four patties.
In the same skillet, heat on medium, spray non-stick spray and add the patties, cook each side until browned, about 6-7 minutes total.
I'm so happy that I finally under took on the not so challenging bean burger. I'm pretty positive you will be seeing more bean burger creations in the near future. Is there any meal/food you've been scared to cook, only to find out it was totally easy?