Sometimes the easiest recipes are the best. That's how I feel about this kale salad. It's literally just kale with a simple garlic tahini dressing, but it's incredibly delicious and nourishing.
I've made it many, many times since first posting about it back in 2011 but just recently decided the photos needed a little upgrade. Since I was taking new photos I figured it wouldn't hurt to highlight the salad again — it's one of my favorites and I'm sure some of you missed it the first time around.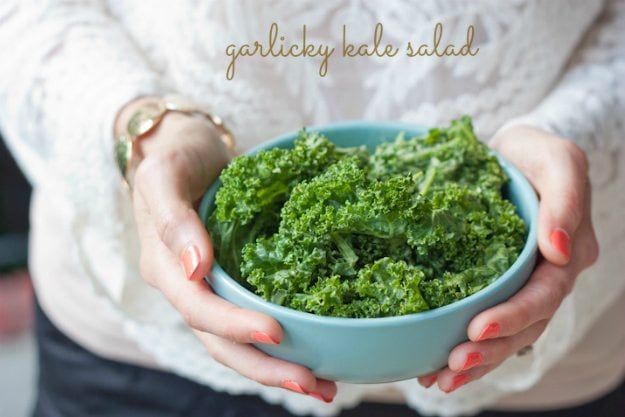 If you're a long-time reader that did see it the first time around but haven't tried it yet, consider this post a sign. 🙂
The recipe was actually inspired by the Garlicky Kale found on the Whole Foods salad bar. It's been one of my favorite items from the bar for ages and apparently other people love it as much as I do. Many folks have commented on my original post thanking me for the recipe and saying that it tastes just as good (or even better) than the Whole Foods version.
I recommend trying it to find out for yourself…
Just a warning — once you try it, it's likely that you'll be hooked and want to make it week after week like I do. This isn't a bad thing considering kale is one of the most nutrient dense foods you can eat and one serving of this salad has 5 grams of fiber and 10 grams of protein! Not too shabby.
Print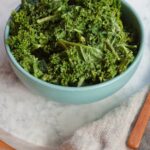 The Best Garlicky Kale
Author:

Yield:

2
---
Ingredients
1 bunch raw kale, washed, de-stemmed and dried
2 Tablespoons tahini
2 Tablespoons apple cider vinegar
2 Tablespoons fresh lemon juice
2 Tablespoons Bragg's liquid aminos or tamari
4 Tablespoons nutritional yeast
2 teaspoons minced garlic
---
Instructions
Break or cut kale into bite size pieces and place in a large bowl.
Puree all ingredients except kale in a blender or food processor to blend the dressing.
Pour dressing over kale and massage into the kale with your hands until all pieces of kale are coated.
Let the salad sit in the fridge for an hour or so to marinate. You can skip this step if you need to eat right away, but allowing some time to marinate will wilt the kale a bit and make it a little more palatable.
---
Nutrition
Serving Size:

1/2 of recipe

Calories:

196

Sugar:

1g

Fat:

9g

Carbohydrates:

21g

Fiber:

5g

Protein:

10g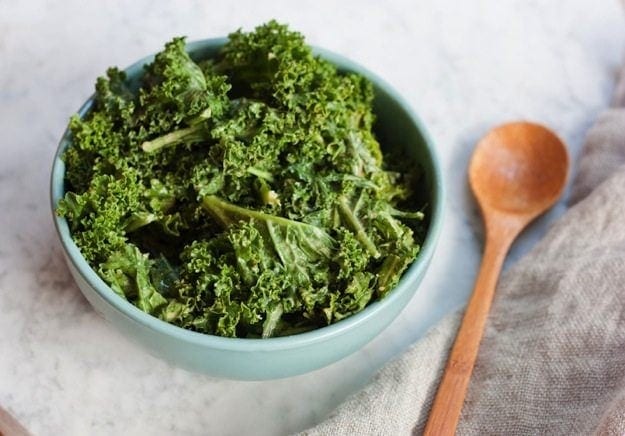 One important note — I'm all about modifying recipes based on what you have in your pantry, but I wouldn't recommend leaving out or substituting the nutritional yeast here. It's pretty critical for the recipe as it gives the dressing a cheesy, savory flavor that is hard to replicate with any other ingredient. In addition, nutritional yeast is a great pantry ingredient to have on hand — it's packed with vitamins and minerals, protein and fiber. And don't worry, there's plenty to do with the leftover flakes after trying this recipe. Make a tofu stir-fry, try this goddess dressing, make cheesy kale chips or use the flakes the same way you'd use cheese and sprinkle them on popcorn, mashed potatoes, pizza, veggies, etc.
Nutritional yeast can be found at most large grocery stores, in the organic section near the spices. Natural grocery stores definitely carry it and a lot of times you can find it in the bulk bins at these type of stores. Of course, if you can't find it at a grocery store nearby, you can always order it online as well. Trust me, it's worth it.
Do you have a favorite kale recipe? What is it?