Air Fryer Carrots
0
Published Nov 07, 2023, Updated Nov 14, 2023
These air fryer carrots are crisp on the outside, tender on the inside and perfectly caramelized. They cook up in under 15 minutes making for a quick and easy side dish.
I love cooking veggies in my air fryer! They cook up in less time than in the oven and always end up perfectly tender and caramelized. And these air fryer carrots are no exception!
I could eat a whole plate of these carrots to myself as a snack, but I love making them for a quick and easy side dish for dinner. They're always a family favorite.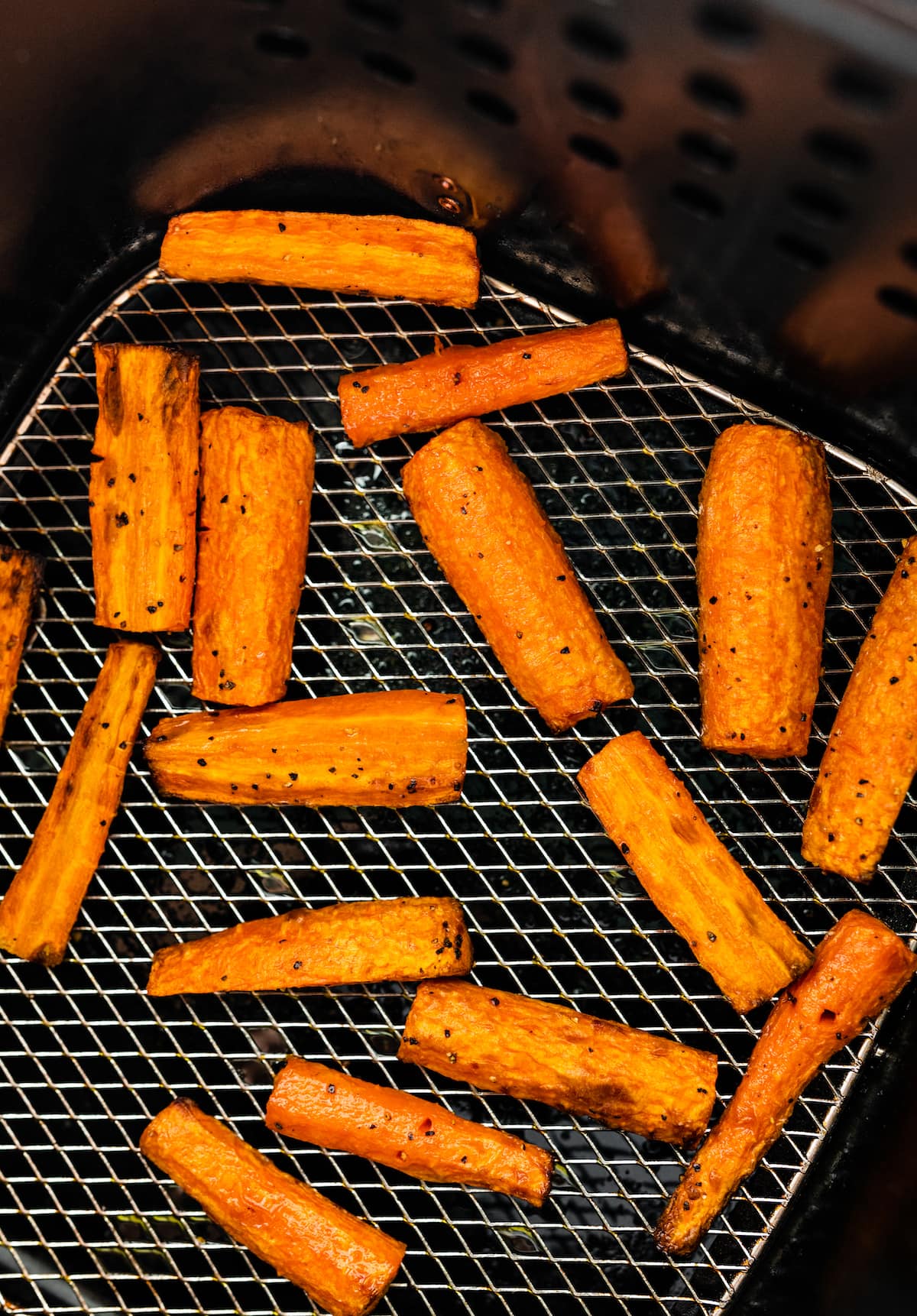 Why You'll Love This Recipe
Quick & Easy – No more waiting for the oven to preheat! The air fryer gets the job done in just about 10 minutes.
Versatile – Serve them as a side, add them to a salad, or munch on them as a snack – the choice is yours.
Healthy – Carrots are high in beta-carotene, a red-orange antioxidant that converts to vitamin A in the body. Carrots also contain vitamin C, iron, calcium and fiber.
Customizable – Feel like jazzing things up? Adjust the seasonings or add your favorites to give these roasted carrots your own personal twist.
Ingredients Needed
carrots – we're using 2 large carrots for this recipe, which I recommend peeling, but you can leave them un-peeled if preferred.
oil – a little goes a long way to ensure the carrots get a lovely crispy texture. I prefer to use either olive oil or avocado oil for the best results.
sea salt – enhances the natural flavor of the carrots.
black pepper – just a pinch.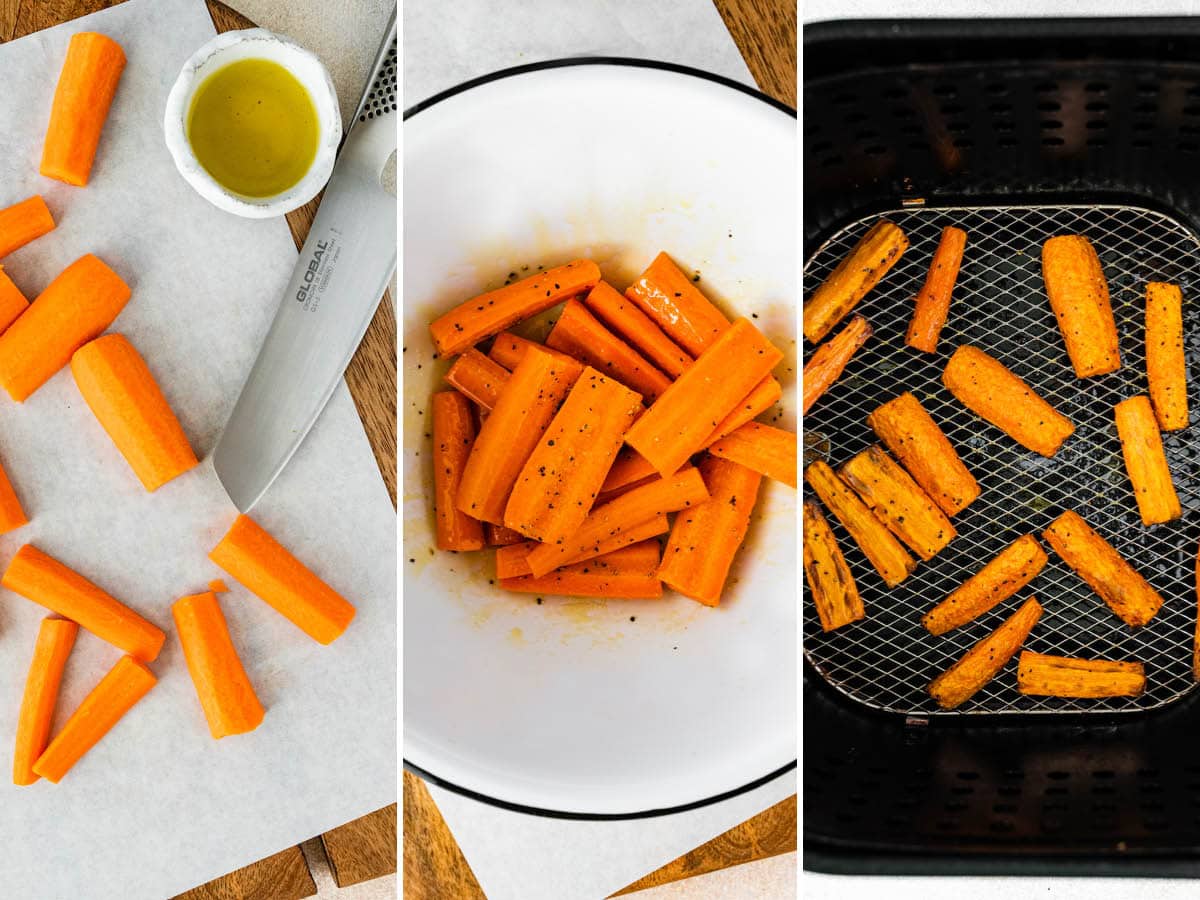 How to Make Air Fryer Carrots
Prep: Begin by peeling your carrots. Slice each carrot lengthwise in half, then again, producing strips around 2-3 inches long. This size ensures even cooking and also accounts for a bit of shrinkage during the cooking process.
Season: In a mixing bowl, toss the carrot strips with oil, salt and pepper, ensuring they're evenly coated.
Air Fry: Place the seasoned carrot strips in a single layer in your air fryer basket. Set your air fryer to 375°F and let them cook for 10-12 minutes. Remember to give the carrots a gentle shake halfway through to ensure they cook evenly. You're aiming for tender carrots with a few brown spots.
Serve: Once they are fork-tender, serve them up as a scrumptious snack or a wholesome side to your main dish. Enjoy!
Variations
The options are endless when it comes to roasted carrot flavor variations! Here are some fun flavor combos to try below.
Spicy – For those who love some heat, sprinkle a bit of chili powder, cayenne pepper or chili flakes onto the carrots before tossing them in the air fryer.
Sweet – Frizzle a little maple syrup or honey over the carrots before air frying. This gives them a caramelized, sweet glaze.
Balsamic glazed – Toss these carrots with balsamic vinegar in addition to the oil, salt and pepper.
Garlic – Mix carrots with 1 minced garlic clove.
Herb-Infused – Add a sprinkle of your favorite dried herbs before air frying. Rosemary, thyme, coriander or dill can elevate the flavor profile of these simple carrots.
Butter & garlic – Swap the oil for melted butter and add some garlic powder for some buttery & garlic flavored air fryer carrot fries.
Parmesan – After the first 8 minutes of air frying, sprinkle some grated parmesan over the carrots and continue to air fry until they're done. The cheese adds a lovely savory crunch.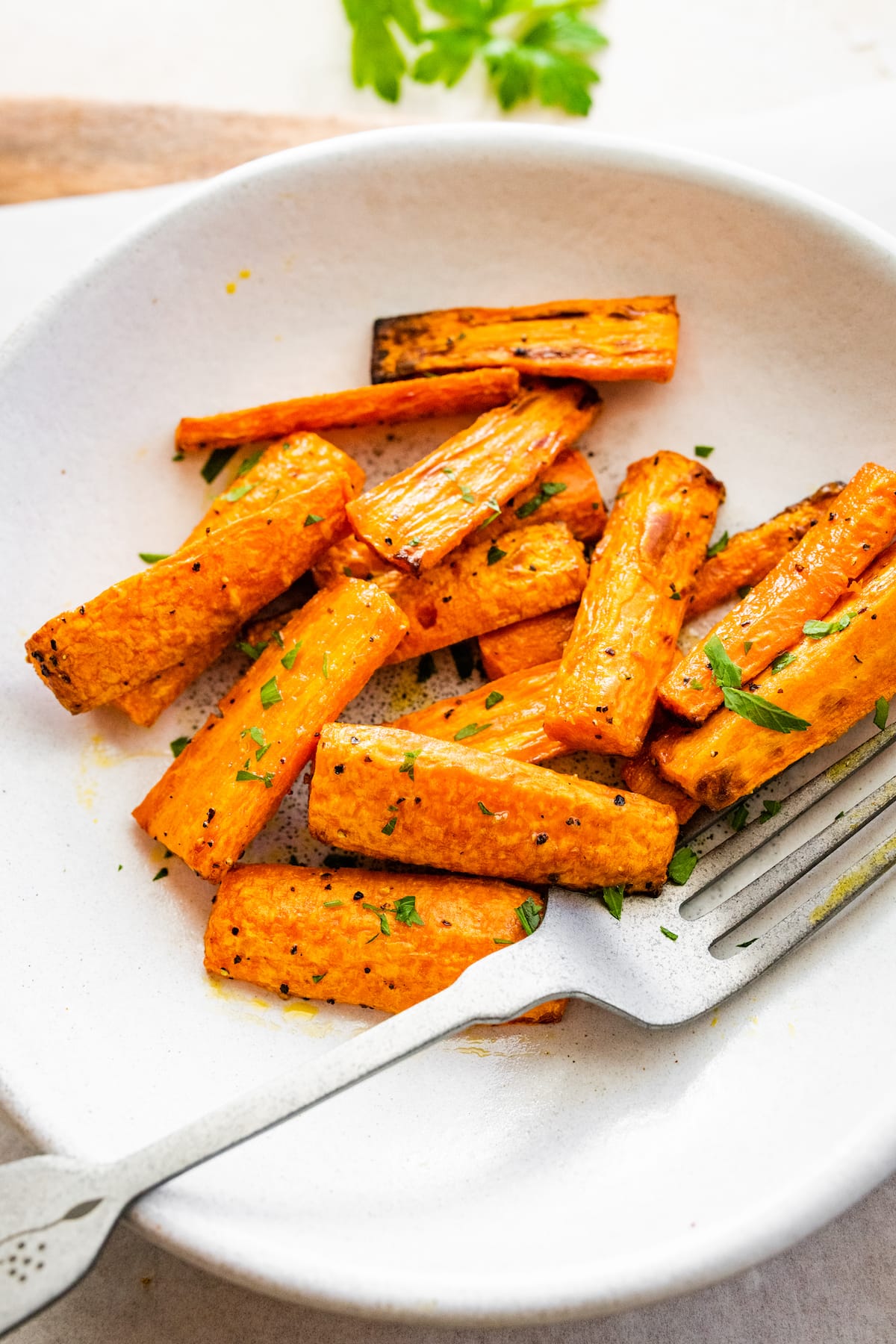 How to Serve
Recipe Tips
Cut even pieces: Try to cut the carrot pieces into similar sized pieces so they cook evenly. Uneven pieces may result in some undercooked or burnt bits.
Don't overcrowd: Place your carrots in a single layer in your air fryer basket. Overcrowding can lead to uneven cooking.
Shake or toss: For consistent cooking, make sure to shake the basket or toss the carrots halfway through cooking. This movement helps avoid any hot spots or uneven cooking.
Adjust to taste: Carrots can be naturally sweet. If you prefer a more savory snack, feel free to add more salt or even some herbs of your choice.
How to Store
If you want to make a big batch for meal prep you can make a big batch of air fryer carrots and store them in an airtight container in the refrigerator for 3-4 days. They'll still taste delicious, they'll just loose that crispy crunch.
To reheat, just place them in the air fryer in a single layer and cook at 375°F for 1-2 minutes. You can also reheat them in a toaster oven, regular oven or microwave. Just note that the carrots will get soft if you reheat them in the microwave.
FAQ's
Do I need to peel the carrots?
While peeling is recommended for a smoother texture, you can leave the skin on if you wash and scrub the carrots thoroughly. Some even prefer the rustic taste and look of unpeeled carrots.
Can I use baby carrots?
Absolutely! Just adjust the cooking time since they might cook faster due to their smaller size.
Why are my carrots not crispy?
The carrots won't be "crispy" like a chip, but they should have a nice roasted texture. If they're too soft, consider extending the cooking time by a couple of minutes.
More Delicious Carrot Recipes:
More Air Fryer Recipes
Be sure to check out all of the carrot recipes as well as the full collection of air fryer recipes on EBF!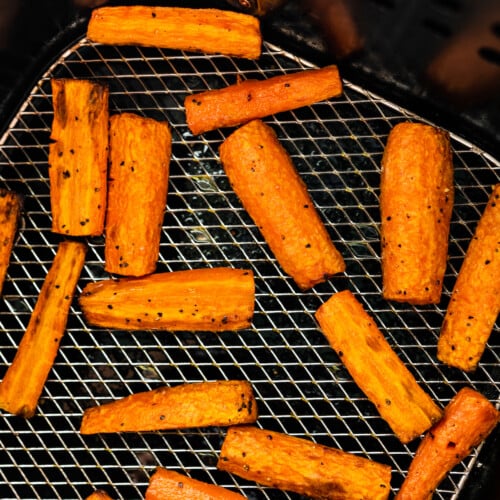 Air Fryer Carrots
These air fryer carrots are crisp on the outside, tender on the inside and perfectly caramelized. They cook up in under 15 minutes making for a quick and easy side dish.
Instructions
Peel carrots and using a knife, cut them lengthwise in half and then in half again. You should end up with strips that are about 2-3" long. You want the pieces to be pretty similar in size so they cook evenly and you don't want the pieces too small because the carrots will shrink when roasting.

Toss carrots in a bowl with the oil, salt, pepper

Transfer to air fryer basket in a single layer and air fry at 375°F for 10-12 minutes, tossing carrots halfway, until carrots are tender with a few brown spots.
Nutrition
Serving:
1
/2 recipe
|
Calories:
60
kcal
|
Carbohydrates:
7
g
|
Protein:
1
g
|
Fat:
4
g
|
Monounsaturated Fat:
2
g
|
Sodium:
340
mg
|
Potassium:
232
mg
|
Fiber:
2
g
|
Sugar:
3
g
Nutrition information is automatically calculated, so should only be used as an approximation.