These roasted sweet potatoes are perfectly tender on the inside with crisp, caramelized edges. They're delicious and make for an easy side dish that you can pair with just about any meal.
Roasted sweet potatoes are a staple in our household. We have them for dinner often and I've been making a batch every week (sometimes twice a week) while doing my meal prep. I'll have a big pot of quinoa cooking, eggs boiling, these little gems roasting all while chopping veggies for the week. Doing a bit of prep work like this makes tossing together meals throughout the week a breeze and is a total game changer when it comes to healthy eating.
When sweet potatoes are roasted this way they turn out crispy on the outside while soft and pillowy on the inside. If you decide to peel them (like I recommend) they simply melt in your mouth.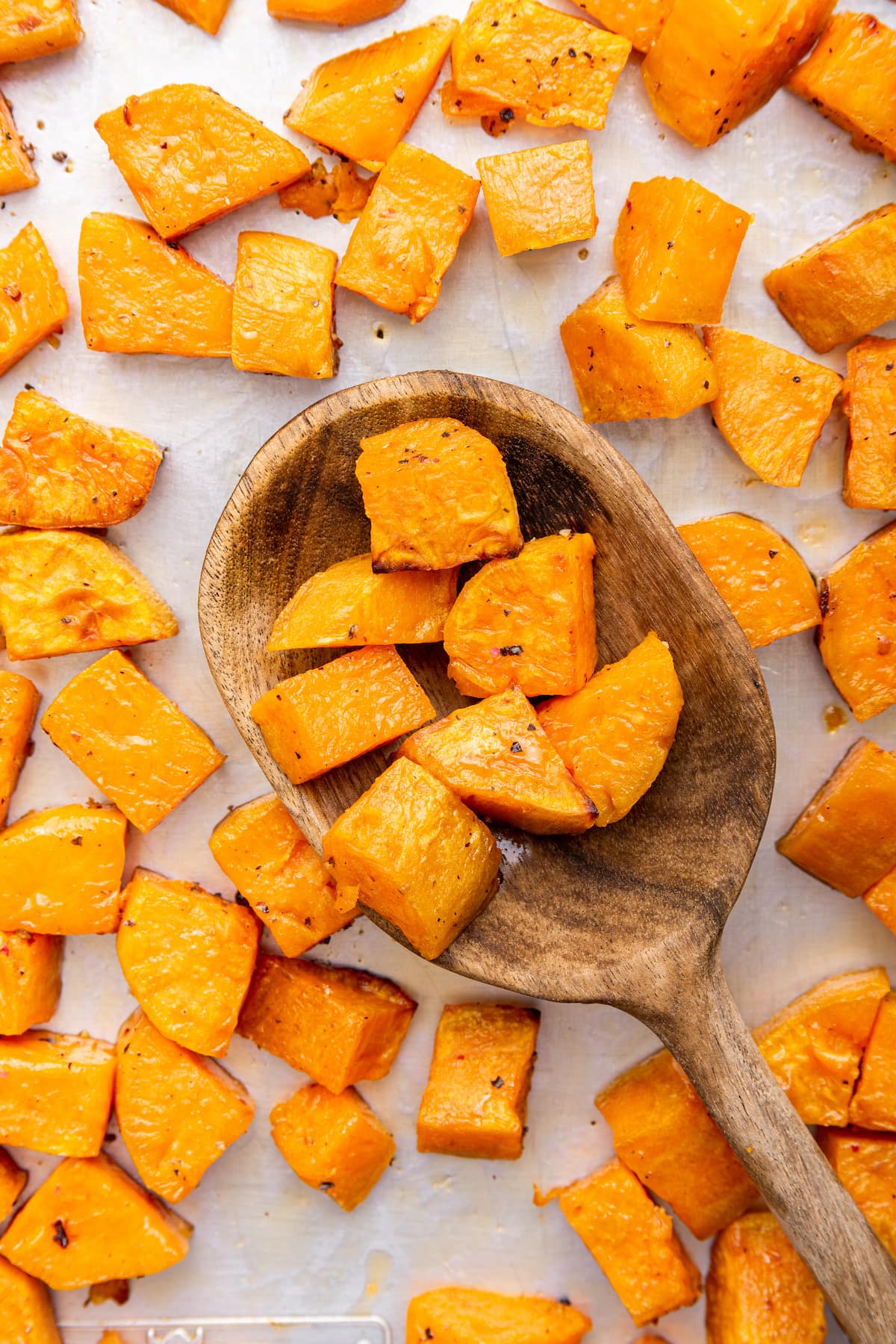 Why You'll Love This Recipe
Easy to Make: With just a few simple steps, this recipe is perfect for beginners.
Versatile: These roasted sweet potatoes can be a side dish or incorporated into various meals.
Healthy: Packed with essential vitamins and minerals, it's a nutritious choice.
Tasty: The caramelization from roasting brings out the natural sweetness of the sweet potatoes.
Customizable: Feel free to add your favorite herbs and spices to match your taste preference.
Meal Prep Friendly: Make a big batch and enjoy throughout the week as a time-saver!
Sweet Potato Nutrition
Sweet potatoes are a powerhouse vegetable! They're packed with fiber and vitamins and minerals such as potassium, calcium, vitamin A and vitamin C. They're also high in antioxidants which help protect your body against free radical damage.
Studies have shown sweet potatoes positively impact gut, brain, eye and immune health. And some studies have shown that certain antioxidants in sweet potatoes may protect against certain cancers. Bottom line? They're SO good for you and delicious! Now you have no excuses to not incorporate them into your diet. (Source)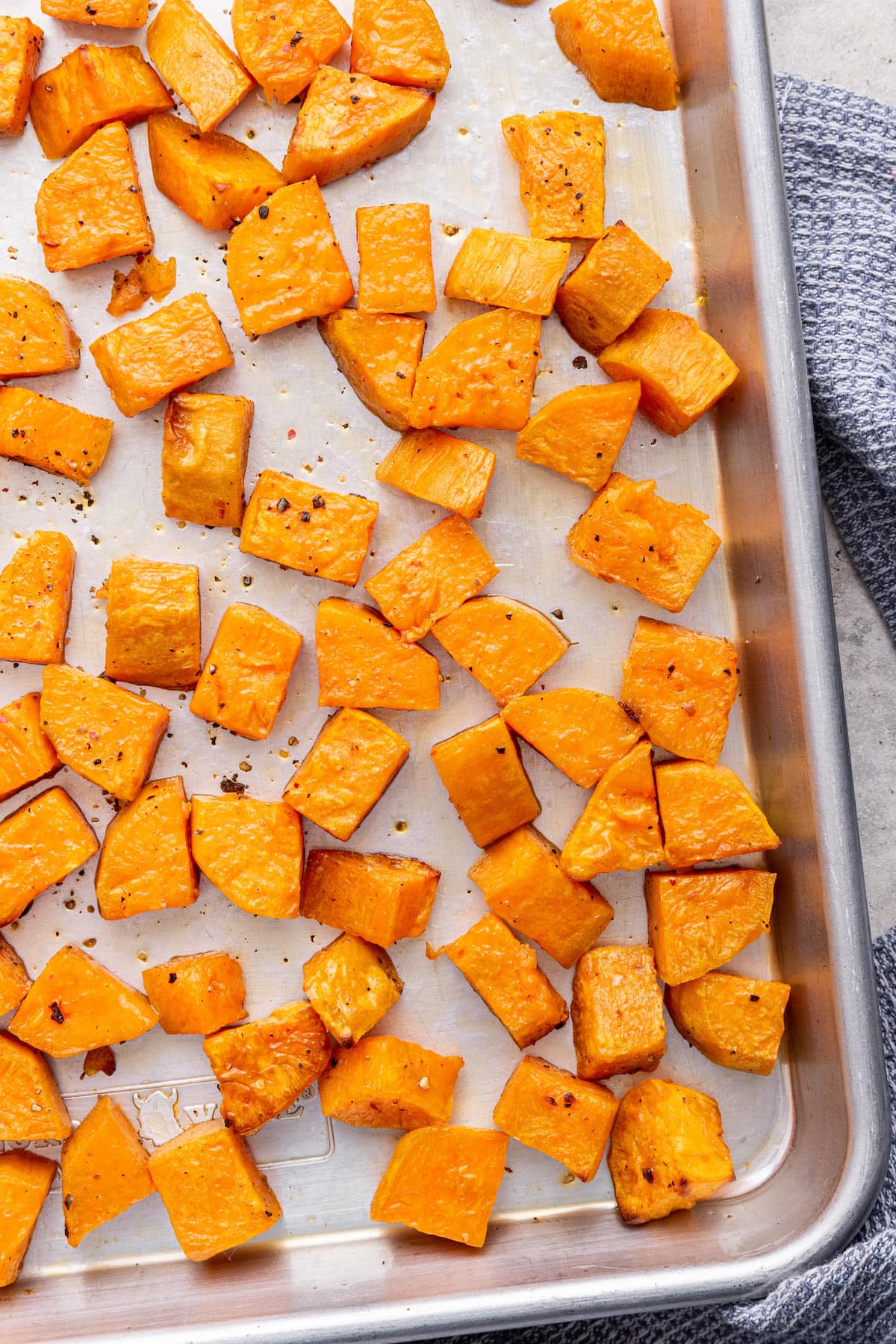 Buying & Storing Sweet Potatoes
When shopping for sweet potatoes, look for firm, unwrinkled skins. Sweet potatoes come in all different colors – creamy white, deep orange and purple. I usually buy Beauregard, Jewel or Garnet sweet potatoes just because those varieties are typically available at my local grocery stores. That said, Beauregard sweet potatoes tend to be stringier so when given the option I go for Jewel or Garnet.
Store your sweet potatoes in your pantry or on the countertop at room temperature. They'll last about a week before they start to go bad (which usually means getting wrinkly and soft).
Difference Between Yams and Sweet Potatoes
Many grocery stores use the terms "yam" and "sweet potato" interchangeably, but the two are actually quite different.
Real yams have rough brown skin, starchy white flesh and a long, cylinder shape. Sweet potatoes usually have smooth, thin orange skin with orange, white or purple flesh. They're shorter and wider than yams and have a much sweeter taste.
Even if you buy a "yam" at the grocery store you're more than likely actually buying a sweet potato as yams aren't widely available at grocery stores throughout the U.S.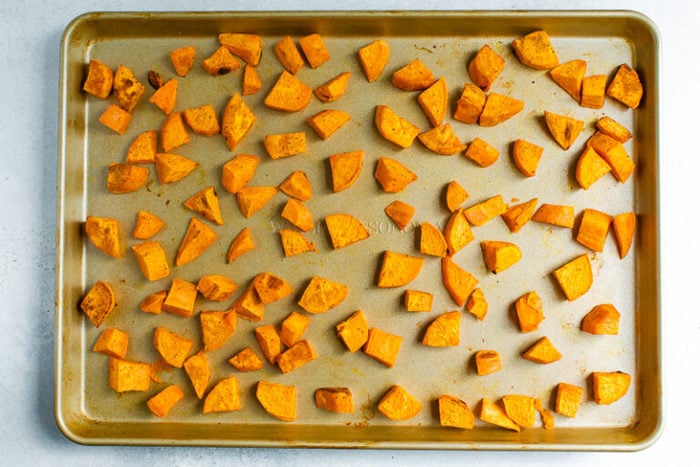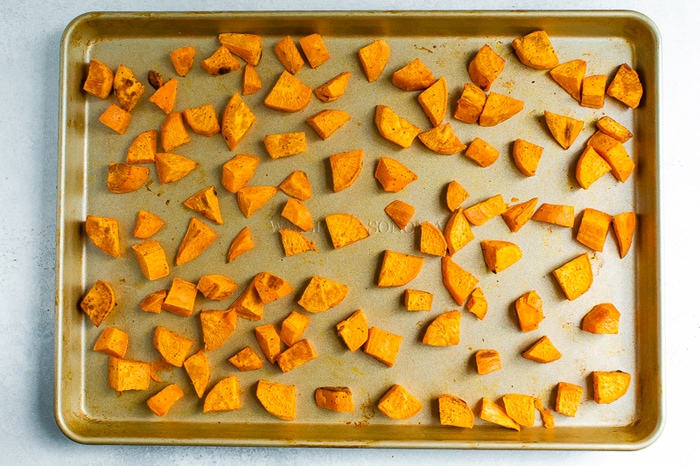 How to Roast Sweet Potatoes
Are you ready for this super simple recipe?!
Chop – Prep your sweet potatoes by peeling and chopping them into medium-sized chunks. Try to make them around the same size so that they all cook cohesively. In this recipe I recommend peeling the sweet potatoes, but often times I don't peel them. It just depends on my mood.
Season – Toss your chopped sweet potatoes with oil and salt + pepper in a large bowl to combine. Pour sweet potato cubes onto a baking sheet. You can line the baking sheet with parchment paper for easy clean-up if you want!
Cook – Bake for 30-45 minutes at 400ºF, tossing once halfway through until sweet potatoes are fork tender. Remove from the oven, taste and season with additional salt if needed.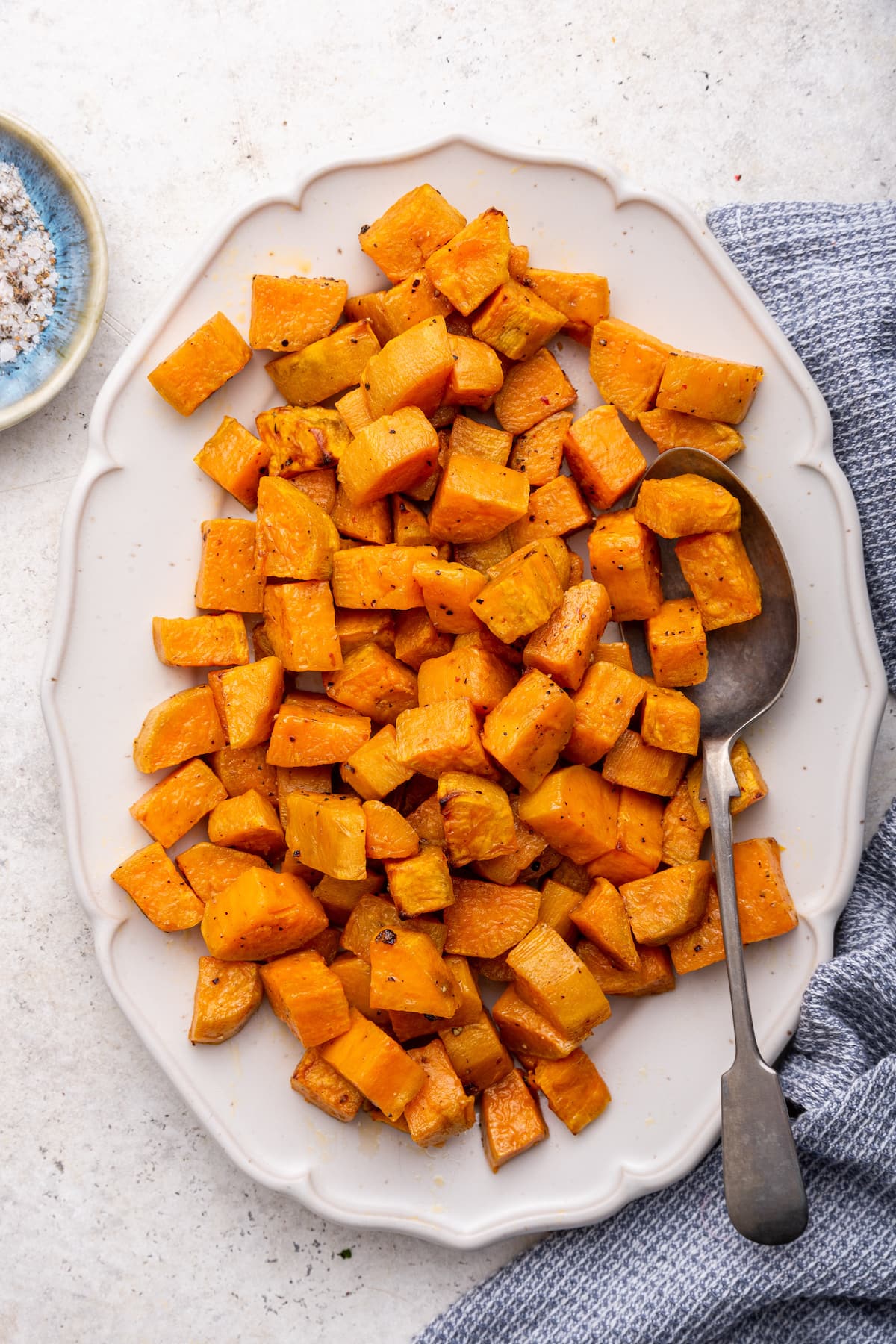 How to Eat Roasted Sweet Potatoes
In my opinion, there is no wrong way to eat roasted sweet potatoes. They're so versatile and work for just about any meal! I personally love having roasted sweet potatoes for breakfast or as a side dish for dinner. Here are some ideas to incorporate roasted sweet potatoes into your routine:
Served with eggs – you can create a delicious hash with sweet potatoes + eggs or just eat the potatoes on the side like this hormone balancing breakfast bowl.
As a salad topper – I love adding warm (or cold) roasted sweet potatoes to my salads! I even have a recipe for sweet potato croutons.
As a snack – sometimes I reheat them in the oven, but I honestly LOVE roasted sweet potatoes cold, straight from the refrigerator.
In an egg bake or frittata – Throw your prepped sweet potatoes in an egg dish for extra fiber. Try my roasted sweet potato frittata recipe.
In chip dip – I've made this Southwestern chip dip with sweet potatoes and highly recommend it!
In soup – when in doubt, I add leftover roasted veggies to soup! Here's a delicious sweet potato soup recipe you could try.
In a grain bowl – roasted sweet potatoes are delicious added to a grain bowl with rice, quinoa or farro. One of my favorites is this quinoa salad with kale and roasted sweet potatoes. This buddha bowl is also a delicious way to incorporate roasted sweet potatoes.
In tacos – swap the cauliflower for sweet potatoes in this cauliflower tacos recipe.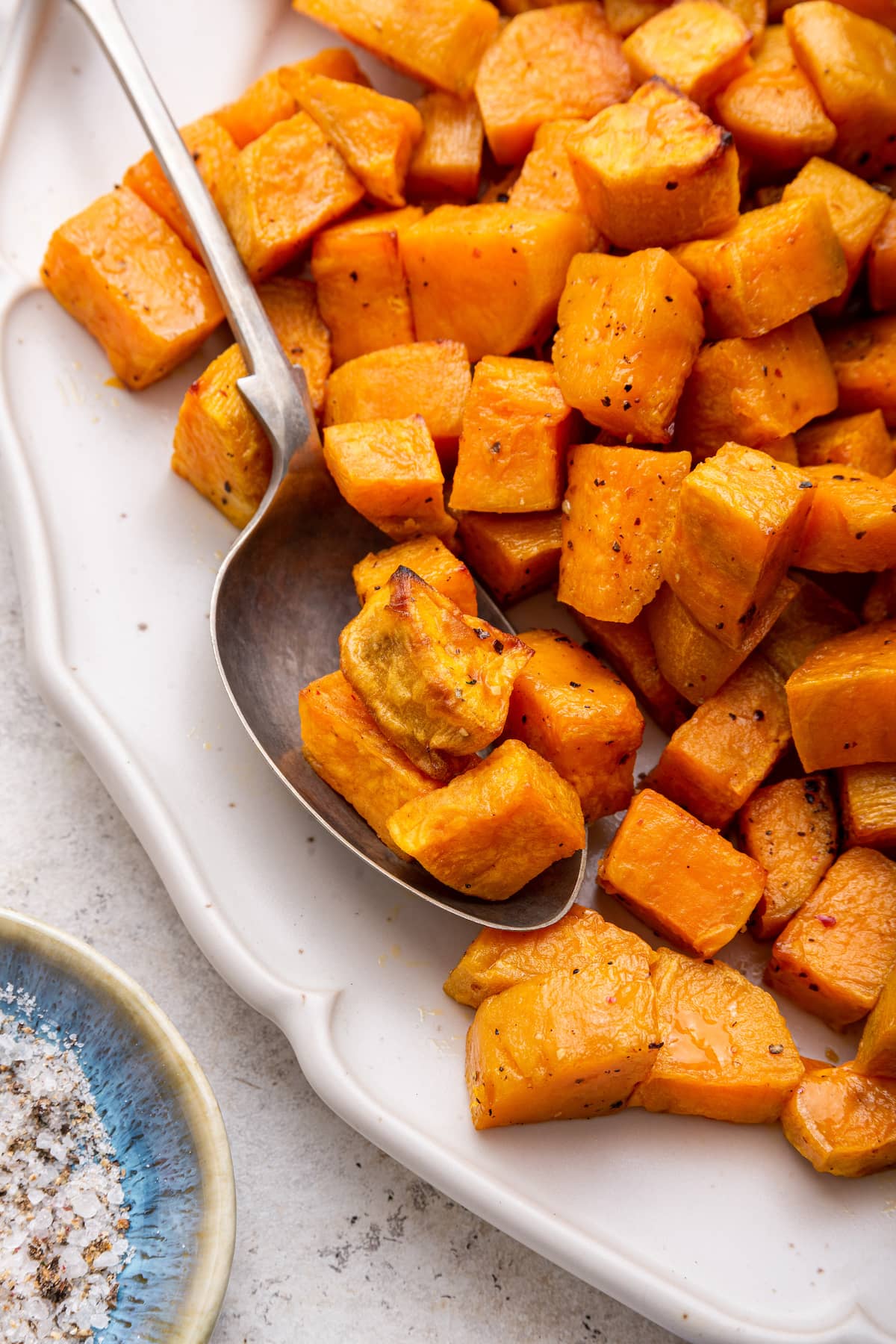 Roasted Sweet Potato Variations
You can't go wrong with the classic oil and sea salt, but sometimes I like to spice it up and add some flavor variations! Here are some ideas:
cinnamon + cayenne pepper – sweet, savory and spicy
cinnamon, salt + maple syrup or honey – sweet and salty
seasoned salt (like garlic salt!) – adds great flavor
garlic powder + black pepper – savory with a hint of sweet from the potato
cumin + chili powder or paprika – another delicious savory option
fresh herbs like parsley, thyme – I love adding fresh herbs to everything!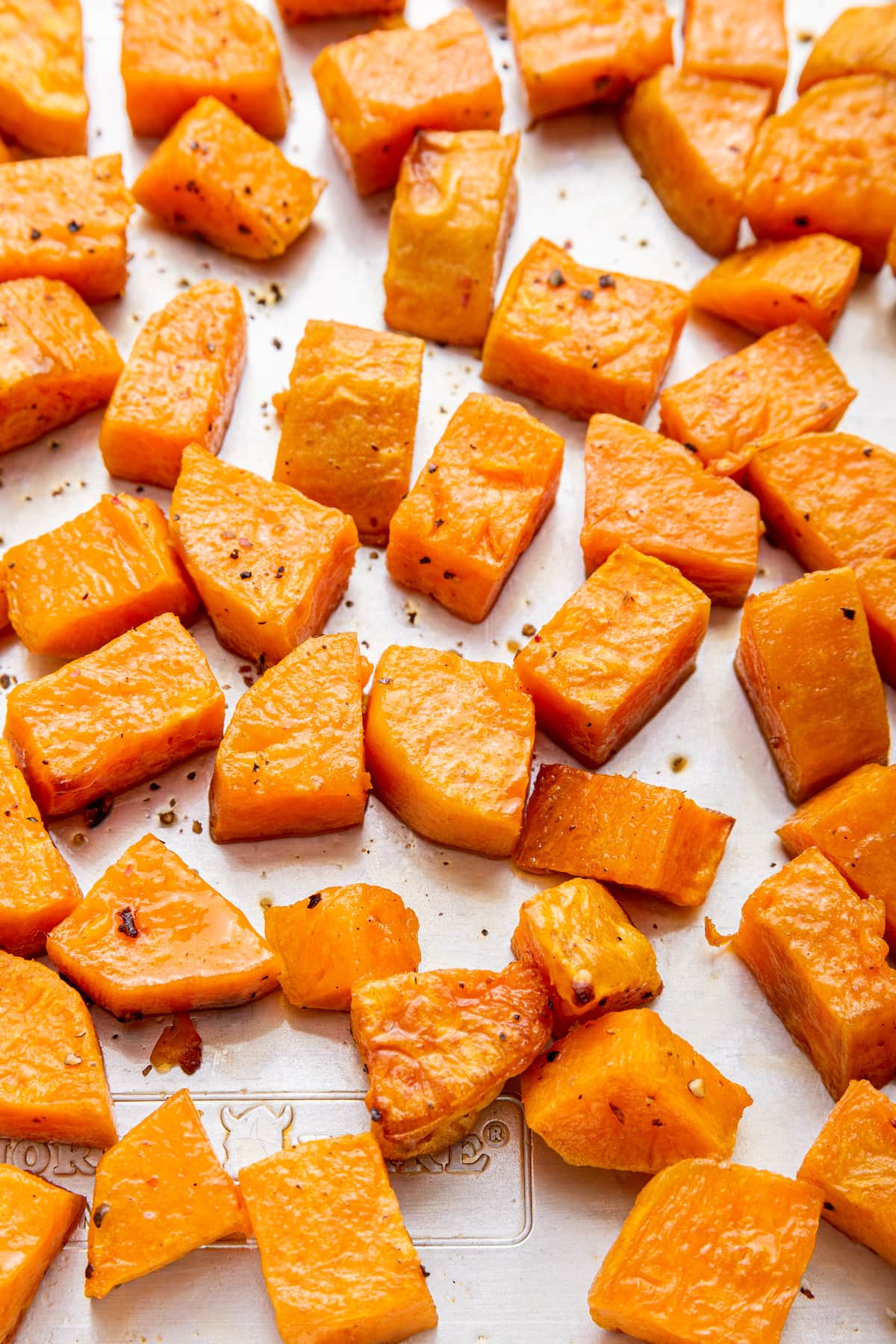 Recipe Tips
Size Matters: Make sure all pieces are cut evenly so they cook well.
High Heat: Roasting at high heat helps caramelize the sweet potatoes, enhancing their sweetness.
Experiment with Herbs: Try adding herbs like rosemary or thyme for added flavor.
Parchment Paper: Use parchment paper on the baking sheet for easy clean-up.
Peeling: Peeling is optional but it can lead to a creamier interior.
Spacing: Avoid overcrowding the baking sheet to allow sweet potatoes to roast evenly.
Tossing: Toss sweet potatoes halfway through roasting to ensure even crispiness.
How to Store and Reheat
To store leftovers, let the sweet potatoes cool completely and then place in an airtight container. The sweet potatoes will last up to one week in the refrigerator.
Like I mentioned earlier, I like eating my sweet potatoes cold sometimes but you can easily reheat them in a toaster oven, air fryer or traditional conventional oven to maintain crispiness.
More Sweet Potato Recipes to Try
More Roasted Vegetables to Try
Be sure to check out all of my sweet potato recipes as well as the full collection of side dishes here on EBF!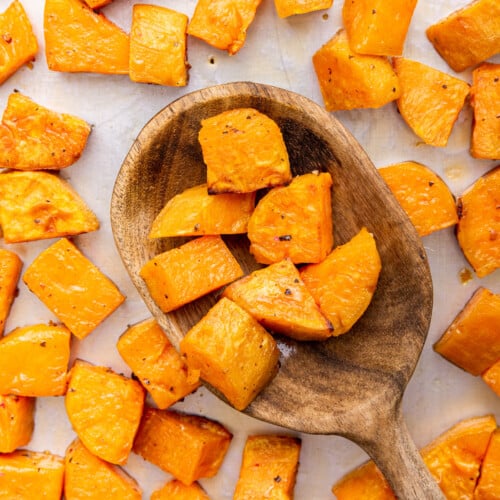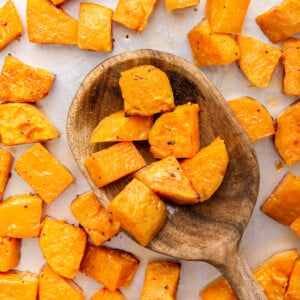 Roasted Sweet Potatoes
Simple roasted sweet potatoes are made with a little oil, sea salt and pepper. They're a touch crispy on the outside while soft and pillowy on the inside. They make for a quick and easy side that you can pair with just about any main dish.
Ingredients
2

medium

sweet potatoes

,

peeled and chopped into even chunks

1 – 2

Tablespoons

avocado or olive oil

½

teaspoon

sea salt

¼

teaspoon

ground pepper

optional seasonings: cinnamon

,

chili powder, cayenne pepper
Instructions
Preheat oven to 400°F. Chop sweet potatoes into medium-sized chunks. Not too small, but not too big either. Try to make them around the same size so that they are all done cooking at the same time.

Place sweet potatoes, oil, salt and pepper in a large bowl and toss to combine. Pour onto a baking sheet and cook for 30-45 minutes, until fork tender, tossing once half-way through. Remove from oven, taste and season with additional salt if needed. Serve warm or store leftovers in the fridge for up to 1 week.
Nutrition
Serving:
1
/3 of recipe
|
Calories:
115
kcal
|
Carbohydrates:
17
g
|
Protein:
1
g
|
Fat:
4
g
|
Saturated Fat:
1
g
|
Polyunsaturated Fat:
3
g
|
Sodium:
441
mg
|
Fiber:
3
g
|
Sugar:
4
g
Nutrition information is automatically calculated, so should only be used as an approximation.