Remember the strawberry sangria recipe I made last weekend? Well I'm sharing the recipe with you today so that you can run out to the store and grab your ingredients before the weekend arrives.
First let's talk about sangria. It's a delicious little beverage typically made with wine, some sort of liquor (triple sec, brandy, etc) and fruit. It's a lovely summer party drink! With all the fruit that's involved you'd think that it'd be a healthy option but more often than not there's additional fruit juice, soda, simple syrup and regular sugar added to the mix as well. Depending on what ingredients are put into the sangria, one glass can be about 300 calories and it's usually pretty high in sugar as well.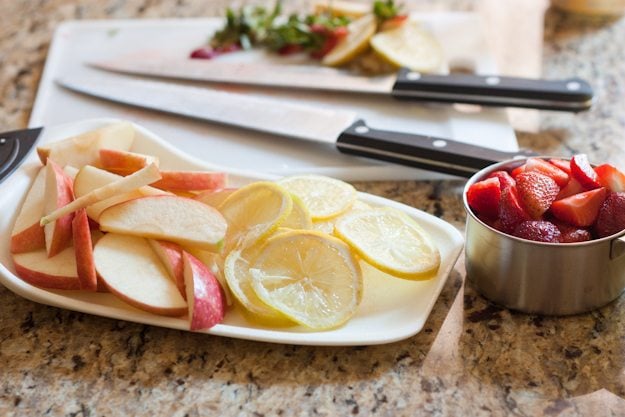 I'm not a fan of sugary sweet mixed drinks so when my cousin and I set out to make a batch last weekend, we kept it light by skipping the added sugar and using sparkling water instead of soda. She had pample-mousse (does that make anyone else giggle when they say it?) flavored La Croix on hand so we used that. I'm sure the lemon or lime flavor would work well too. With these easy changes we ended up with a light and refreshing sangria that was still plenty sweet and tasty!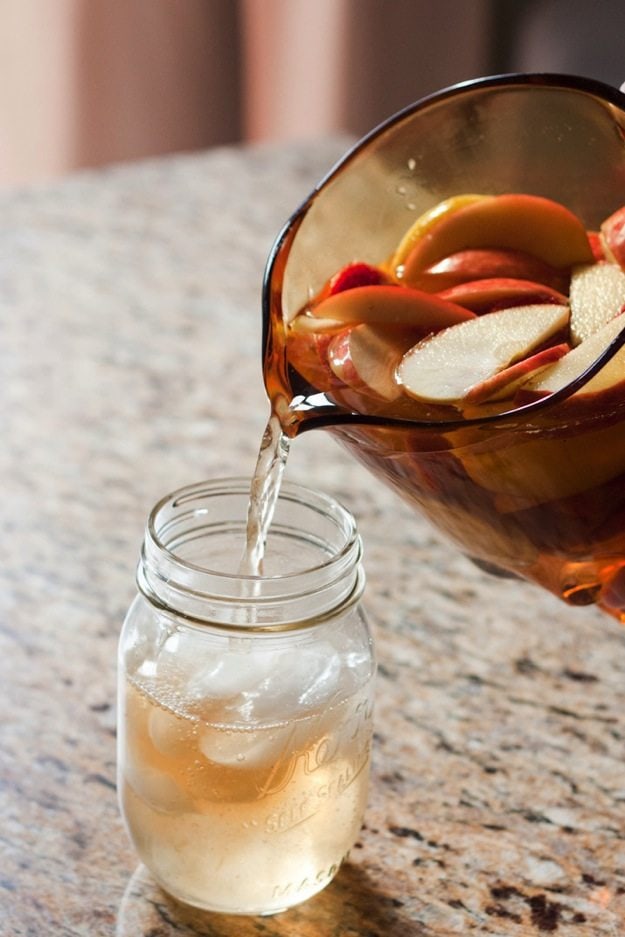 I recommend using Vinho Verde, Riesling or Chardonnay here but feel to use whatever type of white wine you have on hand. And I don't recommend using your fanciest bottle of wine here — a cheap bottle will do. For all my Trader Joe's fans — two three buck chuck works great in this recipe.
If you want to make one big mixture, you can add the sparkling water into the sangria mixture but I like opening the cans right before serving so that you don't lose any of the carbonation and everyone can make their drink to taste. I know some folks like their drinks stronger than others. 😉
Print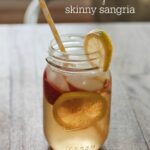 Skinny Strawberry Lemon Sangria
Author:

Yield:

6
---
Ingredients
1 cup fresh strawberries, hulled and quartered
1 lemon, sliced
1 pink lady apple, cored and thinly sliced
1 750ml bottle of Vinho Verde, Riesling, Chardonnay, or other white wine
1/2 cup brandy or light rum liquor
2-3 12-oz cans La Croix sparkling water (grapefruit, lime or lemon)
ice
---
Instructions
Place lemon slices, apple, and strawberries in a large pitcher. Pour in brandy or rum and wine.
Mix everything together, cover and refrigerate for about four hours or overnight. Also refrigerate the sparkling water.
For individual servings, pour about 4 oz of the sangria mixture into a glass with ice, spoon in a few piece of fruit and then add a splash of sparkling water, to taste.
---
Nutrition
Serving Size:

1/6 of recipe

Calories:

157

Sugar:

5g

Fat:

0g

Carbohydrates:

9g

Fiber:

1g

Protein:

1g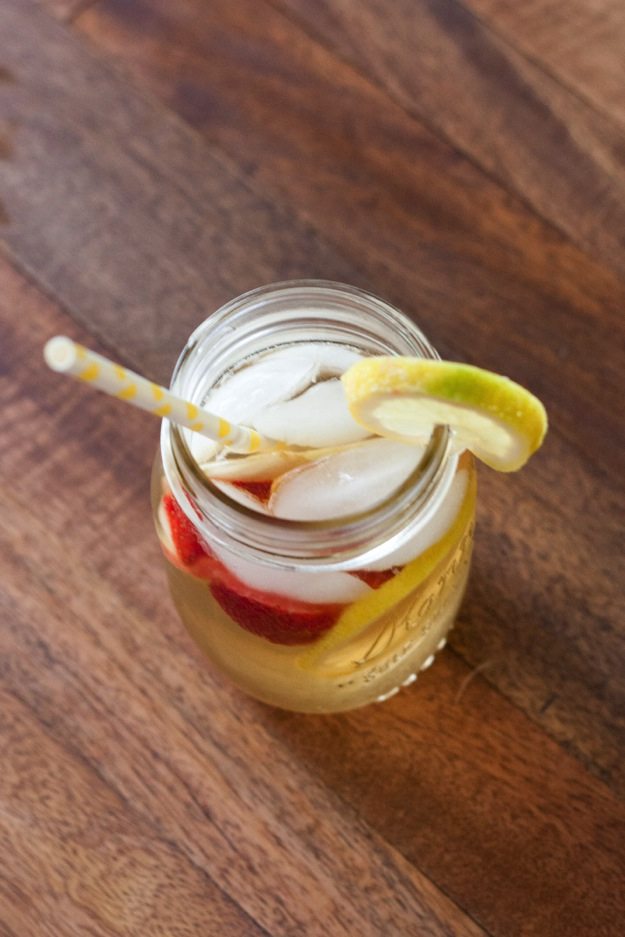 Hope you like it as much as we did! Happy one day until the weekend. 🙂