It's Saturday, there's no snow in the 10 day forecast and the high is supposed to be over 50° today — woot woot! March 7th also happens to be National Cereal Day!
Isaac and I are both cereal lovers so celebrating this holiday is a must at Casa de EBF. Isaac will most likely be enjoying a big bowl of Cinnamon Toast Crunch (which also happens to be my childhood favorite), but I decided it would be fun to make a homemade cereal to celebrate.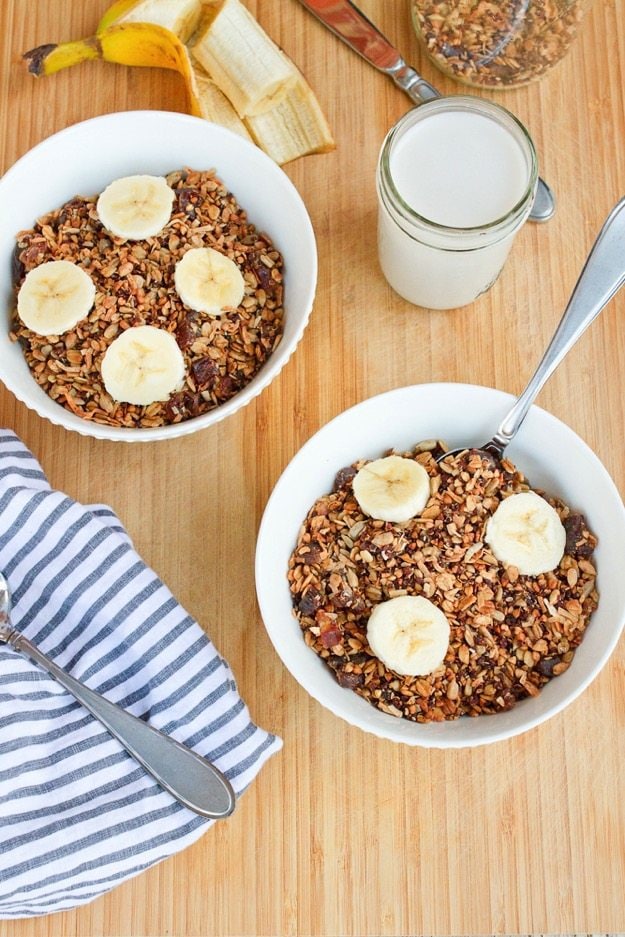 This health boosting cereal blend includes a bunch of my favorite foods — oats, quinoa, buckwheat, sunflower seeds, coconut and Medjool dates.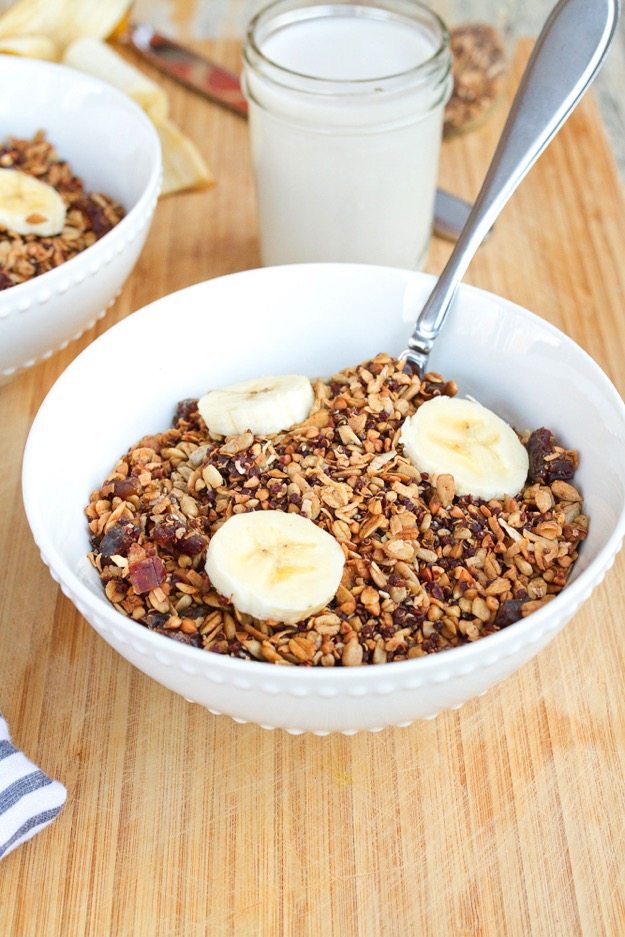 With healthy fat from the coconut oil and natural sweetness from maple syrup and dates, this cereal is wholesome, filling and perfectly sweet. The quinoa, buckwheat and sunflower seeds give it quite the crunch. Who knew you can toast cooked quinoa and make it crunchy. Yes siree — works like a charm!
I love the cinnamon vanilla flavoring I used for this batch, but I think a chocolate version with a little cocoa powder and chocolate chips would be an indulgent (and insanely delicious) treat.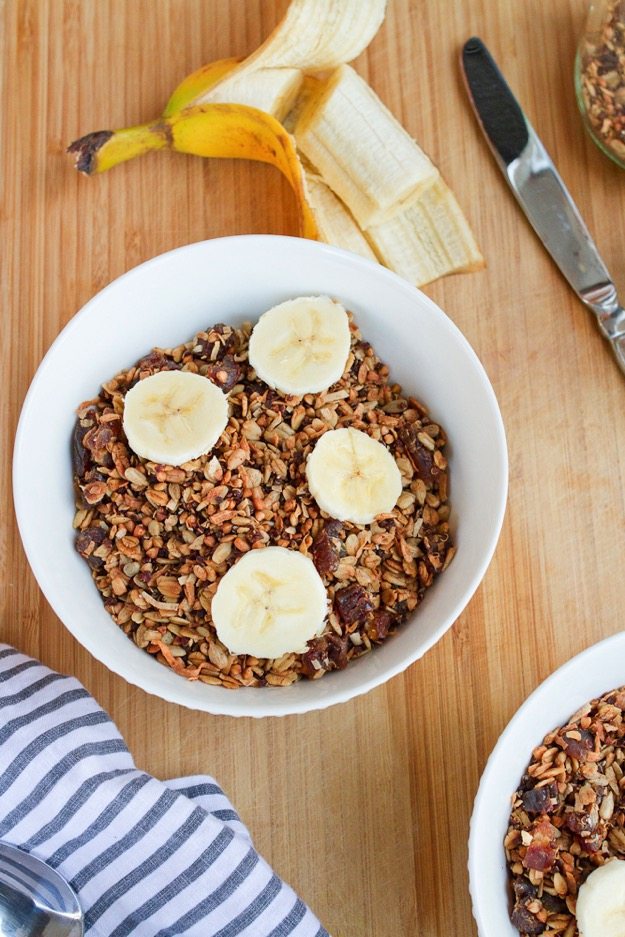 Serve it up with milk, just as you would regular cereal or pour milk over it and let it sit for a while — even overnight — like overnight oats.
It's similar to granola nutritionally so it also works great as topping for yogurt or smoothies and I bet it would make a crunchy delicious topping for salads as well.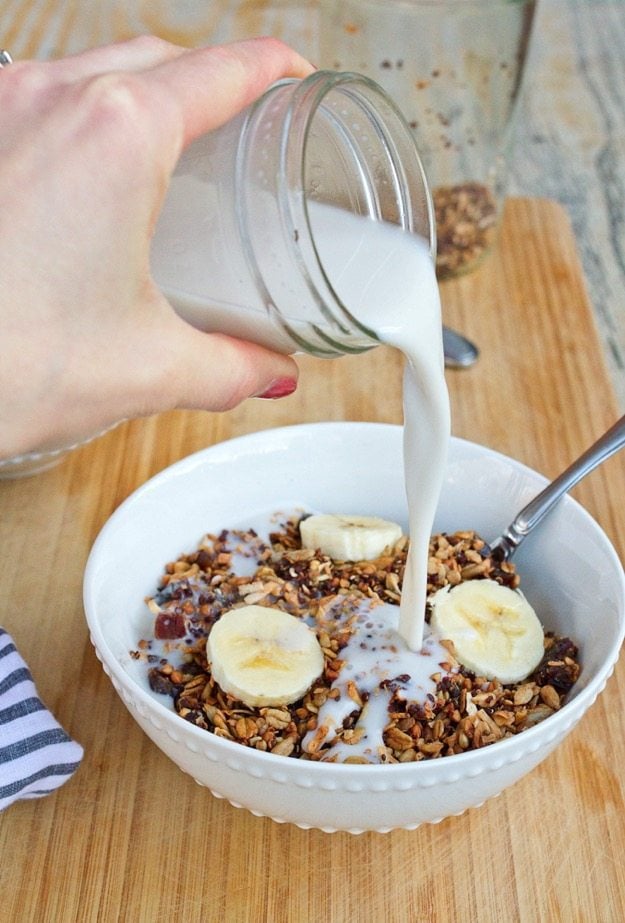 I couldn't resist having a big bowl with banana slices and almond milk this morning — HAD to celebrate! 😉 Crunch crunch crunch.
Print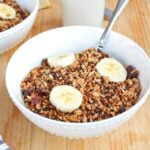 Quinoa Buckwheat Date Cereal
Author:

Prep Time:

5 mins

Cook Time:

40 mins

Total Time:

45 mins

Yield:

3 1/2 cups
---
Description
Homemade gluten-free cereal with quinoa, buckwheat, oats, coconut and dates. Crunchy, sweet and delicious.
---
Ingredients
1 cup gluten-free rolled oats
½ cup raw buckwheat groats
1 ½ cup cooked quinoa
½ cup sunflower seeds
½ cup unsweetened shredded coconut
¼ cup maple syrup
¼ cup coconut oil, melted
1 teaspoon cinnamon
2 teaspoons vanilla
¼ teaspoon sea salt
5 pitted Medjool dates, chopped into tiny bits (I used Natural Delights)
---
Instructions
Preheat oven to 325°.
In a large bowl combine oats, buckwheat, quinoa, sunflower seeds and coconut.
In a small bowl combine maple syrup, coconut oil, vanilla, cinnamon and salt.
Pour maple syrup/oil mixture over the grain mixture and stir well, making sure all pieces are covered. Spread cereal mixture onto a baking sheet lined with parchment paper or silpat.
Bake for 40-45 minutes. Color should be golden brown.
While cereal is baking, chop the dates.
Remove from oven and stir in chopped dates.
Let cereal cool before placing into a covered container for storage.
---
---
Nutrition
Serving Size:

1/4 cup

Calories:

181

Sugar:

10g

Fat:

8g

Carbohydrates:

24g

Fiber:

3g

Protein:

4g
Are you a cereal lover? What's you favorite cereal? What cereal did you love as a kid? I LOVED cereal growing up and had four favorites: Cinnamon Toast Crunch, Cookie Crisp, Smacks and Cinnamon Life. Nowadays I don't buy cereal all that often, but two of my favorites are Chex and Puffins.