A delicious quinoa salad for summer with fresh corn and avocado. Can be served as a salad or as a dip!
I've been making my raw corn and avocado salad for years. It's really easy to toss together, requires minimal ingredients and is always a hit at parties. It's one of those recipes that I know by heart and could probably make in my sleep in needed. <– Not sure when that will be necessary (probably when we have kids), but anyway, I think it's good to have a few recipes like this in your back pocket.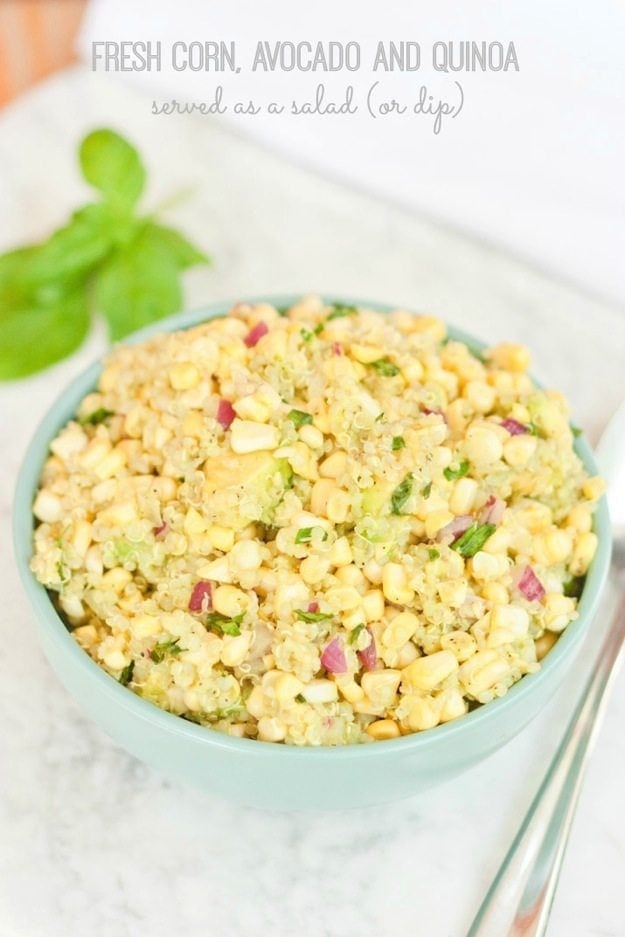 Last weekend we were going to a little get-together on Saturday night so I made a batch of the salad to bring along. But this time I switched things up a bit. I used less corn and added in quinoa. I've made plenty of quinoa salads before so I knew it was going to work but it turned out to be more delicious than expected.The quinoa added a nice addition to the texture and a little protein without changing the flavor of the salad. Love!
This version might just become my new go-to.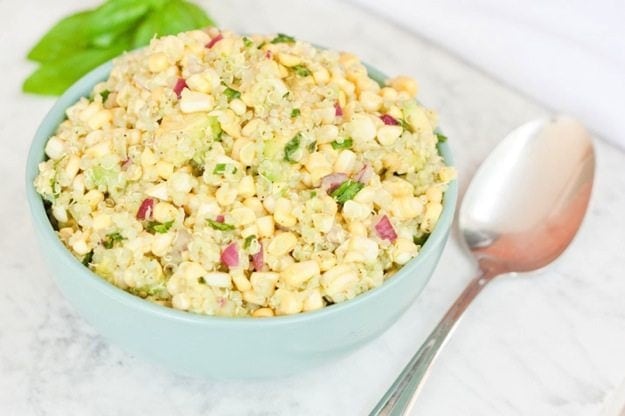 Interestingly enough, I usually serve this as a side salad at potlucks but at the party last weekend people started dipping chips in it and calling it a dip. Hey, I'll take it — I'm all about versatile dishes! I tried it with a chip and it definitely works. It's like a corn and avocado salsa.
I even got a high-five from one guy who really liked it. Score! 🙂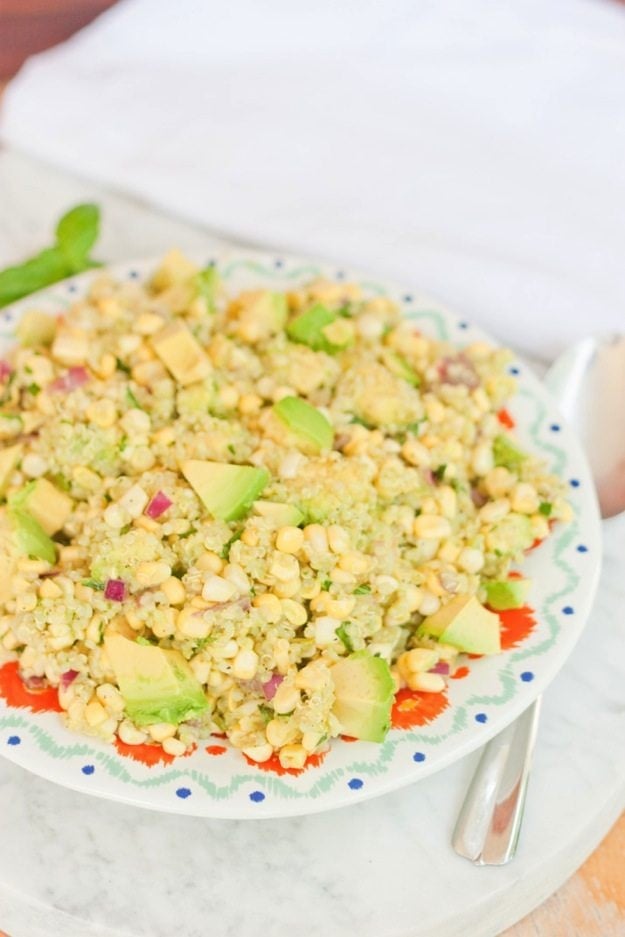 So.. if you happen to be looking for an easy, no-cook recipe to make for your 4th of July shindig, here it is! Bring utensils and serve it as a salad or bring chips and serve it as a dip. Either works! Enjoy.
Fresh Corn, Avocado and Quinoa Salad (or dip)
4
adjust servings
Ingredients
4

ears (about 3 cups) fresh uncooked sweet corn

1/2

cup uncooked quinoa (about 11/2 - 2 cups cooked)

1/2

cup red onion, diced

2

large avocados, diced

lime juice (1 lime or about 3 Tablespoons)

1/4

cup fresh basil, chopped

1

teaspoon sea salt

Ground pepper, to taste
Instructions
Cook quinoa according to package directions. Place in a mixing bowl and put in the fridge to cool. You can even do this step the day before. Just store the cooked quinoa in the fridge until you're ready to prepare the salad.
Husk and cut corn from the cob (here's a quick tutorial), pulling out as many corn silks as possible.
Combine all ingredients in a large bowl. Mix well. Serve immediately or allow to marinate for a few hours before serving.
Do you have a go-to dish that you've made so many times you no longer need the recipe? 
Any big plans for the 4th of July? We've excited to be spending the weekend with my Aunt, Uncle and cousins in North Carolina again this year. Can't wait!