No Bake Peanut Butter Crunch Bars
These no bake peanut butter crunch bars are super easy to make with only 6 simple ingredients! They're crunchy, protein-packed and the peanut butter chocolate combo is absolutely addicting.
Introducing your new favorite treat… no bake peanut butter crunch bars!
These 6-ingredient bars are crunchy, packed with peanut butter chocolatey goodness and have 5 grams of protein each, making them a great mid-afternoon snack, post-workout treat or healthy dessert option. I guarantee you'll be hooked after just one bite!
Why You'll Love This Recipe
The combo of chocolate + peanut butter = chef's kiss!
Easy to make with only 1 bowl and 6 simple ingredients.
They're no-bake aka no need to turn on your oven!
Gluten-free, dairy-free, vegan + can easily be made nut-free.
One bar has 5 grams of protein.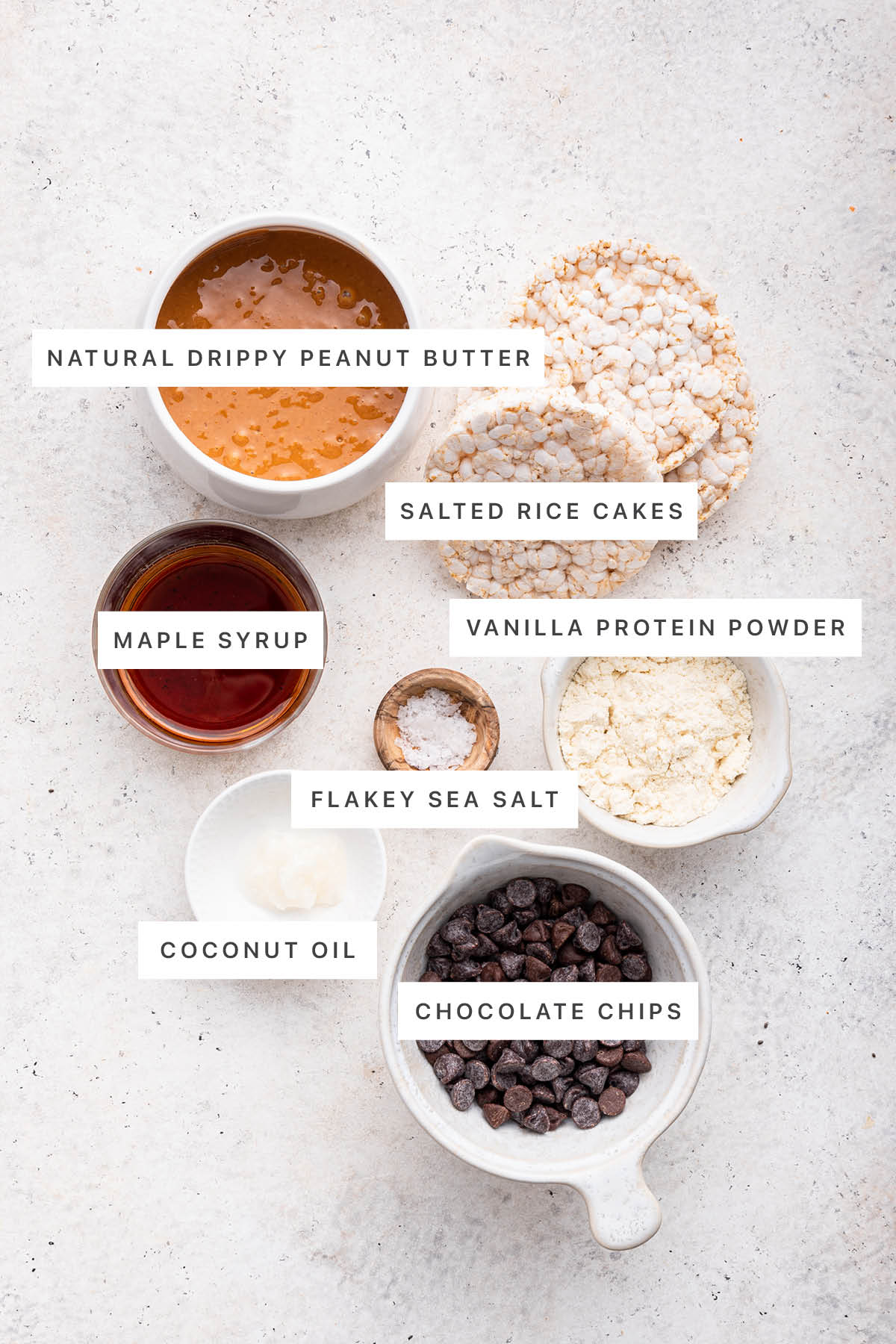 Ingredients Needed
salted rice cakes – you'll need 4 rice cakes crumbled up for this recipe. My favorite brand is the Lundberg Farms Lightly Salted Organic Brown Rice Cakes, but feel free to use your favorite brand/flavor.
vanilla protein powder – this adds a nice boost of protein to these bars. I used Nuzest vanilla protein powder, which is a favorite of mine. Use the code eatingbirdfood for 15% off.
peanut butter – helps to bind everything together. Plus, it's a good source of protein. You want to use natural, drippy peanut butter not a thick peanut butter spread. I usually go for the store brand and read the label to make sure it has just one or two ingredients, the nuts and salt. Some of my favorite brands are the Wild Friends peanut butter and 365 organic creamy peanut butter.
maple syrup – the perfect natural sweetener for these bars.
chocolate chips – I recommend Enjoy Life mini chocolate chips which are allergen-friendly or Lily's chocolate chips because they are low in sugar and calories.
coconut oil – when melted with the chocolate it helps to create a smooth chocolate layer to top the bars.
flaky sea salt – this is optional, but a little sprinkle of flaky sea salt helps to enhance all the flavors. Plus, it looks pretty! I like Maldon sea salt flakes.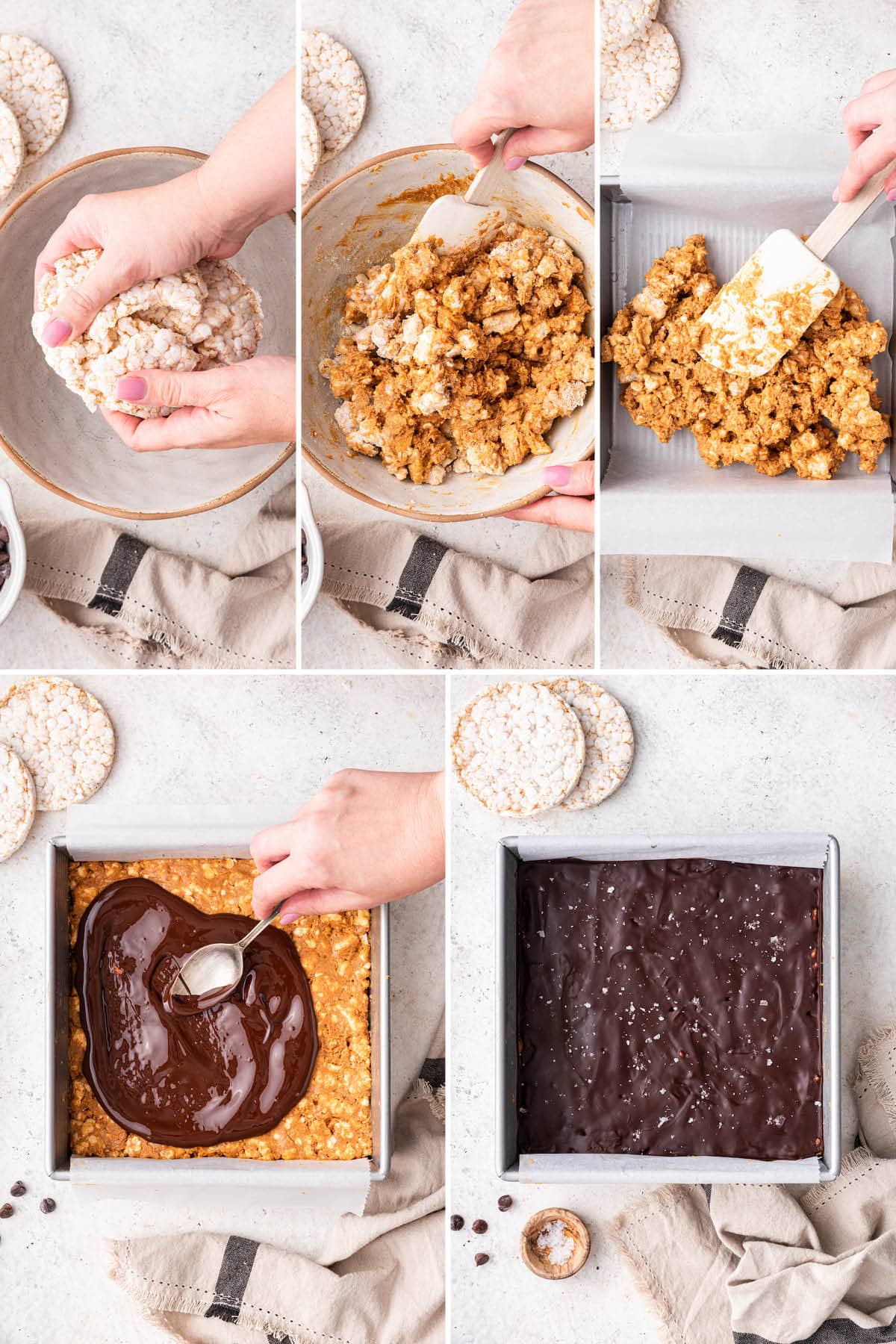 How to Make
These no bake peanut butter crunch bars couldn't be any easier to make!
Crumble rice cakes: Start by crumbling your rice cakes into a medium-sized bowl. You're looking for small pieces to give your bars that perfect crunch.
Combine ingredients: Add protein powder, peanut butter and maple syrup to the rice cakes and stir to combine until the rice cakes are coated.
Press: Take your mixture and pour it into a 8×8 baking dish lined with parchment paper. Press down firmly on the mixture, spreading it out evenly across the dish. Make sure it's smooth and well-pressed into all the corners.
Melt chocolate: In a microwave-safe bowl, combine chocolate chips with coconut oil. Microwave in 30-second increments, stirring in between until chocolate is smooth and melted.
Top: Pour your melted chocolate mixture over the crunchy base, using a spatula or the back of a spoon to spread it evenly. Sprinkle a generous pinch of flaky sea salt over the chocolate.
Set and solidify: Place the bars in the freezer for about 20-30 minutes to set. You're looking for the chocolate to set completely, creating a solid layer.
Slice and serve: Once set, remove from the freezer, lift the whole piece out using the edges of the parchment paper, and cut it into 12 squares. Enjoy!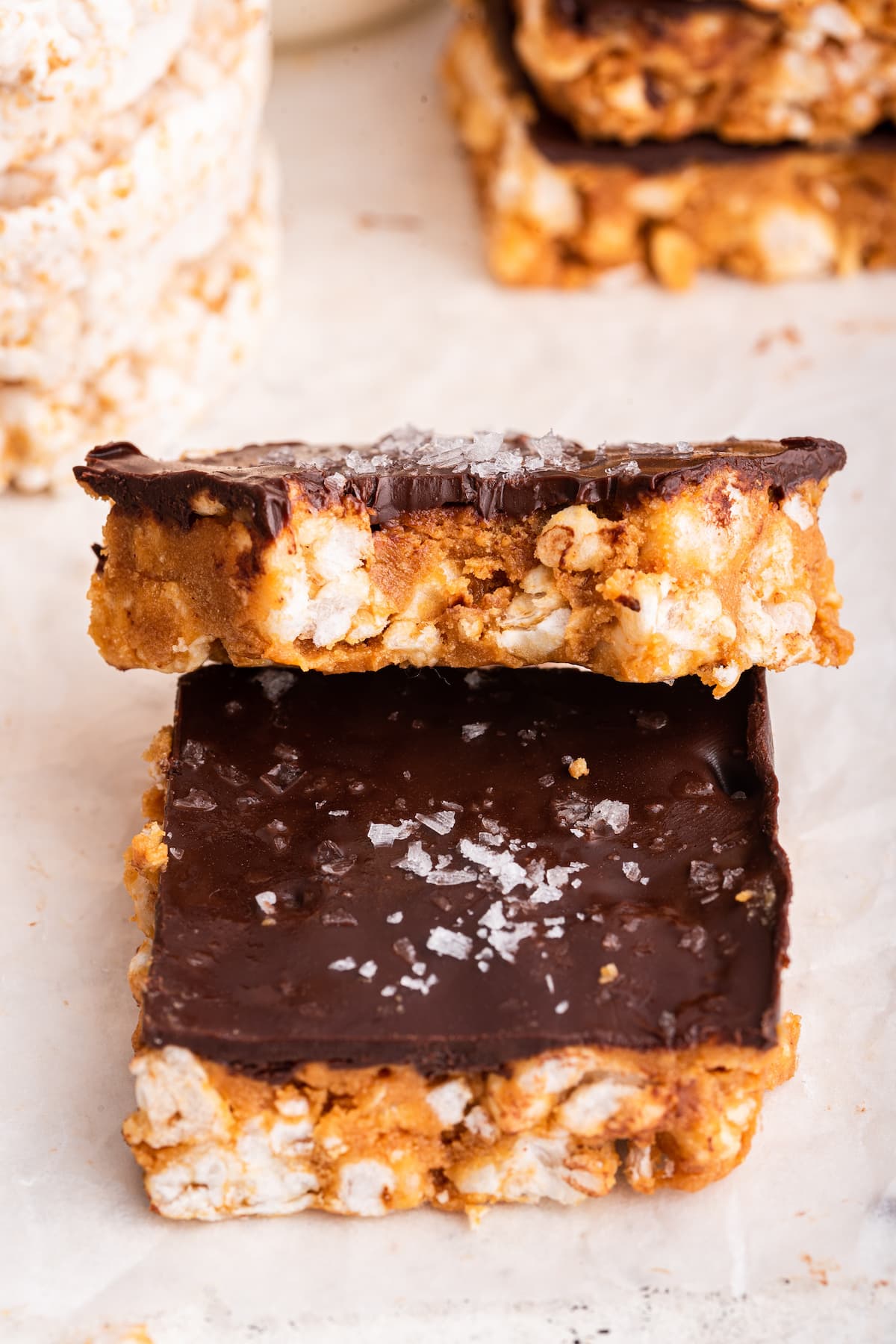 Substitutions & Notes
Protein powder: If you're not a fan of protein powder or don't have any on hand, collagen powder or powdered peanut butter would be a good substitute. You could also probably try substituting it with a gluten-free flour like oat flour. I haven't tried this, so I'm not 100% sure how the bars will turn out. Let me know if you try it in the comments below!
Peanut butter: You can swap the peanut butter with any nut butter of choice like almond butter or cashew butter. If you need these bars to be nut-free you can use sunflower seed butter or tahini.
Maple syrup: Feel free to swap the maple syrup with honey if you don't need these bars to be vegan. For a low-sugar alternative, use sugar free monk fruit sweetener.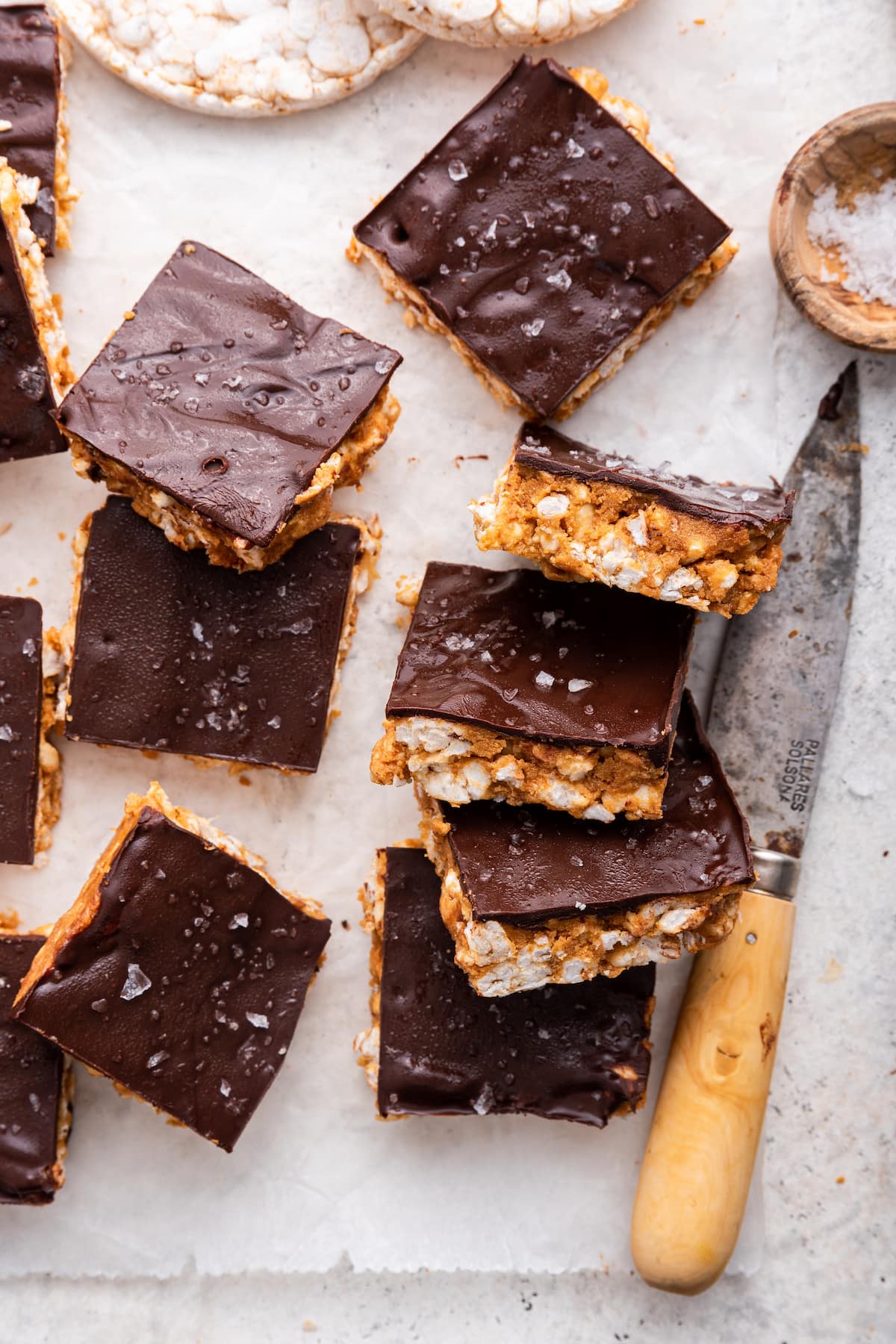 Tips for Cutting Perfect Squares
Chill before slicing: Make sure theses no bake peanut butter crunch bars are thoroughly chilled, as this makes them easier to cut cleanly from the pan without the chocolate layer cracking or crumbling.
Sharp knife: Use a sharp, heavy knife to cut through the set mixture. Warm the blade under hot water and dry it off for even smoother slicing.
Clean cuts: After each cut, wipe the knife clean to avoid dragging out pieces of the base or chocolate, ensuring each square looks neat.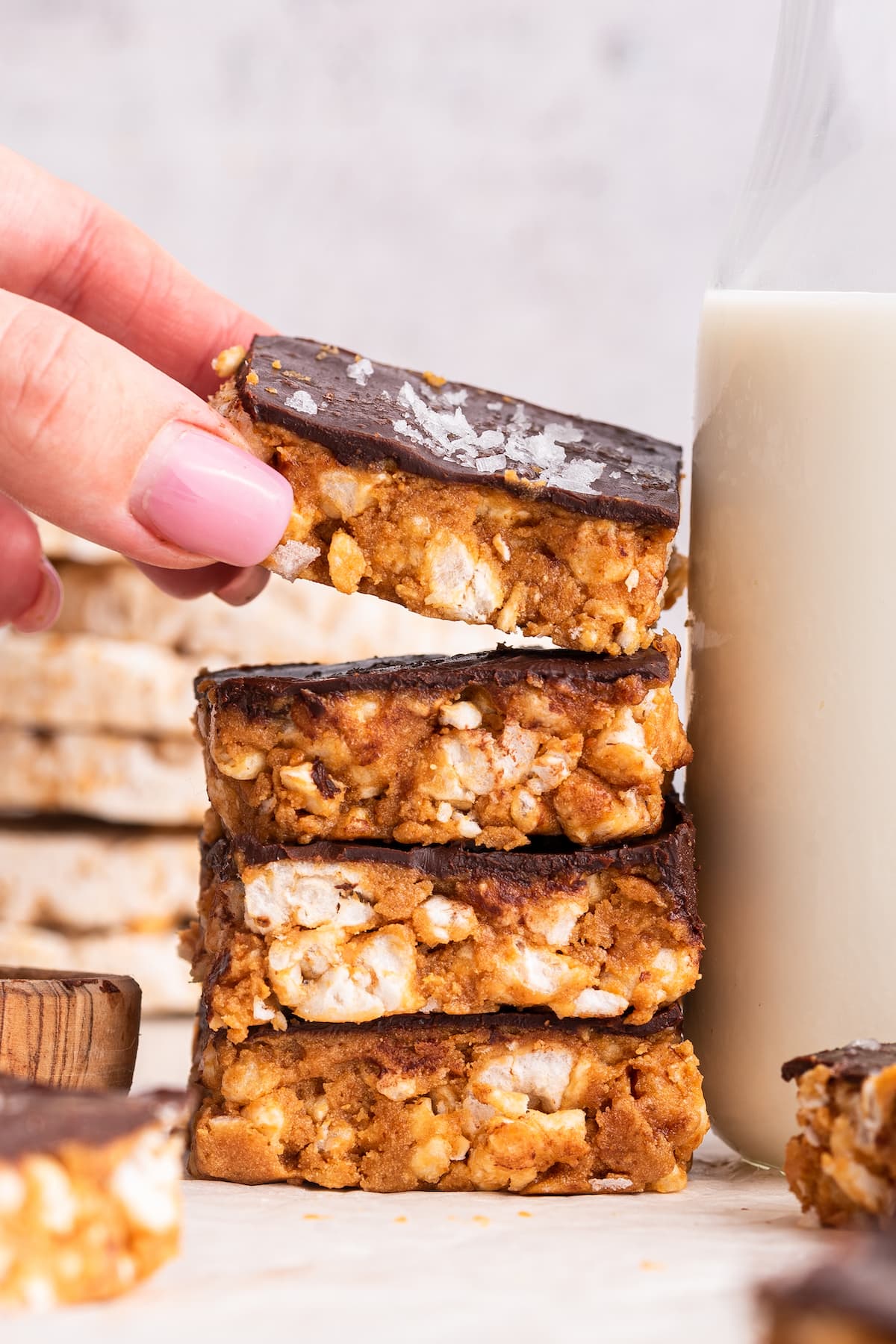 Storing Leftovers
Freezer is best: These crunch bars hold up best when stored in the freezer. The cold environment keeps them crisp and helps maintain the chocolate's perfect snap. Simply place the bars in an airtight container, separating layers with parchment paper to prevent sticking.
No thawing necessary: One of the perks of these treats is that there's no need to wait for them to thaw after removing them from the freezer. They're ready to be enjoyed immediately, offering a satisfying crunch and cool, creamy texture straight out of the cold.
Long-term storage: When stored correctly, these homemade delights can last for up to 3 months in the freezer, making them a fantastic make-ahead option for easy snacking or unexpected guests.
More Bar Recipes to Try
Be sure to check out these high-protein snacks as well as my full collection of snack recipes here on EBF!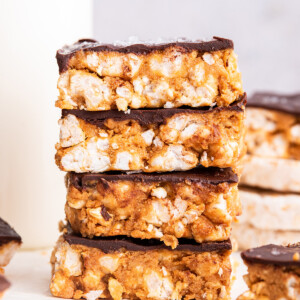 No Bake Peanut Butter Crunch Bars
These no bake peanut butter crunch bars are super easy to make with only 6 simple ingredients! They're crunchy, protein-packed and the peanut butter chocolate combo is absolutely addicting.
Instructions
Crumble rice cakes in a bowl.

Add protein powder, peanut butter and maple syrup. Stir until well combined.

Pour into a parchment lined 8×8 baking dish and press down firmly until it is spread out evenly.

Add your chocolate chips and coconut oil to a microwave-safe bowl and microwave in 30-second increments until chocolate is fully melted. Pour chocolate over the rice cake bar and spread it out evenly to coat the top.

Sprinkle with some flaky salt and place in freezer for 20-30 minutes until the chocolate has set.

Cut into 12 squares and enjoy! Store leftovers in the freezer so that they stay nice and crisp. No need to thaw. You can eat them straight from the freezer.
Nutrition
Serving:
1
bar
|
Calories:
152
kcal
|
Carbohydrates:
17
g
|
Protein:
5
g
|
Fat:
9
g
|
Saturated Fat:
3
g
|
Sodium:
42
mg
|
Potassium:
81
mg
|
Fiber:
2
g
|
Sugar:
7
g
Nutrition information is automatically calculated, so should only be used as an approximation.