This creamy breakfast chia pudding recipe combines chia gel with a homemade cashew pudding. The combo is absolutely delicious and perfect for a make-ahead breakfast.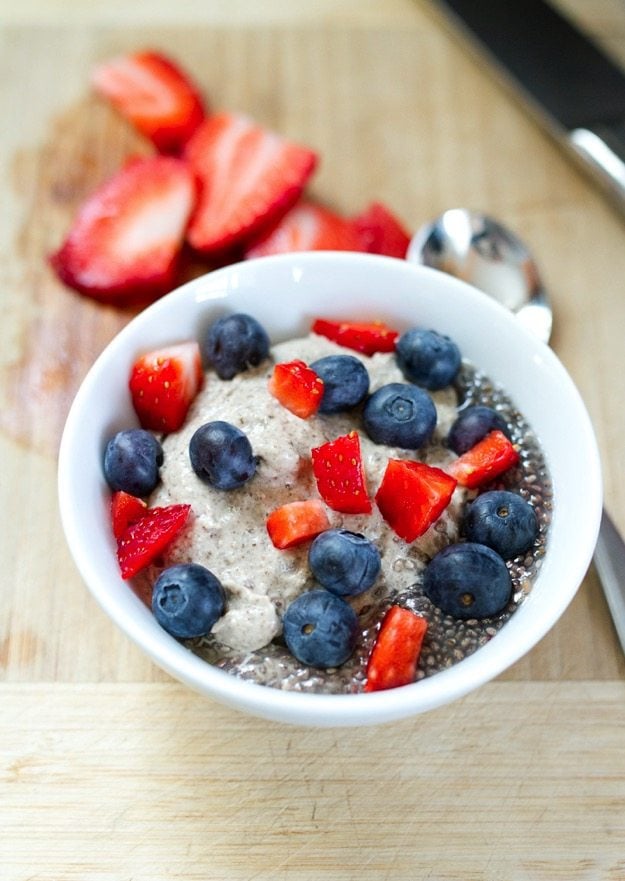 Blogging and being involved in the health and wellness industry has brought so many cool people into my life! I've made lifelong friends that I never would have had the chance to meet otherwise. One such person is Amie of The Healthy Apple. I still remember the first time we met. It was back in the old days of blogging (about 7 years ago) at the first-ever Foodbuzz conference. We connected on that trip and have stayed friends ever since. I'm super pumped because today is the launch of Amie's first book Eating Clean: The 21-Day Plan to Detox, Fight Inflammation and Reset Your Body!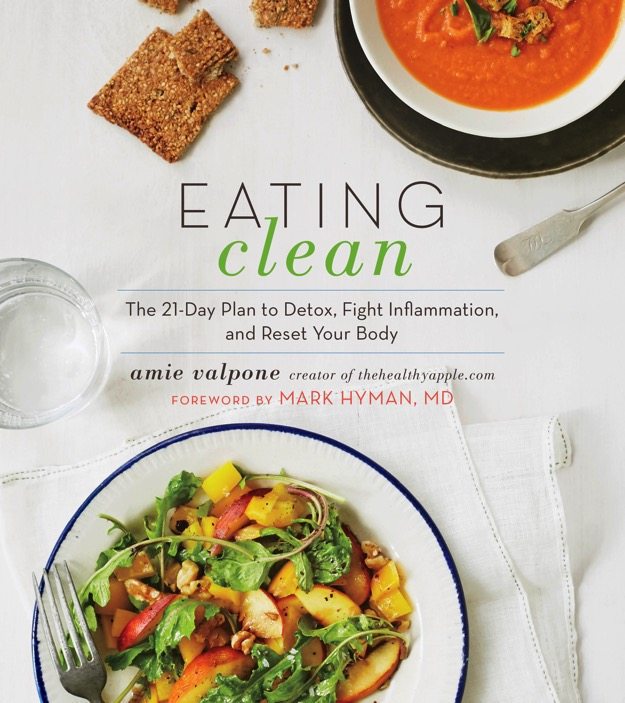 It's so fun to see a friend's work in print!
Eating Clean is the journey of how Amie healed herself from a decade of chronic illness and how others can do the same. In the beginning of the book she shares her full story. How she's dealt with multiple aliments including Lyme Disease, Poly-cystic Ovarian Syndrome, Hypothyroidism, Adrenal Fatigue, Leaky Gut, and Heavy Metal and Mold Toxicity. She goes into detail about how she visited countless doctors before taking her health in her own hands and figuring out the root cause of all her issues.
As a friend I saw Amie struggle with illness over the years and I am so beyond excited that she's on a path of healing and back to her vibrant, fun-loving self. Her transformation is really powerful.
About a quarter of the book is dedicated to detoxification. Not detox like a 3-day juice cleanse, but detox in the food, lifestyle and environmental sense. She gives suggestions for everything from food, household items and cleaning supplies to cosmetics and personal care products. She even has suggestions for detoxifying house plants and DIY recipes for cleaning products.
The remaining three quarters of the book is filled with over 200 detox-approved plant-based recipes free of gluten, dairy, soy, refined sugar, eggs, corn and processed ingredients.
Amie is a chef, food lover and a culinary nutritionist so all the recipes are amazingly healthy and unique while also 100% satisfying and delicious.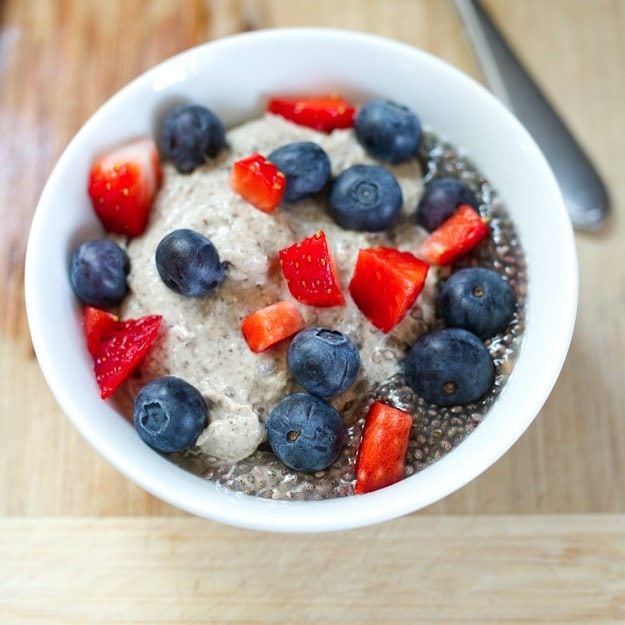 Take this creamy chia pudding as an example… I've made chia pudding a bizzilon times before, but Amie's version is completely different than anything I've ever tried.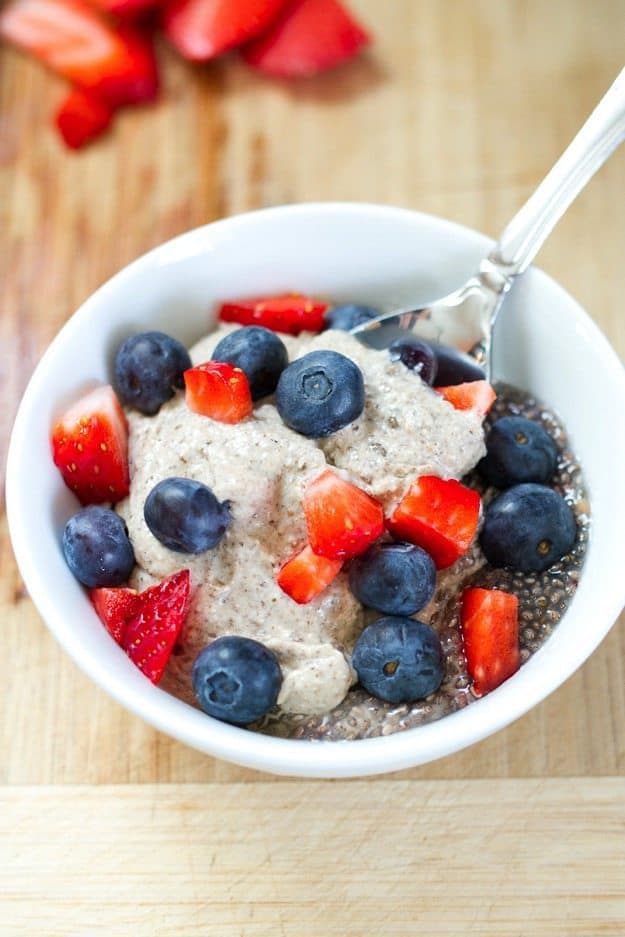 How to Make Breakfast Chia Pudding with Cashews
First, the chia seeds are mixed with water. Half of the chia mixture is blended with raw cashews and dates to make a creamy, ricotta-like pudding that's luxurious, smooth and sweet while the remaining half is served up as is. When you pair the two components together, topped with fresh fruit, and you have a delicious and satisfying breakfast chia pudding unlike any other.
If you're a chia pudding fan, I'm demanding that you try Amie's version. It might change your chia pudding game forever.
Print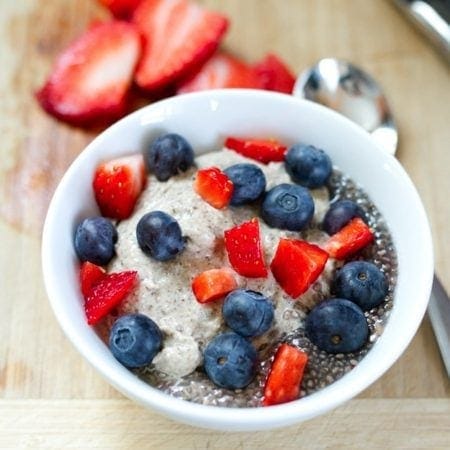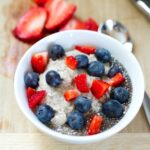 Creamy Breakfast Chia Pudding
---
Description
For a grain-free breakfast packed with anti-inflammatory omega-3 fatty acids and protein, you can't beat chia. This makes an easy, no-cook breakfast for a weekday morning.
---
Scale
Ingredients
1⁄4 cup

chia seeds

1

1⁄2 cups water

2⁄3 cup

raw cashews

6

large dates, pitted, soaked in water overnight, and drained

1⁄2 teaspoon

ground cinnamon

1⁄2 teaspoon

pure vanilla extract
Pinch sea salt
OPTIONAL TOPPINGS

1 cup

fresh berries, chopped pineapple, or sliced bananas

2 tablespoon

s unsweetened cocoa powder or ground cinnamon
Handful Amie's Grain-Free Granola
---
Instructions
In a small bowl, combine the chia seeds and water; set aside until the mixture forms a gel, about 20 minutes.
Combine the cashews, dates, cinnamon, vanilla, salt, and half of the chia gel in a high-speed blender. Puree until smooth. Transfer the pureed mixture to a medium bowl and stir in the remaining chia gel.
Serve immediately, topped with one or more of the optional toppings, if desired, or store in the refrigerator until ready to serve.
---
---
Nutrition
Serving Size:

1/4 of recipe

Calories:

159

Sugar:

17g

Fat:

7g

Carbohydrates:

22g

Fiber:

2g

Protein:

4g
And if you're struggling with chronic illness or looking for resources to help detox your life, definitely check out Amie's Eating Clean book. It's on sale at all major retailers as of today!
Want More Chia Pudding Recipes?
Do More with Chia Seeds! Check Out These Recipes: