There's something about a warm bowl of soup on a cold, winter night. I guess that explains why Isaac and I have going crazy over soup these last couple weeks. It all started with the soup recipe I'm sharing today. I made it at the beginning of last week. Then one of Isaac's co-workers sent him home with a kale and white bean soup (Isaac is going to ask her for the recipe as it was delicious!). We made a pot of gluten-free chicken noodle soup on Sunday and then this week Isaac's mom sent us a pot of vegetable beef soup.
So much soup, yet I'm still not tired of it.
This coconut curried soup is extra special because the recipe comes from my good friend and fellow blogger, Kelly of Nosh and Nourish. It's directly from her beautiful new cookbook Superfoods at Every Meal (affiliate link). I had the pleasure of meeting Kelly for the first time last year on a blog trip with Cascadian Farm — her kind and outgoing personality made it easy to connect with her and we've been friends since. She talked about the cookbook and the writing experience during our trip so it's really cool to finally see it in person.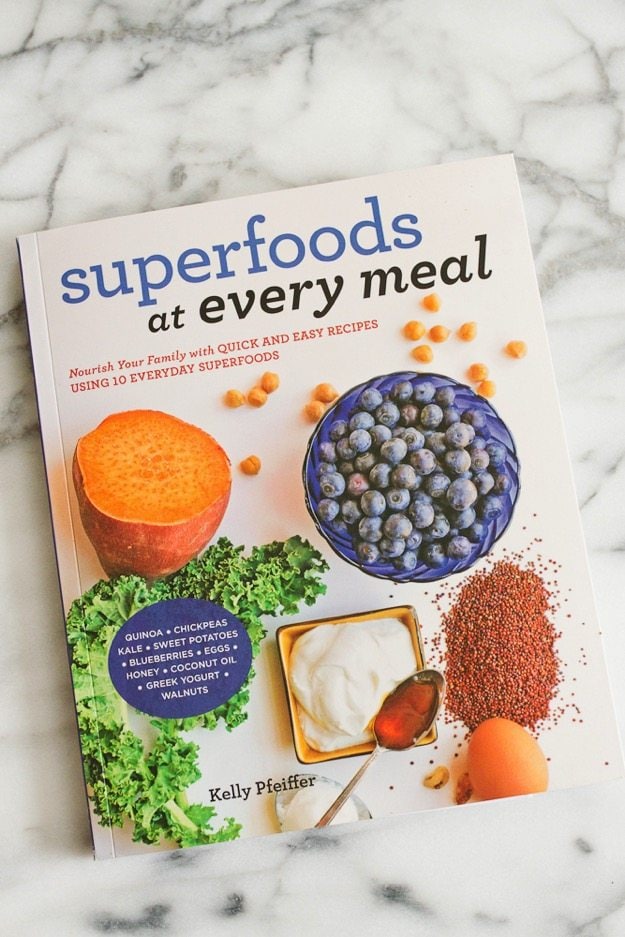 Before I go on to rave about how delicious the curried soup is, let me tell you a little about the cookbook.
As a mom and a wife, Kelly strives to nourish her family with healthy and delicious foods that everyone — even her vegetable hating husband — will enjoy. To do so, she focuses on quick and easy recipes that incorporate superfoods. These superfoods probably aren't the ones that immediately pop into your head (like goji berries and cacao nibs). Kelly's 10 superfoods are everyday foods picked for their well-known health benefits, but also because of their versatility, accessibility and affordability.
The superfoods include:
kale
coconut oil
chickpeas
blueberries
eggs
quinoa
Greek yogurt
honey
sweet potatoes
walnuts
I'm pretty sure Kelly wrote this cookbook for me considering so many of my favorite foods made the list. 😉
Each recipe in the cookbook features at least two (and oftentimes four or five) of the superfoods. As Kelly puts it, sometimes these superfoods are the star of the show and sometimes they're part of the supporting cast — either way you're always getting some sort of superfood into your meal.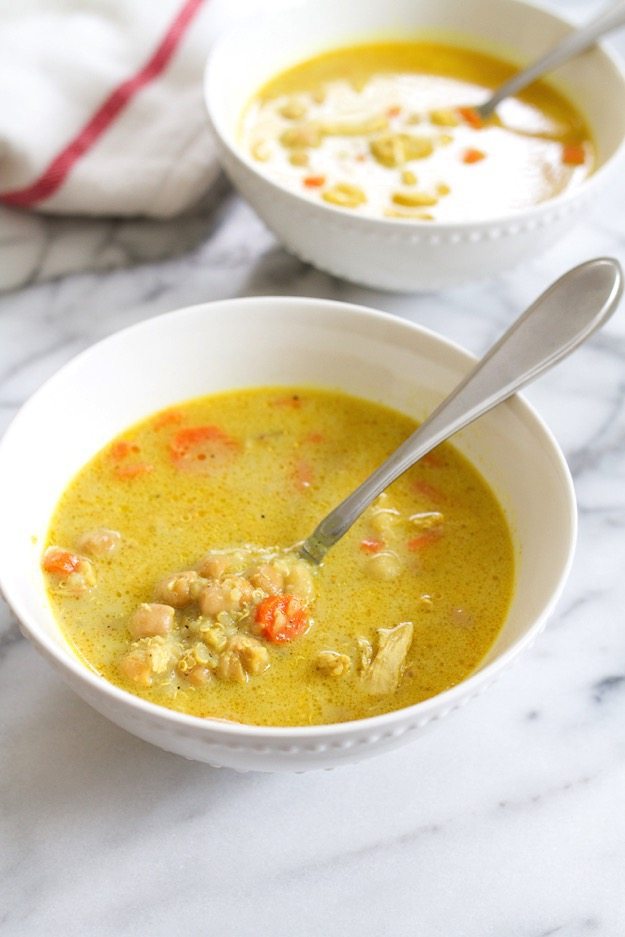 One thing that's a non-negotiable for me with cookbooks is photos. If a cookbook doesn't have photos of the recipes, I probably won't buy it. I'm picky like that. Don't worry, this cookbook is a joy to flip through because almost every recipe has a mouth-watering photo to accompany it.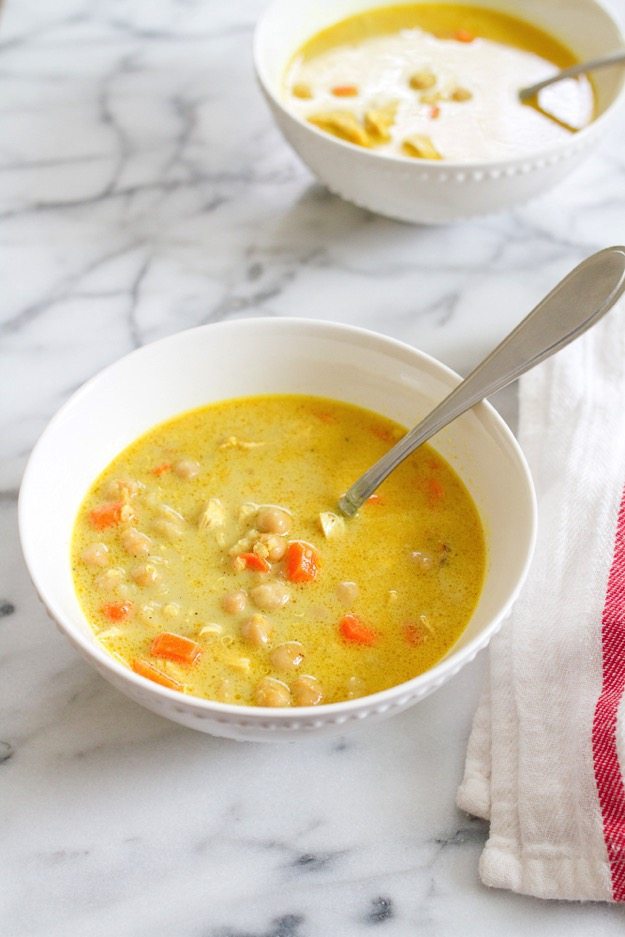 I picked out a handful of recipes that I wanted to try from the cookbook including the Maple Sweet Potato Hash with Fried Eggs, Garlic-Roasted Kale Chips and the Quinoa, Grapefruit and Golden Beet Salad but ultimately ended up trying the soup first. I'm a huge curry fan so as soon as I saw the curried soup I had my heart set on it.
The soup was so simple to toss together, yet full of flavor, texture and superfoods, of course! We loved the rich, creaminess from the coconut milk and Greek yogurt and found the soup very filling and satisfying.
Print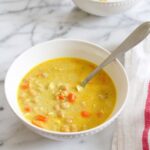 Coconut Curried Soup
Author:

Prep Time:

10 mins

Cook Time:

35 mins

Total Time:

45 mins

Yield:

4-6 servings
---
Description
Recipe from Superfoods at Every Meal, shared with permission by Fair Winds Press.
---
Ingredients
1 Tablespoon coconut oil
¾ cup thinly sliced carrot
1 teaspoon minced garlic
4 cups chicken broth
1 (14-ounce) can coconut milk
1 (15-ounce) cans chickpeas, rinsed and drained
1 Tablespoon yellow curry powder
¼ teaspoon ground turmeric
¼ teaspoon ground ginger
¼ teaspoon black pepper
½ cup plain Greek yogurt
1 cup cooked quinoa
---
Instructions
In a stockpot over medium-high heat, melt the coconut oil. Add the carrots and garlic, and sauté for approximately 5 minutes, until lightly browned.
Add the broth, coconut milk, chickpeas, curry powder, turmeric, ginger, pepper, yogurt, and quinoa and stir to combine. Heat to a slow boil, reduce the heat to medium, and simmer for 30 minutes, or until the chickpeas are soft. Serve hot.
---
Notes
My notes: We added a little shredded chicken to amp up the protein a bit, but I think the vegetarian version of this soup would be plenty filling on it's own. Feel free to use vegetable broth in place of the chicken broth to keep the soup vegetarian.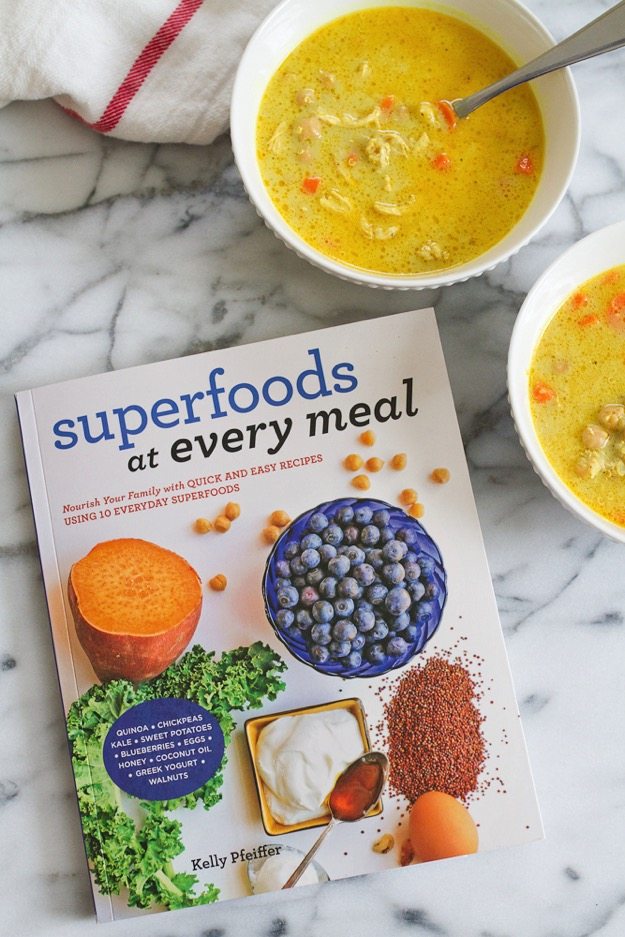 If you're like me and love healthy foods, but also like meals that are quick and easy, I highly recommend trying this curried soup recipe and checking out Superfoods at Every Meal. To get a peek at additional recipes from the cookbook, check out these posts:
What's your favorite of the superfoods included in the cookbook? I pretty much love all of them, but if I had narrow it down to one I'd probably pick sweet potatoes or coconut oil. See, I can't even pick one.