Thank you for all the sweet comments about my new job with Relay. It's almost been a full week and although I'm feeling a bit overwhelmed (which is typical with any new position), I am absolutely loving it! Everyone I've met has been awesome and the company has some really cool ideas that they are working on. Plus I pretty much get to think about food all day! 😉
With the craziness of starting a new job this week, my cooking schedule has been a bit off but luckily I've had a pot of leftover soup to eat for meals throughout the week. A big, steaming bowl of soup is the perfect comfort food on a chilly fall evening.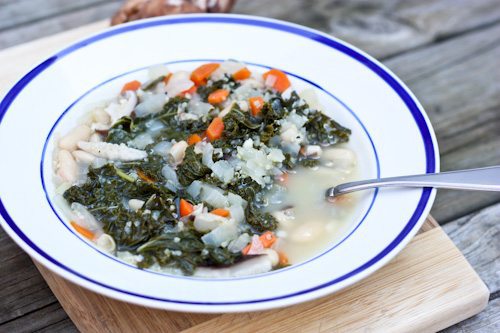 As soon as a nip in the air presents itself, I start thinking about what soups I can make. Crock pot soups are some of my favorites – the whole set it and forget it thing is totally up my alley. But I also like being able to whip up quick soups that have a flavor profile similar to a soup that's cooked for hours. If that's the kind of thing you're into, you will love this Autumn Harvest Soup. The shiitake mushrooms bring a mellow flavor to the broth and the onions, carrots, kale and white beans pair together to make a light and super delicious soup. Comfort food without the calories. Yes please!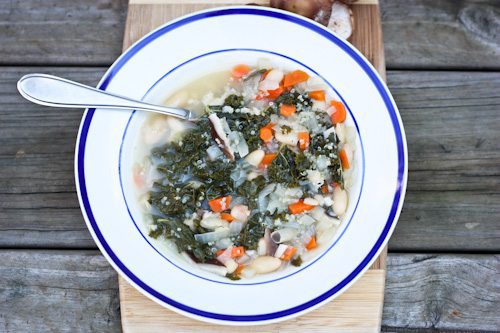 Clean Food Autumn Harvest Soup
6
adjust servings
Ingredients
4

dried shiitake mushrooms

6

cups water

2

tablespoons extra virgin olive oil

1

large onion, diced

3

garlic cloves, minced

1

tablespoon grated fresh ginger

3

carrots, diced

4

cups chopped kale or collard greens

2

cups cooked cannellini beans

1/4

cup mirin

Splash of tamari

Splash of apple cider vinegar

4–5

dashes toasted sesame oil

Freshly ground black pepper
Instructions
Place dried mushrooms in medium pot with 6 cups water. Bring to boil, then reduce heat and simmer 15 minutes. Remove from heat and set aside to cool slightly.
When mushrooms are soft, remove from broth and cut off and discard stems. Dice caps and place back in pot with broth.
In large pot over medium heat, sauté onion, garlic and ginger in oil 3 minutes. Add carrots and sauté 3 minutes. Add kale or collard greens, beans and mirin and sauté until greens are deep green and tender.
Pour broth and mushrooms into pot with kale, add tamari and vinegar and simmer 5–7 minutes.
Season to taste with toasted sesame oil and black pepper and serve.
Unfortunately, I can't take credit of this awesome soup. It's from Terry Walters' Clean Food, Revised Edition.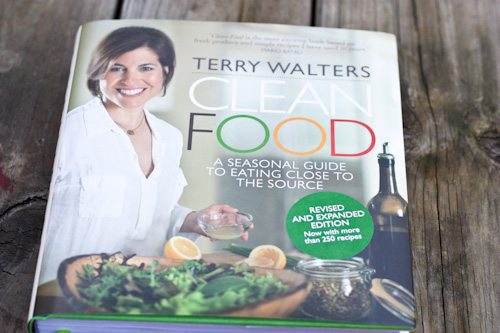 The original Clean Food cookbook launched in 2008 and although I don't own it, I had heard great things about it so I was excited to receive a copy of the revised edition (that launched October 2012) for review. The revised edition offers even more inspiration to eat clean and live well, with over twenty new recipes, variations to make every recipe gluten-free, a new chapter dedicated to healthy snacking, as well as, beautiful photography throughout. The cookbook features fresh, seasonal vegan fare and the new version has updated the dishes to feature today's most healthful ingredients. For instance: extra virgin coconut oil substitutes for canola oil and maple syrup replaces agave nectar as a sweetener. Both coconut oil and maple syrup are mainstays in my kitchen so that piece was pretty exciting for me.
This soup is one of the two recipes I tried so far from the cookbook and let's get say, I've been very impressed. I like the cookbook so much I ended up giving Isaac's mom a copy for her birthday last month and she's been loving it as well!  I already have about 10 other recipes marked that I want to try, I just need to get in the kitchen and make them happen. Maybe I'll try some out around the holidays…
To get a feel for the different types of recipes included in Clean Food, check out the recipes posted on Terry's website. Here are some of the fall and winter recipes that caught my eye:
Would you like to have your own copy of the Clean Food revised cookbook? Simply leave a comment on this post telling me why and you'll be entered to win. The giveaway will close on Tuesday night (11:59PM) and I'll announce the winner early next week. 
Last but not least, I need your help! I'm currently participating in a Facebook contest to try to win a spot on the cover of Fitness Magazine!!!!

The voting is happening this week though Sunday, 11/11/12, and in order for me to secure a spot as one of the 12 finalists, I have to be in first place this week. Right now I'm #24. I went from #68 to #24 yesterday so I know I can do it! I'd love for you to help me out by voting. It's super easy and you don't have to register. Just visit my Face of Fitness entry page and click "Vote." Once you click on vote you have to fill in a few words on the ad, but that's it. You can vote once a day from each computer or mobile device you own. 🙂 I appreciate your vote so much.
Happy Friday!!
Edited – The giveaway has ended. Katie is the winner of the Clean Food cookbook. Congrats lady!