Everywhere you look there's something pumpkin flavored this time of year. I'm a pumpkin lover so this works in my favor. Naturally I take advantage of the season by indulging in all things pumpkin and last night I came up with another favorite recipe to add to my collection – pumpkin bars with chocolate chunks!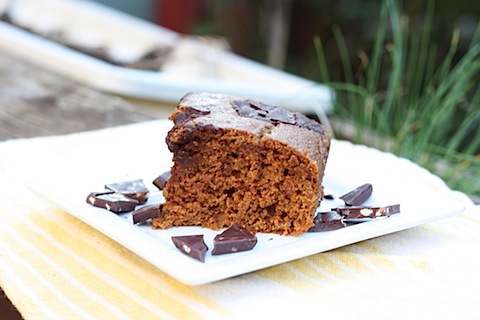 I found several pumpkin bar recipes online and decided to make a healthy(ish) version with the Ghirardelli Intense Dark chocolate I was sent to review as part of the Foodbuzz Tastemaker Program. Sea salt and dark chocolate are quite the tasty little pair and with roasted almonds added to the mix, it's pretty much chocolate heaven.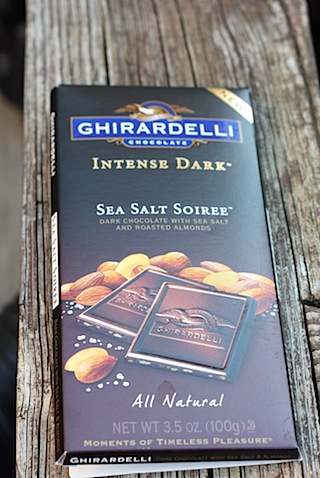 Needless to say this chocolate is fabulous on it's own, but I knew it would be quite tasty in a pumpkin bar recipe as well. For the record, I was correct.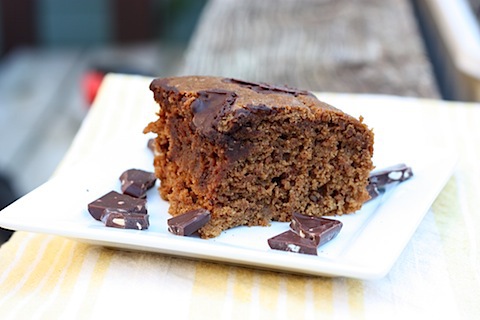 If you only make one pumpkin flavored thing this fall, these chocolate chunk pumpkin bars should definitely be it. They're like pumpkin bread, but in bar form. They have the perfect amount of spice and the dark chocolate adds a rich sweetness to each bite.
Seriously, they are so good! I literally couldn't keep my hands off them and ate one with every meal on Friday – including breakfast. Luckily I took most of them to Isaac's parents' house for dessert on Friday night so they won't be sitting around tempting me anymore.
Although indulging in these bars isn't so bad because they are healthier than your average cookie bar. Not only is pumpkin high in fiber and vitamins but I only used one Tablespoon of oil and substituted natural apple sauce and fat-free Greek yogurt for the rest of the fat. I also used whole wheat pastry flour instead of white and dark chocolate instead of milk. Gotta love getting your antioxidants in the form of dark chocolate!
Chocolate Chunk Pumpkin Bars
Makes about 15-20 squares
Ingredients
2 cups whole wheat pastry flour **
1 Tablespoon pumpkin pie spice
1 teaspoon baking soda
3/4 teaspoon sea salt
1 cup sugar (I used sucanat)
1/4 cup unsweetened applesauce
1/4 cup non-fat plain Greek yogurt
1 Tablespoon canola oil
2 large egg whites
1 teaspoon vanilla
1 cup pumpkin, canned or fresh that's been roasted and pureed
1/2 cup dark chocolate, cut into small chunks (or chocolate chips)
Preparation
Preheat oven to 350°.
Spray 13 x 9 pan with non-stick spray.
In a medium sized bowl, whisk together the dry ingredients – flour, pumpkin pie spice, baking soda and salt. Set aside.
In a large bowl mix sugar, apple sauce, yogurt, oil, egg whites, and vanilla until well combined. Stir in pumpkin.
Slowly pour flour mix into the wet ingredients and mix well until everything is combined. Stir in chocolate chunks.
Pour dough evenly into the greased pan. Bake until a toothpick comes out clean when stuck into the middle of the bars (about 30 minutes).
Cool completely, cut and lift from pan. Enjoy!
**Whole wheat pastry flour is finely ground and makes lighter baked goods than normal whole wheat flour does. You can't find whole wheat pastry flour at your local grocery store you can simply use all-purpose flour or 1 cup of whole wheat and 1 cup of all-purpose. It might change the consistency of the bars a little bit, but I think it should work fine.
Once you've had one bite, you'll know why I was so excited about sharing this little recipe.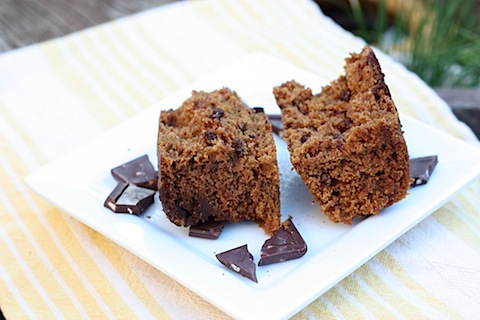 As I mentioned before, the nutrition facts aren't too shabby either.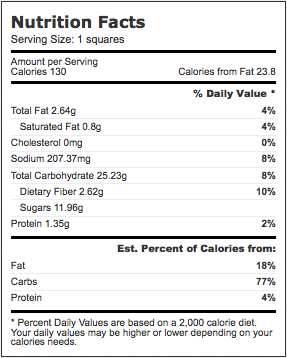 In other news, I had a few exciting things happen this week. The first is that EBF was featured on Fitness Magazine's FitStop – Fit Blogger We Love Series. And secondly, EBF was nominated for SHAPE magazine's blogger awards in the Healthy Bloggers category. I am absolutely honored to be nominated in the same category with such amazing and inspiring bloggers. If you'd like to help make my dream come true of winning the award, you can vote on the SHAPE website. It's really easy, only takes 2 seconds and you don't have to register.
I'll be back soon with an update on my first Yom Kippur fasting experience. Have a lovely Sunday.