Hi folks, I hope you had a lovely weekend. I thoroughly enjoyed mine as it was full of relaxation, running, baking, friends, and nice weather. I couldn't really ask for anything better than that!
Saturday morning I met up with the Richmond Lululemon running group for a quick 3 miles. It was the second time I have run since my leg injury and it went really well! I paired up with a speedy runner and ended up running much faster than I would have if I were on my own. It was definitely a good workout! Post the run we all headed over to Gold's Gym for an abs class!
One my favorite Saturdays in a while, Although I did miss my normal Saturday morning farmer's market visit: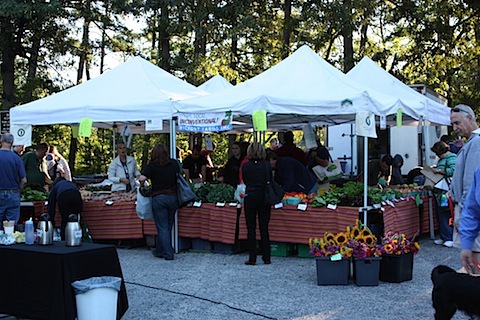 It's fine though because I'm not going to be cooking at home this week anyhow.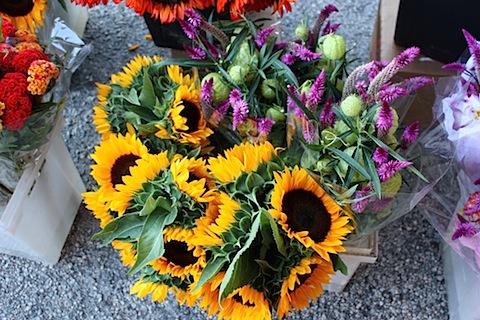 Later on Saturday, one of best friends came down from NOVA to hang out. We did a little shopping (crazy J CREW warehouse sale), grabbed dinner, gabbed, watched a DVRed episode of Mod Fam and hit the sack early because we were both exhausted.
Dinner at Cafe Caturra was perfect. We both order the "Your Two" (1/2 sandwich/1/2 salad) combo. Everything was super fresh, tasty and it was just the right amount of food!
I had the Vegetable Panini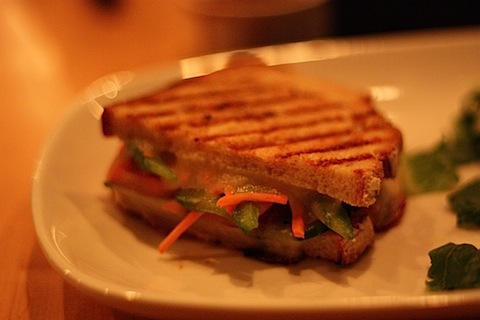 and the house salad.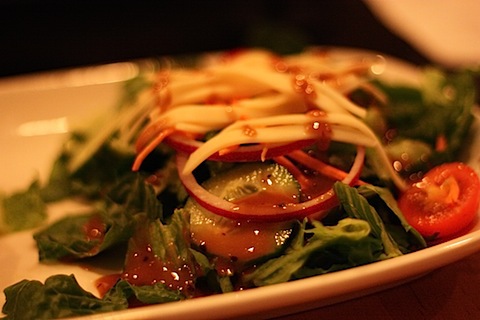 Post dinner I convinced Ang we needed fro yo so we stopped by Sweet Frog. To my delight, they had pumpkin spice latte frozen yogurt. You don't even want to know how excited this made me. 😉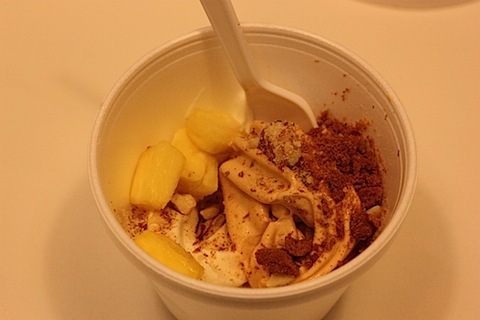 I had an interesting but yummy concoction which included the tart flavor topped with pineapple chunks and the pumpkin spice latte with almond and ginger snap crumbs. Absolutely A.MA.ZING!! I'm so pumped that they are planning to open a location in Carytown – I just wish I knew the details about when so I could start a countdown. 😉
I seriously wanted to go back for breakfast this morning, but once I realized I would have to wait until mid afternoon to eat breakfast (they don't open until 2PM on Sundays) I did the next best thing and made a pumpkin spice smoothie.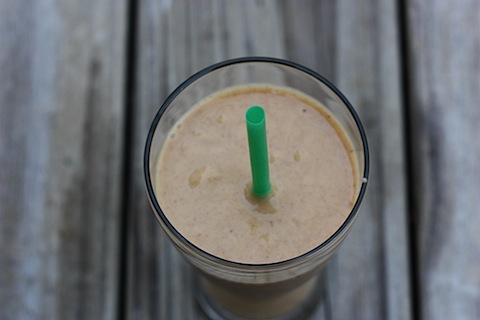 This was a less jazzed up version of the pumpkin pie smoothie I've posted before. I think I like the simplicity of this version better. It's creamy, thick and delicious – almost like a pumpkin spice milkshake! It totally hit the spot!
Print
---
Scale
Ingredients
1/2 cup

pumpkin (canned or cooked)

1/2

frozen banana

3/4 cup

almond milk

1/2

scoop (or approx. 2 Tablespoons) vanilla protein powder

1 teaspoon

cinnamon

1/2 teaspoon

pumpkin pie spice
pinch of ground ginger
---
Instructions
Put all ingredients in the blender and blend until smooth. Pour into a glass and enjoy!
---
---
Nutrition
Calories:

165

Fat:

3g

Carbohydrates:

28g

Protein:

10g
I'm leaving for California early tomorrow morning and I'll be there all week! Have no fear, I have some fun posts lined up (including a pumpkin muffin recipe) and I'm sure I'll sneak in a post or two about my trip as well! 😉
Last but not least, Isaac's school is participating in the Run to the River 10K on October 16 in Richmond and he and I both are running/walking the race. As long as my leg is feeling fine I will run, but who knows, I might end up walking it! If you are interested in participating or meeting up at the race, shoot me an email (eatingbirdfood at gmail dot com)!