I go through phases with cottage cheese. Some weeks I can't get enough of it and others it just sits in the fridge. Here recently I've been loving it — especially since I found a semi-new way to prepare it.
The reason I say semi-new is because it starts off pretty standard with cottage and strawberries, but I add a little twist by pouring some almond milk over it, adding a pinch of cinnamon, splash of vanilla and a little stevia to make it sweeter.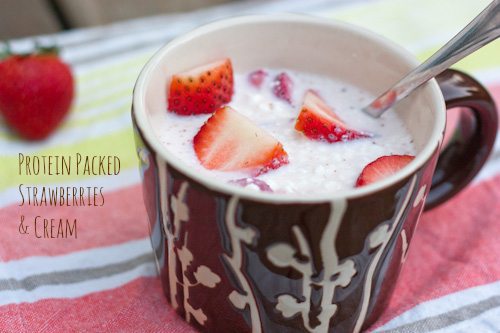 I think I actually came up with the idea when I wanted cereal for a snack but decided I needed something with more protein. So… I turned my cottage cheese snack into a bowl of cereal. It might seem a little crazy, but trust me when I say, don't knock it until you try it. It's actually really good. Adding the almond milk also helps to make sure the stevia, cinnamon and vanilla actually distribute evenly throughout the mixture. I've added those things to plain cottage cheese before and it seems like the flavor gets trapped in certain areas and you get bites that are super flavorful and unappetizing.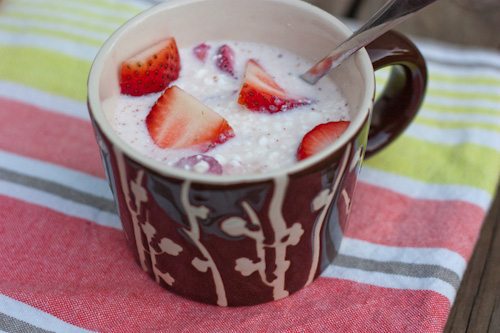 I'll note that I have tried blending all the ingredients to make a smoother texture… but I wasn't a huge fan. I ate it, but it wasn't nearly as tasty as the original version with chunks of strawberries. It also seemed less like cereal, which defeated the whole point of this snack. 🙂 I'm sure there are some other good variations though, maybe adding a little cocoa powder or a different type of fruit. I'm sure blueberries, raspberries or blackberries would be awesome!
Protein Packed Strawberries & Cream
1
adjust servings
Ingredients
1/2

cup Friendship cottage cheese, no salt added

1/4

cup unsweetened vanilla almond milk

1/4

teaspoon vanilla

4-5

drops of liquid stevia (or other choice of sweetener)

2

strawberries, sliced

pinch of cinnamon
Instructions
Place all ingredients in a bowl, stir to combine and enjoy!
by Brittany Mullins
Here's the Friendship Cottage Cheese with No Salt Added that I refer to in the recipe. I LOVE it! It only has  60 mg of sodium for a 1/2 cup serving, which is super low considering regular cottage cheese has upwards of 360 – 375 mg.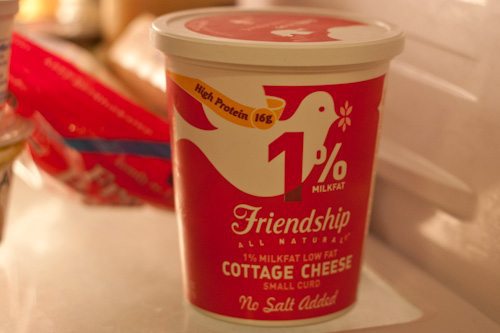 I like Friendship's Whipped Cottage Cheese as well, but don't buy it as often because they don't have a no salt version. At least not yet. 🙂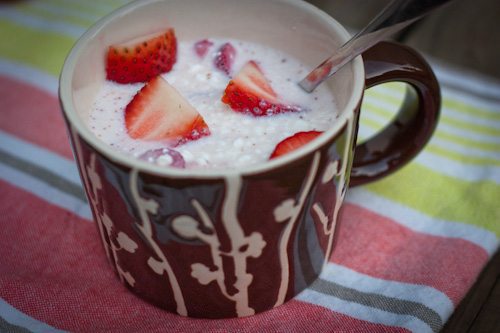 This is definitely my go-to snack at the moment. I've been eating it at least 4-5 times a week. It's sweet, but doesn't have a ton of sugar since I use stevia and vanilla to sweeten it. Plus it's packed with protein (16 grams) and only around 125 calories. You can't beat that!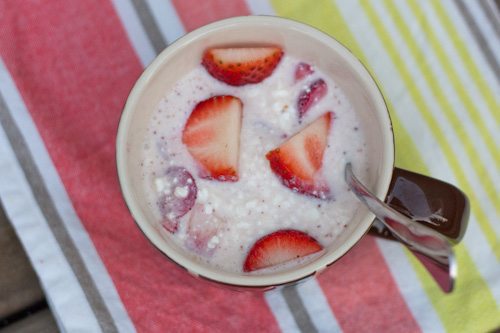 Alright friends, I'm off to enjoy the beautiful weather we're having work. Have a lovely day.
Do you like cottage cheese?