Yesterday was quite a relaxing day. I spent a good portion of the morning on the phone catching up with my Dad, which was great because we hadn't had a chance to chat in way too long.
For breakfast I made a protein pancake. I've been stuck on the Tone It Up protein pancake since buying the Tone It Up diet plan a few weeks ago. I've never been a huge pancake person but protein pancakes are super easy to make, tasty, filling and apparently addictive…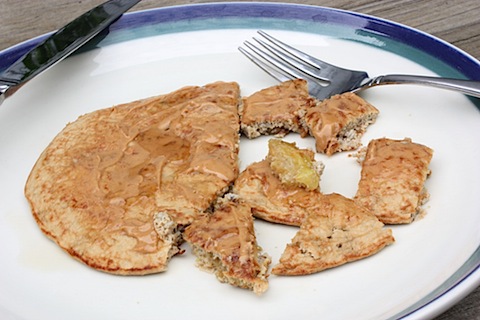 For today's version I used fresh figs from Isaac's parents' tree and the pancake turned out to be amazing. I think I've officially mastered the art of making (and flipping!) the protein pancake.
Protein Pancake with Fresh Figs
Serves 1 / Adapted from the TIU Protein Pancake

Pancake Ingredients:
1/4 cup egg whites
1 scoop vanilla protein powder (I use brown rice protein powder)
3 fresh figs, mashed
2 Tablespoons unsweetened vanilla almond milk
1/2 Tablespoon chia seeds
dash of cinnamon
2-3 drops of liquid stevia (optional)
Toppings:
1 Tablespoon peanut or almond butter
1 teaspoon maple syrup (optional)
Preparation:
In a small bowl mix together the egg whites, protein powder, almond milk, chia seeds, cinnamon and stevia until all the powder is dissolved.
Stir in the fresh figs.
Spray a medium sized pan with cooking spray and set heat to medium-low. The lower heat is the key to making sure the pancake doesn't burn.
Pour in pancake batter and cook until little bubbles form (about 3 minutes). Carefully flip the pancake over to the other side. (Flipping the pancake is tricky because it's usually quite large. You might need an extra utensil to help with the flipping.)
Cook until pancake is done in the middle. It typically takes about about 2-3 minutes.
Place pancake on a plate, top with nut butter/syrup and enjoy.
1 word = delish!
After eating I managed to squeeze in a yoga session. This was much needed! Since I started the BFL training plan, my yoga for scoliosis therapy has kind of dropped off. I've been doing poses here and there but never allocating enough time to do a full session. :/ It felt good to get back to it.
The rest of my Sunday involved:
Now it's time for me to meet up with Jess at the gym. This week is the LAST week of the 12 Week BFL challenge. I can't believe the time went by so quickly…
So tell me, what was your weekend like? Did you do anything fun?