Breakfast is one of my favorite meals — maybe because lunch and dinner are so similar (and could easily be interchangeable). Breakfast is different and I like that about it. I also like that you can have meals that taste like dessert in the morning and call it breakfast.
That said, I tend to go through phases with what I eat for breakfast and right now I'm in an egg white scramble and protein pancake phase. I get cravings for oatmeal from time to time so that pops up too, but it's been on the back burner lately.
I use protein powder in my usual protein pancake recipe but I was out of protein powder for a few weeks, which got me thinking about how to make a protein pancake without the powder.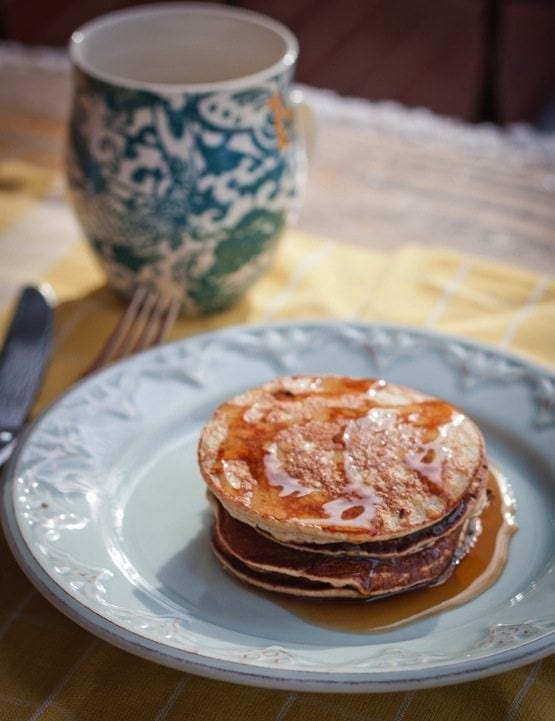 I discovered 2 ingredient protein pancakes through Blogilates and Top with Cinnamon and decided to make my own version.
I can never stick with the two ingredient recipes — I always want to add something more. So yeah, my version has six ingredients. I added a little peanut flour (it's full of protein and gives the pancakes a light peanut butter flavor) and cinnamon. I love cinnamon in the morning so I couldn't leave it out!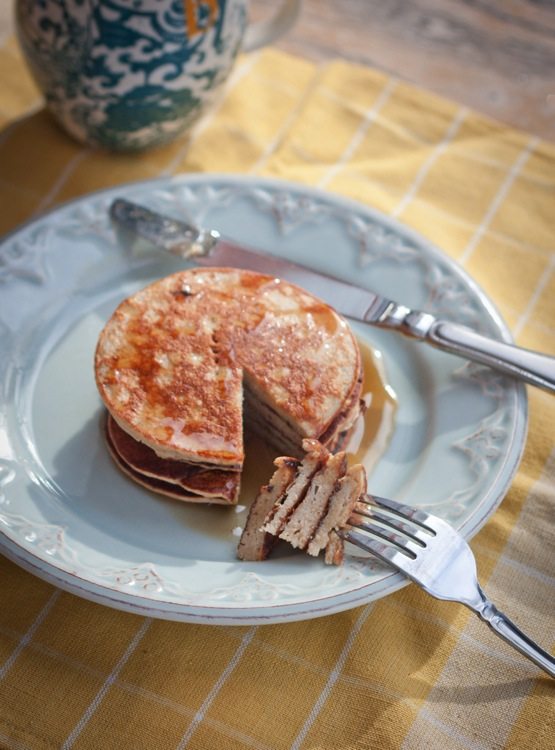 While I do like my protein pancakes made with protein powder, these pancakes taste just as good and still have 23 grams of protein!! The Protein Plus peanut flour adds about 8 grams! If you don't have peanut flour, you should probably get some — it's awesome in these pancakes and I use it all time for smoothies and light peanut sauce! Or you could just use 1 Tablespoon of peanut butter or almond butter. If you are allergic or just don't like peanut butter/flour, I also think the recipe would work without the peanut flour. If you try it without it, let me know!
Print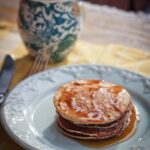 Peanut Flour Protein Pancakes (without protein powder)
Author:

Prep Time:

5 mins

Cook Time:

8 mins

Total Time:

13 mins

Yield:

1
---
Ingredients
1/2 cup egg whites
1 large banana (or 1 1/2 medium bananas), mashed
2 Tablespoons protein plus peanut flour
1/2 Tablespoon ground flax seed
1/4 teaspoon baking powder
pinch of cinnamon
maple syrup, for topping (optional)
---
Instructions
In a small bowl mix together the egg whites, peanut flour, flax, baking powder and cinnamon.
Stir in the mashed banana.
Spray a medium sized pan with cooking spray and set heat to low-medium (I use the number 3 on my stove). The lower heat is the key to making sure the pancake doesn't burn.
Pour in about 1/4 of the pancake batter into pan at a time and cook until little bubbles form (about 5 minutes). Make sure the pancake is "set-up" enough before you flip or else you'll end up with a scramble. Carefully flip the pancake over to the other side for another 1-2 minutes.
Cook each pancake until it's done in the middle.
Place pancakes on a plate, top with toppings and enjoy!
---
Nutrition
Serving Size:

1

Calories:

254

Sugar:

19

Fat:

3

Carbohydrates:

37

Fiber:

7

Protein:

23
I also like that this recipe makes four little pancakes instead of one big pancake. It's fun to have a stack! 🙂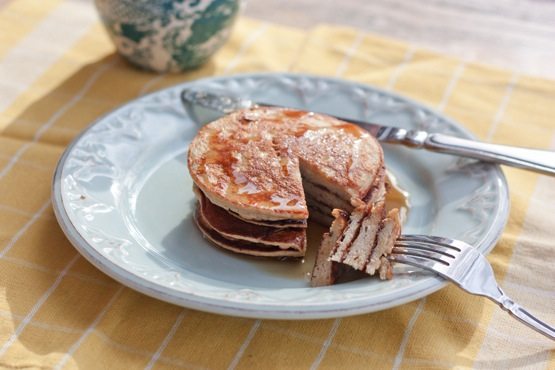 I hope you're having a lovely Wednesday. I'm excited because the snow is finally melting and Isaac and I are headed down to South Carolina this weekend to attend a friend's wedding. Hopefully it's warm. I'm so ready for spring!
Have you ever made protein pancakes?