Happy Wednesday and thanks for all the great feedback on the natural sweeteners post. I think I might do another post on sugar addiction soon!
Moving right along, one of my favorite things to order at Thai or Vietnamese restaurants are fresh spring rolls. Not to be confused with their fried counterparts, fresh spring rolls are usually one of the healthiest options on the menu. They're packed with shrimp or tofu, crisp fresh veggies, herbs and rice noodles and served with side of peanut sauce for dipping. I've had some great fresh spring rolls here in Richmond, but I think the best I've ever had were at Elizabeth St. Cafe in Austin. I have dreams about those poached shrimp spring rolls – they were amazing and came with not one, but three different types of dipping sauces. Oh so good!
A few years ago I found out that you can buy rice paper wraps and make fresh spring rolls at home and I've been hooked on them ever since! I've posted about making them before but never posted a recipe so I thought I should go ahead and make that happen today.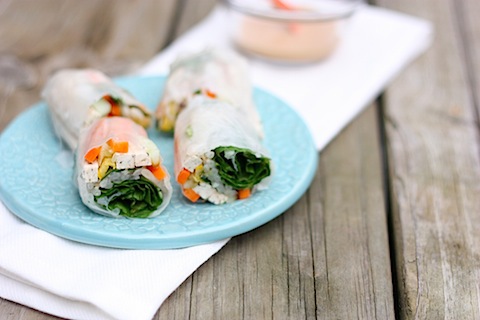 Often times at restaurants the rolls are packed with rice noodles but since I'm following the Tone It Up nutrition plan and limiting my starchy carbs in the evening, I made this batch of rolls without the rice noodles. As it turns out these were probably my favorite homemade spring rolls to date. I loved all the extra vegetables. And just to keep with the lightened up mindset, I used PB2 instead of peanut butter for the sauce. So overall these rolls are really low in fat and calories – perfect for bikini weather. 🙂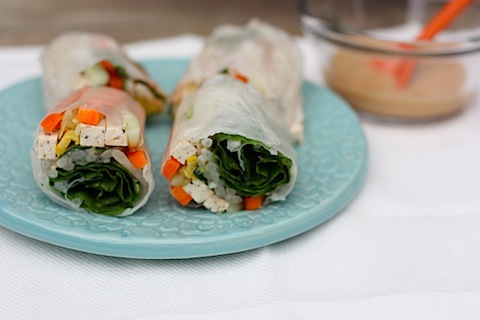 Print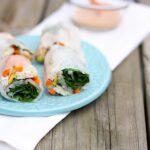 Fresh Spring Rolls with a Light Peanut Sauce
---
Description
You may or may not use all the ingredients, especially the whole head of lettuce. Just store the leftovers in the fridge for later use.
---
Ingredients
10 – 15 rice paper wrappers
1 head romaine lettuce, leaves separated and largest leaves cut in 1/2*
1/2 cup cooked shrimp, shells and tails removed, diced
1/2 cup plain tofu, sliced into small pieces
1/2 cup cucumber, shredded
1/2 cup carrots, shredded
1/2 cup bean sprouts
1/4 cup sliced green onion
1 avocado, sliced
fresh herbs like basil, cilantro or mint
---
Instructions
Wet spring roll wrapper with warm water. (I usually heat a pot of water on the stove top (not letting it get to a boil) and once it's warm I put it in a bowl or plate that is large enough to fit the rice paper wrapper in.)
Place wrapper on a hard surface. Place lettuce leaf on far left edge of wrapper.
Place a little of each ingredient into the wrap – about 1 teaspoon each of shrimp, tofu, carrots, cucumbers, and bean sprouts into lettuce leaf. Top with 1 slice of avocado, 1/4 tsp green onion and a one or two leaves of the fresh herbs.
Roll wrapper from left to right, folding in the top and the bottom sides of wrapper toward the middle. Just before the wrapper is completely wrapped.
Complete steps 1 to 4 for each wrapper. Serve with the Light Peanut Sauce (recipe below).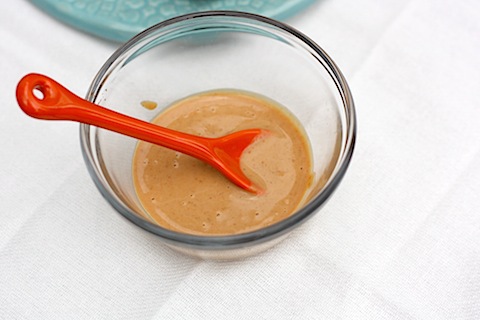 Print
---
Description
I used PB2 (peanut flour) in this recipe to keep it on the lighter side, but feel free to use regular peanut butter if that's what you have on hand. Sub 2 Tablespoons of regular peanut butter for the 4 Tablespoons of PB2 or peanut flour.
---
Ingredients
4 Tablespoons peanut flour + 4 Tablespoons water*
2 teaspoons rice vinegar
2 teaspoons tamari, soy sauce or Braggs Liquid Aminos
1 teaspoon crushed peanuts (optional)
---
Instructions
Combine all ingredients in a bowl.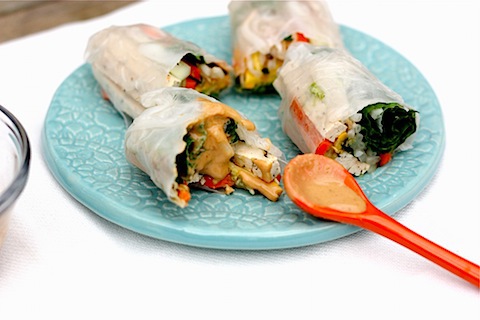 These little guys are perfect for warm spring/summer nights when you're just not in the mood to turn on the oven, which is basically every night here in Richmond during the summer. 🙂 Enjoy!