Oatmeal Fingers
0
Published Aug 03, 2023, Updated Aug 13, 2023
Oatmeal fingers (also known as porridge fingers) make for a great finger food for baby led weaning. They're ready in 5 minutes with only 3 simple ingredients. Vegan + gluten-free.
If you're looking for a fun way to serve oatmeal to your baby or toddler this oatmeal fingers recipe is for you!
These oatmeal fingers (also known as porridge fingers) are basically a simplified version of my easy baked oatmeal recipe with only 3 ingredients and no added sugar. They're healthy, soft and easy-to-hold making them a great finger food for baby led weaning.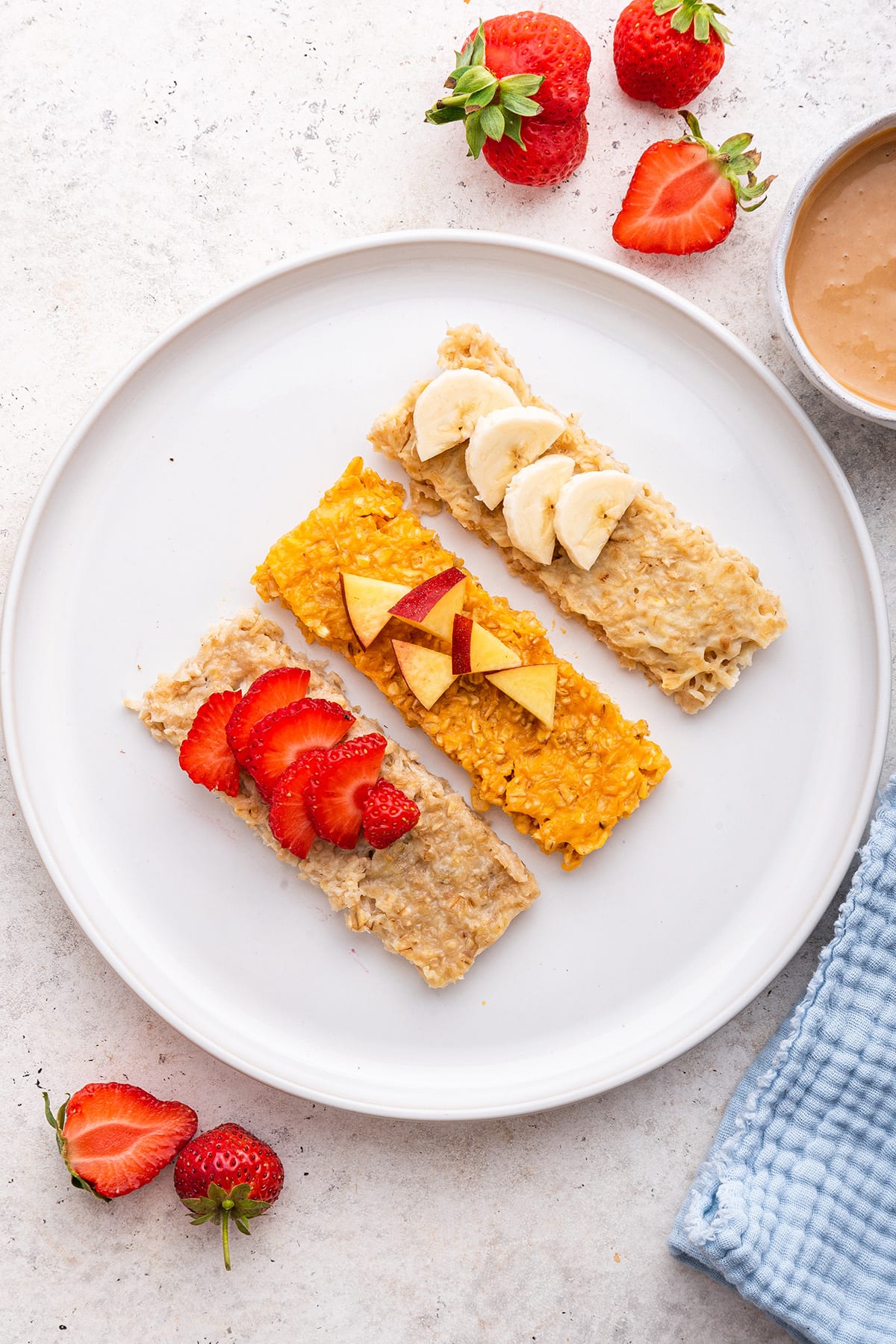 Why You'll Love This Recipe
Easy to make: It's made with just three simple ingredients and is ready in about 5 minutes. Doesn't get much easier than that!
Great for babies + toddlers: These oatmeal fingers are soft and easy for little hands to hold, making it a great food option for baby led weaning.
Perfect for meal prep: You can double or triple the recipe to prep in advance. I'm all about baby food meal prep!
Customizable: Feel free to add spices, mix-in's or you can swap the mashed banana with another puree like applesauce or mashed sweet potato for different flavors.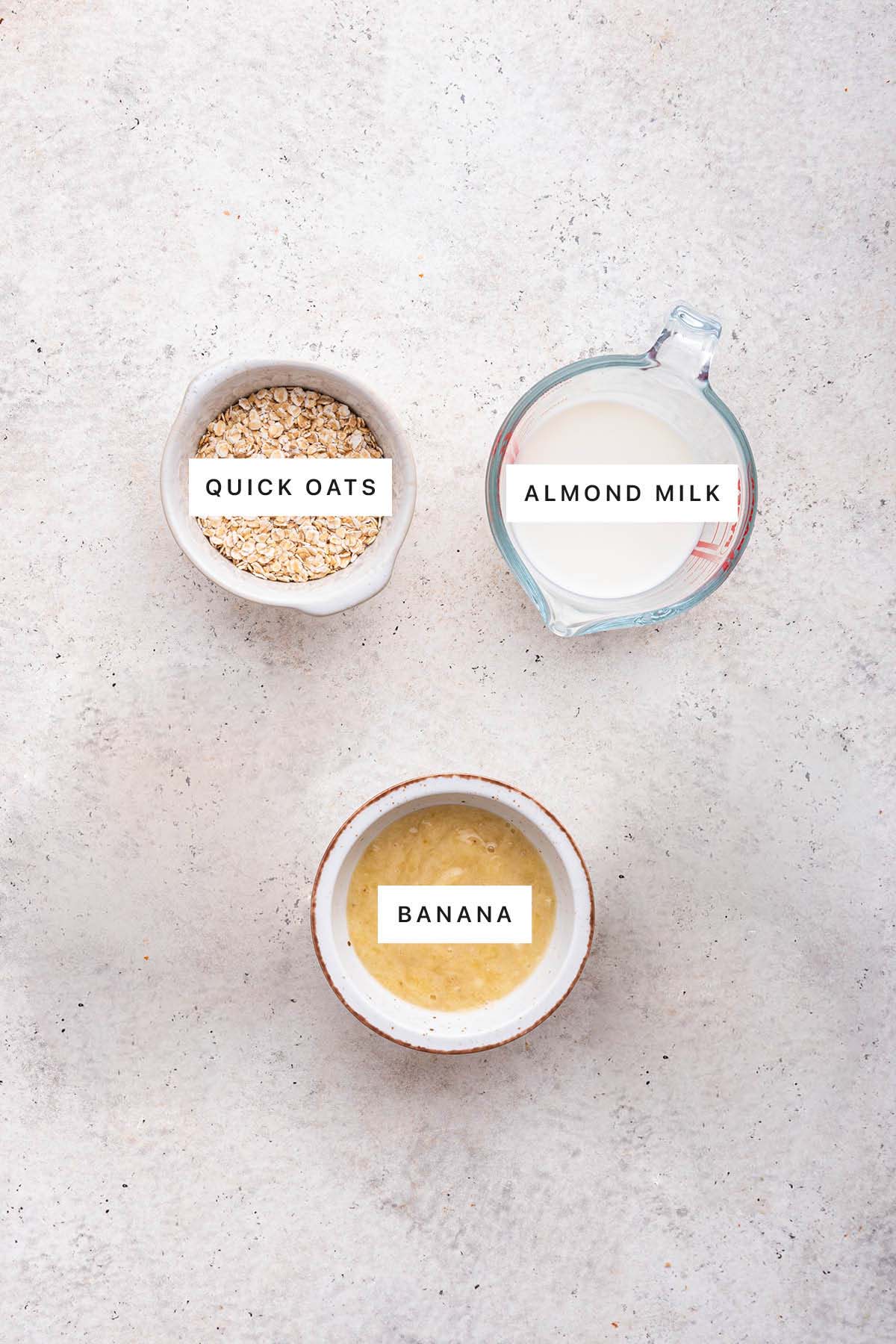 Ingredients Needed
oats – we're using quick oats for this recipe, which cooks up faster in the microwave than rolled oats. I love Bob's Red Mill quick cooking rolled oats. Rolled oats should work just fine as a substitute, but steel-cut oats won't work for this recipe. If you're looking for oatmeal with steel-cut oats try these creamy steel cut oats or this steel cut baked oatmeal instead.
banana – mashed banana adds a lovely natural sweetness and helps bind the oatmeal fingers together. Make sure to choose a ripe banana for maximum sweetness. You can also use applesauce, sweet potato puree, pumpkin puree or butternut squash puree instead of the mashed banana.
unsweetened almond milk – I used unsweetened almond milk because it has a neutral flavor and is dairy-free. You can use regular dairy milk, breast milk or another dairy-free milk of choice like oat milk. Just make sure to grab unsweetened milk so you're not adding sugar to these oatmeal fingers.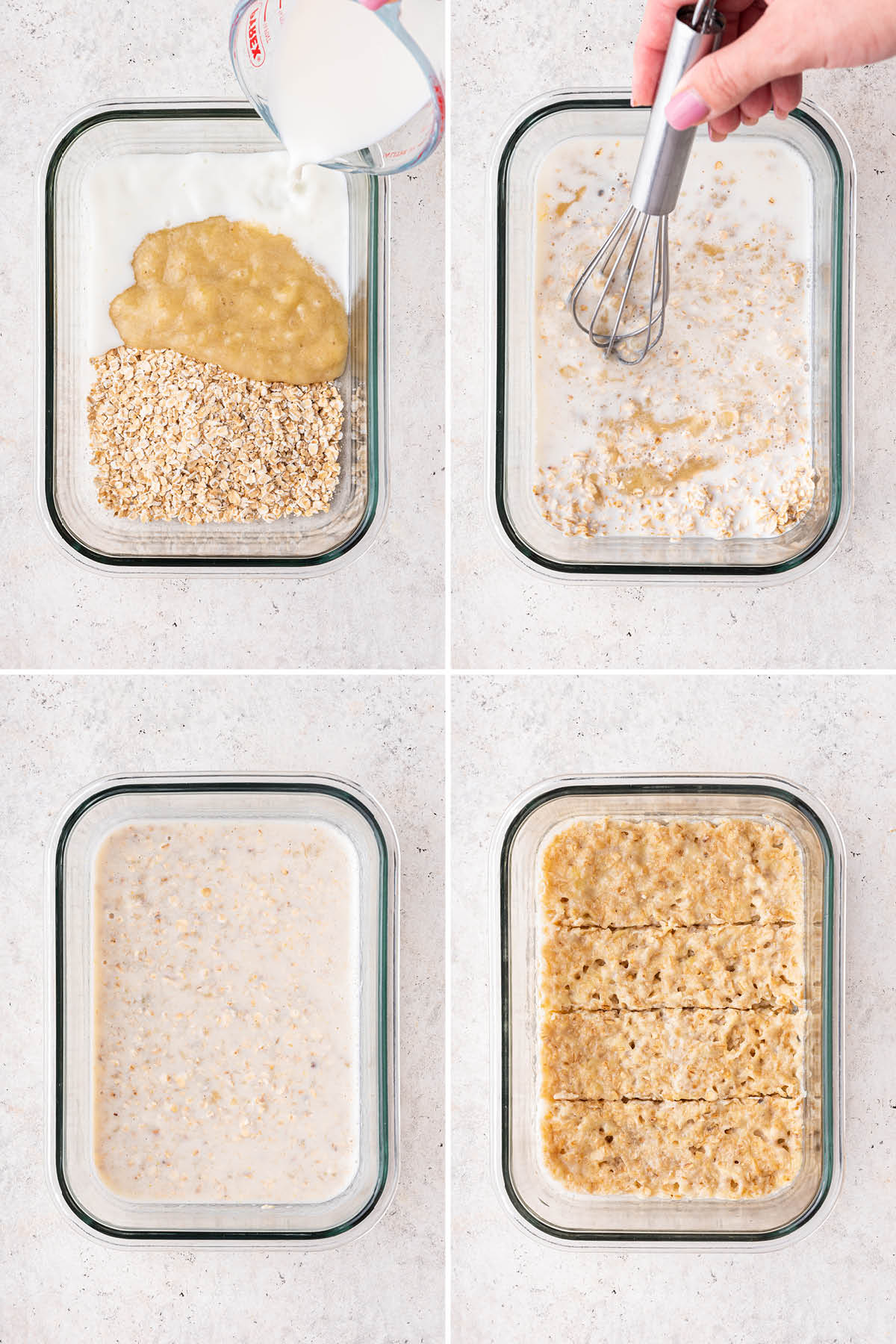 How to Make
Combine: Add the oats, milk and mashed banana to a small microwave-safe dish. I like to use my glass storage containers. Give everything a good stir until well combined. Then, press the mixture evenly into your dish.
Cook: Pop the container into the microwave and cook on high for 2 minutes. After that, carefully remove the oatmeal mixture from the microwave. Remember, it will be hot!
Cool: Cut the cooked porridge into four equal strips and let them cool for about 5 minutes before feeding to your baby. Once cooled, use a spatula to gently remove the oatmeal fingers from the container. Let them cool completely.
Serve: Now they're ready to serve to your baby!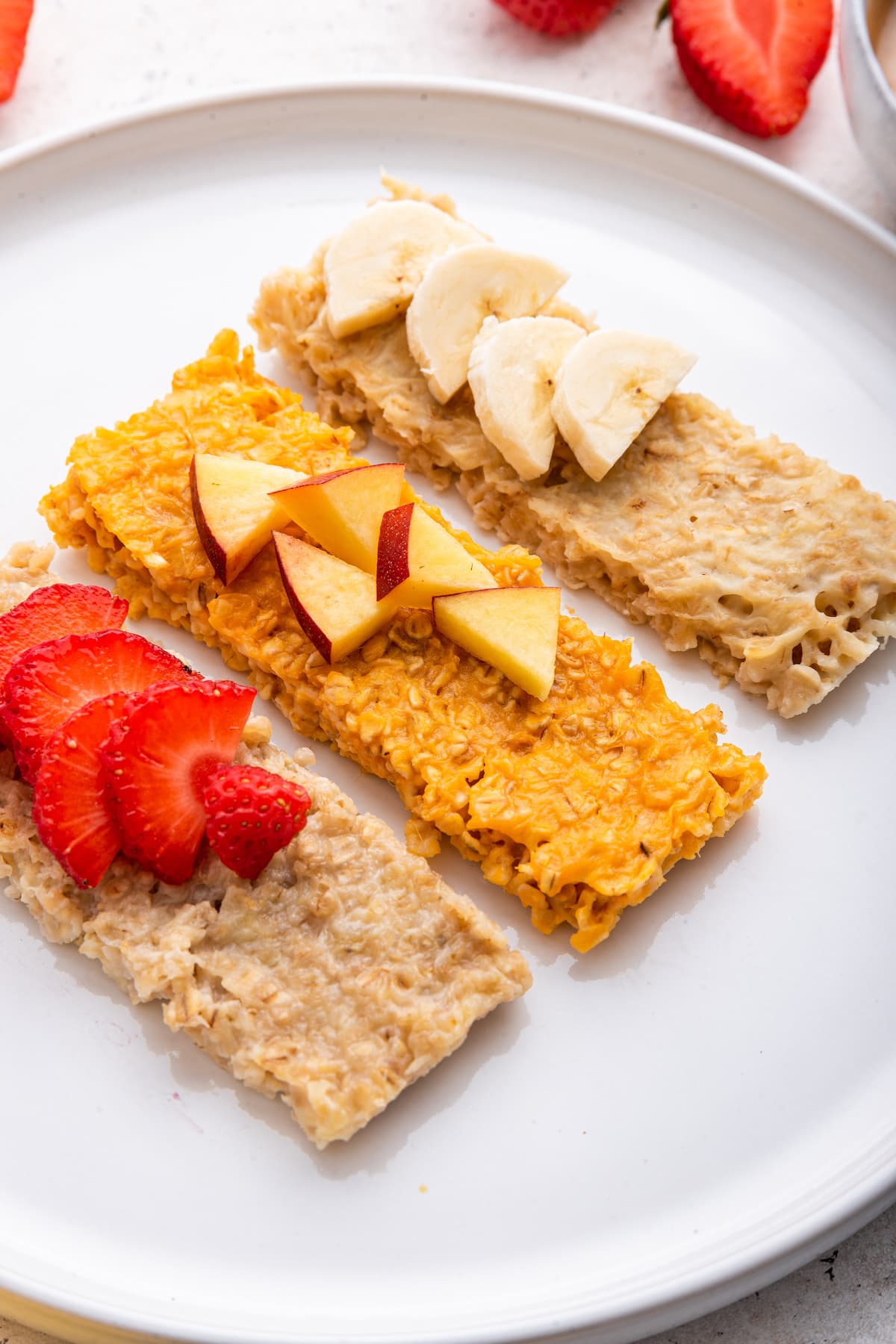 How to Serve Oatmeal Fingers to Babies/Toddlers
This is obviously up to your comfort level as a parent, the age of your baby and their chewing ability! Here are some options:
Give your baby the oatmeal fingers whole and let them take bites off
Cut the fingers into smaller strips so that your baby can grab and eat
Rip into small bite-sized pieces
It's easier for younger babies to grab larger pieces of food so keeping the porridge fingers whole or cutting them into smaller strips will likely work better. As they get older and develop their pincer grasp you can try smaller pieces to help them practice grabbing smaller objects.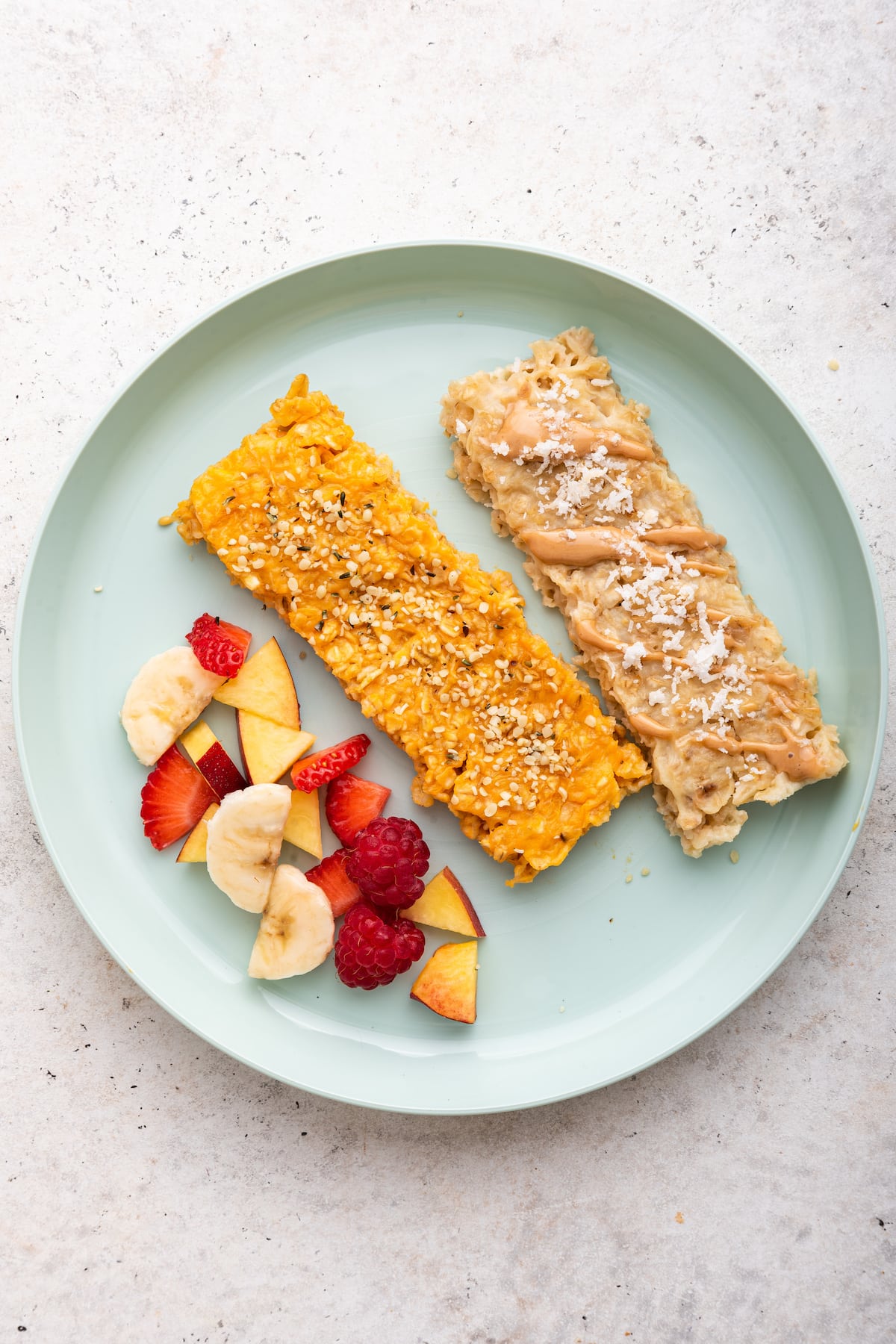 What to Serve with Oatmeal Fingers
These porridge fingers can be served as a standalone breakfast or snack. Here are some ideas on how to serve them:
With a dip: Serve these oatmeal fingers with a side of yogurt, fruit puree (this strawberry puree would be perfect), or nut butter (if your child is old enough) for dipping.
Fruity side: Pair the oatmeal with some fresh sliced fruits like berries, peaches, bananas or pears for a balanced and nutritious meal.
Make it a meal: Include these oatmeal fingers as part of a bigger meal, perhaps with some scrambled eggs and fruit.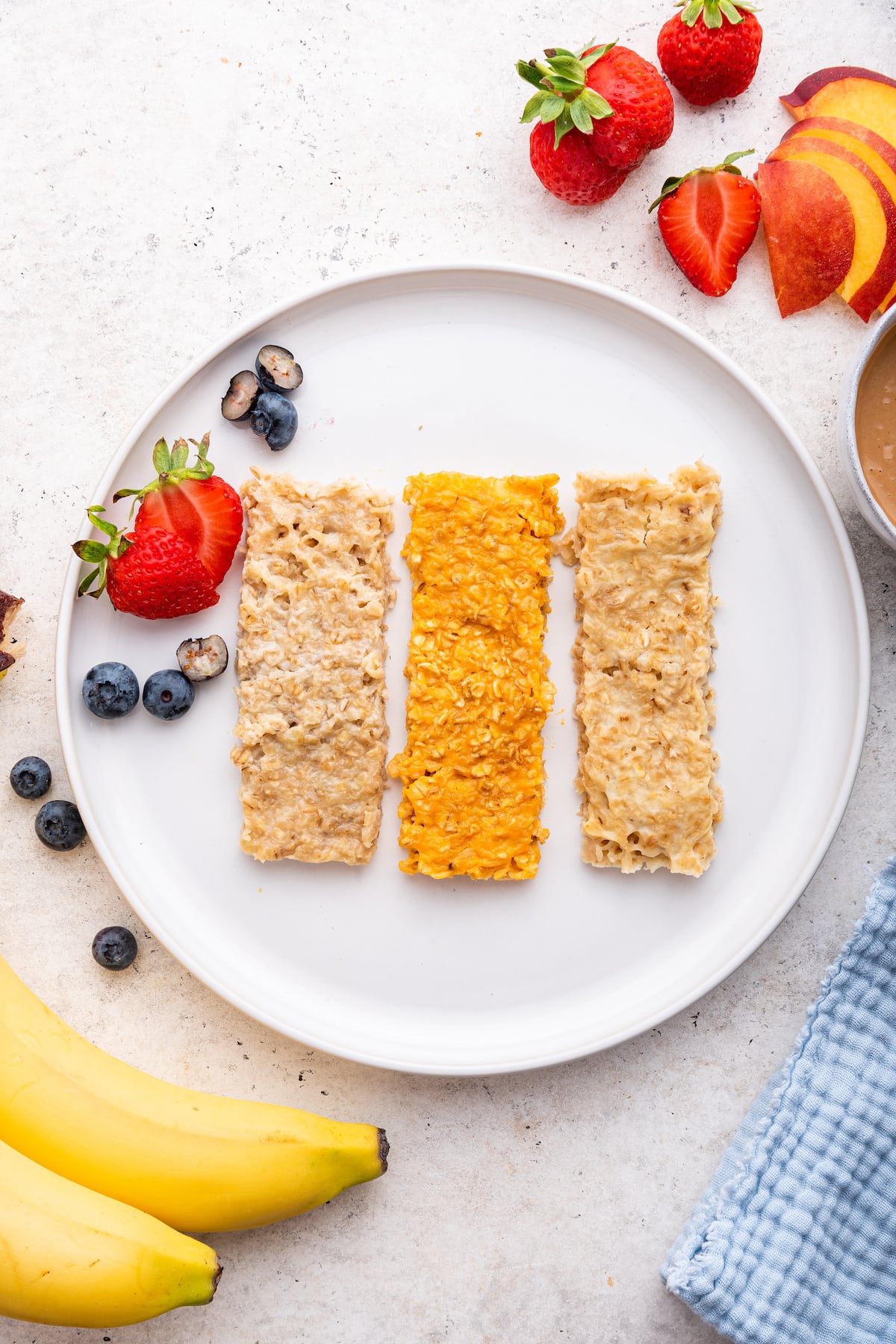 Variations
Our little ones have different pallets and can be rather fussy when it comes to trying new foods. Luckily this recipe is great for experimenting. Here are a few ideas to try:
Apple cinnamon – instead of banana, use unsweetened applesauce and add a sprinkle of cinnamon and/or nutmeg to the oats before cooking. You might even stir in some finely grated apples for extra fiber.
Berry – mash a handful of raspberries, blueberries, blackberries or strawberries and mix them in with the oats and milk. The berries will give a lovely pink hue to the fingers and a burst of tartness. You could also skip the fresh berries and add some of this strawberry puree or blueberry puree to the oats.
Coconut – replace the milk with coconut milk and add some shredded coconut to the oats before cooking. If you want, a dash of vanilla extract would complement the coconut flavor nicely.
Chocolate banana – for a treat, add a spoonful of unsweetened cocoa powder to the regular banana recipe for chocolate banana porridge fingers.
Carrot cake – sneak in some vegetables by swapping the mashed banana with carrot puree and add finely grated carrot and a dash of vanilla extract and cinnamon for a classic carrot cake flavor.
Pumpkin – swap the mashed banana with pumpkin puree for fall-inspired oatmeal fingers.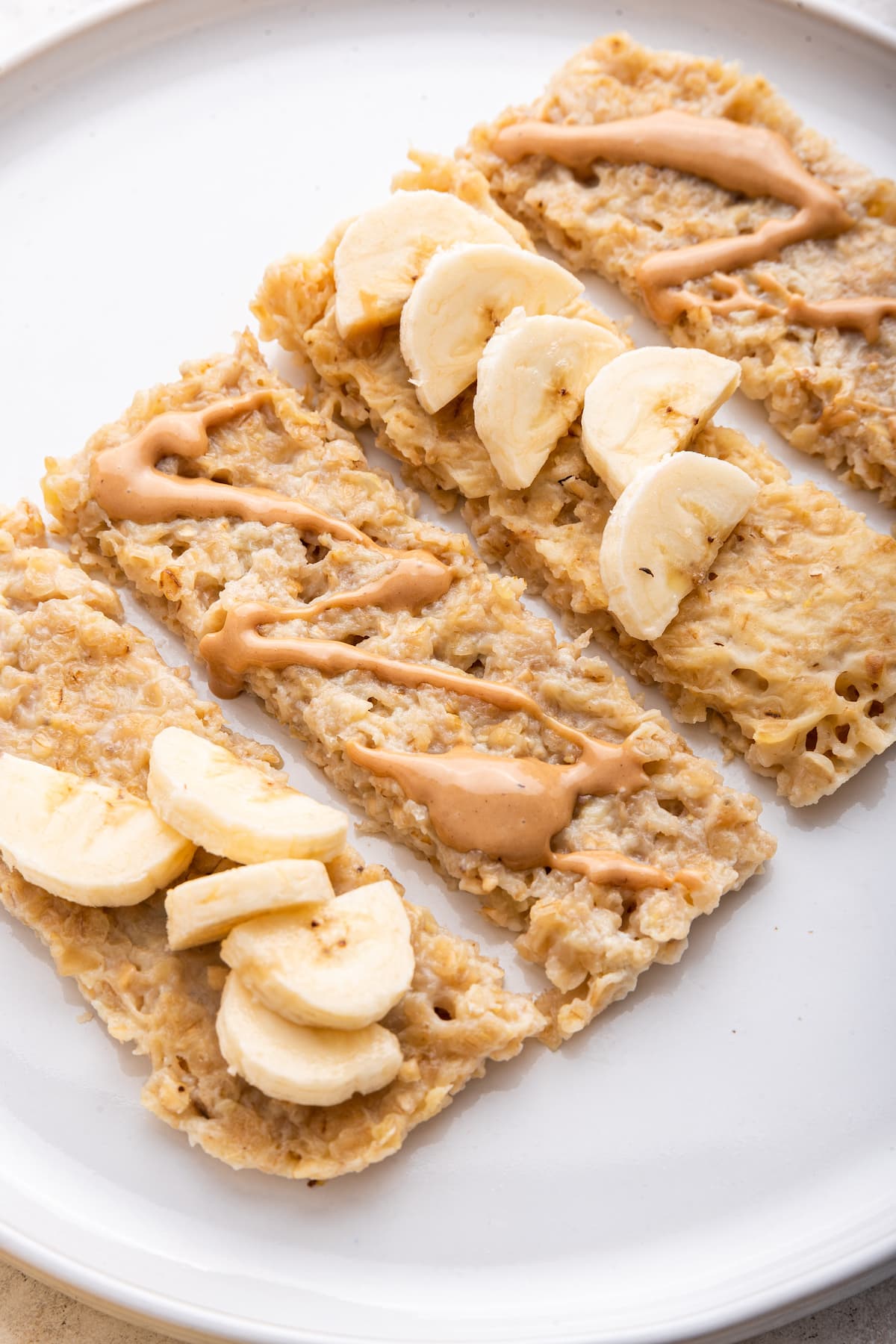 How to Bake in the Oven
I love the convenience of the microwave, especially on busy mornings, but If you prefer to use the oven instead of a microwave, you can definitely cook these oatmeal fingers in the oven. Here's how:
Preheat your oven to 350°F.
Follow the same steps as the original recipe up to pressing the mixture evenly into the baking dish.
Instead of microwaving, place the dish into your preheated oven and bake for about 15-20 minutes or until the edges start to turn golden brown.
After baking, let the oats cool in the dish for about 10 minutes. This will help them firm up and be easier to cut and handle.
Cut into fingers and let them cool completely before serving to your baby.
This baking method can add a slightly different texture to the porridge fingers, making them a bit firmer and crispier around the edges. The baking process also allows for a more even heat distribution compared to microwaving, which some people may prefer. It can be a great option if you are making a larger batch or if you want to avoid using the microwave.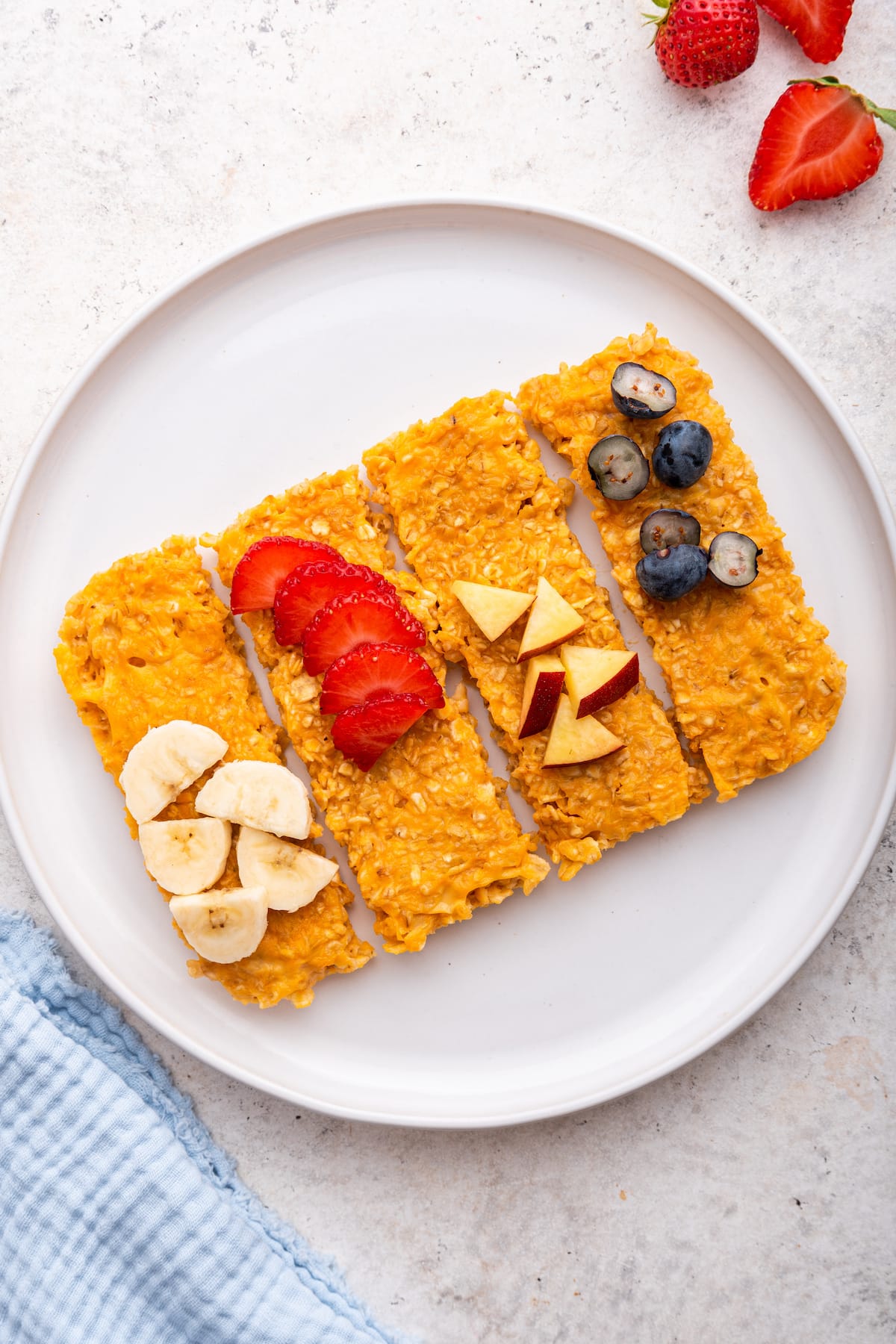 How to Store
These oatmeal fingers are perfect for meal prep! I love making a big batch to have on hand throughout the week. Here's how to store them:
In the fridge: After the oatmeal fingers cool completely, place them in an airtight storage container and store in the fridge for up to 5 days. You can serve these straight from the fridge or reheat in a skillet on the stovetop, in a toaster oven or microwave. Just be sure they don't get too hard when reheating.
In the freezer: For longer storage, freeze these oatmeal fingers on a baking sheet lined with parchment paper first, then transfer them to a freezer-safe airtight container. They'll stay good for about 3 months in the freezer. When you're ready to serve to baby, thaw them in the fridge overnight then serve cold or reheat as directed above!
More Baby + Toddler Recipes and Resources
Popular Oatmeal Recipes to Try
Be sure to check out all of my oatmeal recipes as well as the full collection of kid-friendly recipes.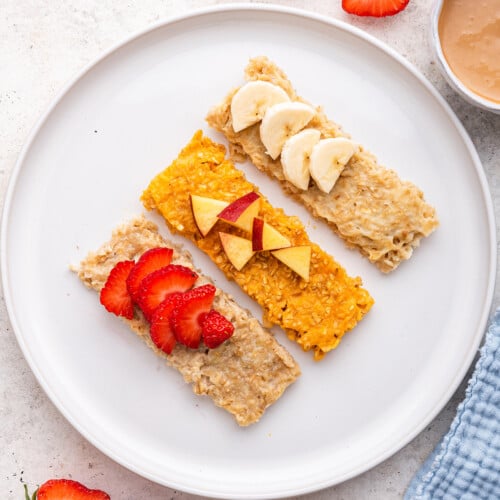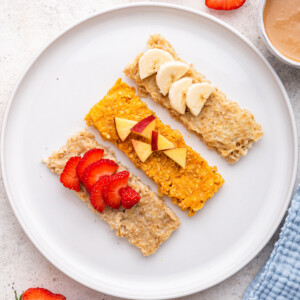 Oatmeal Fingers
Oatmeal fingers (also known as porridge fingers) make for a great finger food for baby led weaning. They're ready in 5 minutes with only 3 simple ingredients. Vegan + gluten-free. 
Ingredients
⅓

cup

quick oats

,

gluten-free if needed

⅓

cup

unsweetened almond milk

½

ripe

banana

,

mashed or ¼ cup applesauce or ¼ cup mashed sweet potato
Instructions
If using banana, mash the banana in a bowl or on a plate.

Add oats, milk and mashed banana to a small microwave safe baking dish. I used a rectangular glass meal prep container.

Stir to combine and then press the mixture evenly into the dish.

Cook on high in the microwave for 2 minutes. Carefully remove from the microwave, cut into four strips and let cool for 5 minutes.

Use a spatula to remove the oats from the container, let cool completely and serve to baby.
Nutrition
Serving:
1
finger
|
Calories:
46
kcal
|
Carbohydrates:
8
g
|
Protein:
1
g
|
Fat:
1
g
|
Sodium:
14
mg
|
Potassium:
66
mg
|
Fiber:
1
g
|
Sugar:
2
g
Nutrition information is automatically calculated, so should only be used as an approximation.