What is Nutritional Yeast?
3
Published Apr 09, 2022, Updated Jun 12, 2023
Everything you need to know about nutritional yeast (aka nooch), a versatile condiment often added to vegan foods to create a cheesy and savory flavor.
Every time I use nutritional yeast in a recipe I get asked questions about it so I figured I needed a full post breaking down exactly what it is and how to use it!
If you're new to nutritional yeast, you're in the right spot.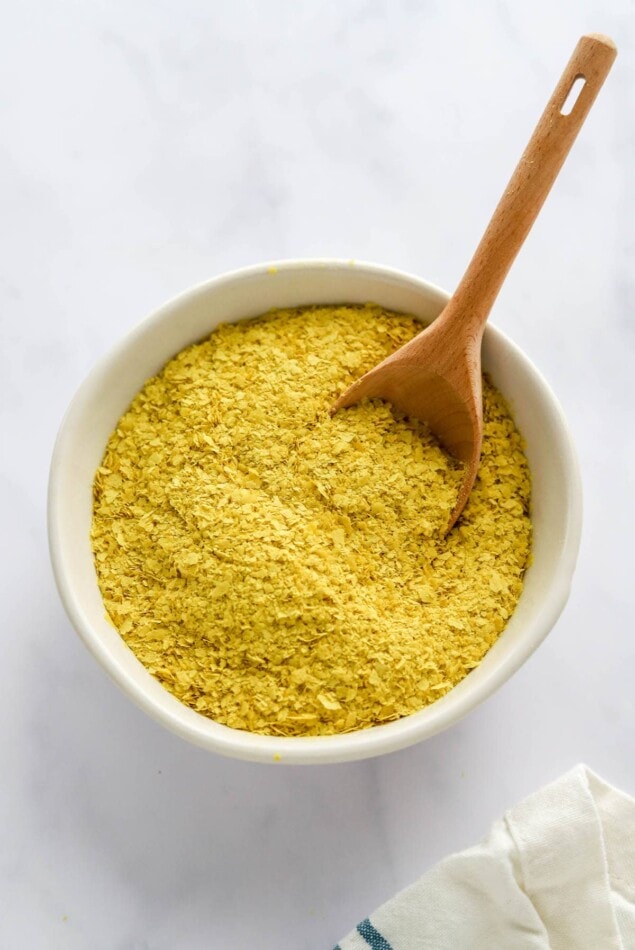 What is Nutritional Yeast?
Also known as "nooch," nutritional yeast is a supplement or food product that is grown on molasses. It comes in flakes, granules or powder. It's low in calories and sodium, gluten-free, sugar-free, fat-free and vegan so it's great for those with dietary restrictions.
Nutritional yeast is an unactivated version of Saccharomyces cerevisiae. Not to be confused with brewer's yeast and baker's yeast, which are also Saccharomyces cerevisiae however they are active and are used to make beer and bread, respectively.
What Does Nutritional Yeast Taste Like?
Although nutritional yeast is dairy-free, it has a unique savory flavor that tastes cheesy. It's also yellow in color, which makes it feel even more cheese-like! You'll see nutritional yeast used in vegan dishes to add cheese flavor, but it's also helps to thicken dressings, sauces and soups.
Where to Buy Nutritional Yeast
Nutritional yeast is sold in most grocery stores these days and you'll find in the spice aisle. If for some reason you can't find it at your local store, you can always order it online. I usually buy look for Bragg's or Bob's Red Mill nutritional yeast.
Health Benefits
Nutritional yeast is loaded with nutrients and antioxidants – hence the name nutritional yeast! It's a great source of plant-based protein, as well as, trace minerals and B vitamins including B12. (source)
Nutritional Yeast Substitutes
The cheesy, umami flavor of nutritional yeast is hard to replicate, but if for some reason you need to substitute it in a recipe (perhaps you've run out of nutritional yeast or you're allergic to yeast) you can try some different things. This helpful article offers a variety of nutritional yeast substitutes including white miso paste, soy sauce or liquid aminos, brewer's yeast, cashews and/or dried porcini mushrooms.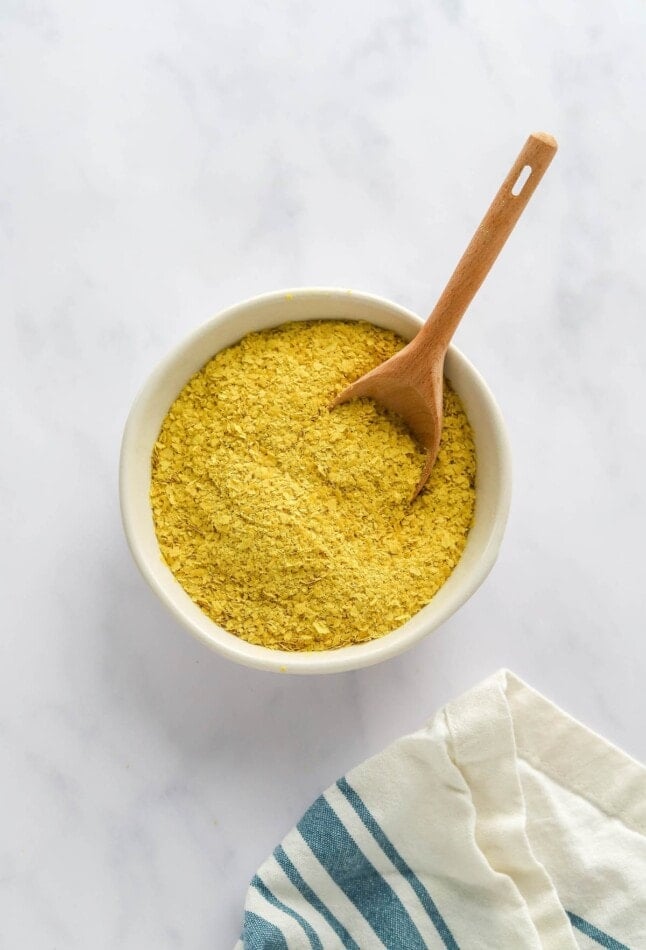 FAQ
Is nutritional yeast vegan?
Yes! Yeasts are considered vegan because they do not have a central nervous system and are unable to experience pain or suffering.
How do you make nutritional yeast?
Saccharomyces Cerevisiae is grown on molasses, harvested and then dried using heat.
Who should use nutritional yeast?
Anyone can use it! It's a great source of protein and B vitamins for vegans, but everyone can enjoy the benefits.
How to Use Nutritional Yeast
Want more ideas? See all of my nutritional yeast recipes.
Other Guides to Check Out
Try These Popular Vegan Recipes
Be sure to check out all the vegan recipes on EBF!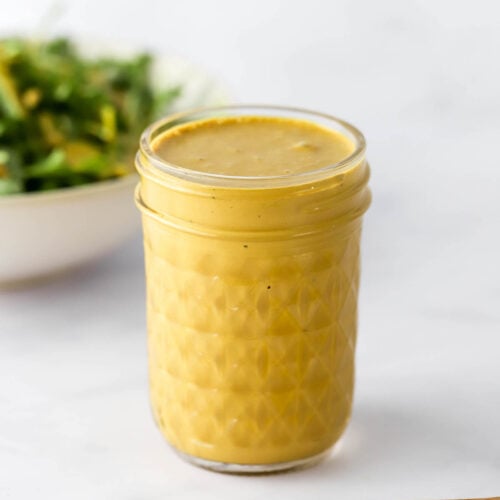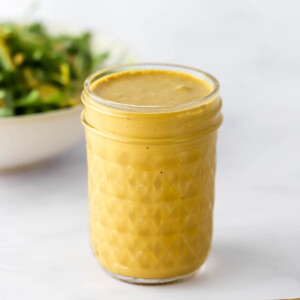 Nutritional Yeast Dressing
This nutritional yeast dressing combines apple cider vinegar, tamari and garlic to create an irresistible dressing you'll want to drizzle on everything.
Instructions
Combine all dressing ingredients except olive oil into a blender. Blend until smooth and slowly add in the olive oil, with the blender on a low setting.

I prefer making this dressing in a blender because it gets extra smooth and creamy, but if don't have a blender you can easily make it by whisking all the ingredients together as well. Just make sure you mince your garlic really well.
Notes
Oil-free dressing: You can use water in place of the oil. The dressing won't be as creamy, but still delicious.
Soy sauce/tamari: If you're looking for a soy-free option you can use coconut aminos instead. 
Nutrition
Serving:
2
Tablespoons
|
Calories:
95
kcal
|
Carbohydrates:
5
g
|
Protein:
3
g
|
Fat:
7
g
|
Saturated Fat:
1
g
|
Sodium:
110
mg
|
Fiber:
1
g
|
Sugar:
1
g
Nutrition information is automatically calculated, so should only be used as an approximation.