Have a healthy Easter treat with these homemade chocolate peanut butter eggs! They're naturally sweetened, vegan and gluten-free.
So… I recently discovered that you can make chocolate from cocoa/cacao powder and coconut oil and now I want to cover everything in coconut oil chocolate and eat it every day. Given how healthy virgin coconut oil is, I think that it's an 100% acceptable idea.
I know I'm late to the party. I've seen others post about using coconut oil to make chocolate for a while now but I wasn't so sure about it. Would it really taste good? Was it truly as easy as everyone made it seem? I finally decided to experiment for myself and guess what? It's SUPER simple and it tastes pretty darn good — even when sweetened with only a tad bit of stevia and maple syrup. I'm sold!
Once I figured out that coconut oil chocolate is legit, I naturally decided to combine it with a little peanut butter. I mean, why wouldn't you? Chocolate + peanut butter = the best combo ever! And since Easter is right around the corner, I couldn't resist making eggs!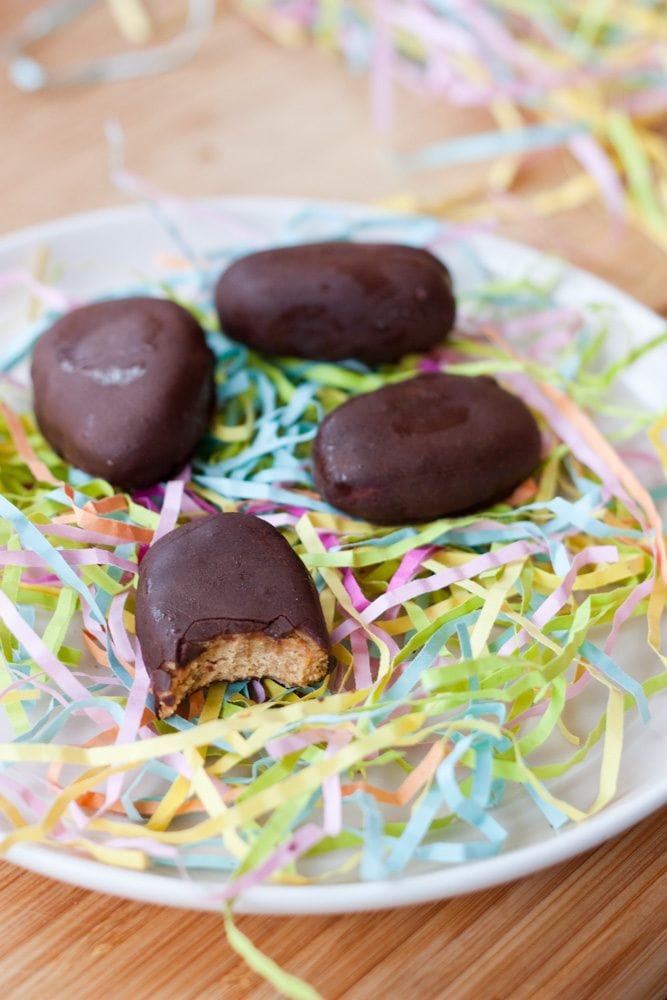 I kept things on the lighter side by combining Almond Breeze almond milk, peanut flour, salt and dates for the peanut butter center. I wasn't sure how it would turn out but I ended up loving the consistency. The dates were a great addition!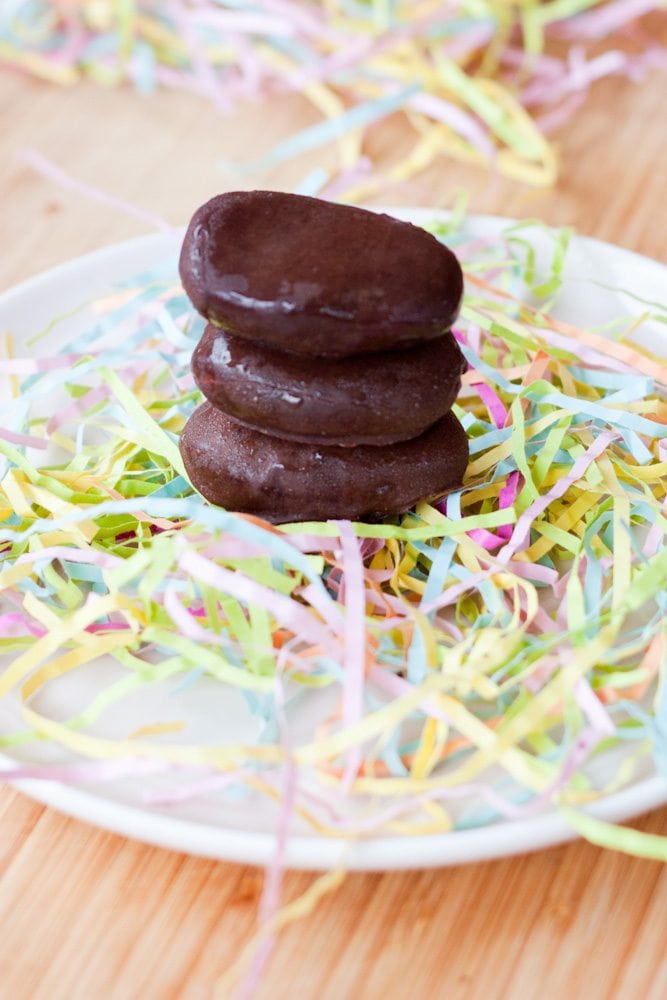 I made two batches and had several folks try these eggs just to be sure they were really good and not just good to me. I'm sure some other bloggers can relate to this — sometimes you need additional taste testers.
I used only stevia to sweeten the chocolate in the first batch and while they were sweet enough for me, Isaac thought they were too bitter. For the next batch I added some maple syrup and it did the trick! We both loved this version. Although, if you're like me and enjoy super dark chocolate, you could make these without the maple syrup and be quite happy.
With only a tad bit of sugar from natural sources, as well as a little protein from the peanut flour, these eggs are a much healthier treat for filling up those Easter baskets. I hope you love them!
Print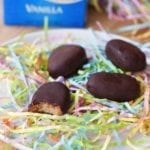 Homemade Chocolate Peanut Butter Eggs
Author:

Prep Time:

1 hour 15 mins

Total Time:

1 hour 15 mins

Yield:

7
---
Description
Have a healthy Easter treat with these homemade chocolate peanut butter eggs! They're naturally sweetened, vegan and gluten-free.
---
Ingredients
½ cup peanut flour (I use Protein Plus) + ¼ cup almond milk (OR 1/4 cup drippy peanut butter)
¼ teaspoon sea salt
3 pitted medjool dates, roughly chopped
2 ½ Tablespoons cocoa powder
2 ½ Tablespoons virgin coconut oil, melted so it's liquid
8 drops of liquid stevia
1 ½ teaspoons maple syrup
---
Instructions
Place almond milk, peanut flour, salt and dates into your food processor and process until a ball of dough forms (about 1 minute or so).
Remove ball of dough, break off pieces (about 1-2 Tablespoons in size) and form into an egg shape. Place on a piece of parchment paper on a plate and freeze for about an hour.
Once your peanut butter eggs are frozen, combine cocoa powder, melted coconut oil, stevia and maple syrup to make the chocolate for dipping. Remove frozen peanut butter eggs from freezer, dip each (one by one) into the chocolate to cover. Place each back on the parchment paper and return to the freezer to harden.
They'll be ready to enjoy within a few minutes of freezing. Store any leftovers in the freezer and remove a few minutes before eating. They freeze pretty solid but will thaw out quickly and be ready to eat within 1-2 minutes.
---
Notes
**If you're not inclined to make your own coconut oil chocolate you can always dip and coat the eggs with melted chocolate chips. Just melt your chocolate chips (about 1/3 cup) with 1 teaspoon coconut oil and follow the instructions above for dipping.
---
Nutrition
Serving Size:

1 egg

Calories:

95

Sugar:

3g

Fat:

6g

Carbohydrates:

6g

Fiber:

2g

Protein:

5g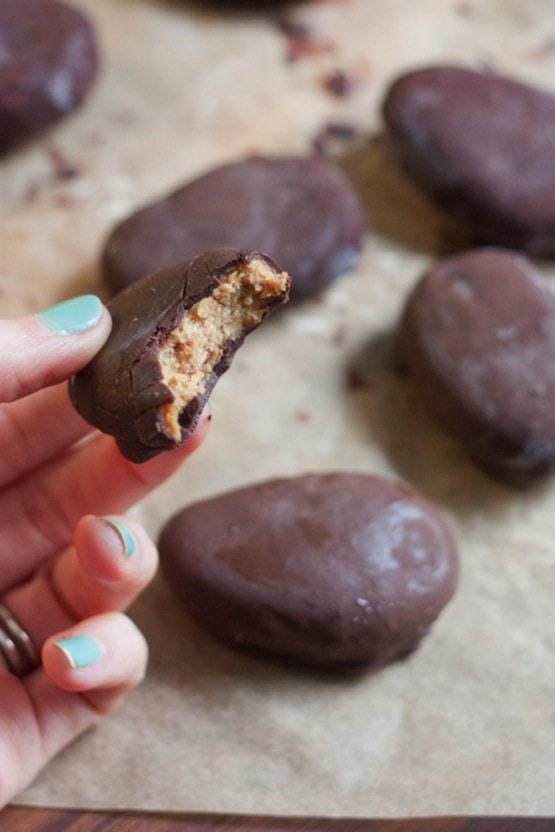 Have a bite… only be sure to wait for them to thaw a tiny bit. Don't get impatient like me and try to eat them while they're still completely frozen — I don't want any broken teeth. 😉
What's your favorite Easter candy? Mine is a tie between peanut butter eggs and these Mini Eggs.