Banana oatmeal energy bars made with chopped walnuts and raisins. These bars made for a perfect pre-workout snack. 
Have you ever made a "healthy" bread/bar/muffin recipe and after one bite said, "hmmm… this is good but it'd be much better with some almond butter." Yeah… I'm pretty sure we've all done it. Am I right?
Nut butters do make everything better, but I'm going to start this by saying that this is not one of those recipes. These bars are delicious — no peanut/sunflower/almond butter necessary.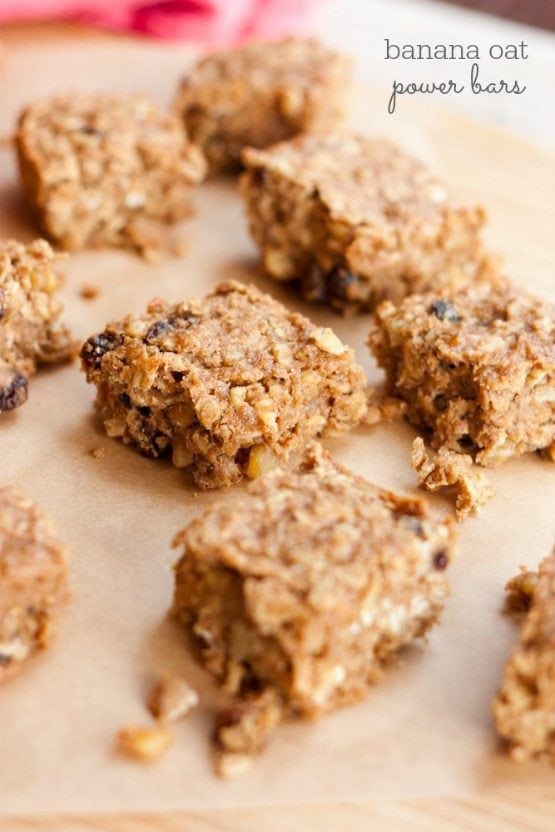 I made them for two reasons: 1.) I'm going glamping this weekend for a friend's bachelorette party and wanted to bring a little snickety snack to share with the girls and 2.) Isaac will be on his own this weekend and sometimes he forgets to eat. <— I know, I don't understand it either. That said, I thought it might be a good idea to leave him with a few bars to snack on while I'm away. Such a good wife.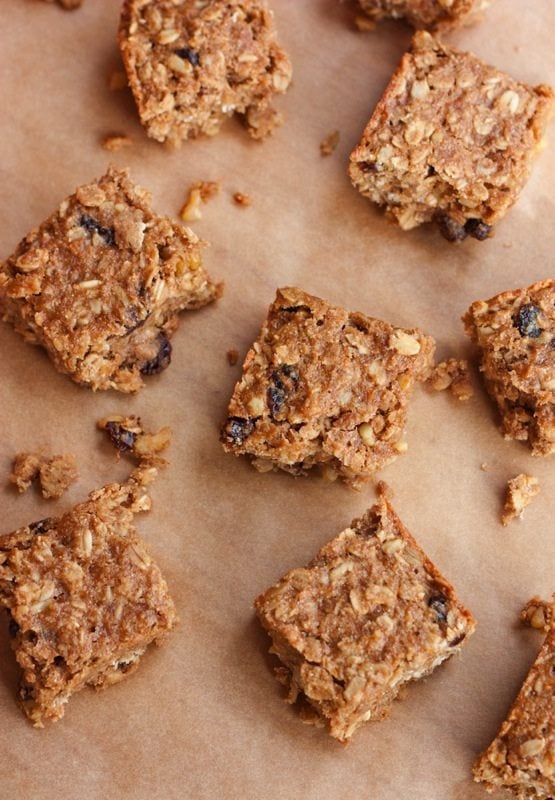 I first learned about this amazing recipe at the Runner's World Half & Festival. For one of the blogger lunches we ate a bunch of different things from The Runner's World Cookbook and these Banana Oat Energy Bars were on the menu. They were one of my favorite things I ate that weekend! Once home I made a batch of the bars for my cousin right after she had her baby since she and her husband needed all the energy they could get.
Given that this was my second time making the bars, I decided to experiment a little by switching up some of the ingredients to make them a bit healthier. As you'll see in my version of the recipe below, I used less oil, less sugar, less dried fruit and whole wheat pastry flour. I also cut the batch into 16 bars instead of 12. With these changes, they came out having about 125 calories, 7 grams of fat and 17 grams of carbs LESS than the original bars. Not too shabby.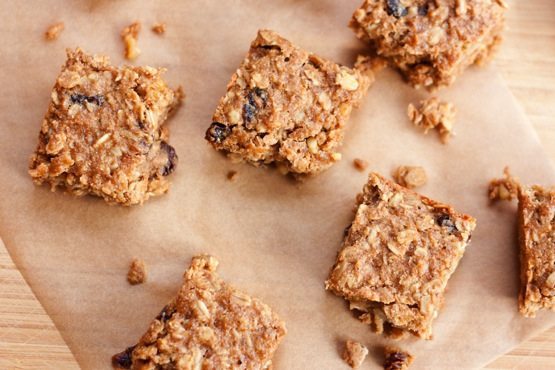 Despite the changes, the bars turned out to be just as good as the original recipe. They have a nice hearty texture and thick (almost crunchy) edges, yet they're still plenty sweet and moist. Speaking of the crunchy edges — they're my favorite part about these bars. I'm almost tempted to buy a just the edges brownie pan so I can make them in it.
Like I mention, these bars are absolutely delicious on their own (no toppings necessary). And they're great for snacking or fueling a workout because they're portable and packed with healthy ingredients (unlike many store-bought energy bars). While I don't have any children around to test out this theory, I'm almost certain that kids will gobble them right up. If you make them and share them with your kiddos, be sure to let me know if my hypothesis is right. 🙂
Print
Banana Oat Power Bars
Author:

Prep Time:

15 mins

Cook Time:

30 mins

Total Time:

45 mins

Yield:

16

Category:

(vegan & dairy-free)
---
Description
Banana oatmeal energy bars made with chopped walnuts and raisins. These bars made for a perfect pre-workout snack. 
---
Ingredients
3/4 cup chopped walnuts
2 overripe bananas
1/4 cup unrefined coconut oil
1/4 cup unsweetened apple sauce
3/4 cup coconut sugar
1/2 teaspoon vanilla extract
1 1/2 cups old-fashioned rolled oats
3/4 cup whole wheat pastry flour (or 1/2 cup whole wheat flour + 1/4 cup unbleached all-purpose flour)
3/4 teaspoon baking powder
1/2 teaspoon salt
1/2 teaspoon ground cinnamon
1/2 teaspoon ground nutmeg
1/4 teaspoon baking soda
1/4 cup raisins
---
Instructions
Preheat the oven to 350°. Coat an 8″ x 8" square baking dish with cooking spray.
Spread the walnuts on an ungreased baking sheet or stone and toast in oven for 5 to 8 minutes, or until toasty and fragrant.
While the walnuts are toasting, mash the bananas in a medium sized bowl. Add the remaining wet ingredients: oil, apple sauce, sugar, and vanilla extract. Mix until smooth.
In a large mixing bowl, combine the dry ingredients: oats, flour, baking powder, salt, cinnamon, nutmeg, and baking soda. Add the banana (wet) mixture and stir until just combined. Fold in the toasted walnuts and raisins, being careful not to overmix. Pour the mixture into the prepared pan and spread evenly. Bake for 25 to 30 minutes, or until the top is browned and a toothpick inserted comes out nearly clean. Allow to cool completely before cutting into bars.
---
---
Nutrition
Serving Size:

1 bar

Calories:

172

Sugar:

13

Fat:

8

Carbohydrates:

24

Fiber:

2

Protein:

3