Fig Jam Crumble Bars
24
Published Jul 31, 2017, Updated Mar 10, 2023
Wholesome Fig Jam Crumble Bars you can feel good about enjoying for breakfast, a snack or dessert. They're loaded with healthy fats and naturally sweetened.
It's almost fig season and I literally can not wait. I don't know what it is about figs, but I love 'em. Isaac's parents have a fig tree and although the figs won't be poppin' for a few weeks I'm already craving all things figgy and lucky for me we have a big bag of dried figs in the pantry. It was definitely one of those Costco impulse buys (you know the ones) because as soon as I got home I started thinking, "What the heck am I going to do with this 40 oz bag of figs?" Alas, I'm always up for experimenting in the kitchen so the 40 oz fig challenge has commenced.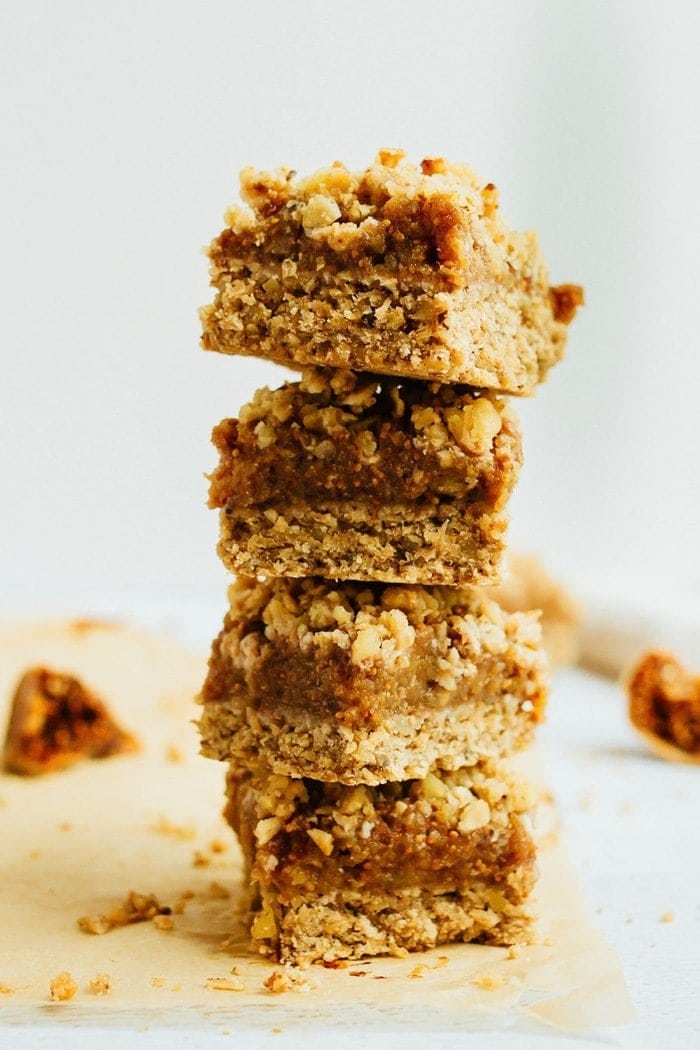 Around the same time I came home with that massive bag of dried figs, Laura Lea of LL Balanced reached out and offered to send me a copy of her new cookbook, The Laura Lea Balanced Cookbook.
Imagine my excitement when I flipped to page 157 of the cookbook and saw this Fig Jam Crumble Bars recipe… it was obviously meant to be.
Laura Lea and I haven't met in person. We literally just became friends through Instagram… which might sound funny, but I've met so many good friends through social media so it seems like NBD to me. Anyhow, we met through IG and I quickly realized that we have additional connections, including the fact that she went to school in Virginia and is good friends with one my friends here in Richmond. (Hey Sara!) Such small world.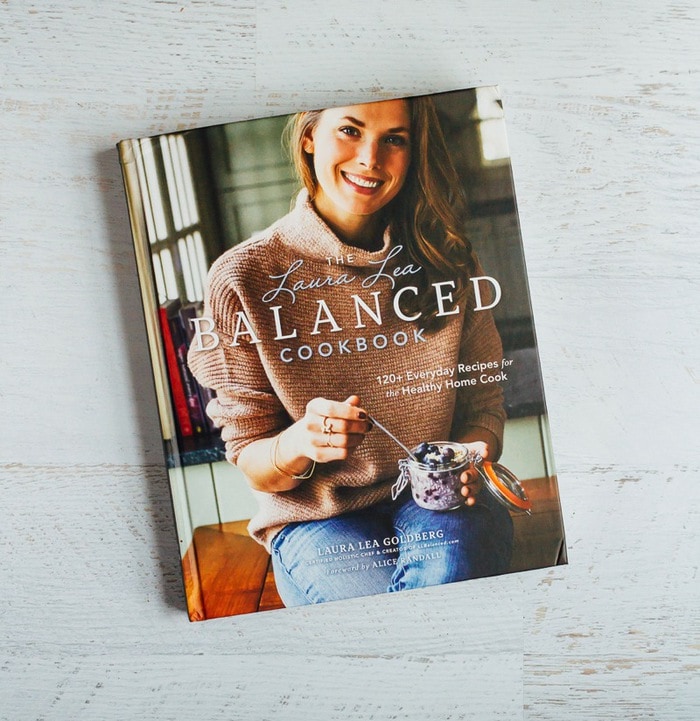 I knew from looking at Laura Lea's site that her cookbook recipes were going to be good, but once the book arrived, I was totally blown away. All the recipes look and sound amazing and each one has a big, gorgeous photo to go with it — all taken by Laura Lea, herself. There are 120 + recipes, most of which are quick and easy — perfect for home cooks.
Laura Lea lives in Nashville and became a Holistic Chef through the Natural Gourmet Institute (NGI) after finding herself in NYC with a corporate job and a city-life social routine — lots of late nights and greasy brunches. Through NGI she learned how to cook nutrient dense, whole-foods meals and fell in love with holistic health, which she started sharing through her blog in 2013. What I love about her approach is the focus on whole, real food, not on a specific diet. That said, some of her recipes are vegan, some are paleo and some are gluten-free… very similar to my approach and all the recipes you'll find here on EBF.
One section of the cookbook that really spoke to me was the introduction. Here Laura Lea shares her approach to food which can be summed up by listening to your body, focusing on real, whole foods and practicing balance! She also includes a little blurb about why the cookbook doesn't have a basic's section with how to cook beans or make chicken stock from scratch. She doesn't include these basic recipes, because the reality is that she doesn't make these things from scratch on the regular and most home cooks don't have time to either! She recommends looking for BPA-free organic canned beans, full-fat coconut milk and low-sodium organic chicken broth. To that I say, preach it girl!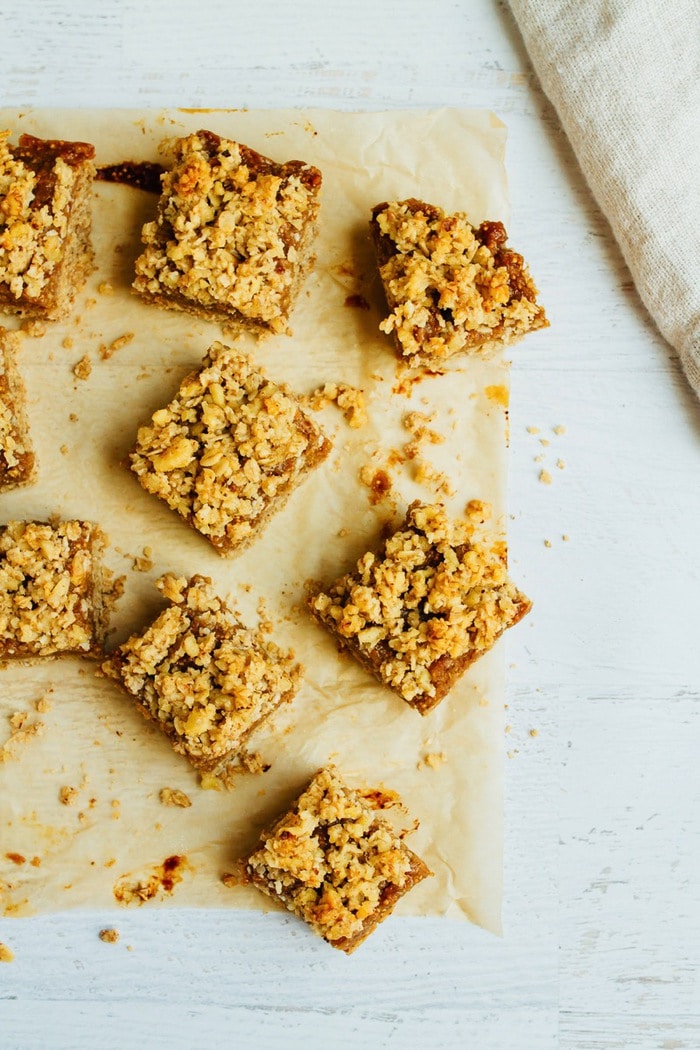 As soon as I received the cookbook I immediately bookmarked a few recipes including one for a healthier ambrosia. If you're unfamiliar with it, ambrosia is a Southern fruit "salad" made with sour cream and marshmallows. It's kind of similar to watergate salad. I grew up eating watergate salad and was introduced to ambrosia salad through Isaac's family. It's something they have every Thanksgiving and I made it this year for Isaac's sister's bridal shower.
I was all excited about trying the healthier ambrosia made with coconut milk, but then I spotted the fig jam crumble bars and knew I needed to try these first. The ambrosia will have to happen soon though! And I've obviously been eyeing the section with salad and soups too. All of the salads look divine. Watermelon, quinoa, arugula salad with honey lime dressing… yes please!!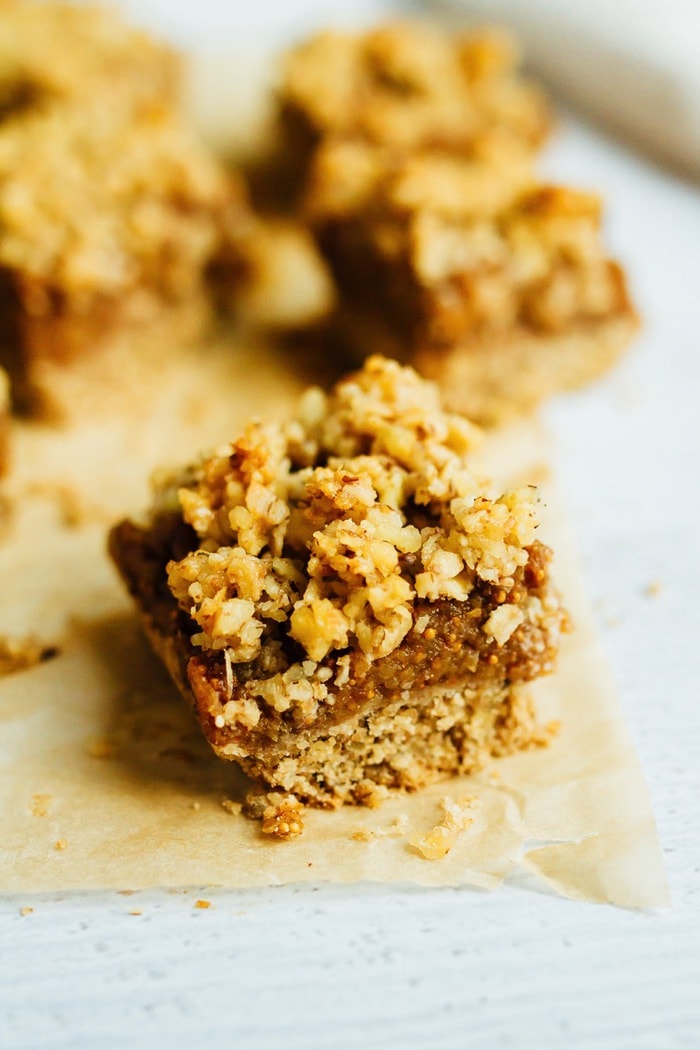 Okay so these fig jam crumble bars! If you like dried figs and crumbly goodness, you're going to be crazy about these. They're not over the top sweet so you won't go into a sugar coma after eating one and as an added bonus, they're gluten-free and vegan! I followed the recipe completely, but did use Smyrna dried figs over Mission because that's what I had on hand.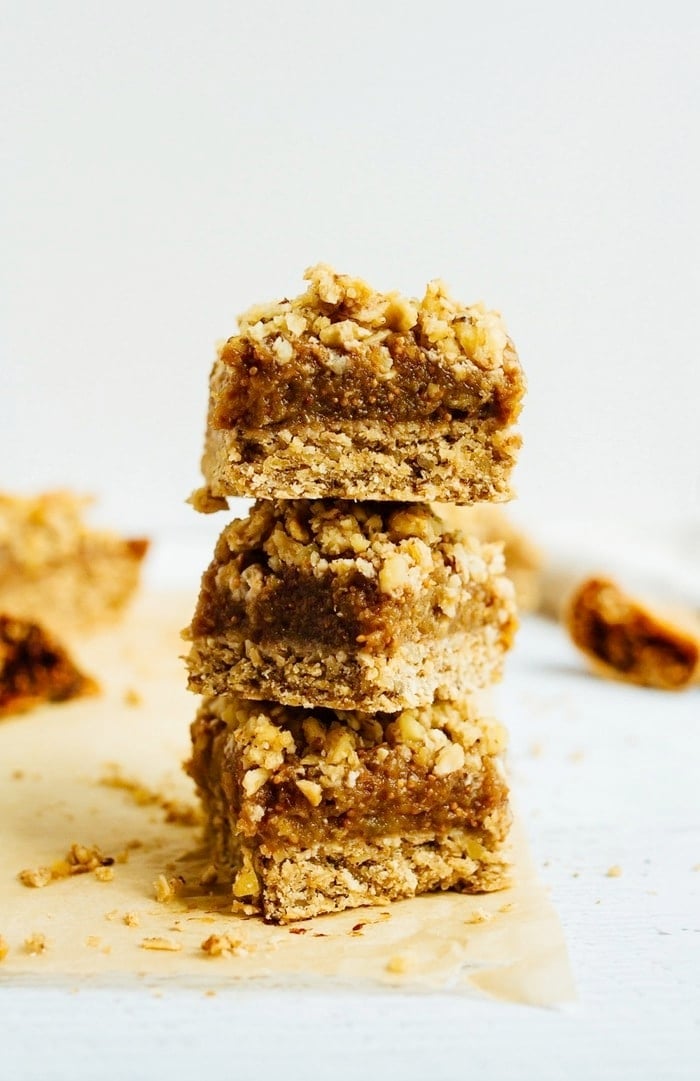 We enjoyed the fig jam crumble bars for breakfast one morning and I shared the rest with friends who came over for dinner and they were a big hit. I like them cold, straight from the fridge, but you can also serve them at room temp or reheat them before serving. If you're truly looking for a dessert experience, definitely heat them up and serve with some ice cream. You can't go wrong with figgy, crumbly goodness served à la mode.
Try These Popular Bar Recipes
Be sure to check out the full collection of dessert recipes here on EBF!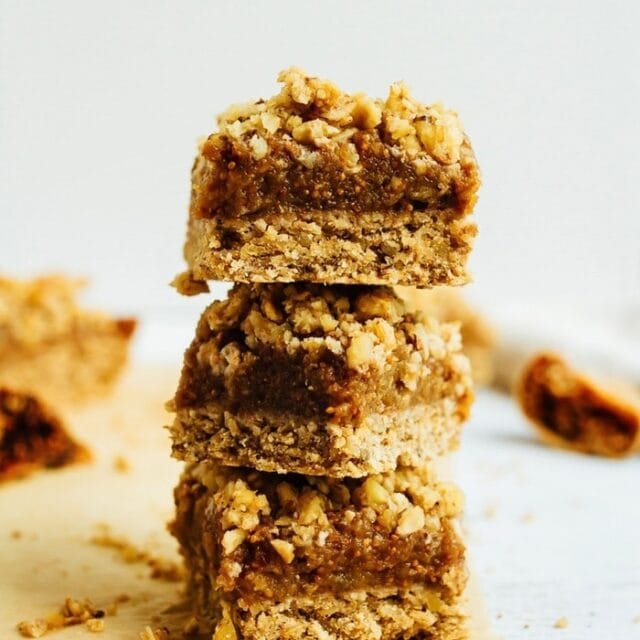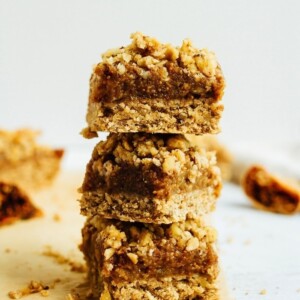 Fig Jam Crumble Bars
Recipe reprinted with permission from The Laura Lea Balanced Cookbook.
Instructions
Add figs to a bowl and cover with room temperature water. Soak 4 hours in the refrigerator, covered. Drain figs and pull off any stems. Preheat over to 350° F and line an 8 x 8-inch baking dish with parchment paper, make sure that the paper hangs over the edges an inch or two.

In a food processor, combine 1 1/2 cups rolled oats, 1 cup walnuts, 3 Tablespoons coconut oil, egg (or flaxseed egg), 4 teaspoons maple syrup, and sea salt. Process until mixture forms a dough and you can barely detect separate oat pieces (this will be sticky). Turn dough out into baking dish and pat firmly into an even layer. I dampen my fingers with water to help prevent sticking.

In food processor (no need to clean), add remaining 1/2 cup rolled oats, remaining 1/2 cup walnuts, remaining 1 Tablespoon coconut oil, and remaining 4 teaspoons maple syrup. Pulse several times until mixture forms a chunky crumble. Empty in a bowl and set aside.

Wash and dry food processor. Combine figs, dates, lemon juice, water, and vanilla extract. Process until mixture forms a thick paste. Wet a rubber spatula and spread paste on top of dough, in an even layer. Top with crumble; press crumble lightly into the paste.

Place dish on the middle rack and bake for 35 minutes. Remove from the oven and allow to cool 15 minutes before removing from baking dish. Cool another 10 to 15 minutes before slicing into shapes of choice.

Bars will keep tightly sealed on the countertop for 2 days, or in the refrigerator for 5 days. Allow to sit out 20 minutes after removing from the fridge before serving.
Nutrition
Serving:
1
bar
|
Calories:
101
kcal
|
Carbohydrates:
15
g
|
Protein:
2
g
|
Fat:
5
g
|
Saturated Fat:
3
g
|
Cholesterol:
12
mg
|
Sodium:
35
mg
|
Fiber:
2
g
|
Sugar:
8
g
Nutrition information is automatically calculated, so should only be used as an approximation.
Learn more about Laura Lea over at llbanaced.com and find The Laura Lea Balanced Cookbook on amazon.