I'm glad you all liked the Whole Foods Pantry Stock Up Contest post. How cool would it be if an EBF reader won one of the giveaways? I'll keep my fingers crossed. 🙂
As I mentioned, I've started experimenting with some of the recipes. It's been getting colder here in VA and I've been craving warm foods so I decided to give the Simple Black Bean Soup a try.
I tweaked the recipe a little based on what ingredients I had on hand and turned it into a crock-pot soup by throwing all the ingredients in the pot before going to bed. It was super simple and I loved waking up to the delicious aroma of smoky black beans. In addition, I had a piping pot of soup waiting for me when I came home for lunch. Can't beat that!
Print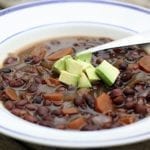 Easy Crock-Pot Black Bean Soup
Author:

Yield:

8 servings
---
---
Ingredients
1 pound dried black beans (about 2 1/2 cups), soaked and rinsed
1/2 Tablespoon coconut oil
1 large onion, chopped
4 carrots, chopped
4 cloves garlic, finely chopped
1 Tablespoon ground cumin
1 Tablespoon ground chili pepper
1 teaspoon cayenne pepper
1 teaspoon dried basil
1 teaspoon dried oregano
1 bay leaf
pinch of cinnamon
ground black pepper, to taste
8 cups vegetable broth
2 cups water
ripe avocado, chopped
---
Instructions
Soak the beans overnight or 6 to 8 hours prior to cooking. Drain and rinse.
In a pot, heat coconut oil over medium heat. Add onions, carrots and garlic and cook, stirring frequently, until onions are translucent and beginning to brown, about 10 minutes.
Place cooked mixture into the crock-pot and add all the other ingredients except the avocado. Stir to make sure everything is combined.
Cover and cook on high for 6-8 hours, until beans are tender.
This step is optional – you can either keep the beans whole or puree them using either a hand blender/traditional blender to your desired texture. Pureeing until pieces of the beans are still visible makes the soup thick but keeps a bit of the texture.
Spoon soup into bowls for serving and garnish with avocado.
---
Notes
**Make sure to plan ahead and allow time for soaking the beans.
I skipped the pureeing this time around so the soup in the photos is chunky with extra broth. The flavor is spot on and the hint of spiciness is perfect for a chilly winter day!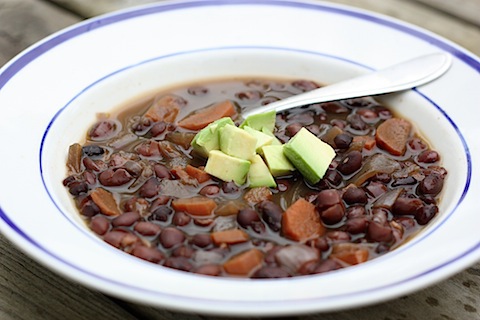 The best part – it is super easy to make and fits with my Stripped Challenge (a combo of the Eat Clean Stripped Diet and the nutrition plan from ToneItUp). Plus, it made a ton – both Isaac and I have been able to eat it for several meals this week!
After the success of this soup, I'm excited to try out some of the other WF's pantry stockup recipes. I think the zesty quinoa with broccoli and cashews will be next.
Have a lovely Thursday, friends.