Chia seed pudding with raspberries and cacao powder! Perfect for breakfast, dessert or as a snack.
Hi from the air. I'm sad to say that the honeymoon is coming to a close and Isaac and I will be back to reality this weekend. I have one last guest post to share with you all (it's a good one!) and then things will be back to normal around here.
I've mentioned Jodi's blog, What's Cooking Good Looking, and her amazing recipes before. I'm a huge fan and so pumped to have her here to guest post! I was even more excited when I saw that she's sharing a recipe for chia pudding. I'm a chia seed fanatic and love chia pudding but I've never tried a raspberry version so I'll definitely be testing out this recipe when I get home.
I am so excited to share one of my favorite recipes here today. There are so many reasons why chia seed pudding is one of my favorites. It is super versatile, you can eat it for breakfast, for dessert, or for a snack. You can make it in about 5 minutes without taking out any pots or pans because it's all made in one jar!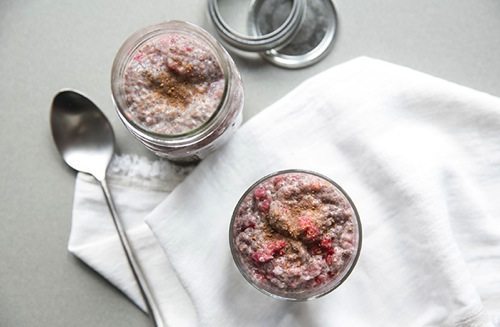 And because it is made in a jar, you can take this with you, to work, to a picnic, or maybe to surprise a friend! But my absolute favorite thing about chia seed pudding is that it is super healthy for you.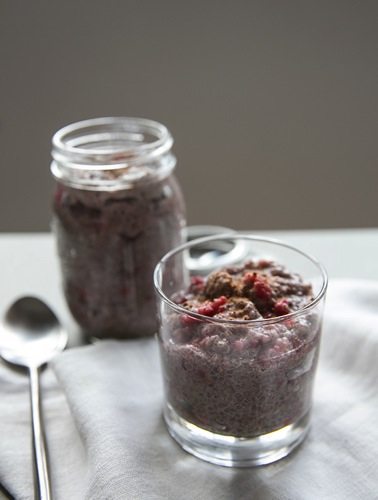 I'm sure you know that chia seeds are the new rage amongst super foods, and for good reason. They are a great source of omega3s, fiber, and antioxidants. When placed in liquid, chia seeds expand and become gel-like which makes for a really tastingpudding with no cooking involved. For this recipe I also used some cacao powder which gives the pudding a small hint of chocolate flavor and a big boost in antioxidants. Cacao powder, which is essentially chocolate in it's purest form, is very very good for you. Be sure you're using cacao power and not cocoa powder because cocoa powder is processed and does not contain the same health benefits.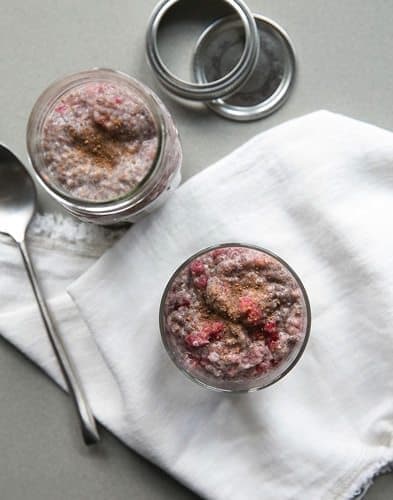 Feel free to change up this recipe any way you wish, adding more or less sweetener depending on your tastes, as well as experimenting with different fruit and flavor combinations. I used raspberries for this version, but feel free to use any kind of berry that you like. Local and in season is always best.
Enjoy:) Congratulations Brittany!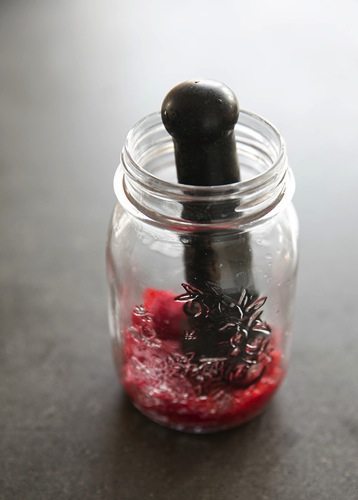 Print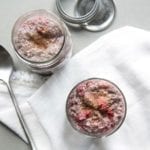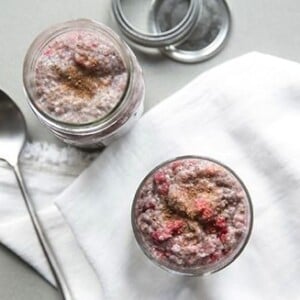 Raspberry Cacao Chia Seed Pudding
Author:

Yield:

1
---
Description
Chia seed pudding with raspberries and cacao powder! Perfect for breakfast, dessert or as a snack.
---
Ingredients
1/2 cup of berries (I used raspberries, but any berry will do)
1 tablespoon of cacao powder
1 tablespoon of maple syrup
2 teaspoons of vanilla extract
a large pinch of lemon zest
a pinch of salt
1/4 cup of chia seeds
1 1/2 cups of coconut milk, or rice or almond milk (unsweetened)
(optional) a pinch of cinnamon and/or nutmeg for the top when serving
---
Instructions
Start by muddling the berries in the bottom of the jar. Then add in the cacao, maple syrup, vanilla, lemon zest, salt, and chia seeds.
Pour in the milk and give it all a quick stir using a spoon.
Cover the jar and shake vigorously for a few secondly until the contents are well mixed. Place in the refrigerator for a few hours to allow the chia seeds to expand which will make the mixture thick and pudding-like.
You might want to take it out and stir or shake it about an hour after you placed it in the fridge just to be sure the ingredients haven't settled too much. Store the pudding in the fridge until your are ready to serve. It should be good for about 3-4 days (depending on the freshness of the berries you used).
---
Notes
I made this is one 16oz mason jar. If you do not have a mason jar handy, any 16oz jar (or larger) will do. Of course, if you want to skip the jar all together you can make this in a cup or a small bowl and cover with plastic wrap, and then instead of shaking the pudding (as directed below) you will just stir everything with a spoon.