Low carb and gluten-free cauliflower tabbouleh. It's fresh, flavorful and perfect for picnics and parties.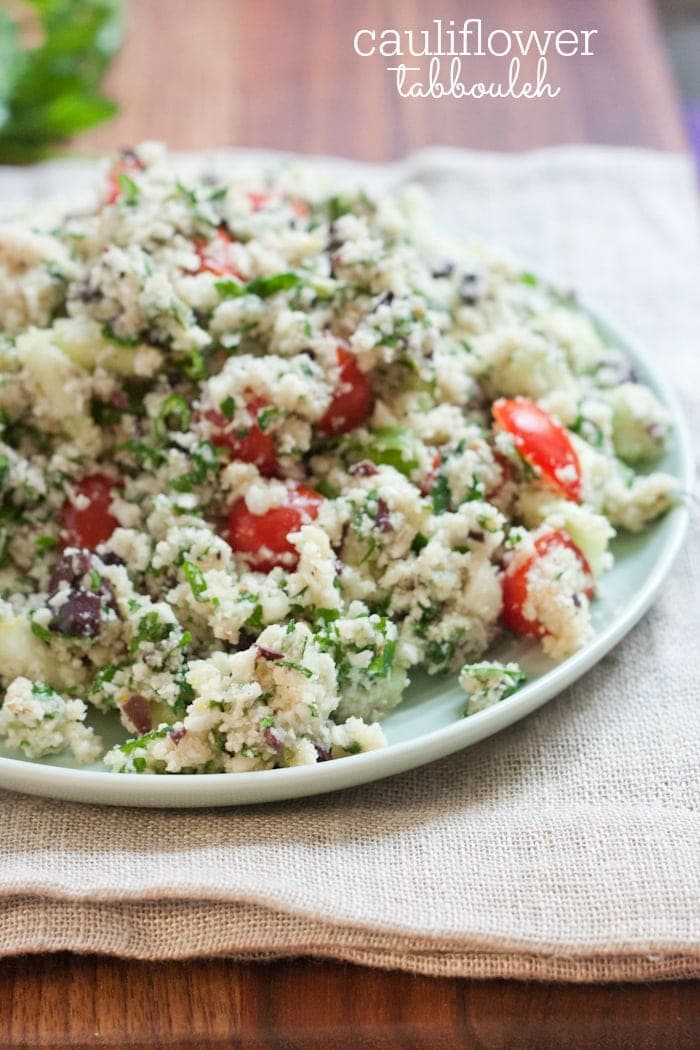 I've made traditional tabbouleh with bulgur wheat before. I've also made a quinoa tabbouleh that's quite delicious, but I think the cauliflower version is my absolute favorite. It's light, flavorful and packed with fresh veggies — perfect for serving during the spring and summer months.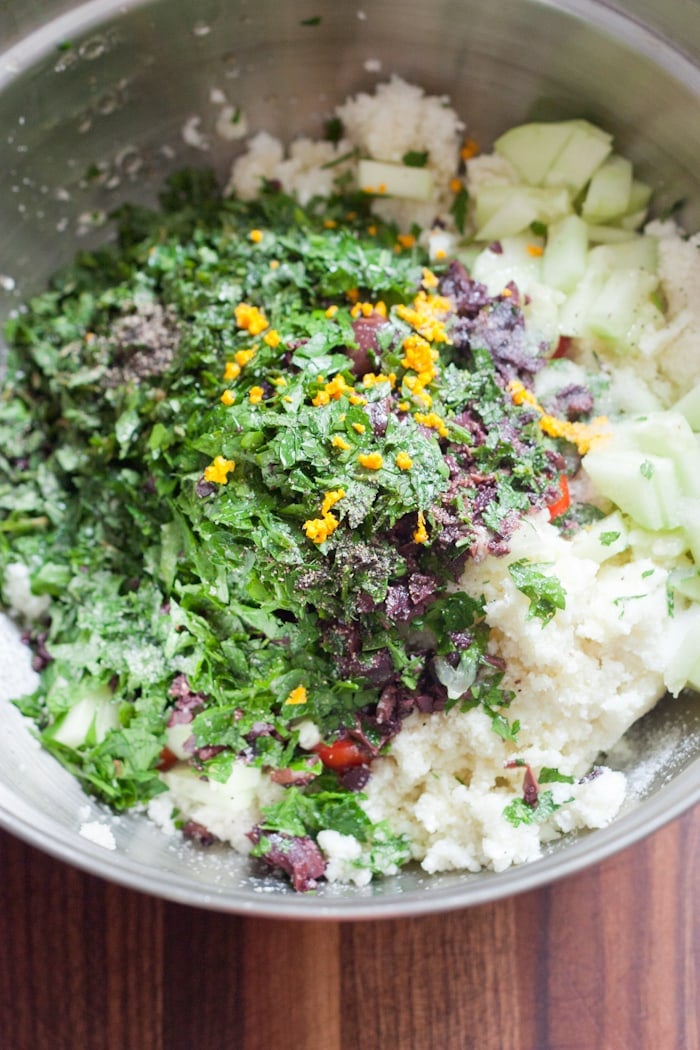 You can eat it on it's own for a light meal. Although, I'd probably add some chickpeas or black beans for a little more sustenance if I was going to do that. If you want to go the more traditional route you can serve it with pita, hummus and falafel. Yum.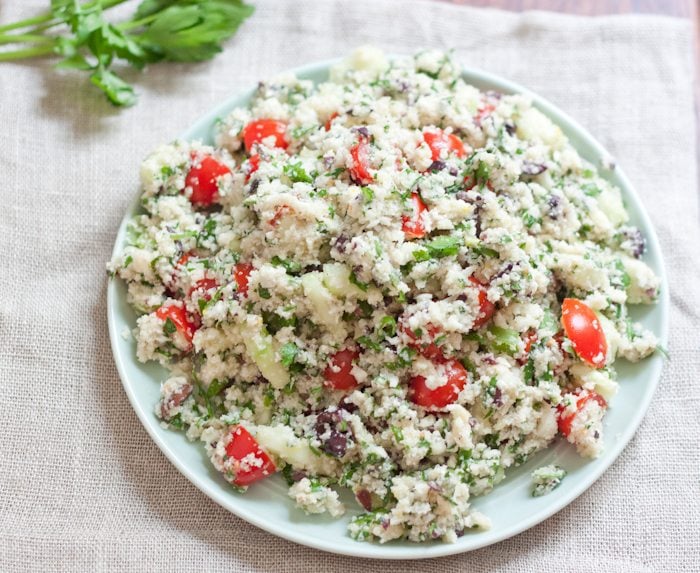 Oh man, that reminds me that it's been way too long since I've had falafel. That needs to be remedied soon — perhaps with these falafel tacos…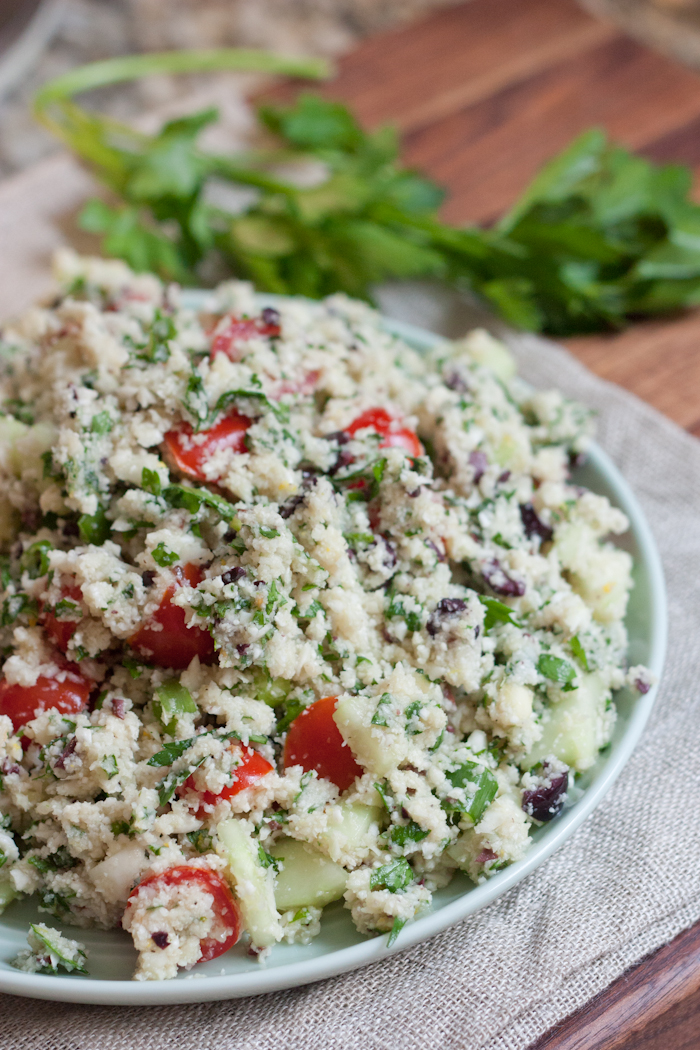 I brought this dish to a little get-together last weekend and everyone really liked it. So yeah, it's party tested as well! Just bring along some pita bread or pita chips for dipping if it's more of a finger food event. 🙂
6
adjust servings
Ingredients
1

medium-large head of cauliflower

1

cup fresh flat-leaf parsley leaves, chopped

1/2

cup packed fresh mint leaves, chopped

3

green onions, thinly sliced

1

cup cherry or grape tomatoes, quartered or halved (depending on size)

1

cup cucumber, peeled and chopped

1/2

cup kalamata olives, pitted and chopped

3

small cloves of garlic, minced

1/4

cup fresh lemon juice

1

teaspoon apple cider vinegar

3

tablespoons extra-virgin olive oil

1

teaspoon fresh grated turmeric (or 1/2 teaspoon ground turmeric)

1/2-1

teaspoon fine sea salt

1/4

teaspoon black pepper
Instructions
Cut the cauliflower to remove the stem and then chop into pieces small enough to fit into your food processor.
Place the cauliflower in food processor and pulse until the cauliflower pieces turn into "cauliflower rice." You may have to do this in batches, depending on how large your processor is. Remove cauliflower rice from the processor and place in a large bowl
Add parsley, mint, green onion and garlic into food processor to chop more finely, if desired.
Add parsley, mint, green onion and garlic into the bowl with the cauliflower rice. Add the remaining ingredients and toss to mix. Taste and add more salt or pepper if necessary.
Serve chilled or at room temperature. Store covered in the fridge for up to one week.