Cacao Nibs 101
3
Published Jan 07, 2023, Updated Sep 27, 2023
Learn everything you need to know about cacao nibs — from what they are and the health benefits to how to use and store them!
Chocolate lovers rejoice! Cacao nibs are a delicious and healthy way to get your chocolate fix in without any of the added sugars or processed additives that can be found in chocolate. They are considered a superfood and one of the best natural sources of antioxidants and other healthy nutrients.
I love adding them to desserts or smoothies (this banana cacao smoothie is so good!), for an additional boost of energy. Try to consume 1-2 tablespoons of cacao nibs per day to reap the benefits of this special superfood!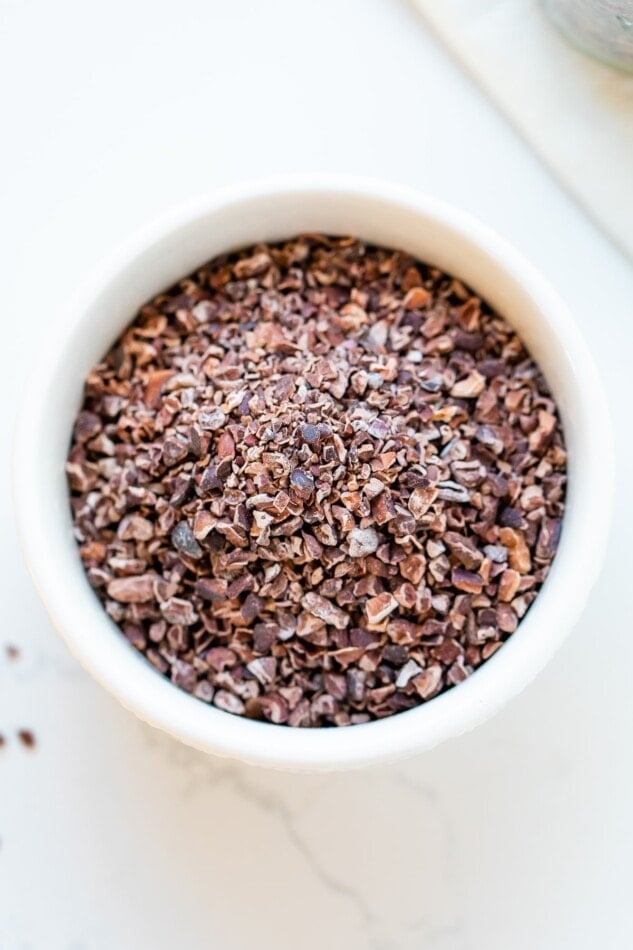 What Are Cacao Nibs?
Cacao (pronounced ka-kow) nibs come directly from the source! They are small, crushed up pieces of cacao beans. Cacao beans are the seed from the fruit of the Theobroma tree, also known as the cocoa or cacao trees, which are native to the Amazon region and grow in hot, humid climates close to the equator. Each seed pod contains 20-25 cocoa beans and the beans are typically fermented, dried, roasted and crushed into tiny pieces to create the cacao nibs. Some cacao nibs are roasted and others are not, which are called raw cacao nibs.
The exact origins of cacao trees are unknown. It is thought to have originated in the region between the Orinoco River and the Amazon River in Brazil or Venezuela. The earliest evidence of cacao use comes from pottery fragments found in the Puerto Escondido region of Honduras that date back to 1400 BC. Cacao use then spread to Central America and México, where the Aztecs and Mayans used it in religious ceremonies and even as a currency. 
What's the Difference Between Cacao Nibs and Chocolate?
Cacao nibs are not the same thing as the chocolate bars or chocolate chips we're used to – they have no sugar or milk in them. Chocolate is made by grinding up the cacao beans with sugar and cocoa butter, whereas cacao nibs are just broken-up bits of shell with nothing else added to them. Because they have no added sugar, cacao nibs have a bitter taste (similar to a dark chocolate taste.
Health Benefits
Cacao nibs might be small, but they sure do pack a nutritional punch! Here are some impressive health benefits of cacao nibs (source):
It's one of the richest sources of polyphenols antioxidants called flavonoids, which have potent antioxidant and anti-inflammatory effects.
The powerful antioxidants in cacao nibs may have anticancer properties.
Low in sugar. One ounce of cacao nibs contains only 1 gram of sugar.
Rich in many minerals, including iron, magnesium, phosphorus, zinc, potassium, manganese and copper.
Great source of fiber, protein and healthy fat.
Can help regulate blood sugar control.
Cocoa intake has been shown to improve blood flow.
Has been shown to reduce numerous heart disease risk factors, such as high blood pressure and cholesterol levels.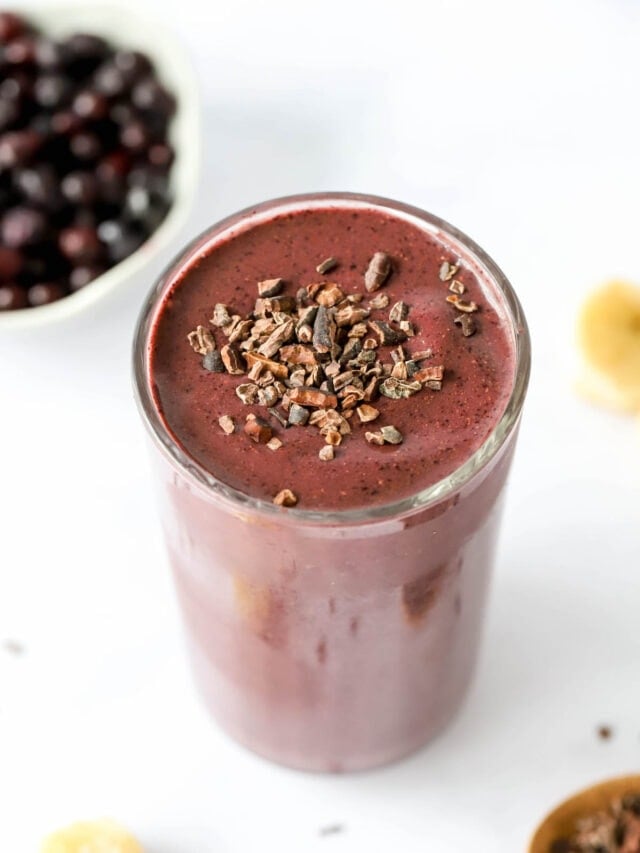 How to Use
Cacao nibs are the perfect way to add a chocolatey flavor to your favorite recipes! They can be used in baking, added to smoothies or yogurt bowls, or even eaten on their own as a healthy snack. Here are a few tips on how to incorporate cacao nibs into your diet:
Do Cacao Nibs Have Caffeine?
Though cacao isn't a high source of caffeine, cacao nibs do contain two alkaloids, theobromine and caffeine. There are about 10.4 milligrams of caffeine per 1 teaspoon serving.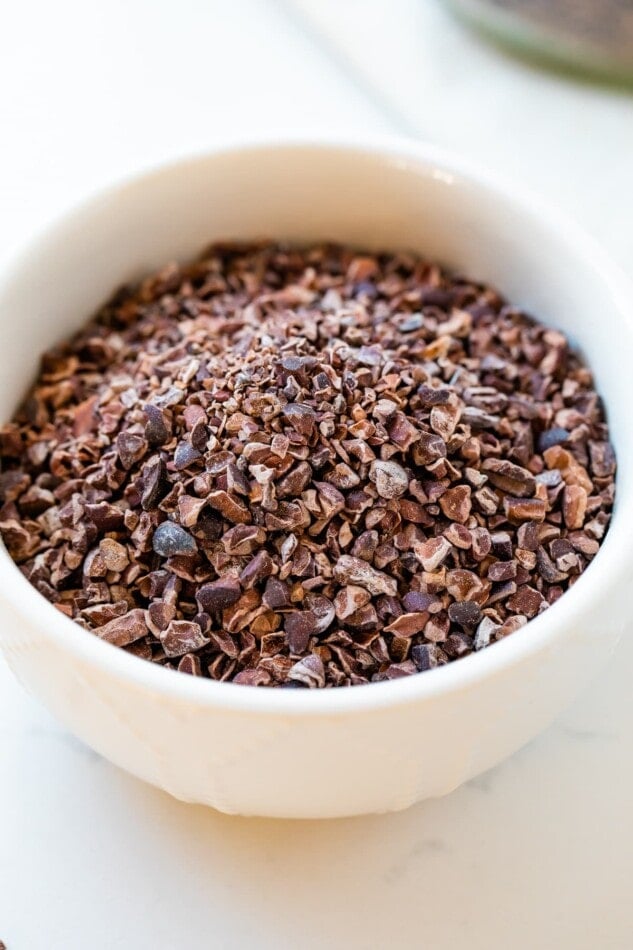 How to Buy and Store
When purchasing cacao nibs, look for a brand that uses high-quality beans and roasts them well. Avoid nibs that have been processed with chemicals or have artificial flavors added. You'll typically find cacao nibs in the baking aisle, superfood aisle, snack aisle or even a chocolate section. I like the Navitas unsweetened cacao nibs.
It is not recommended that cacao nibs be refrigerated or frozen as it can cause moisture build-up. You want to store cacao nibs in an airtight container in a cool, dark place. They will last for several months if stored properly.