Chocolate chip tahini cookies with tiny little super seeds that pack a nutritional punch! These crunchy cookies have lots of fiber, healthy fats and protein, plus they're vegan & gluten-free!
Okay guys, I'm going to come right out and say it. This might just be the best cookie recipe that has ever been posted here on EBF.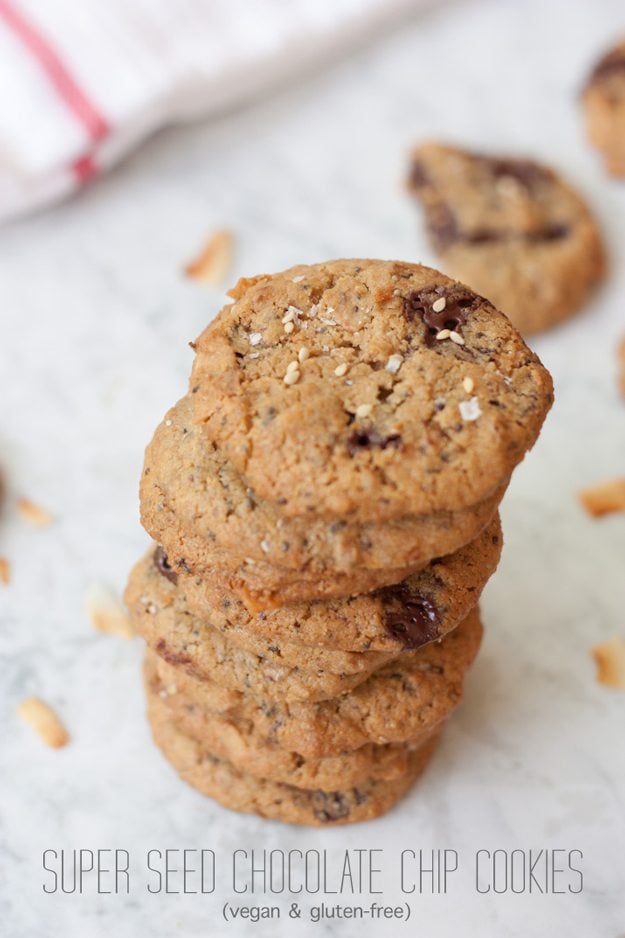 SEE HOW EASY IT IS TO MAKE THESE TAHINI COOKIES:
Well, to be fair, I'm not 100% sure on that because I don't think I can actually remember how every single cookie recipe I've ever posted here tastes, but I am 100% certain that these particular cookies are ridiculously good.
When it comes to baked goods I'm all about the crunch factor. I like a little crunch to my cookies and I absolutely LOVE it when muffins have crunchy muffin top edges. It's the best. Side note: We get these sweet potato chai muffins from our local coffee shop and they always have crunchy muffin top edges. Sadly, I still have yet to perfect the crunchy muffin top technique when baking muffins at home. If you're a baker and know the secret, please share. I NEED to know.
Sorry, that was a tangent. What I really meant to say is that these cookies have the best of both worlds — crunchy around the edges and chewy in the center. Perfection.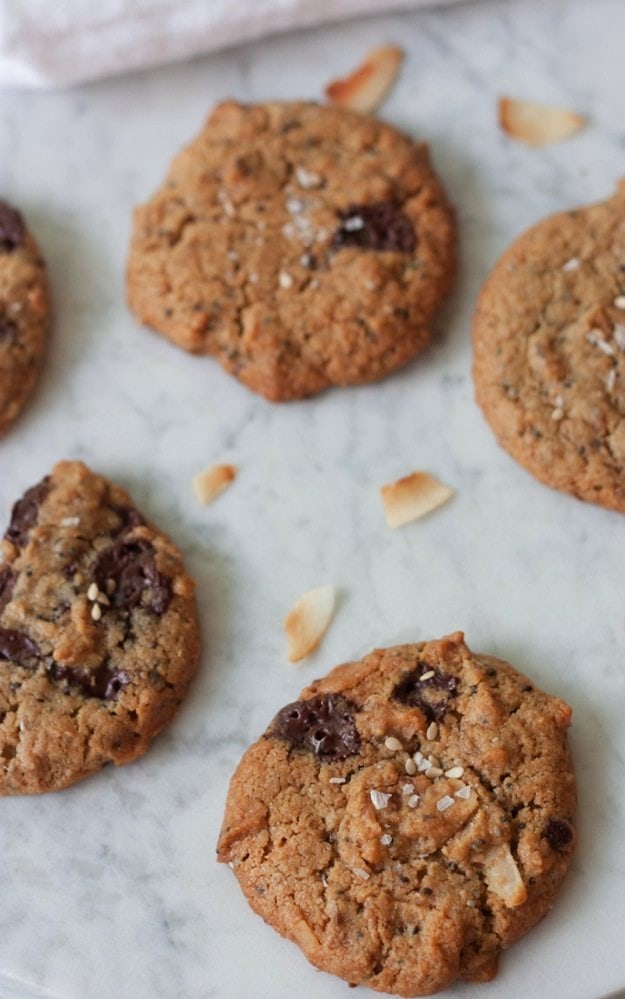 They're made with all wholesome ingredients (maple syrup, unsweetened coconut, dark chocolate) and they're a great option for folks with special dietary needs because they're gluten-free, nut-free, dairy-free and vegan. I've pretty much got all your bases covered.
To make up for the lack of gluten, nuts and dairy, the cookies are filled with seeds. I will say that this was a hard recipe to come up with a title for. Once it was decided that "Best Cookies Ever" wasn't descriptive enough, I tossed around the idea of naming them "Bird Food Cookies" or "Seedy Cookies."  Neither made it past the brainstorming session.
Bird Food Cookies would likely bring a lot of bird lovers googling how to make delicious little cookies for their birds here to EBF. I'm totally cool with that but I already get a lot people looking for bird related stuff and I don't want to confuse folks any further.
I almost went with Seedy Chocolate Chip Cookies but didn't want people thinking seedy like the sketchy guys you see selling cookies at festivals or Phish concerts.
I finally decided on Super Seed Chocolate Chip Cookies because the seeds included in the cookies are tiny little super seeds that pack a nutritional punch with lots of fiber, healthy fats and protein. The super seed line up = chia, flax, poppy and sesame.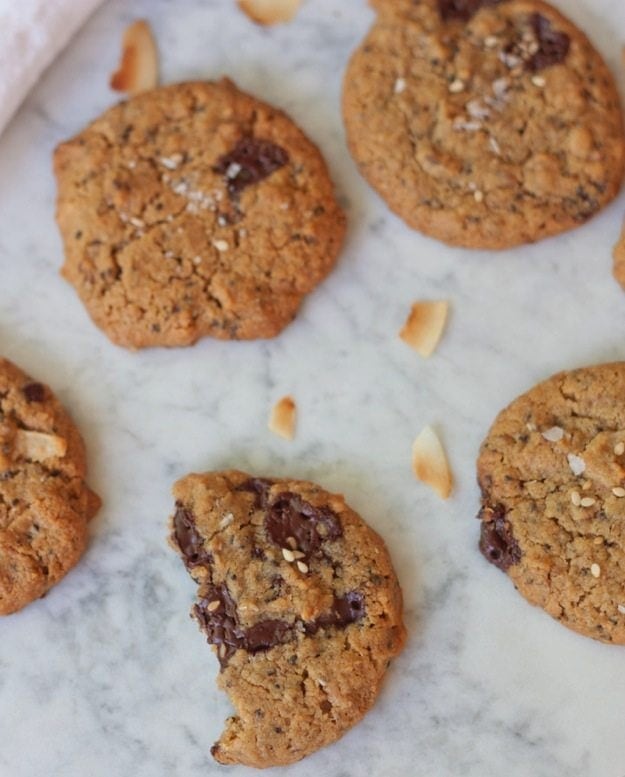 The best part of these tahini cookies? They're a cinch to whip up. There's no flour to measure and you only need one mixing bowl a.k.a. less dishes to wash. Score.
The one extra little thing that you have to do is toast your coconut. I know it's an additional step but you simply must do it. The coconut gets brown, a little crunchy and it adds a nice roasty and toasty flavor to the cookies. Totally worth the 1-3 minutes it will take.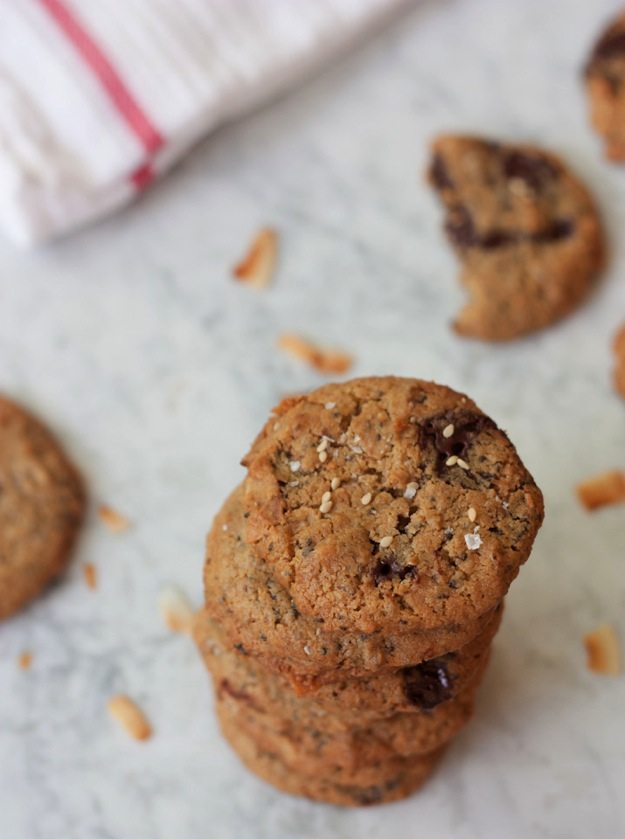 I'm posting these today so that you can make them right away. You'll have plenty of time on your hands since it's a long weekend AND they're the perfect dessert recipe for a cookout. Or not — depending on how many cookie lovers you have in the house.
I say this because I've already made two batches. We ate the first batch in a matter of two days. Oops.
I'm hoping the second batch lasts because I want to impress our neighbors share them with our neighbors at our neighborhood block party this weekend. 😉 I have the tahini cookies hidden in the freezer so I think that will help. Although, I'm not sure it will because they actually taste really good cold, straight from the freezer. Don't ask how I know this — I just do.
Print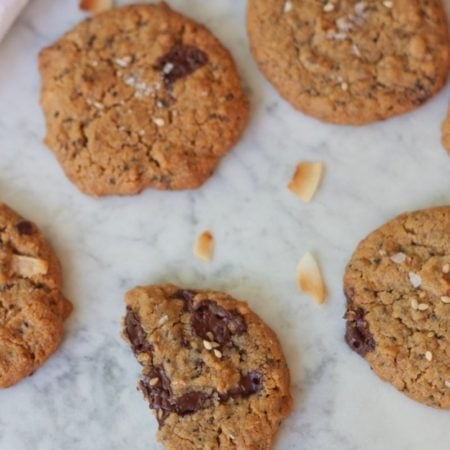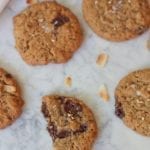 Tahini Chocolate Chip Cookies
Author:

Brittany Mullins
Prep Time:

15 minutes

Cook Time:

20 minutes

Total Time:

35 minutes

Yield:

22

1

x
Category:

Dessert

Method:

Bake

Cuisine:

Desserts
---
Description
Super seed tahini cookies with tiny little super seeds that pack a nutritional punch! These crunchy cookies have lots of fiber, healthy fats and protein, plus they're vegan & gluten-free!
---
Scale
Ingredients
1 cup

tahini

1/2 cup

100% pure maple syrup

1 tablespoon

ground flaxseed mixed with 3 Tablespoons water (or

1

egg)

1 tablespoon

chia seeds

1/2 teaspoon

poppy seeds (optional)

½ teaspoon

cinnamon

½ teaspoon

sea salt

½ teaspoon

baking soda

1/2 teaspoon

vanilla extract

1/4 cup

unsweetened coconut flakes (optional)

1/4 cup

chopped dark chocolate or dark chocolate chips

1

–

3

Tablespoons coconut flour
flaked sea salt and sesame seeds, for topping (optional)
---
Instructions
Preheat oven to 350°F and line a baking sheet with parchment paper or use a well seasoned baking stone.
Combine ground flaxseed with water in a small bowl and set aside for 5-10 minutes or until thick and gelatinous.
Preheat a sauté pan to medium heat. Add coconut flakes and stir constantly until they turn a golden color (this will take about 1-3 minutes). Remove the coconut flakes from the pan and allow to cool. This step is optional.
Once the flaxseed mixture has setup, use a medium size mixing bowl to combine tahini, maple syrup, flaxseed mixture, chia seeds, poppy seeds (if using), cinnamon, sea salt, baking soda and vanilla. Stir together until everything is incorporated.
Fold in toasted coconut flakes (if using) and dark chocolate chips.
If you're tahini is thin, the batter might be really runny at this point. If this is the case, you can add the coconut flour. Start with one tablespoon and add more until the batter isn't runny. I used 3 Tablespoons.
Scoop out the cookie batter using a cooking scoop or Tablespoon and place on baking sheet giving about 11/2 inches between each cookie.
Bake for 20-22 minutes or until golden brown around the edges.
Remove from oven to cool. Sprinkle a few sea salt flakes and sesame seeds (if using) on top of each cookie and then allow the cookies to cool on the pan at least 15 minutes before touching or removing. Enjoy right away or store in an air-tight container.
---
Nutrition
Serving Size:

1 cookie

Calories:

117

Sugar:

6g

Fat:

8g

Carbohydrates:

8g

Fiber:

1g

Protein:

2g