How to Make a Mason Jar Salad
65
Published Aug 26, 2022, Updated Sep 27, 2023
Here's the best way to make mason jar salads. They're quick and easy and perfect for meal prep. Plus, you don't have to worry about your lettuce getting soggy or bringing a separate container for dressing!
I've already shared multiple mason jar salad recipes on the blog like this chicken avocado club salad and this beet power salad, but I wanted to share an actual 'how to' resource for building salads in a jar! They're so fun to make and great for taking on the go. Any salad can be prepped in a mason jar – have fun with creating your own but use this guide to make sure you keep your salad nice and fresh!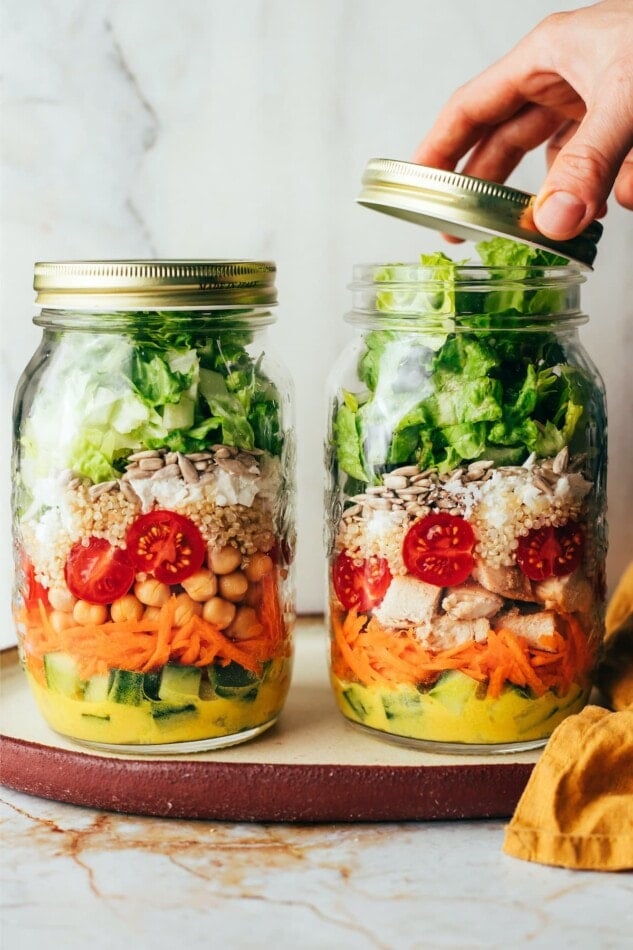 Why You'll Love Mason Jar Salads
They're perfect for meal prep! Prep a big batch of salad over the weekend, store them in five separate mason jars and you'll have a salad for each day of the week!
They're perfect for a convenient, grab-and-go meal option.
The flavor combos are endless so you'll never get bored!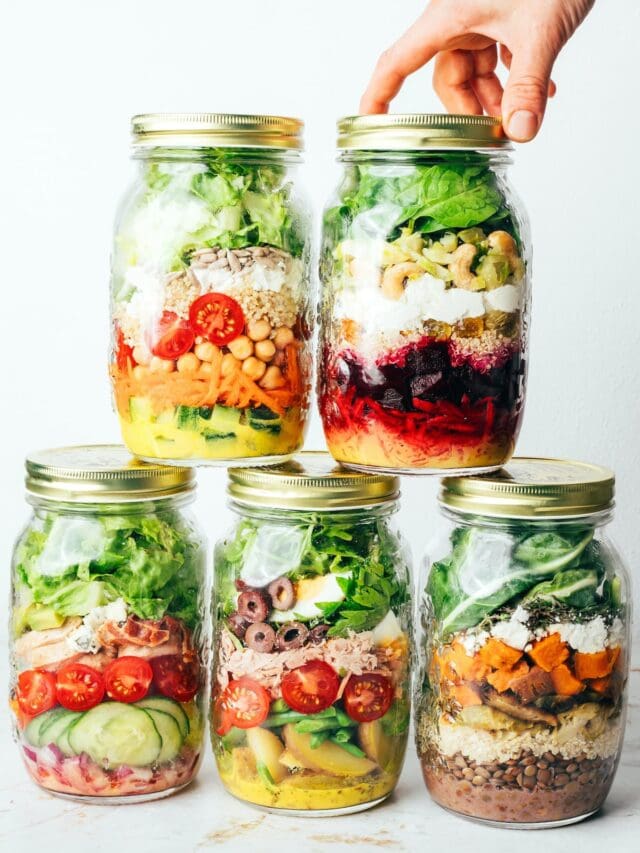 What Are Mason Jar Salads?
Mason jar salads are exactly how they sound – a salad in a mason jar! They are great for meal prepping and make for an awesome portable lunch or dinner option throughout the week. They can be customized to your liking, but they usually consist of four main ingredients: leafy greens, vegetables, protein and a dressing. Other additions can include grains, seeds, nuts, fruit, cheese, etc.
The main component of a mason jar salad is layering the ingredients vertically in a certain order so they don't get soggy. The dressing goes at the bottom, followed by crunchy vegetables, protein, softer veggies, grains, cheese, nuts and lettuce at the top.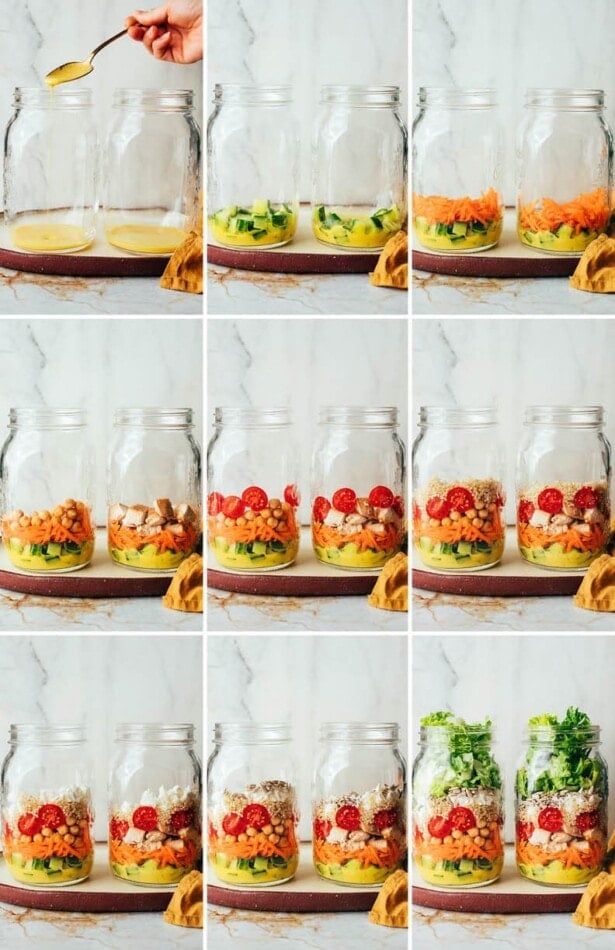 How to Make The Perfect Mason Jar Salad
Start by putting 2 Tablespoons of dressing into the bottom of the jar.

Add items that will respond well to marinating in the dressing:

cucumbers

squash

mushrooms

carrots

beets

onions
celery
cabbage

Add your protein:

chicken breast

chickpeas

black beans
tofu
tempeh
canned tuna
shrimp
hard boiled eggs

Add remaining veggies:

cherry tomatoes
red bell pepper
broccoli
broccoli slaw

Add grains:

Add

remaining ingredients

:

cheese (feta cheese, cheddar cheese, fresh mozzarella, etc.)

nuts

fruit

avocado sprinkled with lemon juice to prevent browning

Add greens:

spring mix
romaine lettuce
baby spinach
kale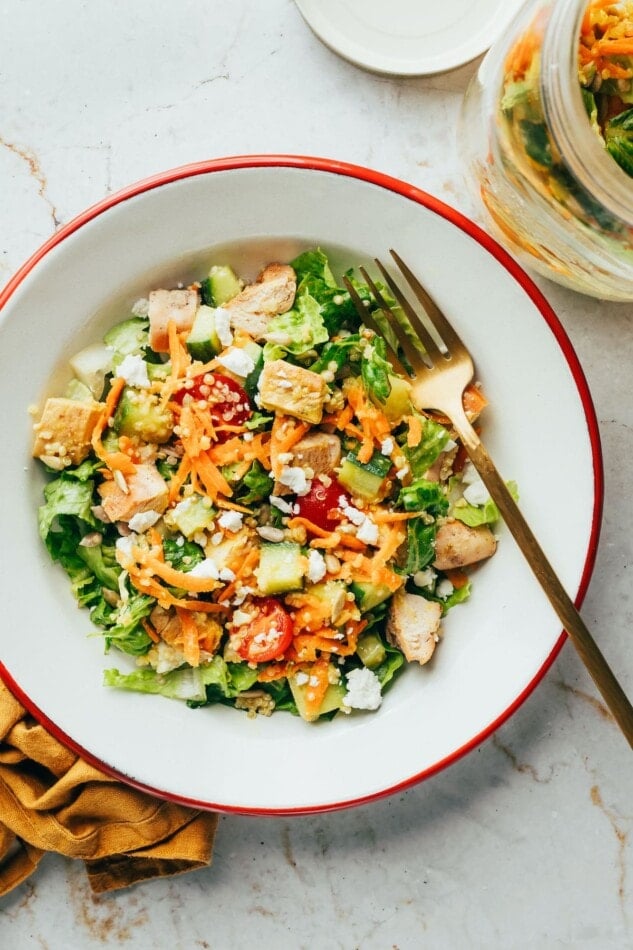 Pro Tips
The dressing goes at the bottom of the jar. Make sure you add your dressing to the bottom of the jar first! The ingredients you add next will be touching/soaking in the dressing so they should be hearty veggies that will do well marinating so they don't get soggy.
Use wide-mouth jars. It's much easier to get the ingredients in and out of the jars with a wide mouth. I like the wide-mouth quart Ball jars for meal-sized salads, but the wide-mouth pint jars work for smaller side salads.
Go for pre-cooked and pre-chopped for a shortcut. If you're looking to save some time when prepping these salads, you can easily grab store-bought dressing, pre-chopped veggies, pre-cooked grains and rotisserie chicken (if using chicken) at the store. Then all you have to do is layer your ingredients in the mason jars and store. Easy peasy!
Leave a little room at the top. You want to leave a little room at the top of the jar so you can shake it up right before serving. It helps make sure all parts of the salad have some dressing.
Have fun! Feel free to experiment with different dressings, veggies, protein, and toppings!
Pour the salad into a bowl to eat. You can totally eat the salad out of the jar, but they are a little deep for forks so I like pouring the salad into a bowl.
Store

these salads upright in the fridge.

If they're stored on their side or tipped over, the dressing will leak up to the top and may cause your greens to get soggy

.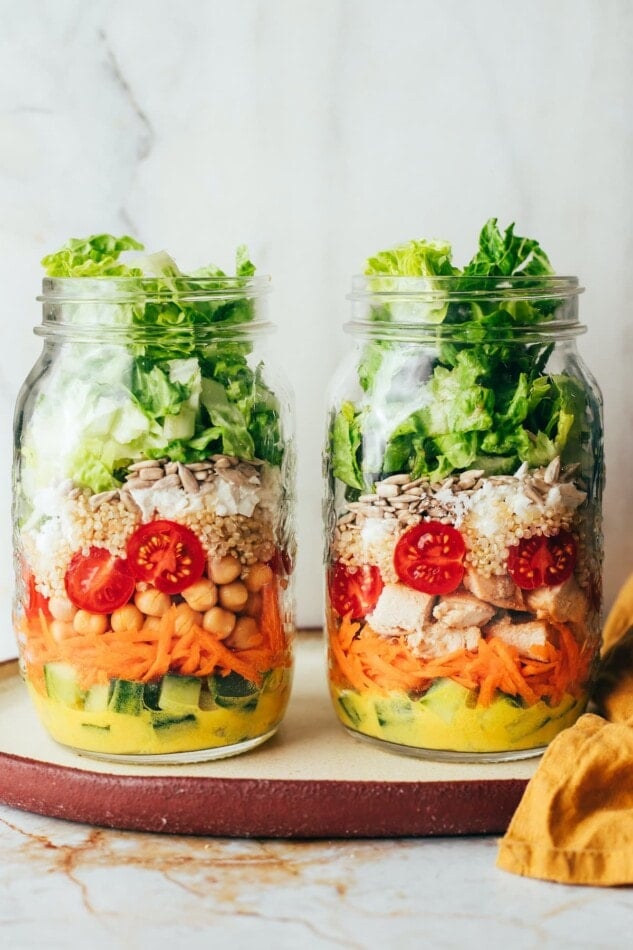 How to Meal Prep
The reason why I love mason jar salads so much is because they are the perfect meal prep recipe. The two versions I'm sharing below make 1 serving, but you can easily double, triple or quadruple the recipe so you can make multiple jars to have on hand for lunches or dinners throughout the week.
Typically if I'm planning to eat my salad within 1-3 days I'll add the protein/cheese in the jar, but if I'm preparing salads for the week I'll usually add my protein option (especially chicken or tuna) to the top of the jar the day of. I treat avocado the same way and prefer to add that right before serving to prevent browning. If I do add avocado slices to the jar in advance I like sprinkling them with lemon or lime juice to help prevent browning.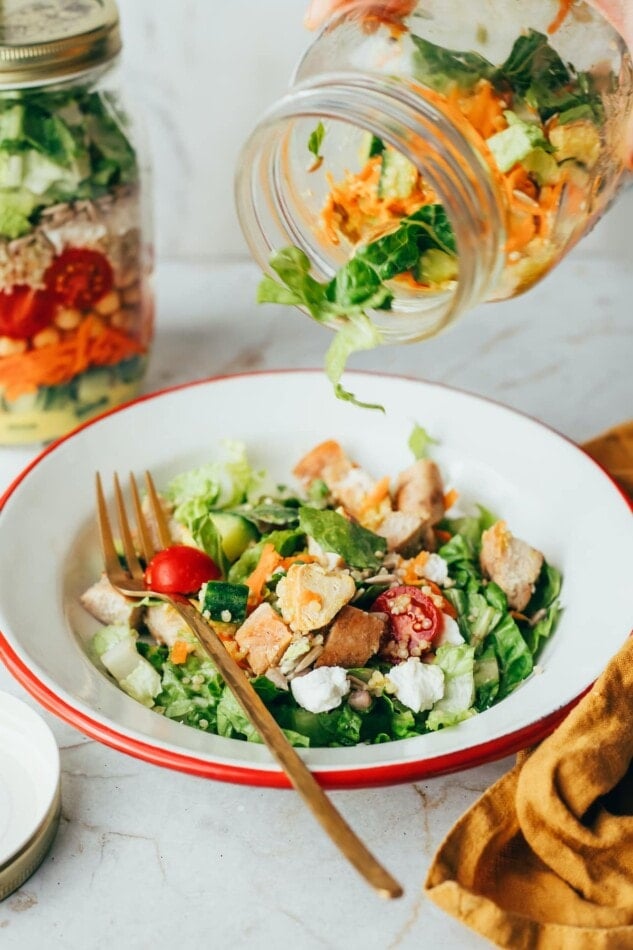 Storing and Serving
Storing: You can keep these salads in the fridge until you're ready to enjoy. Most salads will keep for about 5 days depending on what protein you're using. I only prefer to go 1-3 days when I'm using something like grilled chicken, fish or steak. Just make sure to store your jars upright in the fridge, so the dressing doesn't leak up to the lettuce, otherwise it might get soggy.
Serving: The fun part comes when you're ready to eat because you get to shake the jar to distribute the dressing. I don't know why, but this is my favorite part! Once shaken, remove the mason jar lid, pour the salad into a big plate or bowl and enjoy. If for some reason you find yourself without a serving dish you can eat the salad straight from the jar but unless you have an extra-long fork, it's kind of difficult. I speak from experience, haha!
More Mason Jar Salad Recipes to Try
Be sure to check out more mason jar salad recipes as well as all of the salad recipes on EBF!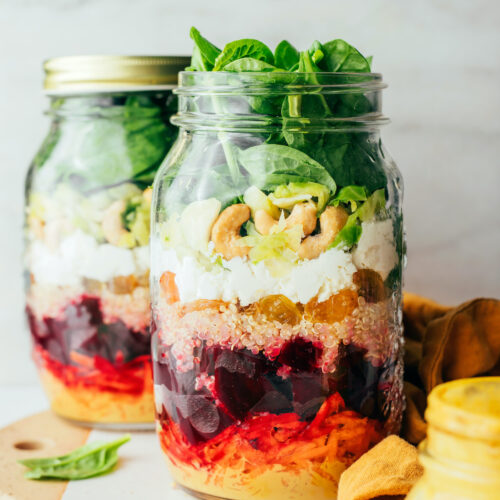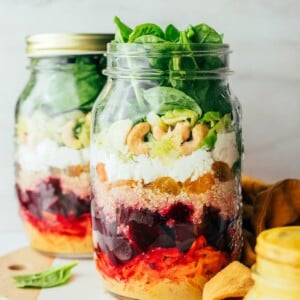 How to Make Mason Jar Salads
Here's the best way to make mason jar salads. They're quick and easy and perfect for meal prep. Plus, you don't have to worry about your lettuce getting soggy or bringing a separate container for dressing!
Ingredients
Jar 1
3

Tablespoons

Apple cider vinegar dressing

¼

cup

chopped cucumbers

¼

cup

shredded carrots

⅓

cup

chickpeas

¼

cup

chopped cherry tomatoes

¼

cup

cooked quinoa

¼

cup

feta

,

or vegan feta cheese

2-3

Tablespoons

roasted sunflower seeds

1-2

cups

romaine lettuce
Instructions
Add 3 Tablespoons of dressing into a large, wide-mouth mason jar, then start layering ingredients in this order: cucumbers, carrots, chickpeas (or chicken), tomatoes, quinoa, feta, sunflower seeds and lettuce.

Place lid on jars and keep in fridge until ready to serve.

When ready to enjoy, shake jar and pour into a serving bowl.
Nutrition
Serving:
1
jar (jar 1)
|
Calories:
532
kcal
|
Carbohydrates:
39
g
|
Protein:
18
g
|
Fat:
37
g
|
Saturated Fat:
3
g
|
Polyunsaturated Fat:
22
g
|
Monounsaturated Fat:
2
g
|
Sodium:
481
mg
|
Potassium:
728
mg
|
Fiber:
10
g
|
Sugar:
7
g
Nutrition information is automatically calculated, so should only be used as an approximation.