Air Fryer Butternut Squash
0
Published Nov 02, 2023, Updated Nov 14, 2023
Air fryer butternut squash cooks up in just 15 minutes and results in tender, delicious squash every time. It's the perfect quick and easy healthy side dish for any meal.
I've had an abundance of butternut squash this season thanks to my father-in-law's garden and my go-to recipe that's been on repeat has been this air fryer butternut squash recipe.
The squash cooks up in just 15 minutes (which is less than half the time it takes to cook in the oven) and is perfectly tender and golden. I've been known to eat a whole plate by myself! It's so good!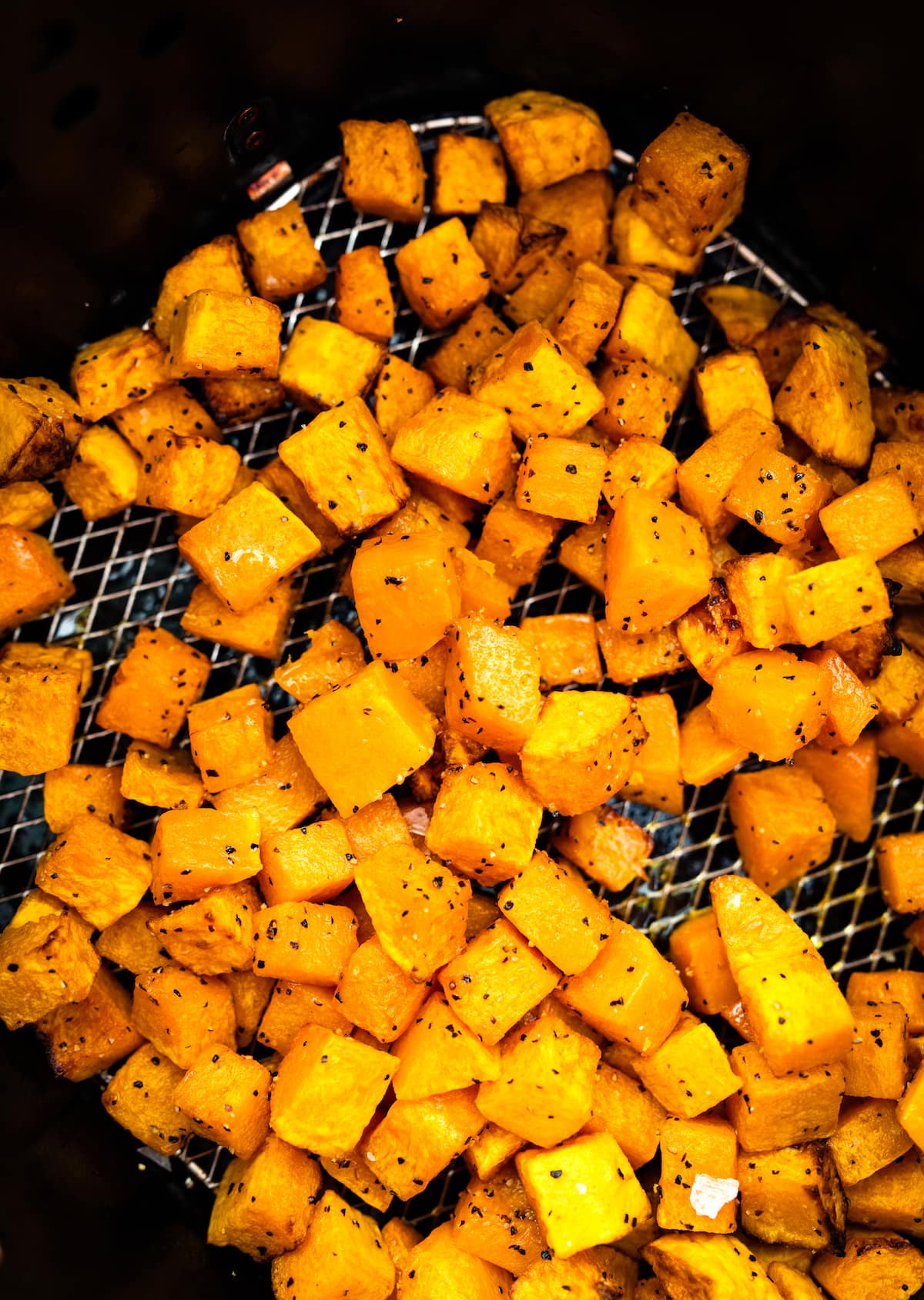 Why You'll Love This Recipe
Quick & Easy – This recipe cooks up in just 15 minutes, which is less than half the time it takes to cook butternut squash in the oven.
Healthy – Butternut squash is a powerhouse vegetable! It's low in calories but high in antioxidants, fiber and a variety of vitamins and minerals like vitamin A, vitamin C, magnesium and potassium.
Versatile – There are endless options for serving this squash. Enjoy it on its own as a snack, served alongside your favorite protein or added to a salad or grain bowl.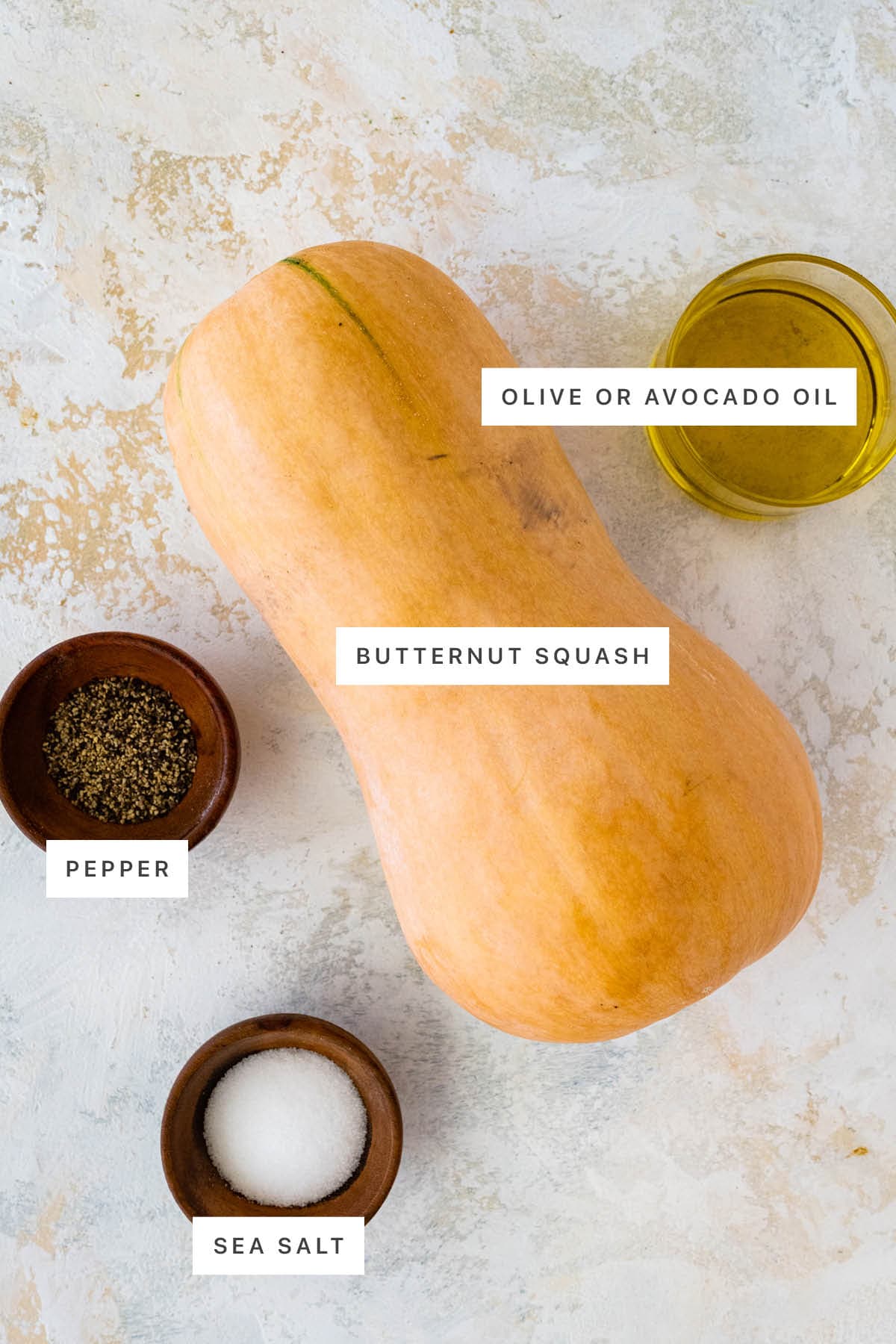 Ingredients Needed
butternut squash – you'll need one medium-sized butternut squash for this recipe. You can usually find butternut squash year round but it's in season in the fall and winter months. Look for a squash that is heavy for its size, has smooth, firm skin without many cuts or bruising. The bigger the base of the squash, the more seeds there will be.
olive oil or avocado oil – helps get your squash cubes nice and crispy. I used olive oil, but avocado oil works just as well.
sea salt and black pepper – we're keeping things simple with just salt and pepper. These will enhance the squash's natural flavors.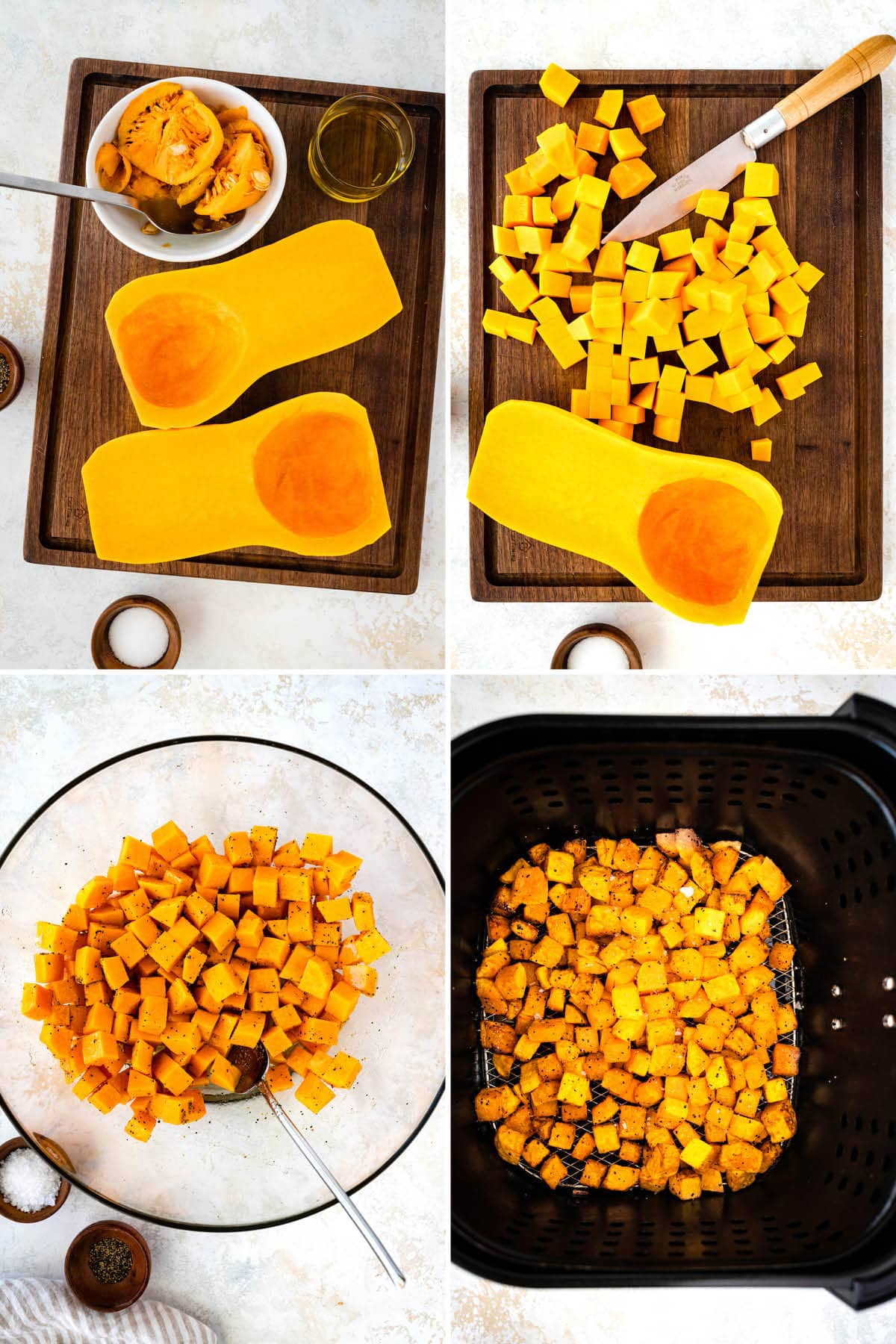 How to Make
Prep: Start by peeling your butternut squash using a vegetable peeler. Once peeled, slice it in half lengthwise with a sharp knife and use a spoon to scrape out all the seeds.
Chop: For even cooking, cut your squash into roughly 1-inch cubes. This ensures every piece reaches the perfect level of doneness.
Season: Place the cubed squash in a large bowl. Drizzle with your choice of oil, then sprinkle with sea salt and pepper. Toss everything well, making sure each cube is lightly coated in oil and seasoning.
Air Fry: Transfer the seasoned squash to your air fryer basket. Don't overcrowd! Depending on the air fryer's size, you may need to work in batches. Set the temperature to 390°F and cook for about 15 minutes. To achieve an even golden color and crispness, give them a quick toss every 5 minutes.
Test Doneness: After 15 minutes, do a quick test. The cubes should be golden and slightly crisp on the outside and tender on the inside. If not, you can add a few more minutes to get your desired texture.
Serve: Once done, transfer the butternut squash to a serving bowl. If you wish, sprinkle a bit more sea salt on top while they're still hot. Serve immediately and enjoy.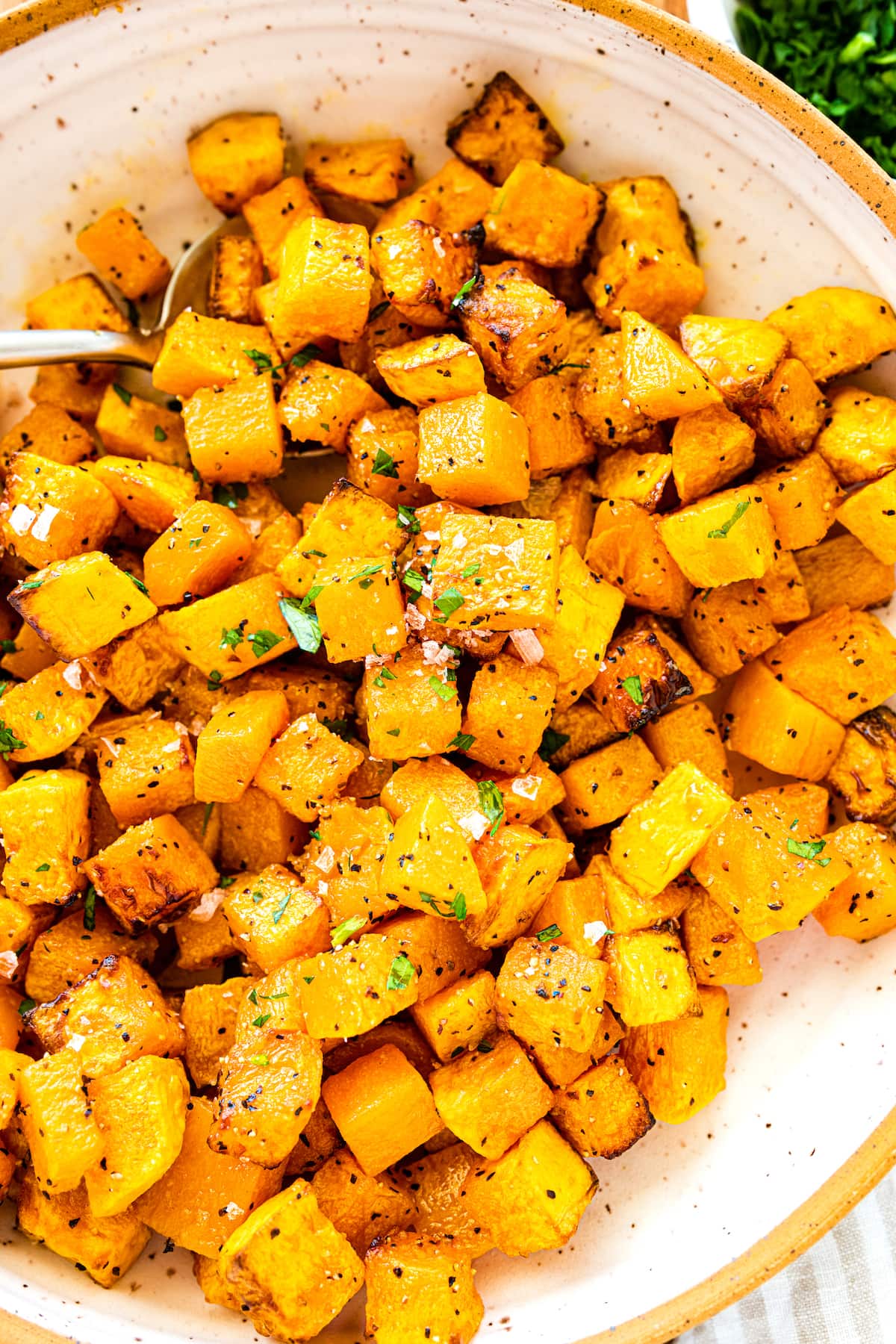 Variations
Salt and pepper aren't your only options for this butternut squash dish! Here are some other ideas you could try:
Additional seasonings – Add some garlic powder, onion powder, paprika, chili powder or dried herbs before air frying. It's a great way to introduce a new flavor!
Add fresh herbs – Toss in some fresh herbs like rosemary, oregano, sage, or thyme right after the squash comes out of the air fryer for some nice freshness.
Spicy – For some heat add a dash of cayenne pepper or red chili flakes.
Sweet – For a sweet version, toss the cooked butternut squash cubes with a mixture of cinnamon and a splash of maple syrup or brown sugar. Avoid adding the syrup before air frying to prevent burning.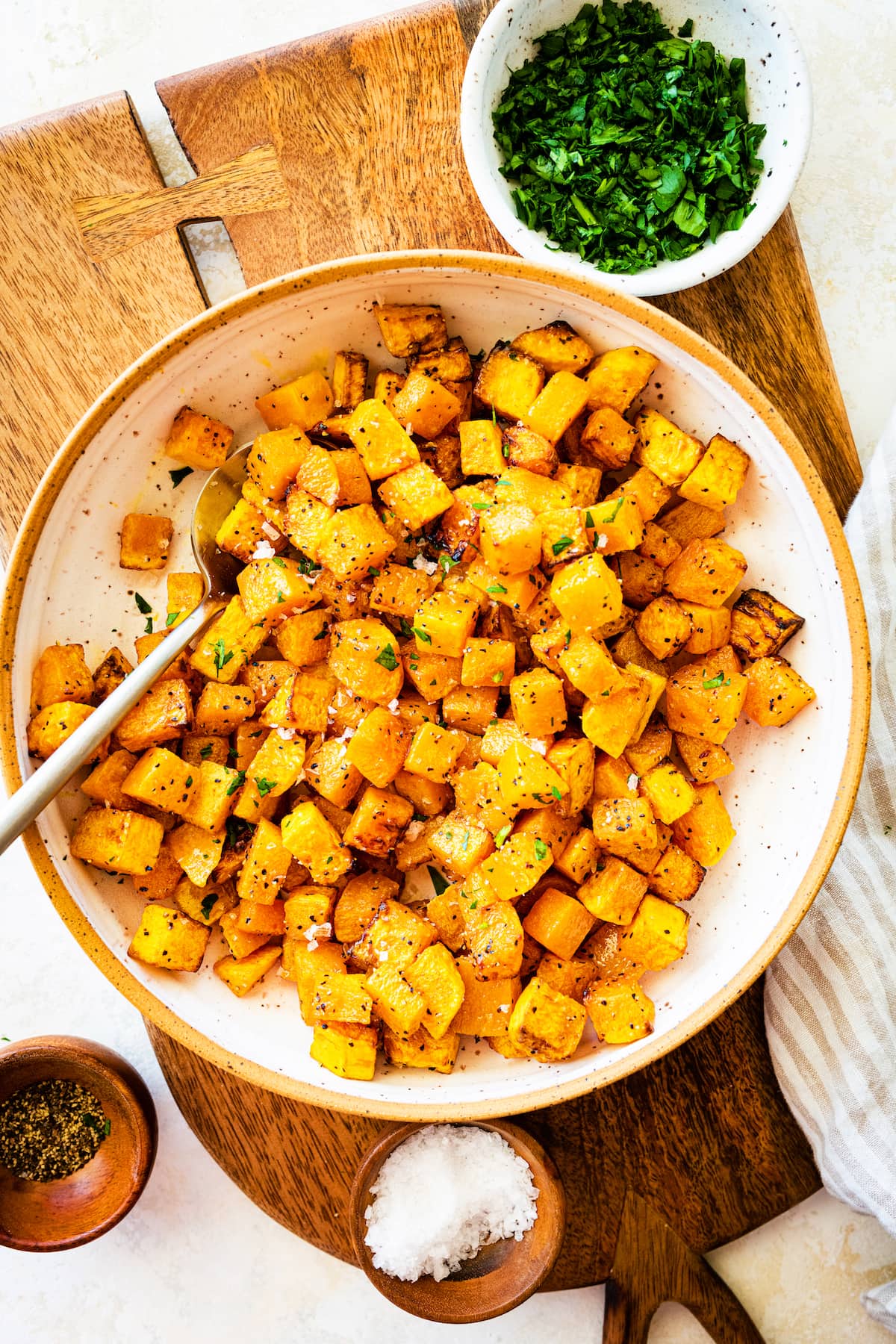 Serving Suggestions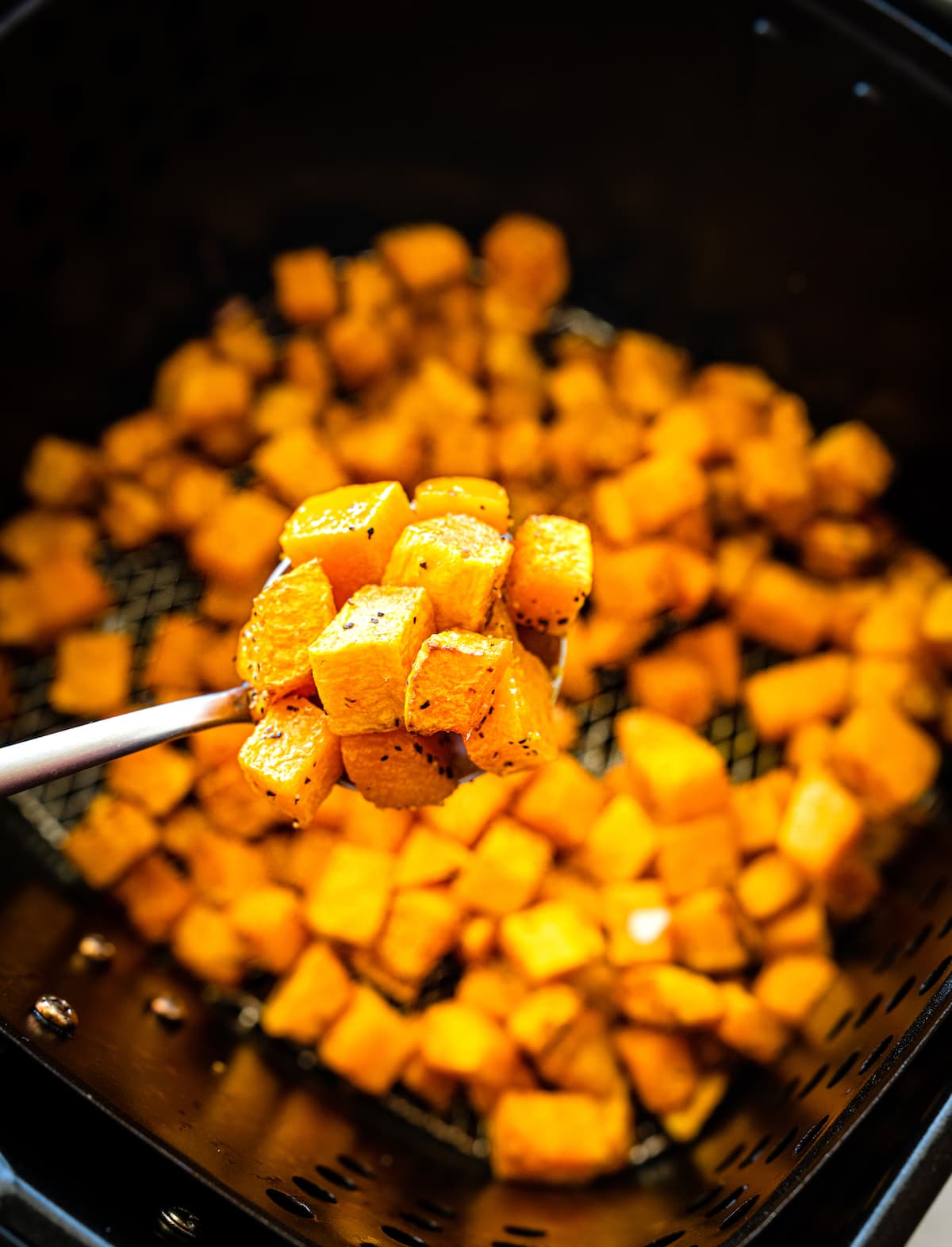 How to Peel and Chop Butternut Squash
If you've never cooked with butternut squash before, prepping is the hardest part! While it is technically edible, butternut squash's skin is pretty tough so it's typically recommended that you peel it before roasting.
Here are my tips to make the peeling and chopping process less daunting.
Step 1: Using a vegetable peeler or knife, carefully peel the skin, getting as close to the end of the squash as possible. When peeling, stop when you get to the orange flesh, it's usually only one layer.
Step 2: After peeling, cut the top and bottom of the squash and then cut the squash in half widthwise and lengthwise so the squash is quartered.
Another option is to leave the neck of the squash whole and cut it into rounds, then stack up the round and cut them crosswise (twice) to create cubes.
Step 3: Use a spoon to scrape the seeds (and gunk) out of each half. Discard the seeds or save and roast them up for a snack. At this point you're ready to chop the squash into cubes. I like to do 1/2-1 inch thick cubes. I try to cut them as even as possible so that they all finish cooking around the same time.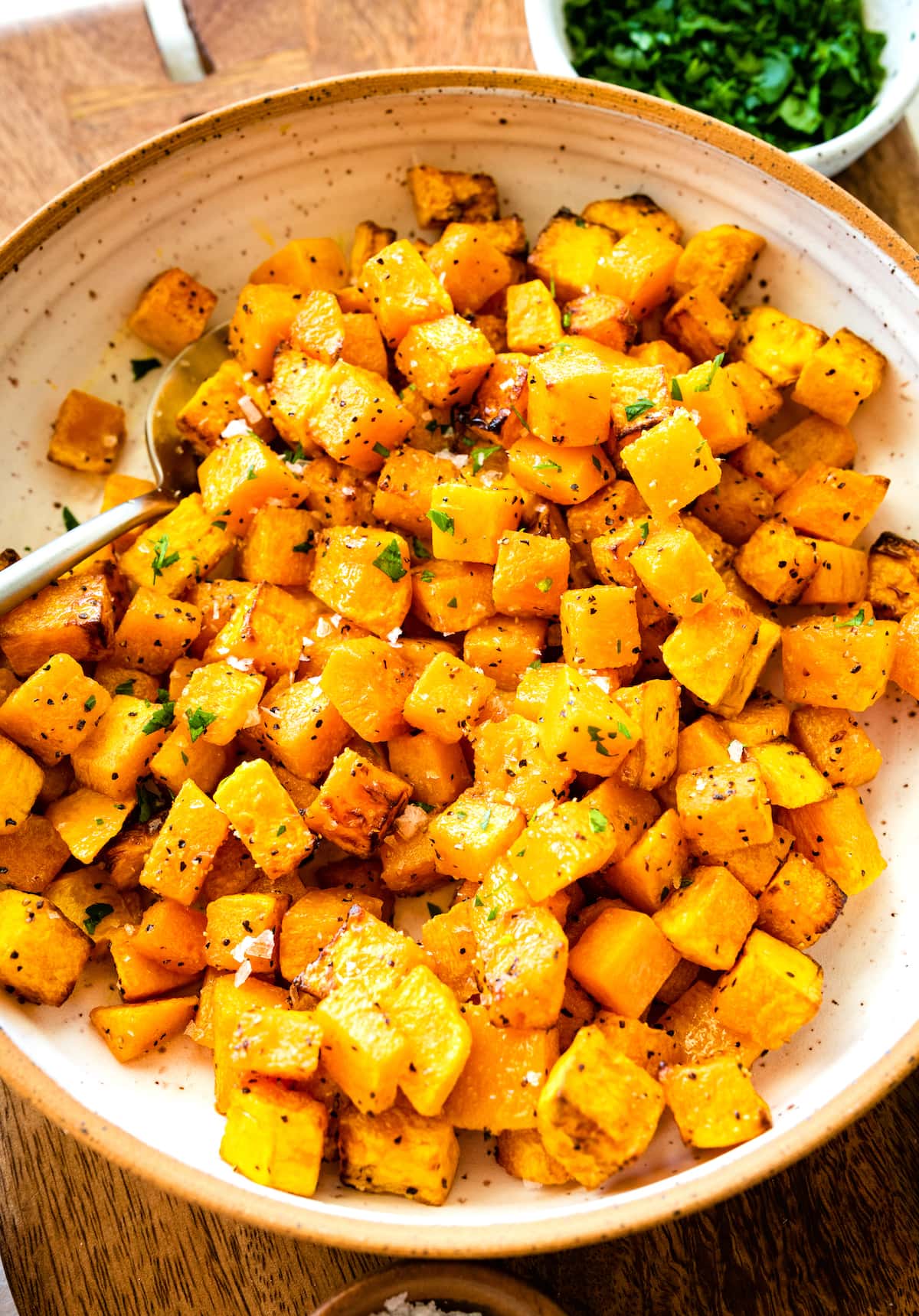 Recipe Tips
Cut even pieces: Try to cut the squash into uniform cubes so they cook evenly. Uneven pieces may result in some undercooked or burnt bits.
Don't overcrowd: Avoid stacking the squash pieces in the air fryer, as they cook better in a single layer, allowing the hot air to circulate freely. You may cook in batches for best results.
Shake or toss: For consistent cooking, make sure to shake the basket or toss the squash cubes at least once or twice during cooking. This movement helps avoid any hot spots or uneven cooking.
Test for doneness: Squash textures can vary. Always test with a fork before concluding they're done. If it goes in without resistance, your squash is cooked perfectly.
Use pre-cut squash: For a shortcut buy pre-cut butternut squash at th
How to Store Leftovers
I could eat an entire plate of these butternut squash bites by myself and usually never have leftovers, but if you decide to make a bigger batch and have leftovers store them in an airtight container in the fridge for about 3-4 days. To reheat, just place them in the air fryer in a single layer and cook at 375°F for 1-2 minutes. You can also reheat them in a toaster oven, regular oven or microwave. Just note that the squash will get soft if you reheat them in the microwave.
More Air Fryer Recipes
More Butternut Squash Recipes
Be sure to check out all of the butternut squash recipes as well as the full collection of air fryer recipes on EBF!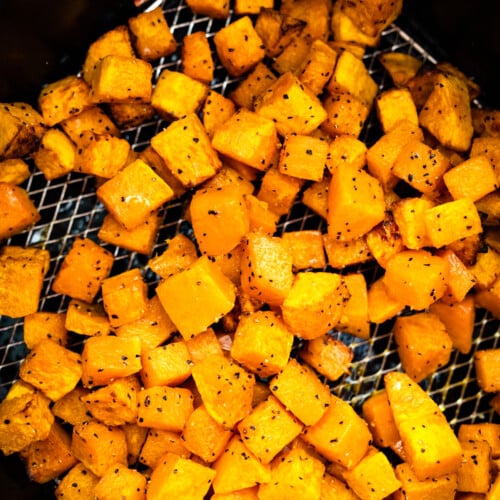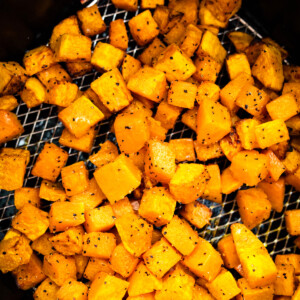 Air Fryer Butternut Squash
Air fryer butternut squash cooks up in just 15 minutes and results in tender, delicious squash every time. It's the perfect quick and easy healthy side dish for any meal.
Ingredients
1

medium

butternut squash

1

Tablespoon

avocado or olive oil

1

teaspoon

sea salt

1

teaspoon

pepper
Instructions
Prepare the squash by peeling it, cutting it in half and scraping out the seeds.

Cut squash: Cut the squash into small (about 1/2-inch) cubes. Add to a bowl and toss with oil, salt and pepper.

Pop them in the air fryer for 15 minutes at 390F, tossing every 5 minutes or so. You'll know they're done when the squash is fork tender and golden.

Sprinkle on a little sea salt and enjoy!
Nutrition
Serving:
1
/4 of recipe
|
Calories:
90
kcal
|
Carbohydrates:
15
g
|
Protein:
2
g
|
Fat:
4
g
|
Saturated Fat:
1
g
|
Monounsaturated Fat:
2
g
|
Sodium:
582
mg
|
Potassium:
779
mg
|
Fiber:
1
g
|
Sugar:
6
g
Nutrition information is automatically calculated, so should only be used as an approximation.