A 5 day clean eating meal plan and shopping list with healthy breakfast, lunch and dinner options for five days. All the recipes are flavorful, quick and easy! 
Are you ready to get back on track with healthy eating… more meal planing and cooking healthy meals at home, less sugar-filled goodies and wine? If so, you're in the right place and I have a treat for you –> a 5 Day Clean Eating Meal Plan with healthy recipes. The meals are full of flavor, gluten-free friendly and many are vegetarian as well. Get started today!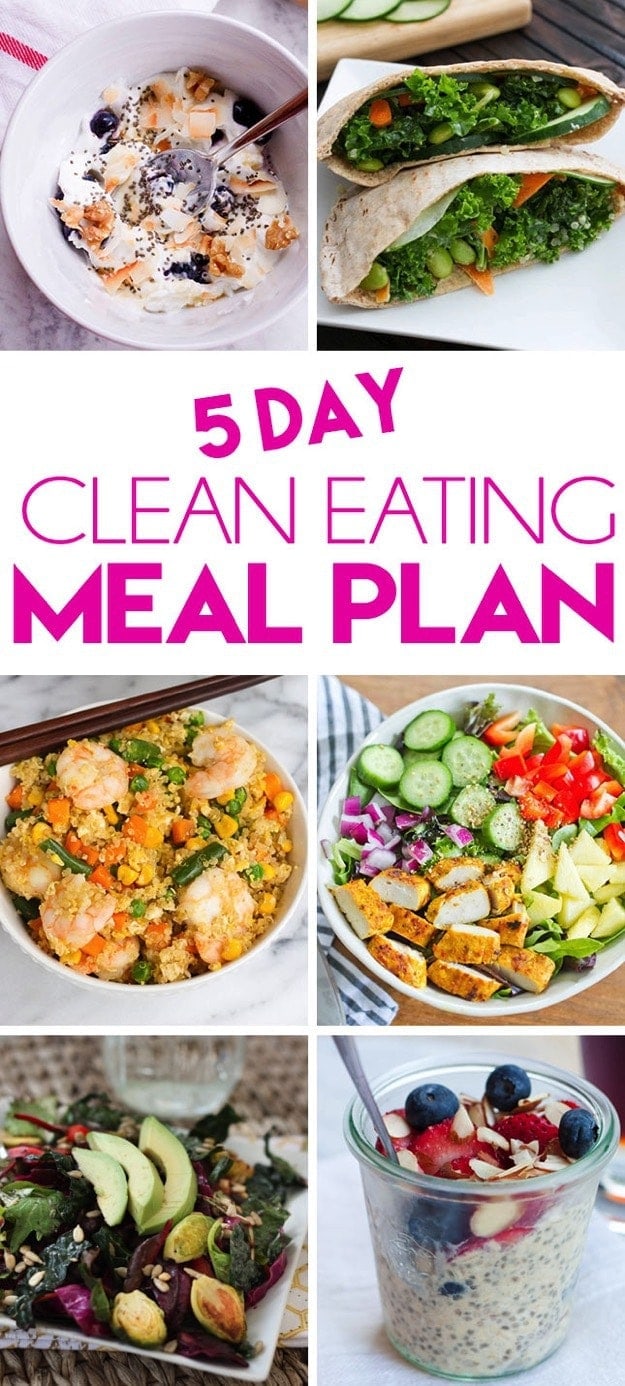 The menu is below. Simply click on each recipe and you'll be taken to the blog post that contains the full recipe. I also have a downloadable PDF with the meal plan and a grocery shopping list. Fill out the form and you'll receive the PDF via email! Print it out, mark off what you already have in your kitchen and head to the grocery store. Easy peasy! 🙂
Some of the lunch and dinner recipes make multiple servings so you can have the leftover serving for lunch or dinner the next day. An example is the Detox Salad made on Monday night. You'll use your leftover salad ingredients for lunch on Tuesday. I haven't included snacks here, but please feel free to add in your own healthy snacks based on your dietary needs.
5 Day Clean Eating Meal Plan
Monday
B :: Green Elvis Smoothie
L :: White Bean Quinoa Salad <— Make ahead on Sunday.
D :: Detox Salad
Tuesday
B :: Protein Overnight Oats <— Make ahead on Monday.
L :: Detox Salad
D :: Shrimp Fried Quinoa
Wednesday
L :: Salad in a Jar <— Make ahead on Tuesday night.
Thursday
L :: Kale Stuffed Pita
Friday
B :: Yogurt Breakfast Bowl
L :: Thai Curry Chicken Salad
D :: Tortilla Pizzas (use leftover pita bread)