5 Day Clean Eating Meal Plan
16
Published Jan 03, 2016, Updated Jun 12, 2019
A 5 day clean eating meal plan and shopping list with healthy breakfast, lunch and dinner options for five days. All the recipes are flavorful, quick and easy! 
Are you ready to get back on track with healthy eating but aren't sure where to start? You're in the right place! Whether you're looking to lose weight or just want to start eating healthy, this meal plan is for you. I've created this 5 Day Clean Eating Meal Plan to take the guesswork out of healthy eating. I'm giving you a healthy meal plan for five days, delicious meals that are gluten-free (many are vegetarian as well!), a grocery shopping list, a meal prep guide for Sunday to get you started. 
Healthy food doesn't have to be complicated or boring and that's what I'm here to prove today.
How to Prep Your Meals
I like to set aside a few hours on Sunday and then another couple of hours halfway through the week. Start by looking over your week and taking note of when you have busy days or plans at night. See which recipes you can prep ahead of time or which components you can make ahead of time.
What Clean Eating Means to Me
I think everyone has their own philosophy when it comes to clean eating so I thought I should share mine! First and foremost, I believe in balance. I love salads but I also love french fries. I love meal prepping and cooking at home but also love a night out. Depending on what my health goals are at the time, I try to eat at home for most meals during the week. I don't follow a specific diet, I just always make sure I eat balanced meals of lean protein, high fiber and healthy fats.
Can I Snack?
Yes! I didn't build snacks into this meal plan but please enjoy a mid-morning or mid-afternoon snack if you're hungry. Tune into your hunger cues and listen to your body! Always make sure your snacks are just as balanced as your meals – incorporate a mix of healthy fats, lean protein and fiber. Here are some of my favorite snacks:
Fruit + nut butter
Veggies + hummus
Leftovers!
How to Use This 5 Day Meal Plan
Start by printing out the grocery shopping list and then head to your local grocery store. Pick up all the items and start prepping the first couple of days! I've added a Sunday Prep Guide to get you started.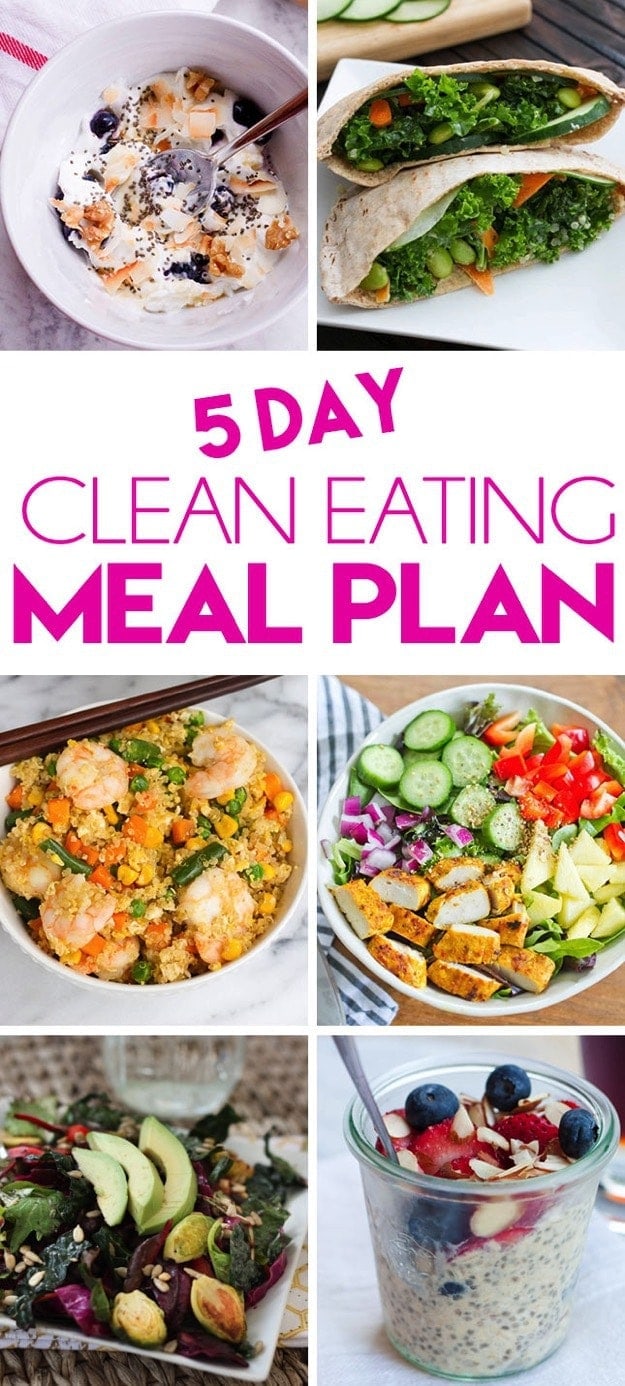 I've created a complete PDF for you with a meal plan, recipes, a grocery shopping list and a prep guide. Enter your name and email above and you'll receive the PDF via email! Print it out, mark off what you already have in your kitchen and head to the grocery store. Easy peasy! 🙂