A funny thing happened the other morning. I was eating breakfast and Isaac asked if I wanted coffee and I said, "No, I'm too hot for coffee," as I proceeded to eat my oats in a jar.
I was too hot for coffee but not too hot for oatmeal, that's totally normal right?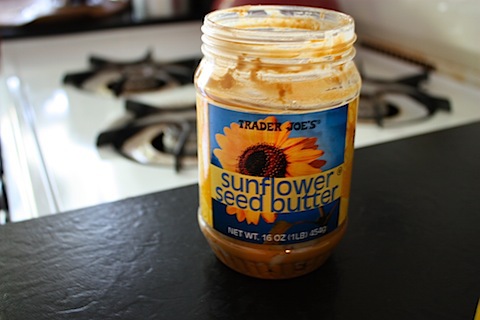 And, when your jar of nut butter looks like this, you know it's time for oats in a jar.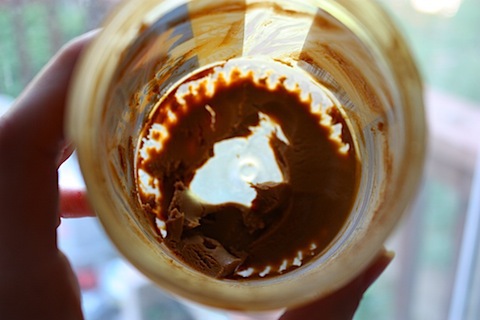 Although I still crave warm oats from time to time in the warmer months, I have realized that it's just way too hot to be sipping hot beverages this time of the year. I started thinking ahead and 3 nights this week I've brewed green tea, let it cool, put it in the fridge overnight, and woke up to a iced mangosteen green tea the next morning.
STASH has a great selection of high quality teas.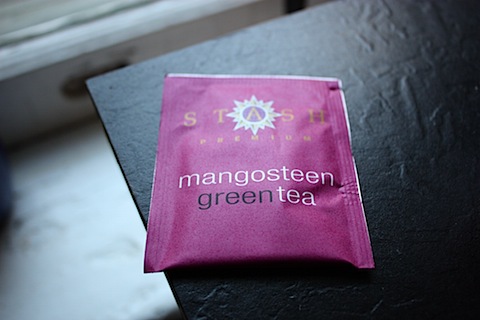 Most tea bags, including Stash, suggest that when making iced tea you should brew the tea double strength. This means that you use twice as much tea as normal (aka two bags instead of one for 8oz) and steep for just 3 minutes. This works better than using 1 bag and steeping for twice the amount of time because often times the tea will get bitter.
I used 4 bags the first time and made 16 oz, then for the sake of saving some cash money, I tried making 16 oz with only 2 bags. I could hardly tell the difference so I'm fine without brewing it double strength. I'm sure it's different for different types and brands of tea so it might take a little trial and error with your favorite tea.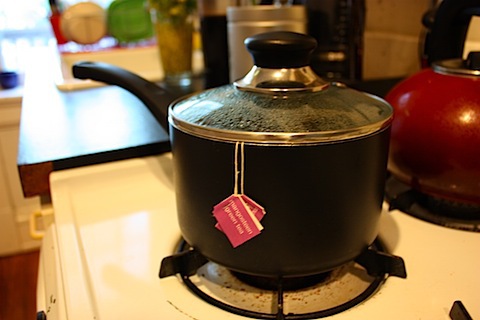 Iced Green Tea
Heat desired amount of water on the stove top until just about boiling

Turn heat off, add tea bags and steep, covered for about 3-5 minutes

Take the tea bags out and allow the tea to cool.
Once it's cool you can pour it over ice and serve immediately or put it in a container with a lid and place it in the fridge to get even colder. I like to put mine in the fridge overnight and wake up to cold green tea in the morning.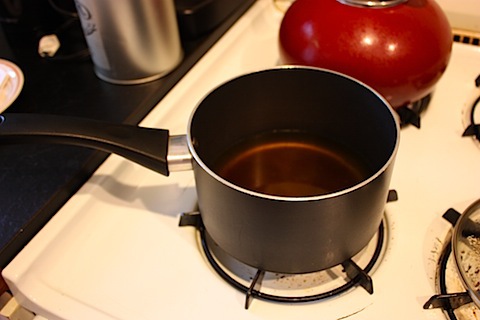 It's cool, refreshing, and much cheaper than a Starbuck's Iced Green Tea.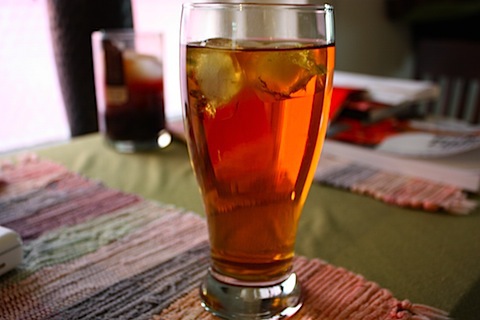 In other news, look what was waiting on my doorstep when I came home for lunch today!
A FruitGuys TakeHome pack.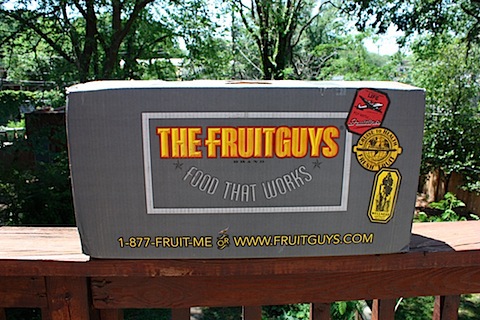 FruitGuys contacted me to tell me about their organic fruit and veggie delivery service and offered to send me one of their fruit and veggie packs to try it out. I'm a lover of all things produce so of course I was up for this delivery. In addition, I liked the idea behind the company, which was founded on the premise that bringing healthy brain food to the office can boost productivity, improve wellness and help companies improve their bottom lines.
They offer to send the goods to offices or homes, and focus on providing produce to the American workforce by getting companies on board to purchase weekly deliveries of fruit for their employees. Pretty cool, huh?
The produce changes from day to day to bring the purchaser fresh, seasonal, mostly-local produce. Here's the Fruit and Veggie selection for the East Coast this week: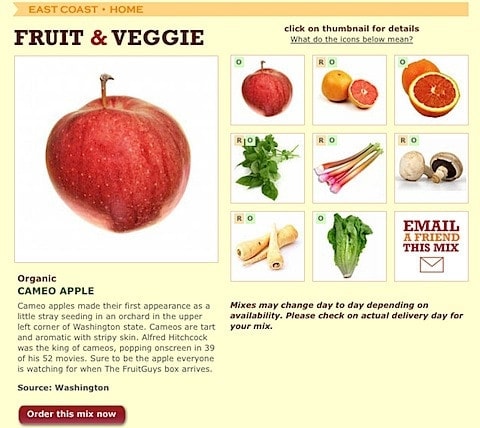 My package  included the exact items listed on the website- rhubarb (Florida), apples (Washington State), oranges (California), grapefruit (Florida), basil (Florida), mushrooms (Pennsylvania) , parsnips (Pennsylvania), and romaine lettuce (California)!!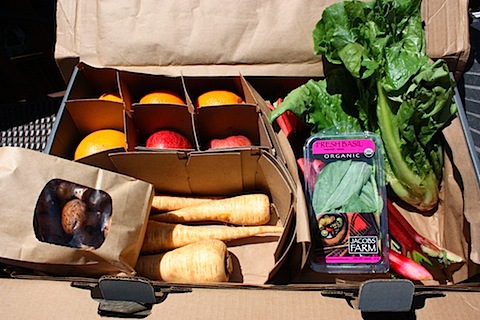 It's like a CSA delivery without having to leave your house.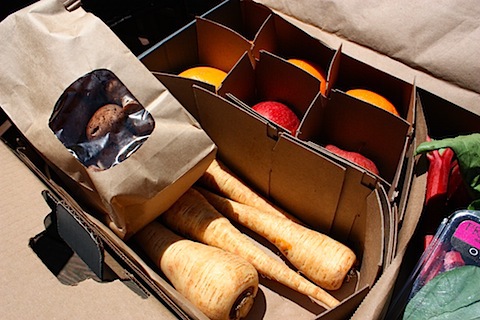 It even came with a info sheet with a description of Rhubarb (which I needed because I've never had it before!) and two recipes – one for Spiced Cauliflower and Parsnip Soup and the other for Strawberry Orange Rhubarb Muffins.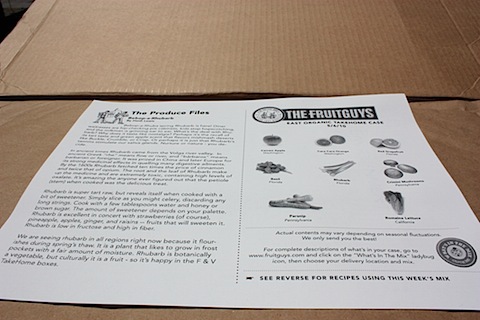 I put the Crimini mushrooms to use for lunch.
I threw together some veggies, leftover grains (bulgur and quinoa), protein (pressed plain tofu) and used the leftover peanut sauce from my spring rolls as the dressing. It was filling and super tasty. I loved the combo of flavors.
And for dinner, I used more of the leftover peanut sauce for spicy peanut baked tofu with millet and green beans.
Spicy Peanut Baked Tofu
Ingredients:

1 package of extra firm tofu, pressed to remove liquid and cubed
Sauce:
1/8 cup hot water

1/4 cup peanut butter

1 T tamari

2 T rice vinegar

1 T white miso

1/4 teaspoon red pepper flakes (I added extra)
Preparation:
1. Mix sauce together until well blended.
2. Pour the sauce over the tofu and stir to cover all the pieces.
3. Marinate the tofu in peanut sauce, in a covered container in the fridge for at least an hour. I marinated mine for about 5-6 hours.
2. Pre-heat oven to 350° and bake the tofu for 30-40 minutes on a non-stick pan.
It came out looking like the chicken nuggets from Chick-fil-a (favorite food flashback for me) and tasted textured, kind of crispy, and a bit peanuty. Overall, very very tasty. It might become my go-to tofu recipe! And, I'll definitely be making the peanut sauce again. It's so versatile – I've used it for 3 different dishes over the past 2 days!
Okay I'm off to hit the hay – tomorrow is Friday! Who's excited?
-Brittany