Turkey Bolognese
2
Published Oct 02, 2023, Updated Nov 21, 2023
This turkey bolognese is a lightened up version of a classic Italian dish, but it's still thick, hearty and packed with flavor. Serve it over your favorite pasta for a quick and easy weeknight dinner!
Who says comfort food can't be guilt-free? Meet our Turkey Bolognese—a lean and mean twist on the Italian classic that won't make you compromise on flavor or heartiness. Packed with ground turkey and a medley of fresh veggies, this dish gives a whole new meaning to "good for the soul" cooking. Plus, it's so easy to make, you'll feel like an Italian chef without breaking a sweat. So if you're looking for a dinner that'll impress the fam and keep you feeling great, this Turkey Bolognese is a no-brainer.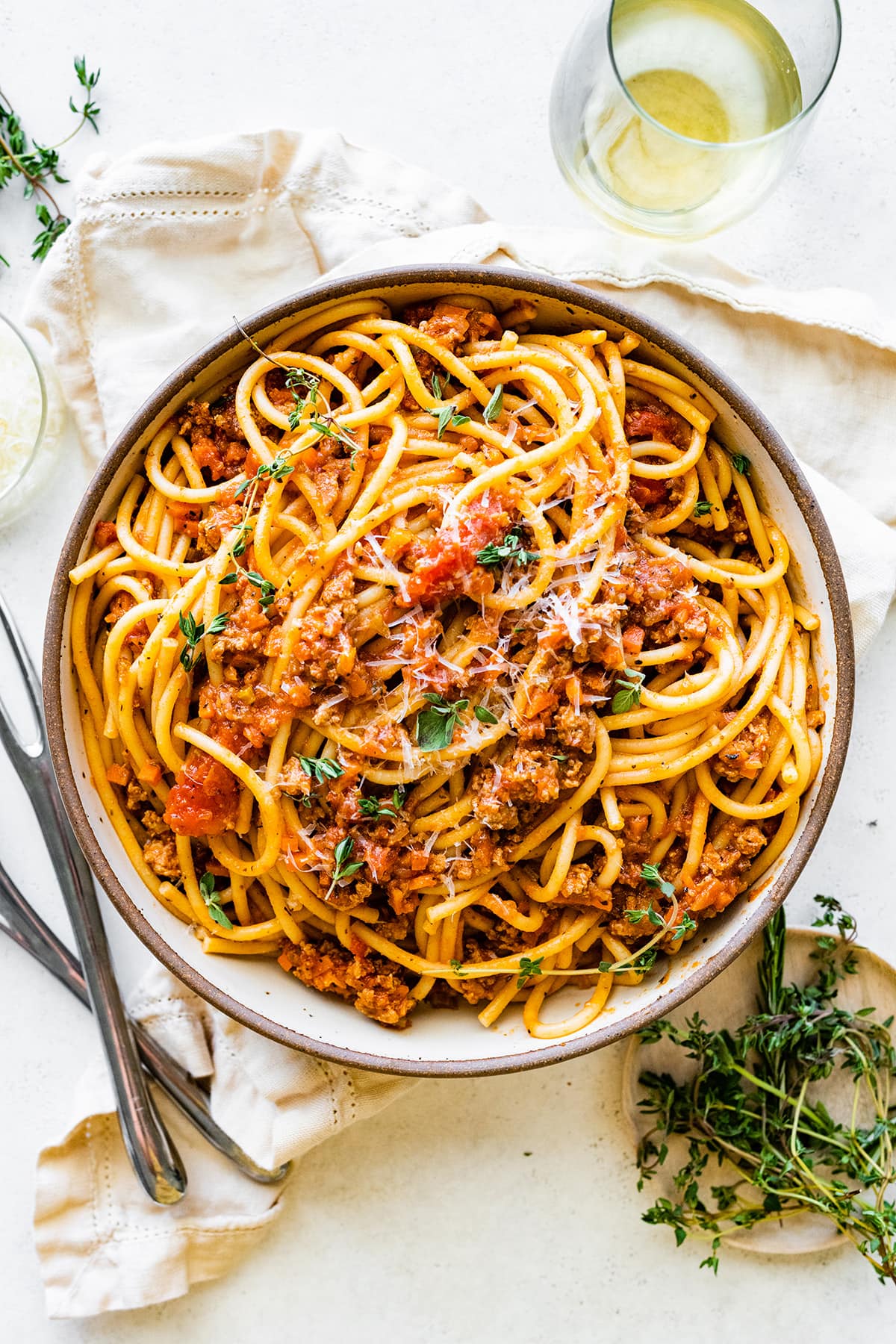 Why You'll Love This Recipe
Lean Protein: The use of 93% lean ground turkey makes this a healthier alternative to the classic beef Bolognese without compromising on flavor or texture.
Nutrient-Rich: With an array of veggies like carrots, celery, and onions, this dish is not just tasty but also nutritious.
Versatile Pasta Choices: Whether you like Tagliatelle, fettuccine, or bucatini, this sauce pairs well with a wide range of pasta.
Easy to Make: Though it tastes like you slaved over a hot stove for hours, this bolognese comes together in under an hour, making it a great option for weeknight dinners.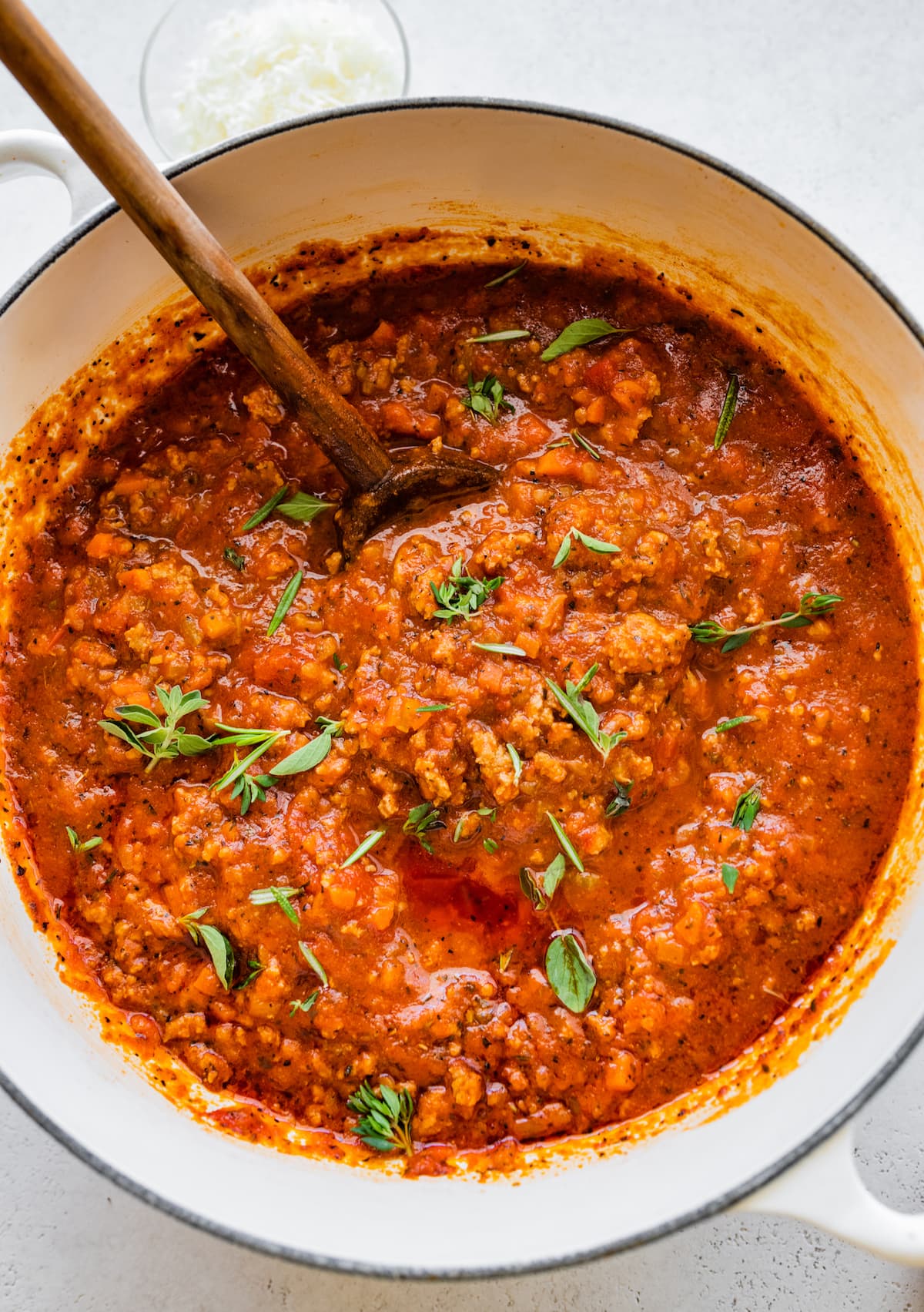 Where Does Bolognese Sauce Originate?
Bolognese sauce, originally known as ragù alla bolognese, is a meat-based sauce originating from Bologna, Italy. Traditionally, this hearty sauce is made with a mixture of minced beef, pork, and sometimes veal, along with a mirepoix of celery, carrots, and onions. It's simmered slowly with tomato paste, broth, and sometimes milk or cream, to create a rich and flavorful sauce that pairs perfectly with broad, flat pasta like tagliatelle or fettuccine.
The turkey variant, however, is more of a modern, health-conscious twist on the classic recipe. Ground turkey is used as a leaner alternative to the more traditional meats, offering a lighter, yet still satisfying, version of the beloved Italian dish. While not traditional by Italian standards, turkey Bolognese has gained popularity in many parts of the world, particularly in countries where dietary preferences or restrictions make turkey a more appealing or accessible option.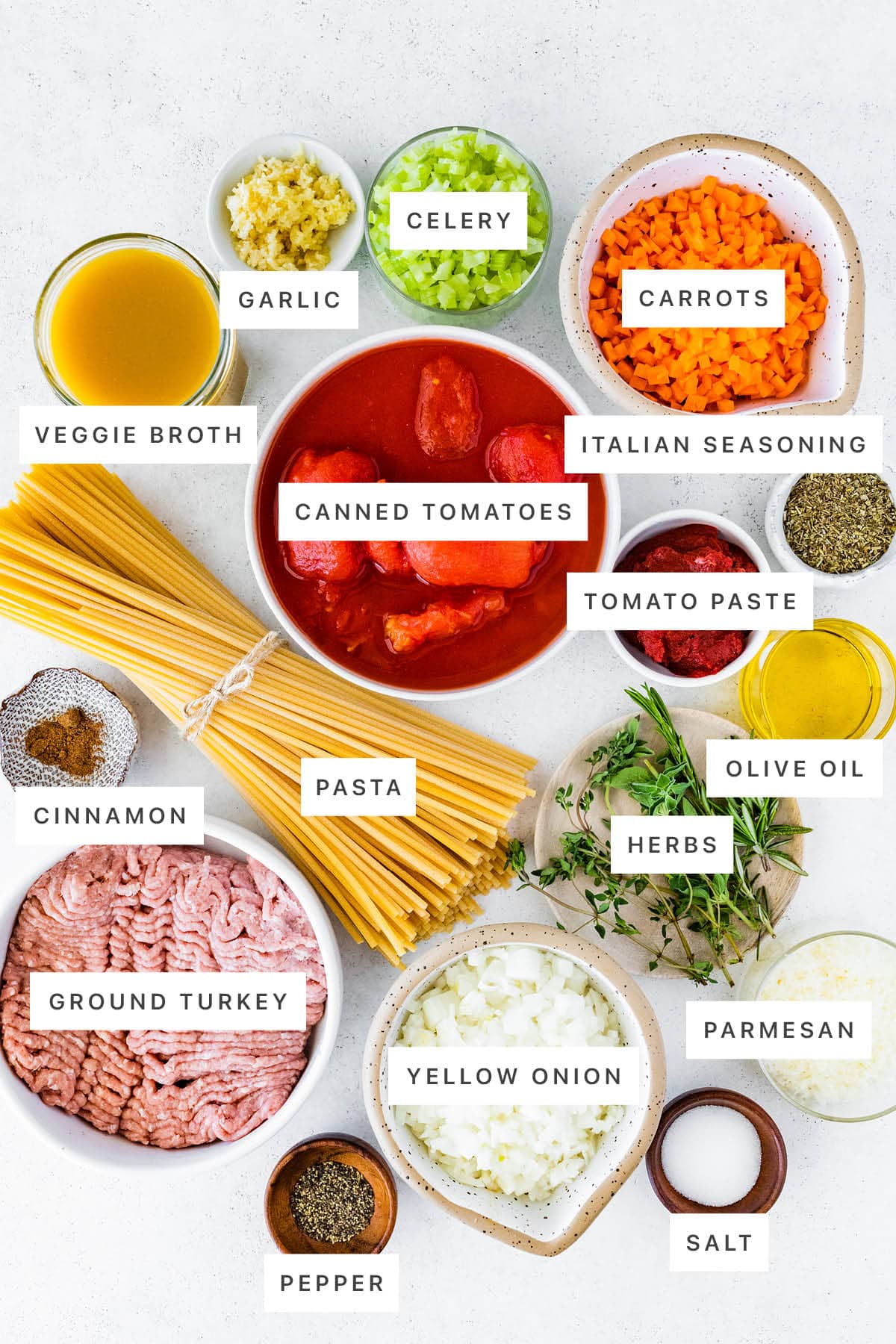 Ingredients Needed
olive oil – used for sautéing the veggies and giving the base of the sauce a rich flavor.
veggies – carrots, celery, and onion make up the "soffritto," the Italian version of a mirepoix, providing a flavorful base for the sauce.
garlic – adds a kick of aroma and taste.
ground turkey – a lean protein source that makes this bolognese healthier.
salt and ground pepper – for seasoning.
italian seasoning – an easy way to add classic Italian herbs.
cinnamon or nutmeg – for a unique warming flavor.
low sodium veggie broth – adds liquid without too much salt.
canned whole peeled San Marzano or plum tomatoes – the backbone of the sauce.
tomato paste – for thickening and enriching the sauce.
fresh herbs – rosemary, thyme, and/or oregano for a burst of flavor at the end.
tagliatelle, fettuccine, or bucatini – your choice of pasta to serve with the bolognese.
parmesan cheese – for that extra touch of Italian authenticity.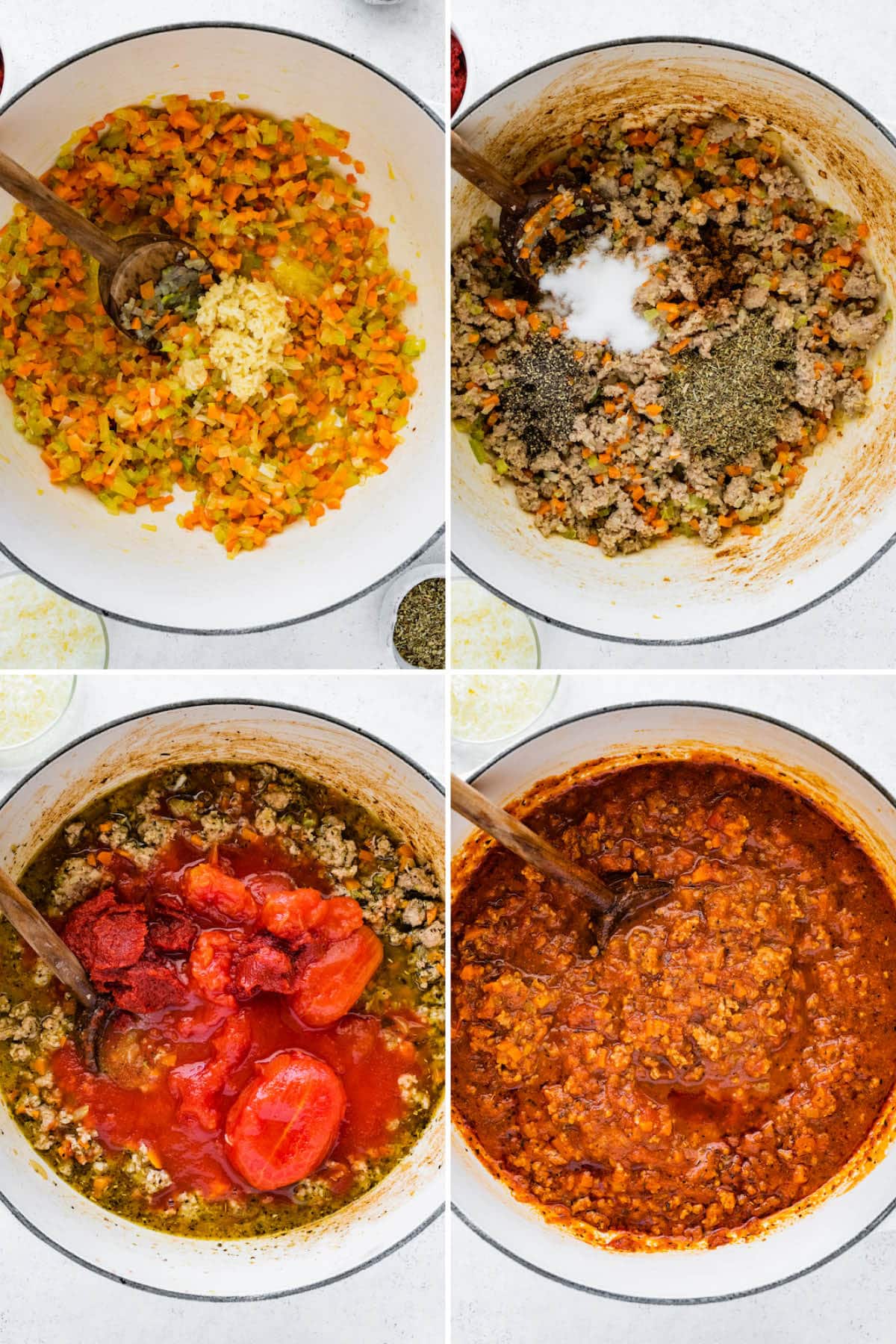 How to Make
Sauté veggies: Heat oil over medium heat in a large pan or Dutch oven. Sauté the carrots, celery, and onion until they start to soften, about 5 minutes. Add the minced garlic and continue sautéing for an additional minute to let the flavors meld.
Cook turkey: Add the ground turkey to the large pot and cook for 5-7 minutes until no pink remains. Make sure to break it up with a wooden spoon as it cooks to ensure even browning.
Add additional ingredients: Add the salt, pepper, Italian seasoning, and a pinch of cinnamon or nutmeg to elevate the flavors. Pour in the veggie broth, then add the whole peeled tomatoes and tomato paste. Use your wooden spoon to break up the tomatoes into smaller pieces.
Simmer: Bring the sauce to a boil, then lower the heat and let it simmer for 20-30 minutes. This allows the sauce to thicken and the flavors to concentrate. Stir occasionally to prevent sticking.
Cook pasta: While the sauce is working its magic, cook your pasta according to the package instructions. Don't forget to reserve some pasta water before draining.
Taste and adjust: Taste the sauce and adjust the seasoning as needed. If you prefer a more liquidy sauce, add some of the reserved pasta water at this point.
Serve: Once the pasta is cooked, portion it onto plates and top generously with the turkey bolognese. For the final touch, sprinkle some freshly grated parmesan and garnish with fresh herbs, if desired.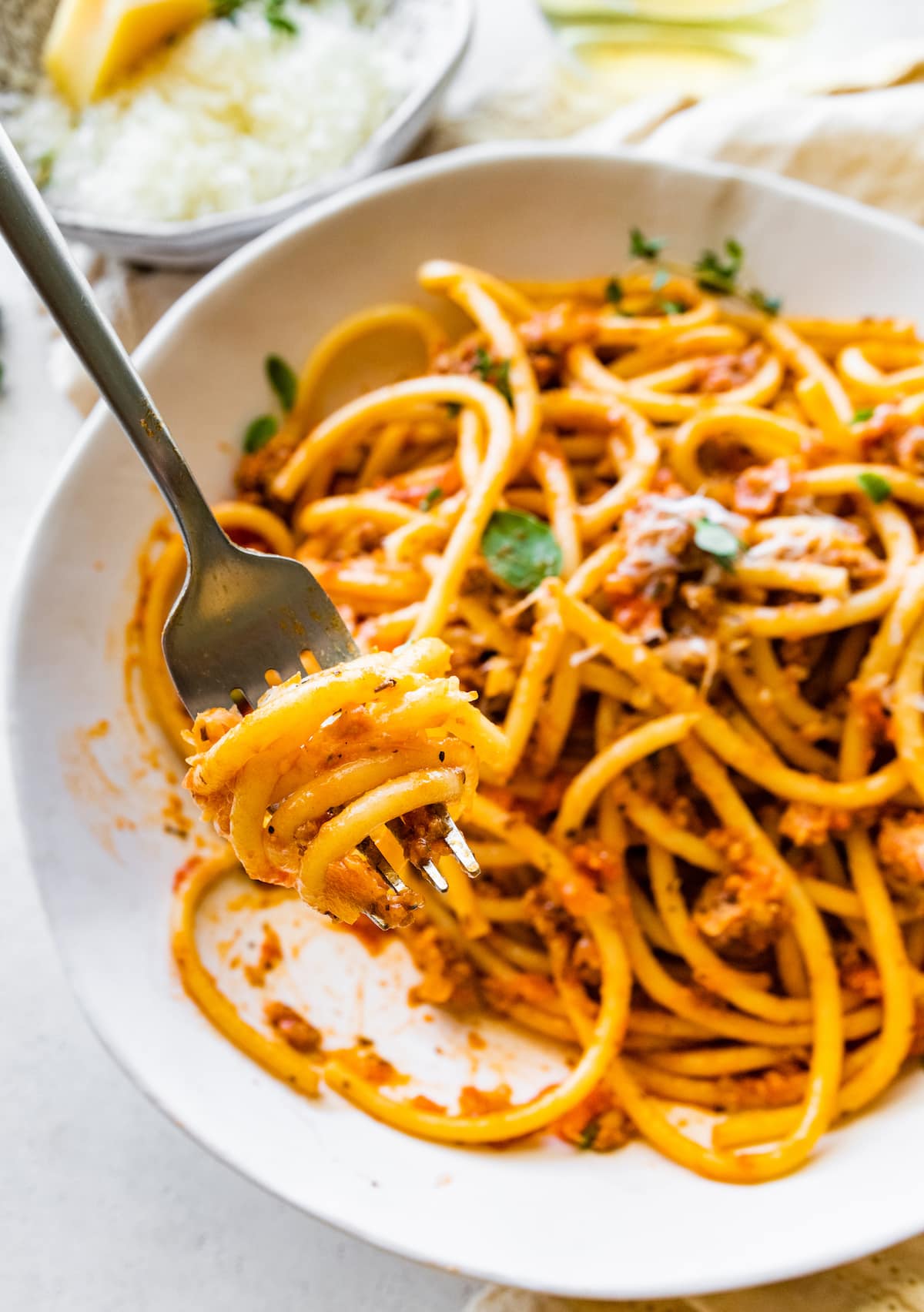 How to Serve Turkey Bolognese
Classic Italian: The traditional way to enjoy bolognese is simply over freshly cooked pasta, topped with a sprinkle of freshly grated parmesan and a sprig of fresh basil or parsley for garnish.
With Garlic Bread: Enhance your Italian dinner by serving the bolognese with a side of garlic bread. It's perfect for mopping up any leftover sauce on your plate.
Over Polenta: For a gluten-free option, try serving the turkey bolognese over creamy polenta.
Vegetable Noodles: Keep it low-carb by using spiralized zucchini or sweet potato noodles as a pasta substitute.
In a Bread Bowl: For a hearty, cozy meal, serve the bolognese in a hollowed-out sourdough bread bowl.
Side Salad: Pair it with a simple Italian salad—mixed greens, cherry tomatoes, olives, and a vinaigrette—to balance out the meal.
Wine Pairing: A glass of red wine like Chianti or Montepulciano will complement the rich flavors of the bolognese sauce.
Kids' Favorite: For the little ones, serve the bolognese over small pasta shapes like shells or macaroni.
Meal Prep: This dish is also perfect for meal prep. Simply portion out the sauce and your carb of choice into meal prep containers for a quick and easy future meal.
Community Style: Hosting a dinner party? Place the big pot of bolognese sauce in the middle of the table and let everyone serve themselves, family-style.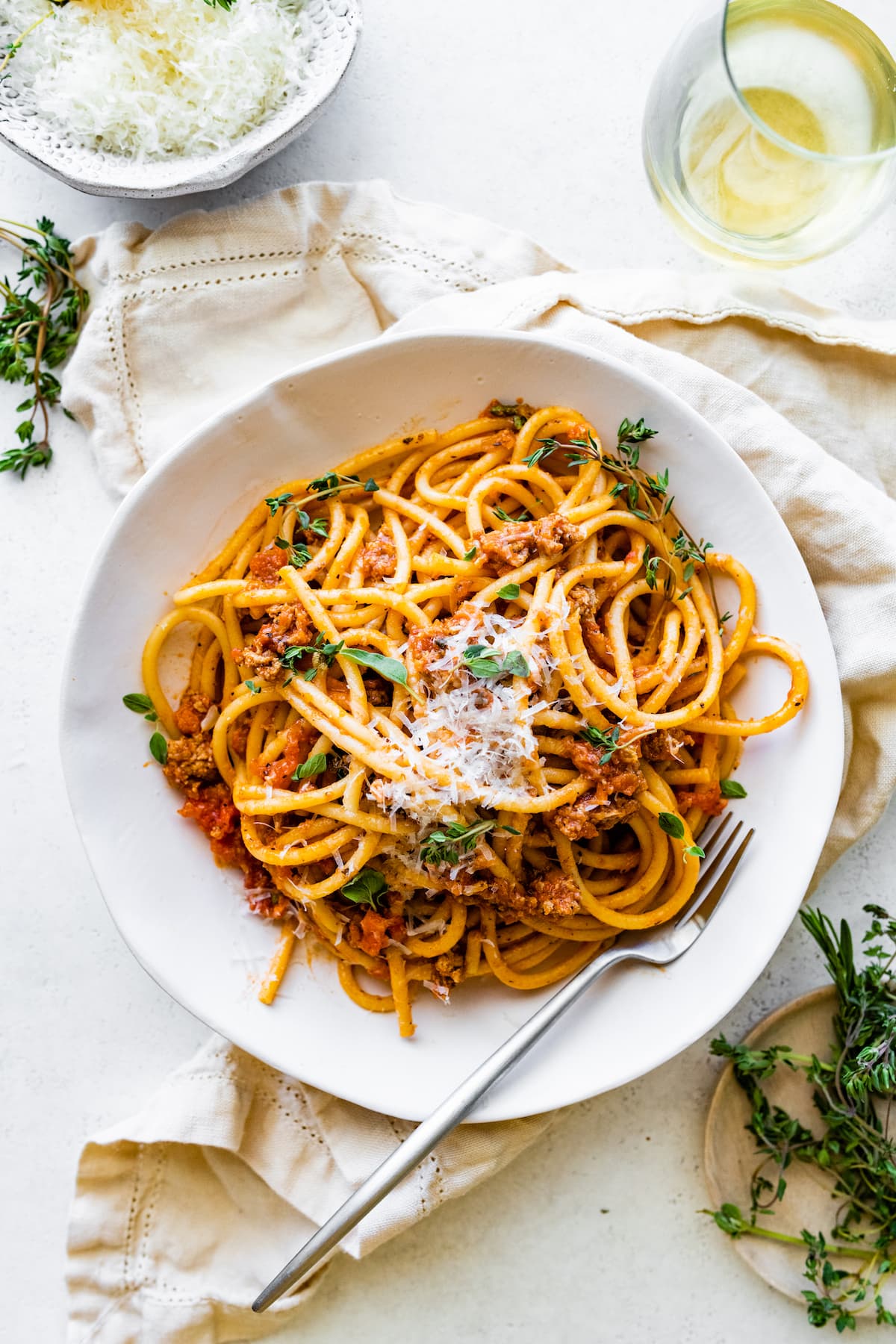 How to Store Leftover Turkey Bolognese
In the Fridge: Store any leftover turkey bolognese in an airtight container in the fridge for up to 4 days.
In the Freezer: This bolognese sauce freezes well. Portion it into airtight containers or zip-top bags and store in the freezer for up to 3 months.
Reheating: To reheat, defrost in the fridge overnight if frozen, then warm in a saucepan over low heat. If the sauce has thickened too much, add a splash of broth or water to reach your desired consistency.
Meal Prep: If you're planning to use this recipe for meal prep, store individual servings of the sauce and pasta in separate containers to keep the pasta from absorbing too much sauce and becoming mushy.
More Pasta Dishes to Try
Be sure to check out the full collection of dinner recipes on EBF!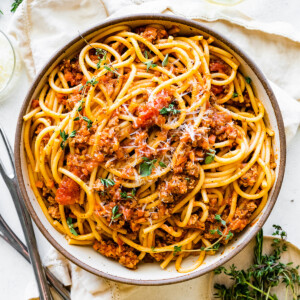 Turkey Bolognese
This turkey bolognese is a lightened up version of a classic Italian dish, but it's still thick, hearty and packed with flavor. Serve it over your favorite pasta for a quick and easy weeknight dinner!
Ingredients
2

tablespoons

olive oil

2

medium

carrots

,

peeled and finely chopped (1 cup)

1-2

stalks

celery

,

finely chopped (½ cup)

1

medium

yellow onion

,

finely chopped

4

large

garlic clove

,

minced

1

lb

ground turkey

,

I used 93% lean

1

teaspoon

salt

½

teaspoon

ground pepper

1

Tablespoon

Italian seasoning

Pinch

of cinnamon or nutmeg

1

cup

low sodium veggie broth

1

28-ounce can

whole peeled San Marzano tomatoes or plum tomatoes

3

Tablespoons

tomato paste

1

lb

Tagliatelle

,

fettuccine or bucatini (whole wheat if desired)

Fresh herbs: rosemary

,

thyme and/or oregano, for serving

Freshly grated parmesan

,

for serving
Instructions
Heat oil over medium heat in large saucepan or dutch oven.

Saute carrots, celery, onion until veggies start to soften, about 5 minutes. Then add garlic and saute an additional minute.

Add ground turkey and cook for 5-7 min until no pink remains, breaking it up with a wooden spoon as it cooks.

Stir in salt, pepper, italian seasoning and cinnamon

Add tomatoes, broth and tomato paste and stir to combine, breaking up tomatoes with a wooden spoon.

Bring the sauce to a boil, then lower the heat and let simmer for 20-30 minutes, until it starts to thicken, stirring occasionally.

While the sauce is simmering, cook pasta according to package directions. Before draining, reserve some of the pasta water to save for later.

Taste the sauce and add additional salt, black pepper, or additional seasoning as desired. If you want more of a liquidy sauce you can now add some of the reserved pasta water to the sauce, if desired.

One pasta is done cooking, portion onto a plate and top with the turkey bolognese. Sprinkle fresh parmesan and fresh herbs on top, if desired.
Nutrition
Serving:
1
/6 recipe
|
Calories:
505
kcal
|
Carbohydrates:
73
g
|
Protein:
27
g
|
Fat:
12
g
|
Saturated Fat:
1
g
|
Cholesterol:
54
mg
|
Sodium:
711
mg
|
Potassium:
86
mg
|
Fiber:
7
g
|
Sugar:
13
g
Nutrition information is automatically calculated, so should only be used as an approximation.