Strawberry Pretzel Salad
6
Published Oct 11, 2023, Updated Oct 19, 2023
Strawberry pretzel salad is a classic dessert that has an irresistible combo of creamy, salty and sweet flavors. This version is made a tad healthier and topped with a strawberry chia jam layer instead of jello!
Lately, I've been on a nostalgic kick, revisiting some of my favorite childhood recipes. Earlier this week I shared this ambrosia salad and grape salad and today I'm sharing one of my absolute faves… strawberry pretzel salad!
Growing up my granny (aka Granny Bea) would always make strawberry pretzel salad for special family holidays like Easter, Thanksgiving and Christmas. It was something I always looked forward to, but I haven't had it in years!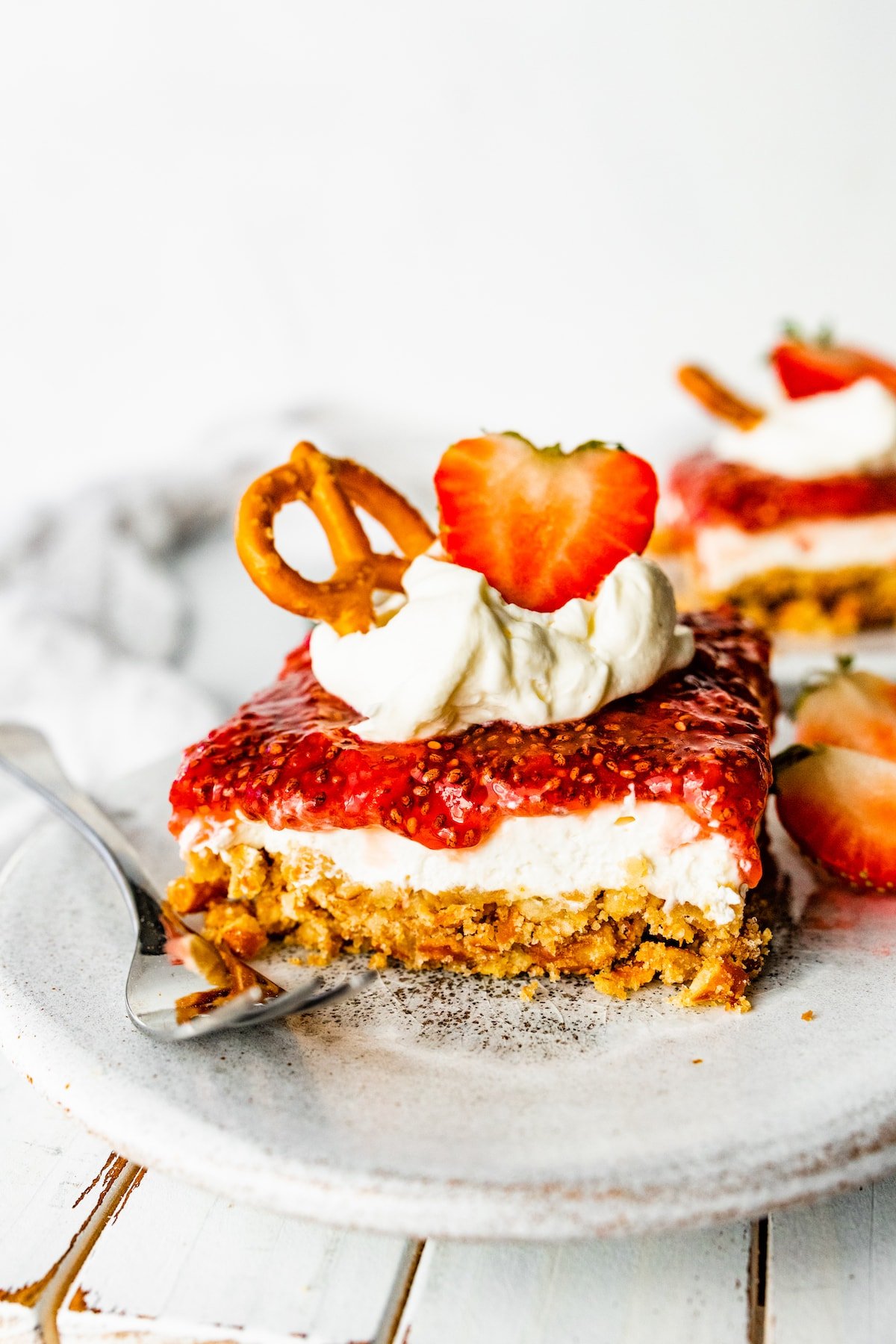 As you know, one of my favorite things to do is make healthy versions of classic recipes and with this, I became determined to make a healthier strawberry pretzel salad.
It definitely took a few test batches, but I finally nailed it. This version is just as delicious as the classic dish and a bit easier to make because you don't have to deal with the jello portion!
My dad was even in town while I was testing this recipe and he approved, which definitely means it's a winner! #score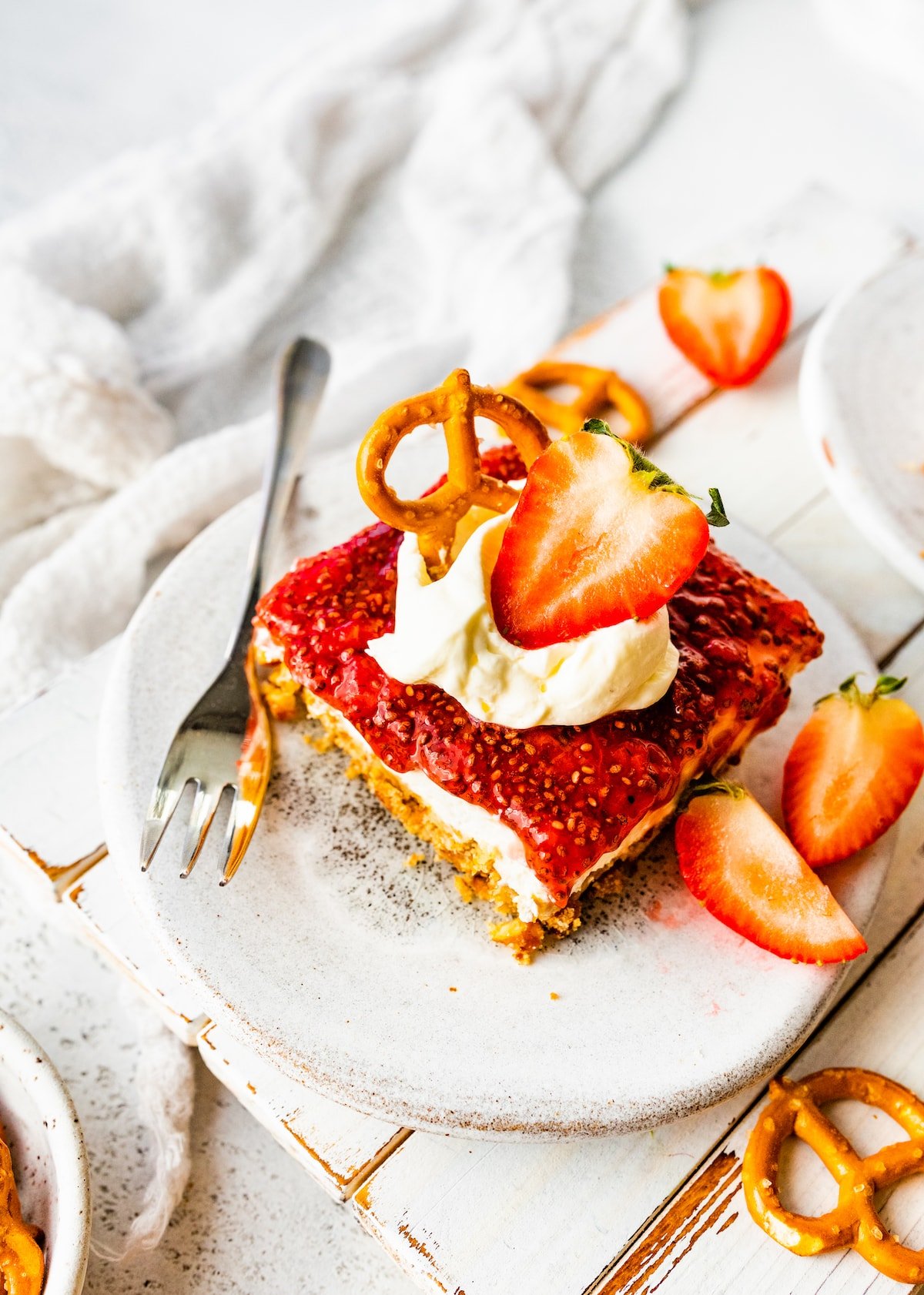 What is Strawberry Pretzel Salad?
Despite the name, strawberry pretzel salad is actually a classic layered dessert that's often served at potlucks, holidays and family gatherings.
It's hard to pinpoint the exact origin of the strawberry pretzel salad, but it seems to have gained popularity in the 1950's and 1960's mainly in the South and Midwest when other jello salads such as watergate salad were big.
Traditional strawberry pretzel salad typically consists of a buttery pretzel crust, cream cheese layer (made with cream cheese, whipped topping and sugar) and then a final layer of strawberry jello with frozen strawberries.
It's salty, sweet, creamy and oh, so delicious! This recipe has definitely stood the test of time and is still a favorite among many, including me. There's something about the sweet, savory, crunchy, creamy combo… it's so good!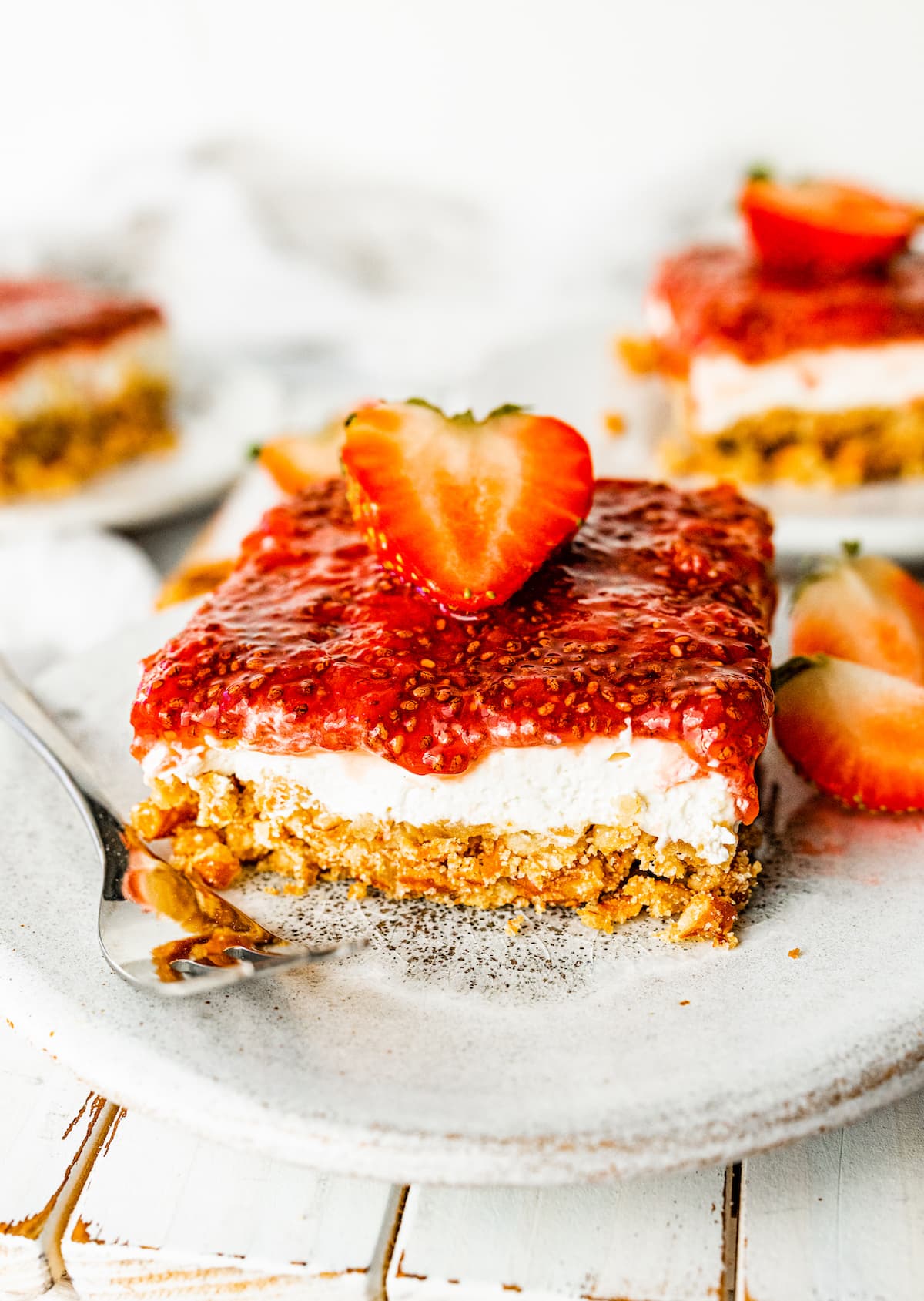 Healthier Strawberry Pretzel Salad
In my attempt to make a healthier version of a classic I ended up testing about four batches of this recipe.
I tried one version with applesauce in the crust instead of butter and one with a keto plant-based strawberry jello topping. Both of these versions tasted okay, but they weren't perfect!
The strawberry pretzel salad recipe I'm sharing today still has that same buttery pretzel crust and creamy whipped filling you'd expect, but I used monkfruit granulated sugar to reduce the sugar content and I swapped some of the cream cheese in the filling with Greek yogurt for a nutrition boost. When it comes to the strawberry topping I decided to ditch the jello and use my strawberry chia jam for the topping instead.
And let me tell you, the chia jam worked perfectly for the topping and the combo is absolutely delicious! It tastes better than the classic version made with a strawberry jello layer and you don't have to mess with boiling water or waiting for the strawberry gelatin to set.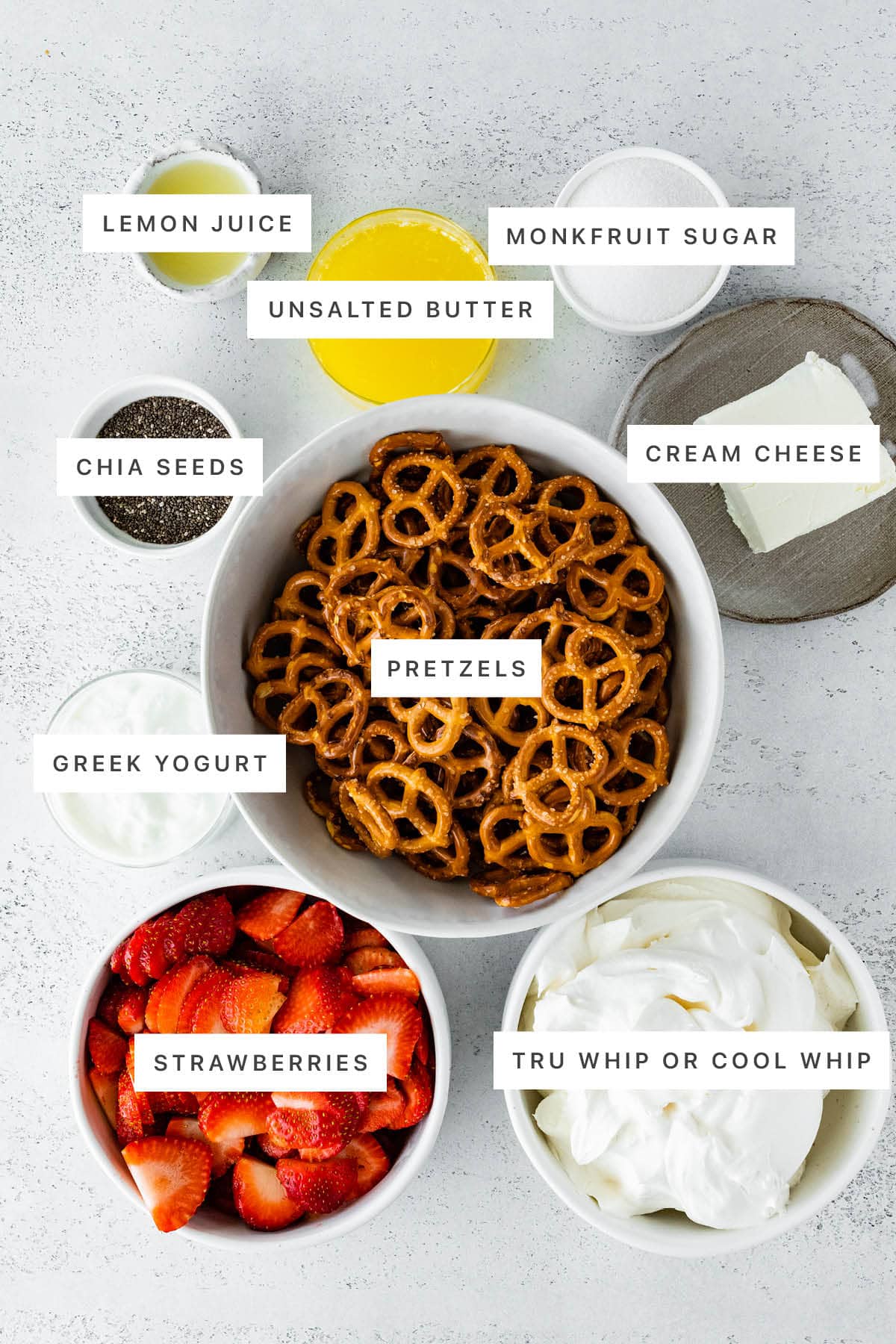 Ingredients Needed
pretzels – you can't have strawberry pretzel salad without the pretzels! When crushed and combined with butter and a touch of sugar this creates our crust for this recipe. I used regular mini pretzel twists, but feel free to use whole grain pretzel twists or gluten-free pretzels, if needed!
butter – this is what helps hold the crust together! If you use salted pretzels, I recommend using unsalted butter.
monkfruit sugar or cane sugar – we're using this to sweeten the crust, creamy whipped layer and strawberry topping. I like using monkfruit granulated sugar to reduce the sugar content in this recipe, but feel free to use cane sugar instead.
greek yogurt – we're replacing some of the cream cheese with plain, full-fat Greek yogurt for a healthier alternative that adds some tang and protein. If you don't have Greek yogurt on hand or aren't a fan you can use a full 8oz block of cream cheese instead.
cream cheese – we're using half a block of cream cheese. I used regular cream cheese, but you can use low-fat if desired.
whipped topping – this is a classic ingredient that can't be skipped! It's what gives the filling its fluffy consistency. I used Tru Whip, but CocoWhip or Cool Whip will also work.
fresh strawberries – the star ingredient for the topping, providing natural sweetness and flavor. I used fresh strawberries, but you can also use frozen berries.
chia seeds – these not only add fiber and omega 3 fatty acids but they also help to thicken our strawberry topping.
lemon juice – a splash to brighten up the flavors of the strawberry topping.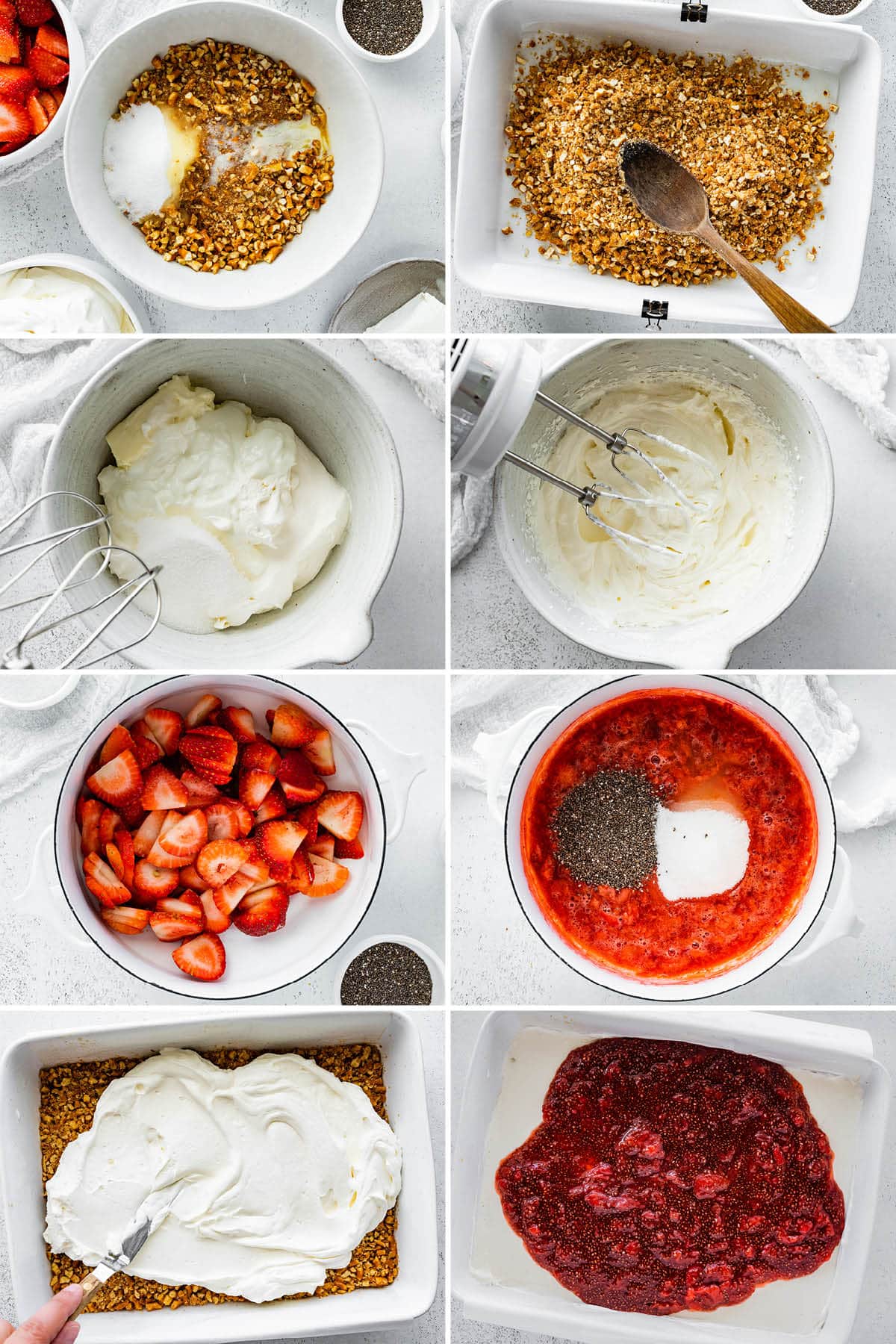 How to Make Strawberry
Despite that fact that this salad has three layers, it's pretty easy to make!
Make crust: Add your pretzels to a food processor and pulse until mostly fine with some chunkier bits. In a large bowl add crushed pretzels, butter and sugar and stir to combine. Press the mixture into a prepared 9×13 baking pan and bake for 10 minutes at 350°F. Remove from the oven and set aside to allow the crust to cool completely. You can speed this up by placing the crust the fridge to chill.
Make strawberry topping: Over medium-high heat, add sliced strawberries to a saucepan. Let them soften and start bubbling. Mash them for a consistent texture, then fold in chia seeds, lemon juice, and sugar. Remove the mixture from the heat and let it thicken.
Make filling: While crust is cooling and topping is thickening up, you'll make the cream cheese filling. Using a stand mixer (or hand mixer) whip together the Greek yogurt, softened cream cheese, whipped topping and sugar until smooth and fluffy.
Assemble: Once the crust is cool spread the cream cheese mixture over it and place in the refrigerator to chill for 1-2 hours. After the chia jam has cooled, pour it over the filling and spread it out using a spatula to make sure it's evenly distributed. Place the entire baking dish back in the refrigerator to chill for 1-2 hours.
Serve: Slice the pretzel salad into desired portions and top with additional whipped topping and fresh strawberries, if desired.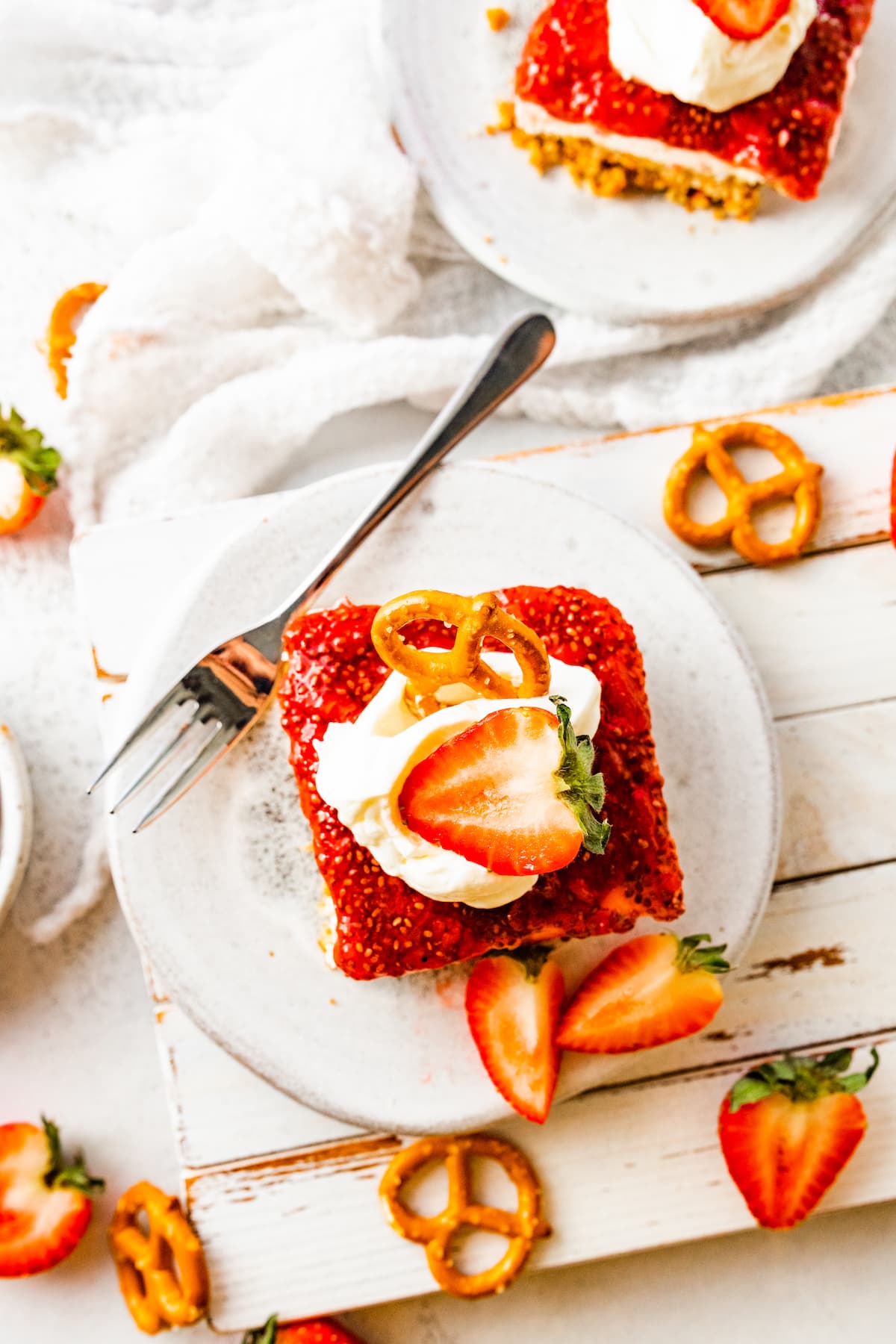 Recipe Variations
Use different fruit: While strawberries are the traditional fruit used in this recipe you can definitely make the jam with different fruits. Some ideas include raspberries, blueberries, pineapple, mango and peaches.
Switch up the crust: Feel free to swap the pretzels with graham crackers and/or nuts for a different texture and flavor.
Make this recipe vegan: To make this recipe vegan, simply use vegan cream cheese, vegan butter, dairy-free yogurt and a dairy-free whipped topping like CocoWhip.
Make this recipe gluten-free: Use gluten-free pretzels for the crust.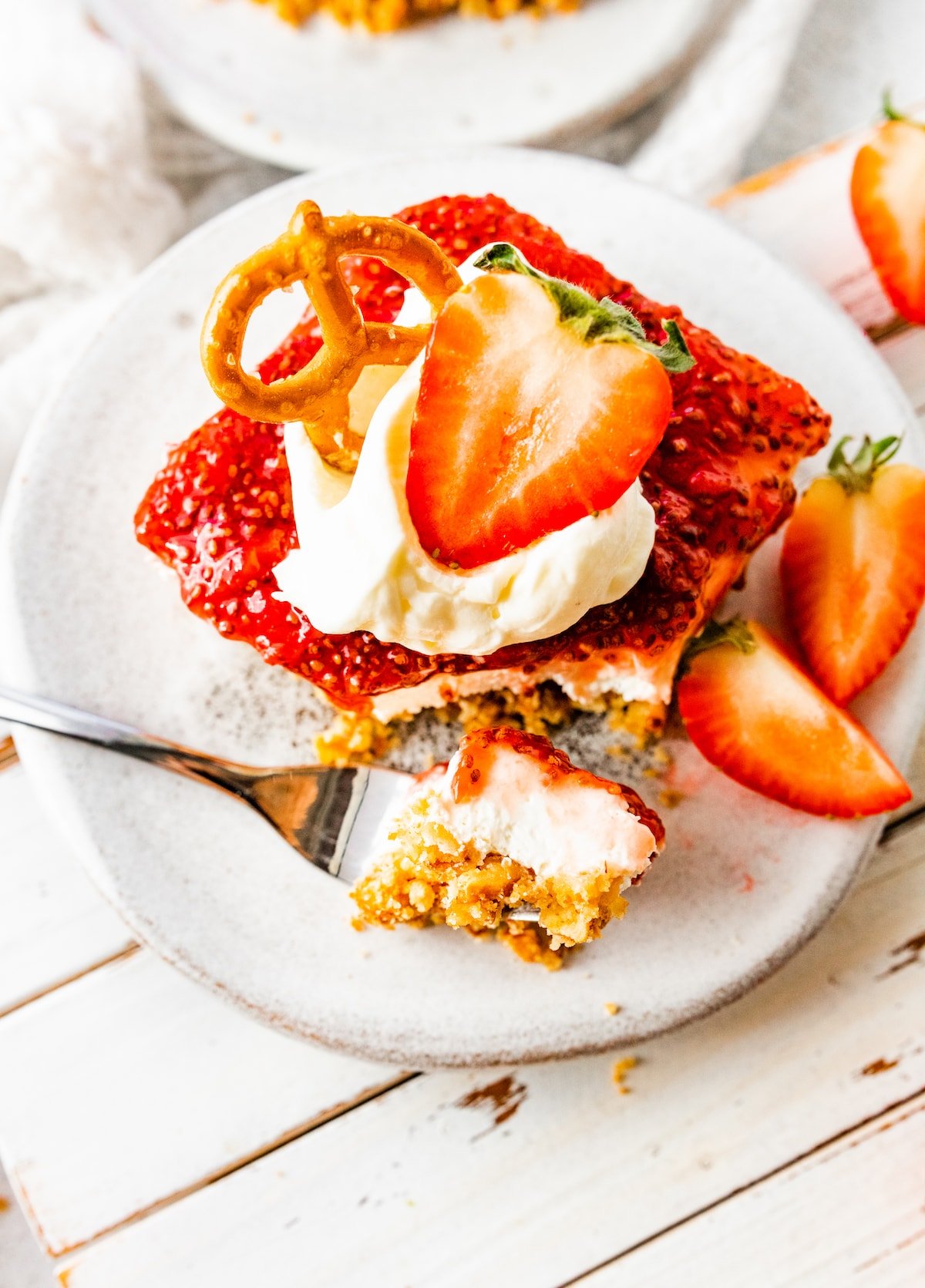 How to Serve Strawberry Pretzel Salad
This salad is meant to be served cold, so make sure you let it chill for a few hours or overnight before serving! I love serving it with a dollop of whipped topping and fresh strawberry slices on top, but feel free to add your favorite toppings! A chocolate drizzle on top would be delicious or maybe add some chopped nuts or a dusting of powdered sugar? The options are endless!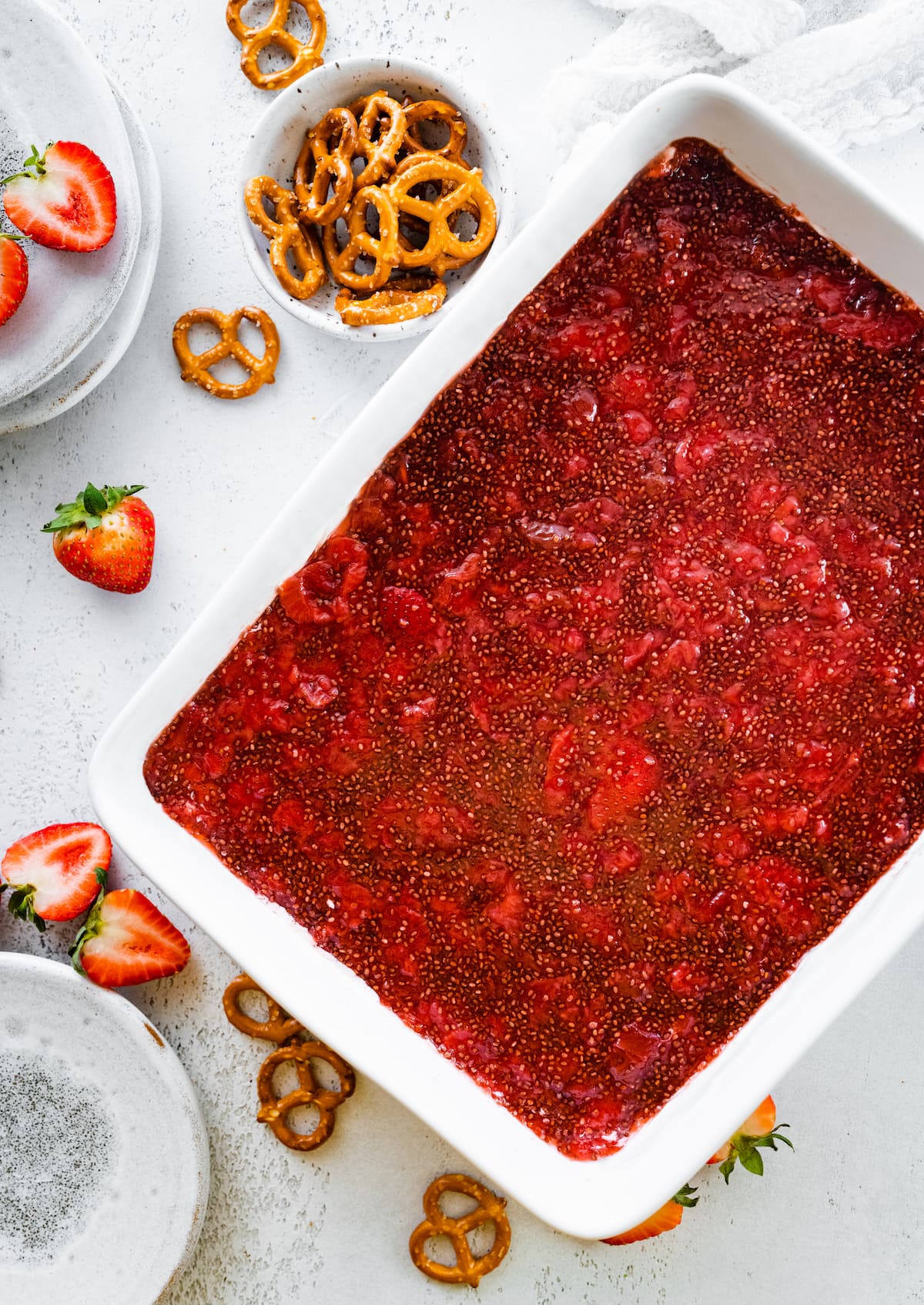 Tips for Success
Don't completely crush the pretzels: When crushing the pretzels you want to pulse them in the food processor until they are ground with a few larger chunks for texture. Just be careful not to over-process them where they turn into a fine texture.
Properly cool the crust: It's essential to let the pretzel crust cool entirely before adding the cream cheese layer to prevent it from becoming soggy. If you want to speed up the process of cooling the crust just place the baking dish in the fridge to chill.
Make sure cream cheese is softened: Make sure your cream cheese is softened before combining it with the rest of the filling ingredients to ensure a smooth texture without lumps.
Spread the filling properly: When spreading the cream cheese mixture over the crust make sure you spread it all the way to the edges for a tight seal before adding the strawberry jam layer. This ensures that the strawberry topping won't seep down causing the crust to get soggy.
Give enough time to chill: Letting the salad set in the fridge for at least 1-2 hours is crucial. It allows the layers to firm up, making it easier to slice and serving more like a bar or traditional slice of pie. If you're serving this recipe earlier in the day, for say a brunch, plan to make it a day in advance.
Use a hand mixer for the filling: For the best results I recommend using a hand mixer (or stand mixer) to whip the filling together.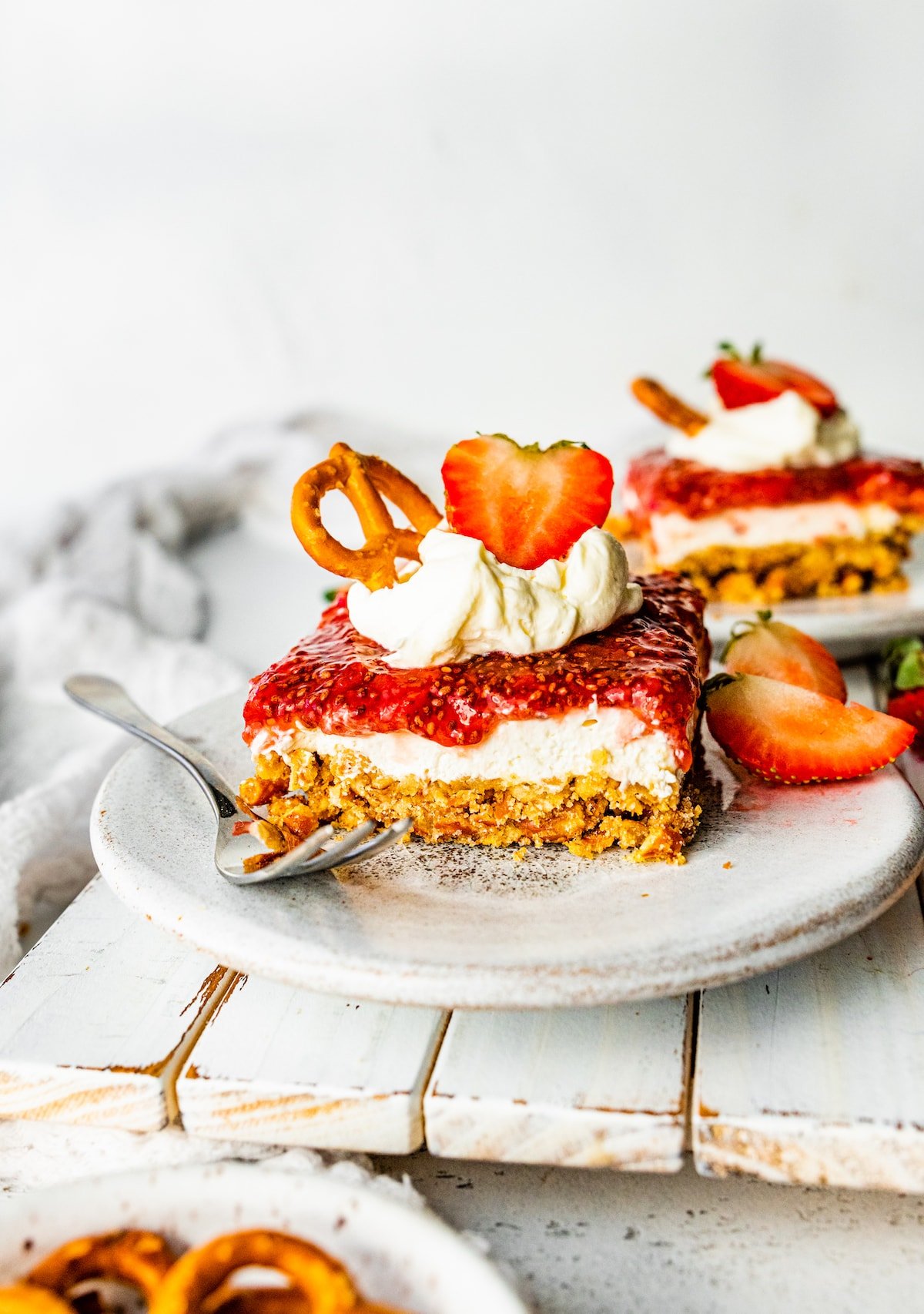 How to Store
Store any leftovers covered in an airtight container in the fridge for 4-5 days. Due to the creamy nature of the dish, it's best to consume it within this time frame for optimal flavor and consistency. Freezing isn't recommended as the textures might change upon thawing.
Strawberry Pretzel Salad FAQ's
How can I crush the pretzels without a food processor?
If you don't have a food processor you can still crush the pretzels by placing them in a sealable zip-loc bag and rolling over the mixture with a rolling pin. Just be careful because the bag could start to rip as you're rolling over the pretzels.
Can I make strawberry pretzel salad ahead of time?
Yes! This is a great make-ahead recipe because the longer it chills in the fridge, the better the layers will firm up.
Can I use frozen strawberries?
Yes! You can definitely use frozen strawberries instead of fresh ones when making the chia jam.
What type of pretzels are best to use?
Use salted twist or stick pretzels for the best results! You can also use whole grain or gluten-free pretzels if needed.
More Classic Recipes to Try
More Strawberry Recipes to Try
Be sure to check out all of the strawberry recipes as well as the full collection of dessert recipes on EBF!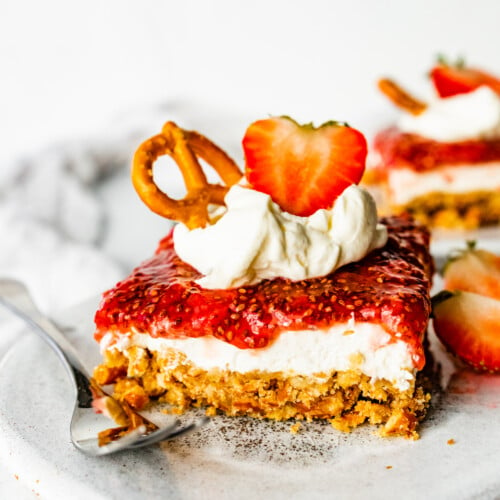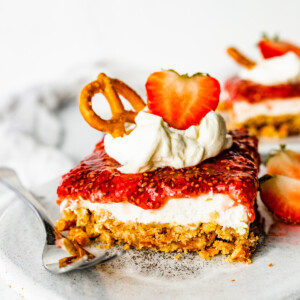 Strawberry Pretzel Salad
This healthier strawberry pretzel salad perfect combination of salty and sweet and is guaranteed to be crowd-pleaser. It's topped with a fresh strawberry chia jam layer instead of strawberry jello.
Ingredients
Pretzel Crust
2

cups

crushed salted pretzels

,

about 5-6 cups twists, whole grain if desired

½

cup (1 stick)

unsalted butter

,

melted

1 ½

Tablespoons

monkfruit granulated sugar,

or cane sugar
Cream Cheese Layer
½

cup

plain Greek yogurt

½

cup (4 oz)

cream cheese, softened (you can use low fat, if desired)

1

9 oz container

Tru Whip or Cool Whip

,

thawed

¼

cup

monkfruit granulated sugar,

or cane sugar
Instructions
Preheat your oven to 350°F and line a 9×13 baking dish with parchment.

Process pretzels in a food processor to crush them, if you haven't already. You'll want to pulse until they are ground with a few larger chunks for texture.

In a mixing bowl, combine the crushed pretzels, melted butter and sugar. Mix until well combined. Press this mixture into the bottom of the baking dish. Bake in the preheated oven for 10 minutes, then remove and allow to cool completely. You can put it in the fridge or freezer to speed up the process!

While the crust is cooling, prepare the chia jam. Add strawberries to a saucepan over medium-high heat and cook until the berries start to break down and the mixture is bubbling, about 10 minutes or so.. You can use the back of a spoon or potato masher to mash the berries and create your desired consistency. Stir in the chia seeds, lemon juice and sweetener. Add 1 Tablespoon first, taste and add more, if needed. Remove mixture from heat and let cool the mixture cool and thicken while you prepare the Greek yogurt layer and let it cool.

Using a stand mixer (or hand mixer) on medium speed, combine the Greek yogurt, softened cream cheese (be sure it's nice and soft), whipped topping and sugar until smooth and creamy.

Once the pretzel crust has cooled completely, spread the Greek yogurt mixture evenly over it. Place in the fridge for 1-2 hours to chill.

Once the chia jam has cooled, spread the mixture over the Greek yogurt layer all the way to the edges.

Refrigerate the salad for at least 1-2 hours so everything is firm.

Slice and serve.
Nutrition
Serving:
1
serving w/ monkfruit sweetener
|
Calories:
279
kcal
|
Carbohydrates:
26
g
|
Protein:
4
g
|
Fat:
17
g
|
Saturated Fat:
10
g
|
Polyunsaturated Fat:
1
g
|
Monounsaturated Fat:
3
g
|
Cholesterol:
31
mg
|
Sodium:
34
mg
|
Potassium:
102
mg
|
Fiber:
1
g
|
Sugar:
7
g
Nutrition information is automatically calculated, so should only be used as an approximation.