Hi from Columbia, South Carolina! Isaac and I are here for the weekend to attend a wedding and hang out with my college roomie (oh hey, Bean) and her husband. Should be a fun little time!
On to the food…
Last week I shared a quinoa beet salad recipe using cooked, packaged beets. The convenience of not having to roast the beets was awesome, but I missed the beet greens so this week I picked up a bunch of fresh golden beets with a beautiful lot of greens.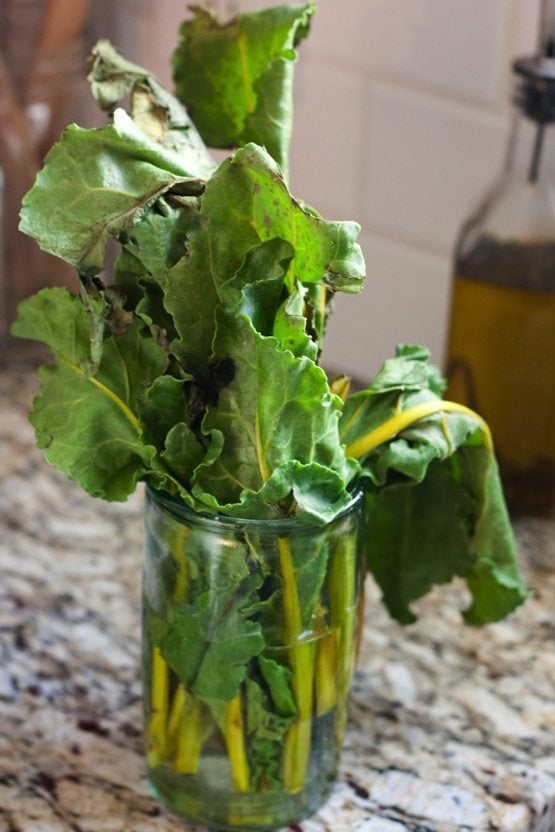 I used to buy fresh beets from the farmers market, chop off the tops and promptly throw the greens in the garbage. Such a shame! One day (probably through reading blogs) I realized that you can and should eat the greens. Not only are they packed with nutrients but they're great for juices or smoothies and extremely delicious sautéed. Their tender texture and mild flavor make them one of my favorite greens for sautéing.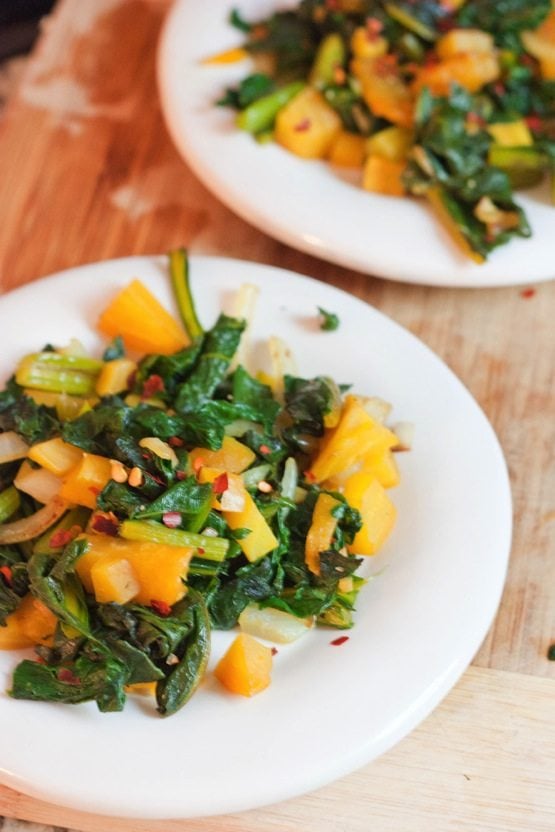 So if you're a beet green tosser like I was, listen up and don't throw them away next time. Save those bad boys, sauté 'em up and serve them with chunks of roasted beet for a flavorful and healthy side dish.
I promise you will not be disappointed. Well, not by the taste at least. Although, I can't be held accountable if you get a little sad about all the beet greens you've tossed in the past. 😉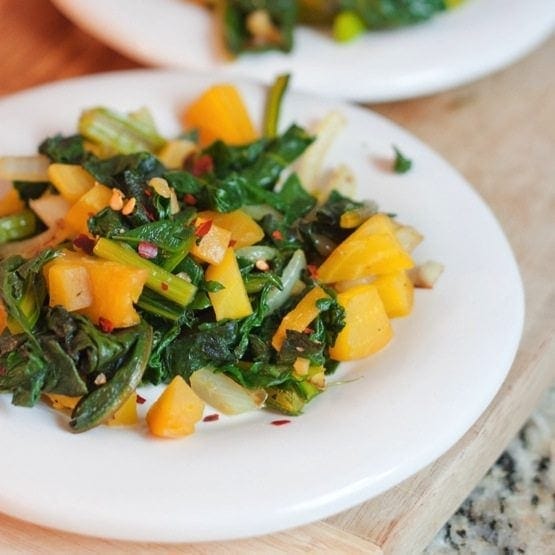 I used vibrant, golden beets for this recipe but you can certainly use any type of beet you'd like. One tip: when you bring your beets home from the store or market you'll want to trim the leaves 2 inches from the root as the leaves will deplete the moisture from the beet root. Store the leaves in an air-tight container or separate plastic bag and use within two days.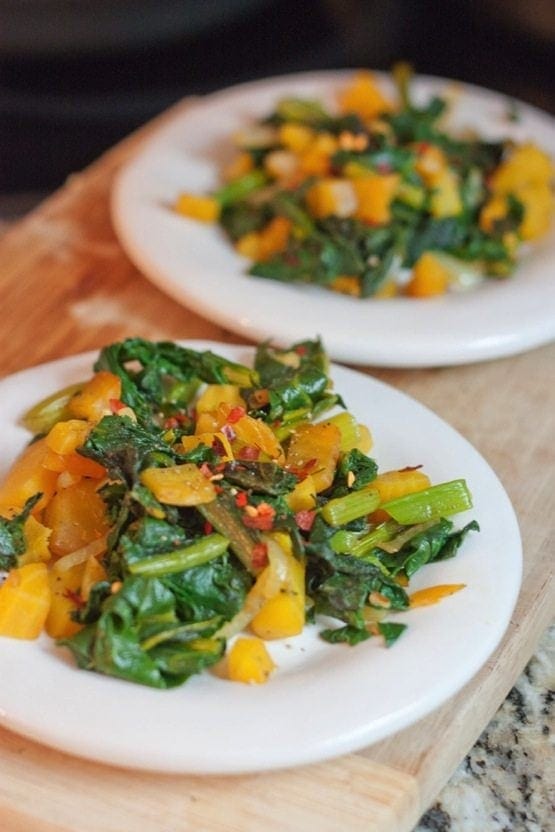 Sautéed Beet Greens with Roasted Beets
2
adjust servings
Ingredients
1

large bunch of golden beets

1/2

teaspoon extra virgin coconut oil

1

clove of garlic

2-3

Tablespoons yellow onion

1/2

teaspoon apple cider vinegar

1/2

teaspoon bragg's liquid aminos

crushed red pepper, to taste

sea salt and ground pepper, to taste
Instructions
Cut the tops of the beets to 1-2 inches. Wash and chop the greens and stems, discarding any large and tough stems.
Scrub the beets clean, poke 2-3 times with a fork and wrap tightly in aluminum foil. Roast in a 400°F oven until tender, about 50 minutes if you're using medium-large sized beets.
Unwrap the beets (they'll be piping hot so be careful!) and run cool water over them. The skin should easily peel off while you do this. Once peeled, chopped one or two of the beets into small chunks. You can save any remaining beets for another recipe. This step can be done ahead of time.
Once your beets are ready, heat your coconut oil in a skillet on medium heat. Add the garlic and onion and sauté until fragrant. Add the the greens and sauté a little longer, about 3-4 minutes. Add chopped golden beet pieces, apple cider vinegar, and bragg's liquid aminos to the pan and give it one last stir. Season with salt, pepper and crushed red pepper, to taste.
Divide the mixture between two plates and enjoy.