These healthy homemade sweet potato chips are just as crunchy and addictive as the real-deal. Made in the dehydrator with only three simple ingredients, they make it easy to increase your vegetable intake while satisfying your craving for chips. 
As part of my partnership with Kohl's and the #MakeYourMove campaign I've been on a roll with showcasing ways to increase your intake of vegetables. First spiralizing, then juicing. And today I'm continuing with the trend by showing you how to make healthy chips. Sounds like a oxymoron, I know. But it's totally possible.
I grew up loving chips and still to this day they're a bit of a weakness. For this reason I don't buy them often. Occasionally I'll buy "healthy" versions, but lately I've been having fun with my dehydrator by making my own. I've made everything from zucchini and kale chips and to rutabaga and sweet potato chips. All the recipes are pretty similar (except for fancy kale chip flavors) and the ingredient list is really short — thinly sliced veggies, a little oil and sea salt to taste.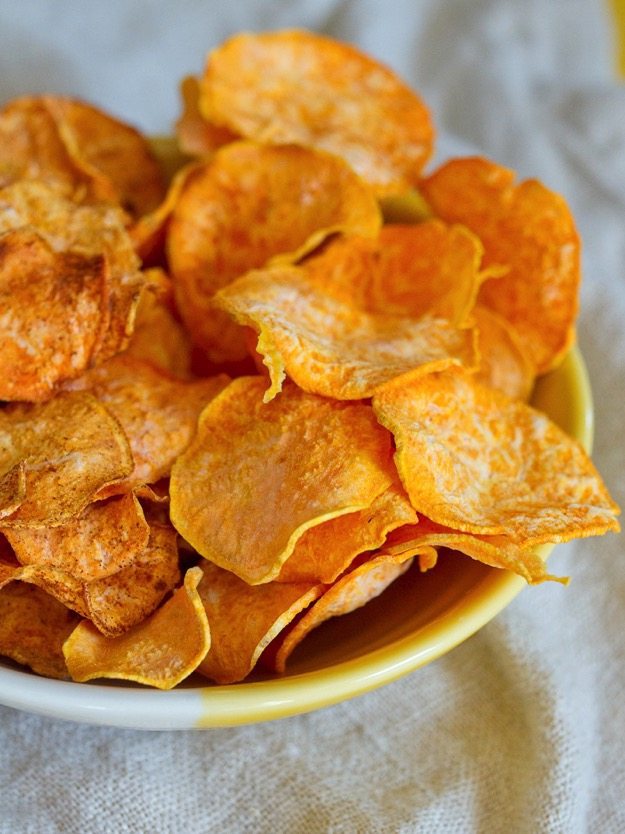 Having a dehydrator makes this process incredibly easy and fool-proof. I've had a Excalibur 5-Tray Food Dehydrator for ages and love it. It's great for preserving produce, making crunchy chips or whipping up raw snacks like crackers, macaroons, granola and bread!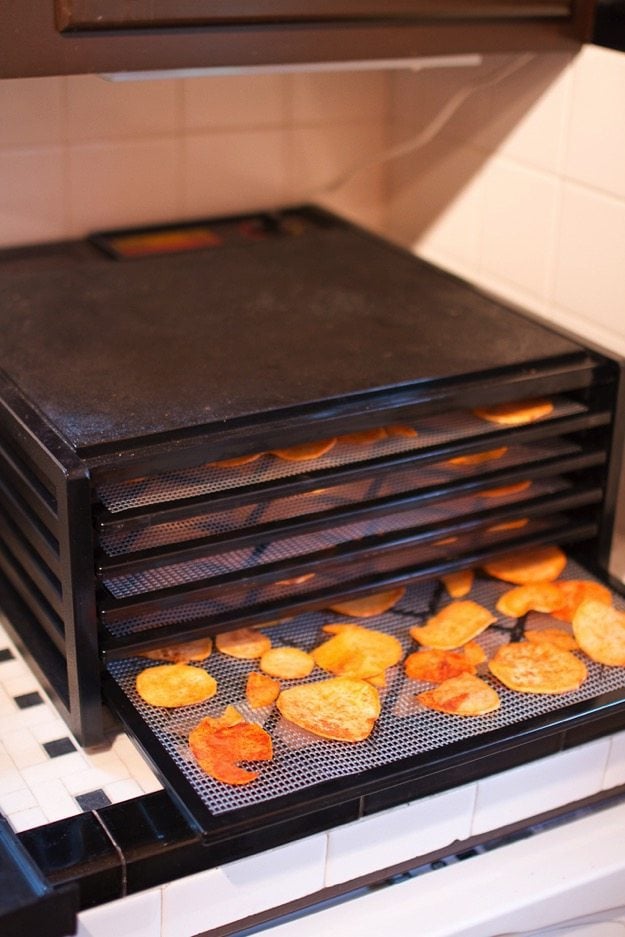 I've tried making homemade chips in the oven and found it to be quite challenging because the veggies tend to burn easily.
With the dehydrator you simply set it and forget it. It does take a while for the chips to get crunchy, but the wait is sooo worth it.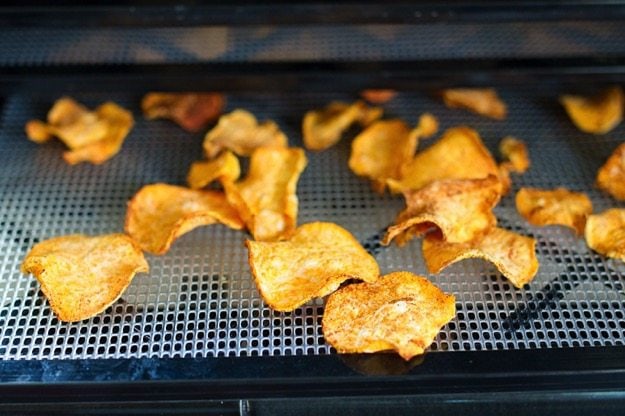 Another helpful kitchen tool when making chips is a mandoline slicer. Not only does it make the slicing process a breeze, but using one will also enable you to get thin and even slices so all your chips will be done "cooking" at the same time.
With these sweet potato chips you can go the savory route and season them with a bit of coconut oil and sea salt or you can sweeten them up with a sprinkle of cinnamon. I made a batch of each last week! I loved the sea salt version for dipping in hummus and enjoyed the cinnamon version plain as a sweet snack — the sugar content of the sweet potatoes combined with the cinnamon makes them almost dessert-like. I love bbq flavored chips so I'm excited to make a bbq version next.
Homemade Sweet Potato Chips in the Dehydrator
½ of recipe
adjust servings
Ingredients
2

sweet potatoes

1-2

teaspoons coconut oil, melted

sea salt, to taste

cinnamon, to taste (optional)
Instructions
Peel sweet potatoes and slice thinly with a mandoline slicer.
Place potato slices in a bowl with coconut oil and sea salt. Toss to combine. Add cinnamon, if using.
Set slices in a single layer on a dehydrator sheet and dehydrate at 125° for 12-20 hours or until crisp. Best eaten right away but they can be stored in an airtight container for a few days.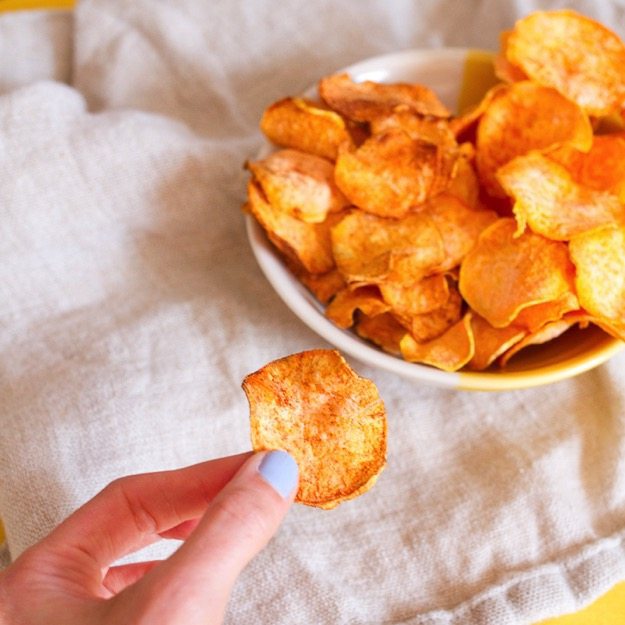 One serving = 1 whole sweet potato and comes in at just 158 calories, 5 grams of fat and 6 grams of fiber ! The chip loving, volume-eater in me is jumping for joy at these stats. 🙂
Are you a chip lover like me? Have you ever tried making them at home before?  
This post is sponsored by FitFluential on behalf of Kohl's.