Avocado Balsamic Dressing
15
Published Oct 08, 2015, Updated Jan 13, 2022
As I work toward balancing my hormones I've been eating a diet high in fat. I talked about it a little bit before, but growing up I was taught that dietary fat is essentially what made people fat. My mom bought what was said to be "healthy" like skim milk, margarine, non-fat mayo, reduced-fat peanut butter, etc. and I honestly don't remember my mom ever buying avocado. Isn't that crazy?!
Fast forward a few years, I started learning more about healthy eating and realized that all fats are not bad, they don't make you fat and they're actually ESSENTIAL for our bodies to function. Nowadays I'm eating more fat than I ever have in my life and I feel awesome! My meals are amazingly satisfying, my blood sugar is balanced and I have even energy throughout the day. Before eating more fat I used to feel like I was hungry ALL.THE.TIME. Don't get me wrong I still get hungry, but I don't think about food constantly or feel like I have to bring a snack with me everywhere I go.
As you all know, I love me some coconut oil, nuts, and seeds, but today I want to talk about one of the best healthy fat sources known to (wo)man — avocados! I'm hooked on them. No more buying one avocado and using it throughout the week… I get the bags with four or five and typically eat at least half of an avocado every day. A couple weeks ago when I was traveling I was so excited to see fresh avocados for sale at the Charlotte airport. I ended up buying one and eating it plain with salt, pepper and a spoon. True avocado fan right there! Seriously, if I could I would grow an avocado tree in our backyard I totally would.
Okay so before I talk about how I've be adding more avocado into my diet, let's talk about the WHY for a minute.
First off, dietary fat is essential for many reasons. It provides long lasting energy, helps you feel full after a meal, helps MAKE HORMONES, works to form part of your brain and nervous system (this is why fats are so important for children), forms cell membranes for every cell in your body, carries fat-soluble vitamins throughout your body and helps to regulate your body temperature and keep you warm.
Avocados are a healthy choice!
They're nutrient-dense — one avocado contains 4 grams of protein and 15 grams of fiber, that's 56% of the daily value of fiber per avocado or eight percent per serving. Diets rich in foods containing fiber have been found to potentially reduce the risk of type 2 diabetes.
Although most people think of them as a vegetable, they are a fruit but they contain less than one gram of sugar per 1-ounce, the least amount of sugar per serving of any other fresh fruit.
Over 75% of the fat in avocados is unsaturated (monounsaturated and polyunsaturated fats)
They're cholesterol and sodium free.
Avocado contributes nearly 20 vitamins, minerals and phytonutrients. Although phytonutrients are not essential, they may promote human health. Avocados act as a "nutrient booster" by helping the body to better absorb fat-soluble nutrients, such as alpha- and beta-carotene and lutein, from foods that are eaten with the fruit.
They have a rich and creamy texture that practically melts in your mouth and a distinctive flavor that's kind of earthy, fresh and sweet tasting. The flavor is quite mild so avocados can be paired with pretty much anything.

So basically avocados are healthy and amazing and you should probably be eating more of them! And there are so many ways to use them beyond avocado toast and guacamole. Lately, I've been adding avocado slices to my salads (like this detox salad), smoothies and egg scrambles. I also love using them as a sub for mayo in tuna or egg salad and making Green Goddess bowls. <—I'll have to share the recipe for the bowl soon.
Here lately I've also been experimenting with adding avocado to my salad dressings to sub for some of the oil and add a thick, creamy texture. This week I made a creamy balsamic dressing that was out of this world.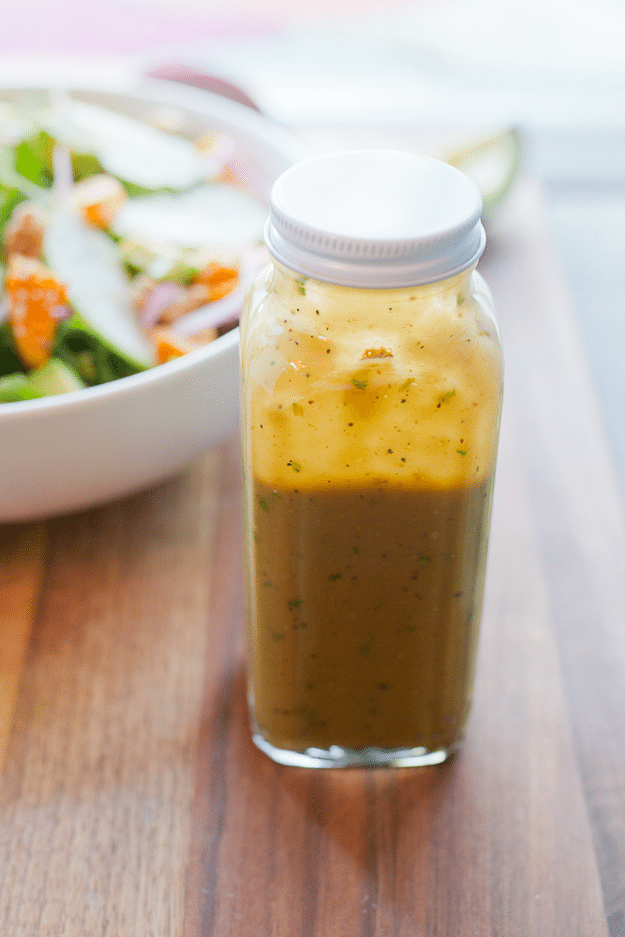 I replaced some of the oil with half an avocado and the result was the creamiest balsamic dressing I've ever had. It's still has a good amount of flavor and zing from the vinegar, but it's silky smooth and 100% delicious. I've been putting it on everything including this salad I shared on Instagram yesterday. It was amazing and the recipe is coming soon… get excited. 😀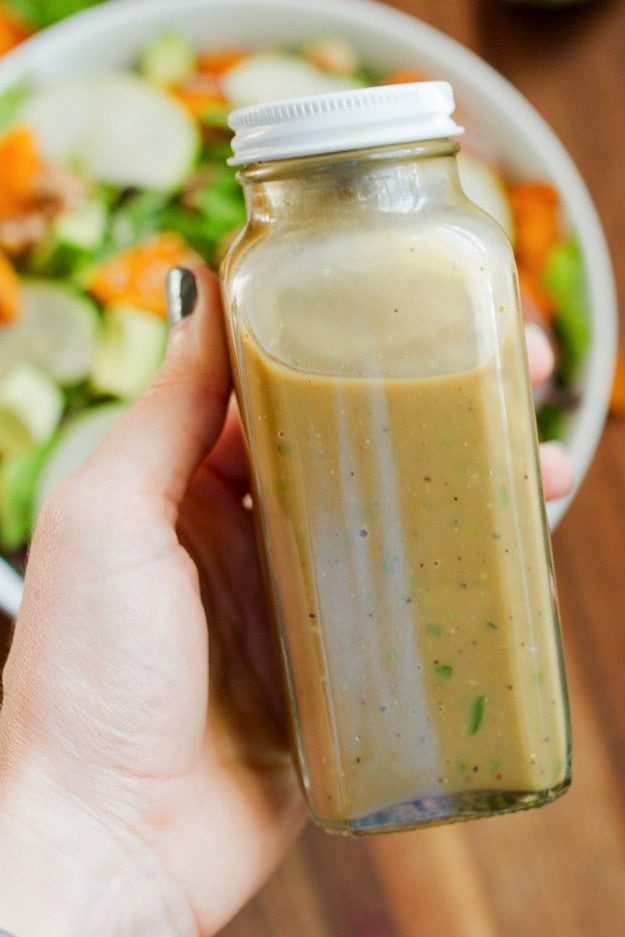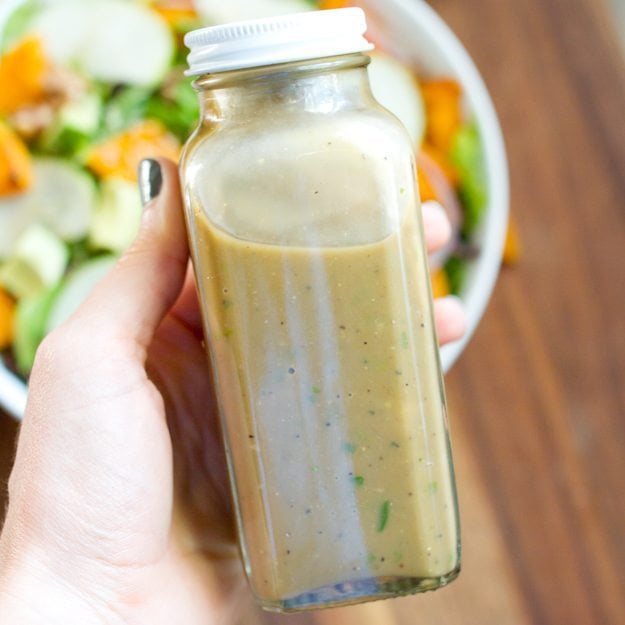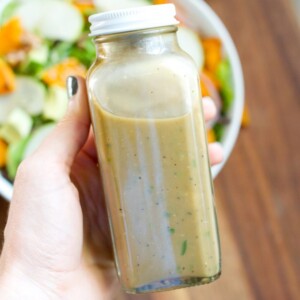 Creamy Avocado Balsamic Dressing
Avocado Balsamic Dressing // Take your balsamic vinaigrette to the next level by using avocado to replace some of the oil. The result is a rich, flavorful and creamy dressing you'll want to drizzle on everything.
Ingredients
1/4

cup

good quality balsamic vinegar

1

Tablespoon

fresh parsley

2

teaspoons

apple cider vinegar

1

clove

garlic

,

minced

1

teaspoon

brown mustard

2

teaspoons

pure maple syrup

1/4-1/2

teaspoon

sea salt

1/2

teaspoon

ground pepper

pinch

of cayenne pepper

,

optional

3

Tablespoons

olive oil

,

divided (1 Tablespoon will be used for sautéing garlic)

1/2

avocado

2-4

Tablespoons

water

,

or more depending on the texture you prefer
Instructions
Sauté 1 Tablespoon of olive oil with minced garlic until garlic is fragrant. Turn off heat and allow to cool. This step is optional, but it adds a depth of flavor and makes the garlic a little less pungent.

Add sautéed garlic along with all the other ingredients except water into a high powered blender. Blend to combine. Parsley should be chopped well, but the dressing will be pretty thick at this point. Add in water to thin the dressing out a bit. Start with 2 Tablespoons and add more if needed. I found that 3-4 Tablespoons worked well for me.
Notes
Nutrition info will vary based on how much water you add to the dressing.
Nutrition
Serving:
1
/5 of recipe
|
Calories:
122
kcal
|
Carbohydrates:
8
g
|
Fat:
10
g
|
Saturated Fat:
1
g
|
Sodium:
126
mg
|
Fiber:
1
g
|
Sugar:
6
g
Nutrition information is automatically calculated, so should only be used as an approximation.

I've partnered with the Hass Avocado Board and the American Diabetes Association to share information about the important role that healthy fats play in daily nutrition. For more information, check out the Hass Avocado Board website and find them on social media: Facebook, Twitter, Instagram and Pinterest or use the hashtag #LoveOneToday. As always, thank you for supporting brands that make EBF possible.